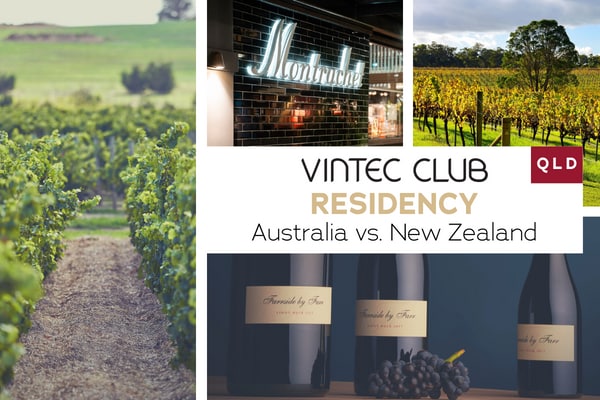 Vintec Club Residency QLD - Australia vs. New Zealand Dinner
Event Description
Dear Vintec Club QLD Members,
We are delighted to invite you to our next private wine tasting at Brisbane's Vintec Club Residency, Montrachet restaurant. This time we will be exploring an exceptional selection comparing Australia and New Zealand savoir-faire. A selection made for connoisseurs gathering boutique wineries producing some of the most exciting wines in both countries. Join Sommelier and host Alexis Rojat for a night where we will be tasting samples from Felton Road, By Farr and Craggy Range among others.
An exceptional night complemented by the excellent cuisine of Chef Shannon Kellam who will design a delicious 4-course menu to match the wines.
Only 12 seats available - don't miss out!
Cheers,
Wine List
On Arrival
Champagne Perrier-Jouët Grand Brut NV
1st Course
2019 Hans Herzog Chardonnay
2015 10 Minutes By Tractor 'Judd' Chardonnay
2nd Course
2019 Felton Road 'Bannockburn' Pinot Noir
2018 By Farr 'Farrside' Pinot Noir
3rd Course
2020 Craggy Range 'Le Sol' Syrah
2017 Standish Wine Company 'The Relic' Shiraz
4th Course
2018 Prophet's Rock Vin de Paille Pinot Gris
2017 De Beaurepaire 'Bluebird' Botrytis Viognier
The 7 Commandments
of Vintec Club Private Tastings
Exclusive to Vintec Club members
Focus on cellar-release wines, dream verticals and back vintages
Relaxed and family-like atmospheres, "à la bonne franquette"
Intimate and private dining experiences
Access to rare and back vintage wines at special price
Ticket prices subsidized by the Vintec Club