Reports of Sauvignon Blanc's demise have been as greatly exaggerated as Mark Twain's death. Having become New Zealand's most important wine variety almost two decades ago, naysayers have since been asking if the country is a one-trick pony, overly dependent on a single grape for its success, and heading towards an inevitable cliff edge but year after year, its detractors continue to be proved wrong.
Sauvignon just keeps on trucking and while there are alternative varieties that attract the headlines including Albariño and Grüner Veltliner, it's incredibly niche. All signs (and sales) point to Sauvignon Blanc being the next Sauvignon Blanc.
The variety's position as the country's most important grape is incredibly new in the history of wine. While the Ancient Greeks were introducing the vine to western Europe more than 2,500 years ago, the very short history of Sauvignon Blanc in Marlborough began in 1975.
Until 1996, the often-maligned German hybrid Müller-Thurgau was the nation's biggest producer with Chardonnay taking the number one spot for a short spell. Sauvignon Blanc took poll position in 2002 and it currently seems unassailable, representing three-quarters of all wine made in New Zealand and 85% of all wine that leaves New Zealand shores.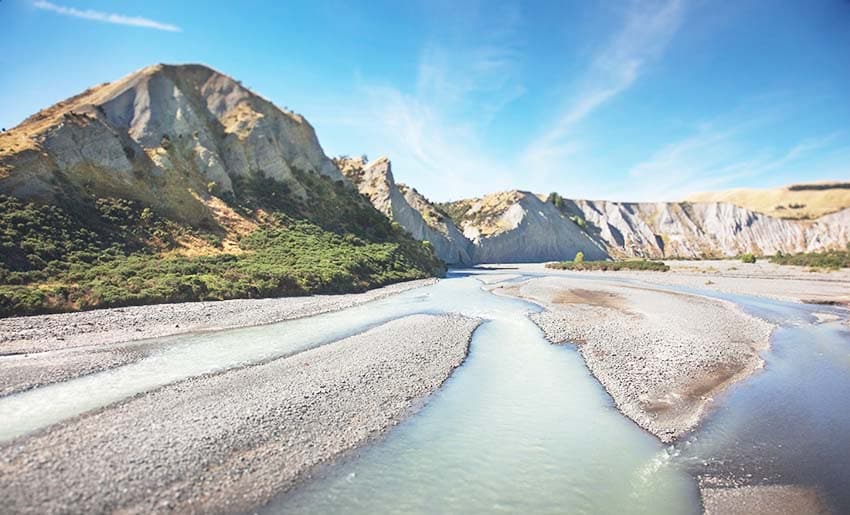 Most people know Sauvignon Blanc as one of the most popular varietals of white wine, and they are right, because it is one of the most elegant and widely delicious white wines in the world. Marlborough Region in New Zealand is the main growing area in all of New Zealand delivers Sauvignon Blanc. (Photo by Marlborough,
The Crossings
nzwine.com
)
The signature style we now associate with New Zealand Sauvignon Blanc gave the country its keys to the gates of the wine world. It vivacity and party-in-the-mouth flavours shocked and bewitched many who were looking for more than the subtlety that many European whites offered. And yet there is a volte face: those who first produced and extolled New Zealand Sauvignon Blanc's natural exuberance seem to be searching for a toned-down version (although that doesn't seem to be the case among the everyday wine drinker).
There is an element of snobbery here - what-you-see-is-what-you-get in many sub £10 Sauvignon Blancs but the same could be said to be true of many other varieties at that price point. There's also a perception that the variety doesn't age well and isn't a fine wine grape. If that's what you think, tell that to Sancerre's François Cotat or Pavillon Blanc's maker, Bordeaux first growth Château Margaux.
The desire to make finer, more nuanced Sauvignon Blancs is both producer inspired and drinker led. The first-generation of wine producers are now armed with several decades of Sauvignon experience and are trialling alternative techniques to make alternative styles of Sauvignon Blanc while high-involvement customers want to further their experience beyond the classical style.
Sauvignon blanc is now New Zealand's most widely planted variety, and they have some of the world's best Sauvignon Blanc. Sauvignon Blanc scene started popping in 1970s. Today, Marlborough is the most revered wine-producing region, accounting for 62% of all wine produced in New Zealand. Marlborough are famous for their aromatic, fruit-driven and exotic wines. (Map source True Wine)
This can be done in both the vineyard and winery and can result in a subtle shift in aromatics to a 'I didn't know Sauvignon could taste like this' experience. Jim White, technical director of Cloudy Bay, arguably Marlborough's most iconic producer, says "Perhaps we are now at a stage where the maturity of both the industry, the market and – to a certain degree – the vines allows more confidence to experiment, to push boundaries, to seek for the next level of quality, and new styles. There is no suggestion of this being an industry ready to rest on its laurels. Instead, there is still a sense of restlessness and a desire to prove ourselves among the fine wine regions of the world."
The techniques to achieve this more subtle, textural style can be as simple as changing from machine picking to hand harvesting. The majority of New Zealand Sauvignon Blanc is machine harvested but by swapping to manual picking, this can significantly reduce the amount of thiols, which are those tropical- and sweaty-smelling aromas commonly found in the wine. It could be as difficult as replanting the vineyard with a new clone: the current success of New Zealand's Sauvignon is based on a single clone; Chardonnay producers in New Zealand generally have two, three or more clones to produce their cuvees while it's not unusual to have four or more different Pinot Noir clones in the same vineyard.
Each clone has its own idiosyncrasies in terms of how it grows and the wines it produces and yet New Zealand relies heavily on one clone. Could it be that the stereotypical style to which we have become accustomed is actually just the expression of this clone? Greater diversity of clonal material including the Bordeaux clones responsible for wines like Domaine de la Chevalier and Château Haut-Brion Blanc are slowly taking root in New Zealand.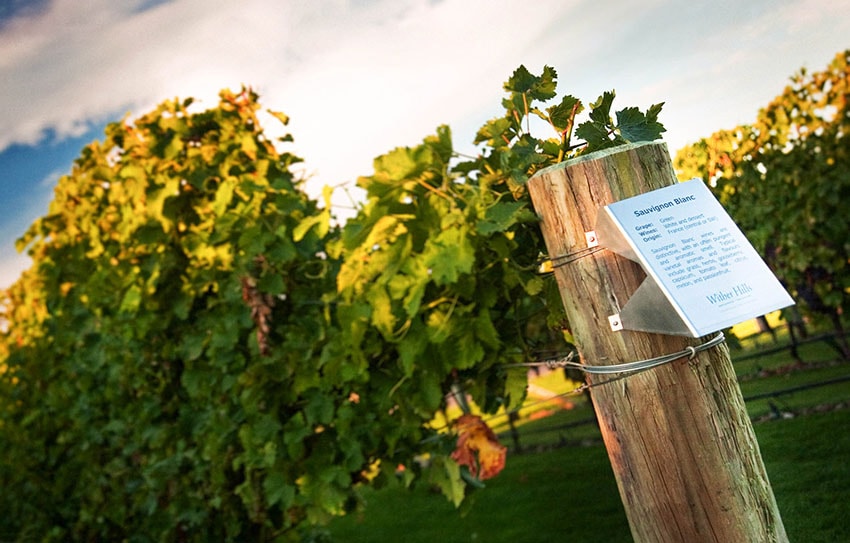 The majority of New Zealand Sauvignon Blanc is machine harvested. However, by changing to manual picking, we can reduce the amount of thiols, which are those tropical and sweaty smelling aromas often found in wine.
(Photo by Wither Hills Vineyards,
nzwine.com
)
Greater experimentation is also occurring in the winery. The use of wild yeast seems to be the trendy thing to do at the moment. While yeast out of a packet allows winemakers to deliberately emphasize or enhance certain aromas or other characteristics latent in your grapes, wild yeast are more unpredictable but the pay-off is that it can lead to more interesting, unexpected flavors and textures.
If you're giving up on the industrial yeasts, why not give up on the shiny stainless steel tanks too? There's been a palpable shift in fermenting vessels – not only will you find New Zealand Sauvignon Blanc fermented in oak barrels but also wooden vats, amphora, concrete eggs. Or, you could allow the skins to remain in contact with the juice if you're looking to give your wine more grip and colour but there's a danger of bitterness here.
_________________________________________________________
Based in Hawke's Bay, which is better known for its Chardonnay and Syrah than its sassy Sauvignon, The Supernatural Wine Co. doesn't dabble in alternative approaches but embraces all that is different in one go. Wild ferment? Tick. Fermentation? Tick. Fermented in barrel and left on lees? Tick. Unfined, unfiltered, low sulphur? Of course!
"We wanted to see what could be done with Sauvignon in a different way from the classic NZ style, hence the extended lees contact, a bit of phenolic treatment and experimentation with malolactic," explains Supernatural Wine Co. founder, Greg Collinge."Don't get us wrong, we have benefited massively from the success of Marlborough Sauvignon and we couldn't have done what we do without that success. We think the timing was right because NZ Sauvignon as a brand had been firmly established and we are part of the movement that explored what else was possible with the grape."
Bigger experiments are also common in the winery. A popular thing to do right know is the use of wild yeast. Using wild yeast instead of "normal" yeast will give more unexpected results, but the pay-off is that it can produce more interesting flavors and textures.
(Photo by Winemaking, Villa Maria,
nzwine.com
).
For the more conventionally minded, a little bit of this and a little bit of that adds refinement and further layers of texture. For example, Cloudy Bay, owned by luxury goods company LVMH, has been making its barrel fermented Sauvignon Blanc, Te Koko, since 1996. Hand picked and whole bunch pressed to curb the variety's natural enthusiasm, it is barrel fermented but increasingly subtle with new oak falling in recent years to just 10% and the malolactic fermentation is now down to 10-20% from 100% in 1996. All in all, finding the right balance when it comes to Sauvignon blanc, explains that the original style with liberal new oak and full malolactic was quite not universally appreciated.
"The wine was much beloved of those that loved it, but was quite a divisive style – very much the marmite of the portfolio," says White. "Since 2011, the winemaking team here, began to believe that the style needed some refinement. Through work in the vineyard, limiting malolactic conversion, dialling back the new oak component, and – of course - having a different approach for each new vintage, the style has moved towards something that is still distinctively barrel ferment, but less extreme."
For those who love the unashamed flamboyancy of classic Kiwi Sauvignon, don't worry it's not going away. But for classicists that turn their noses up at such aromatic exuberance, there are more subtler shades of Sauvignon that deserve a place in your glass.

Cloudy Bay 2020 Sauvignon Blanc, Marlborough
Delightfully textured and smooth with balanced yet mouthwatering acidity, this wine veers into the green hedgerow spectrum of Sauvignon - think nettles and elderflowers rather than flamboyant tropical fruits. That said, there's a subtle flavor of passionfruit running through this wine. Mid-weight with some decent concentration, it offers nice grip on the medium-plus length finish.
>>Order on Vivino (subject to availability in your location)
Smith & Sheth, CRU, Sauvignon Blanc 2019, Marlborough
There's a delectable creaminess and rich weightiness to this Sauvignon Blanc. It states it hails from old vines and with an average 25 years, that's pretty old in a very new, New World wine country. This isn't an huge fruit salad of Marlborough Savvy aromas, it's much more nuanced offering subtle violets, nectarines and apple skin that dare I say it has a whiff of the Loire. While still fresh, the acid is rather gentler than you'd expect - potentially an expression of this ripe vintage, which typically showed slightly higher pH levels than typical. An excellent showing and a far cry from the typical Marlborough expression.
>>Order on Vivino (subject to availability in your location)
Blank Canvas, Abstract Sauvignon Blanc 2017, Marlborough
A textured expression and savoury and lanolin-like characters alongside blackcurrant, lemon and dill flavours. Characterful and drinking beautifully now: this is a classy, elegant Marlborough Sauvignon.
>>Order on Vivino (subject to availability in your location)