Despite its classic stature and ties with tradition, Brunello is meeting the challenges of a brave new world thanks to a dynamic mix of the region's diverse producers.
The Birth of Brunello
By Italian standards, Brunello di Montalcino is a relatively young wine. Reds from the neighboring denominations of Vino Nobile di Montepulciano and Chianti Classico were established much earlier. Instead, the historical wine of the zone was Moscadello di Montalcino, a sweet white made from Moscato Bianco. In the mid-nineteenth century Clemente Santi, started making an age-worthy red wine solely from Sangiovese. He called it Brunello, an allusion to its brunette hue. Ferruccio Biondi-Santi carried on his grandfather's vision and in 1888 referenced the wine's geographical origins, labeling his wine Brunello di Montalcino.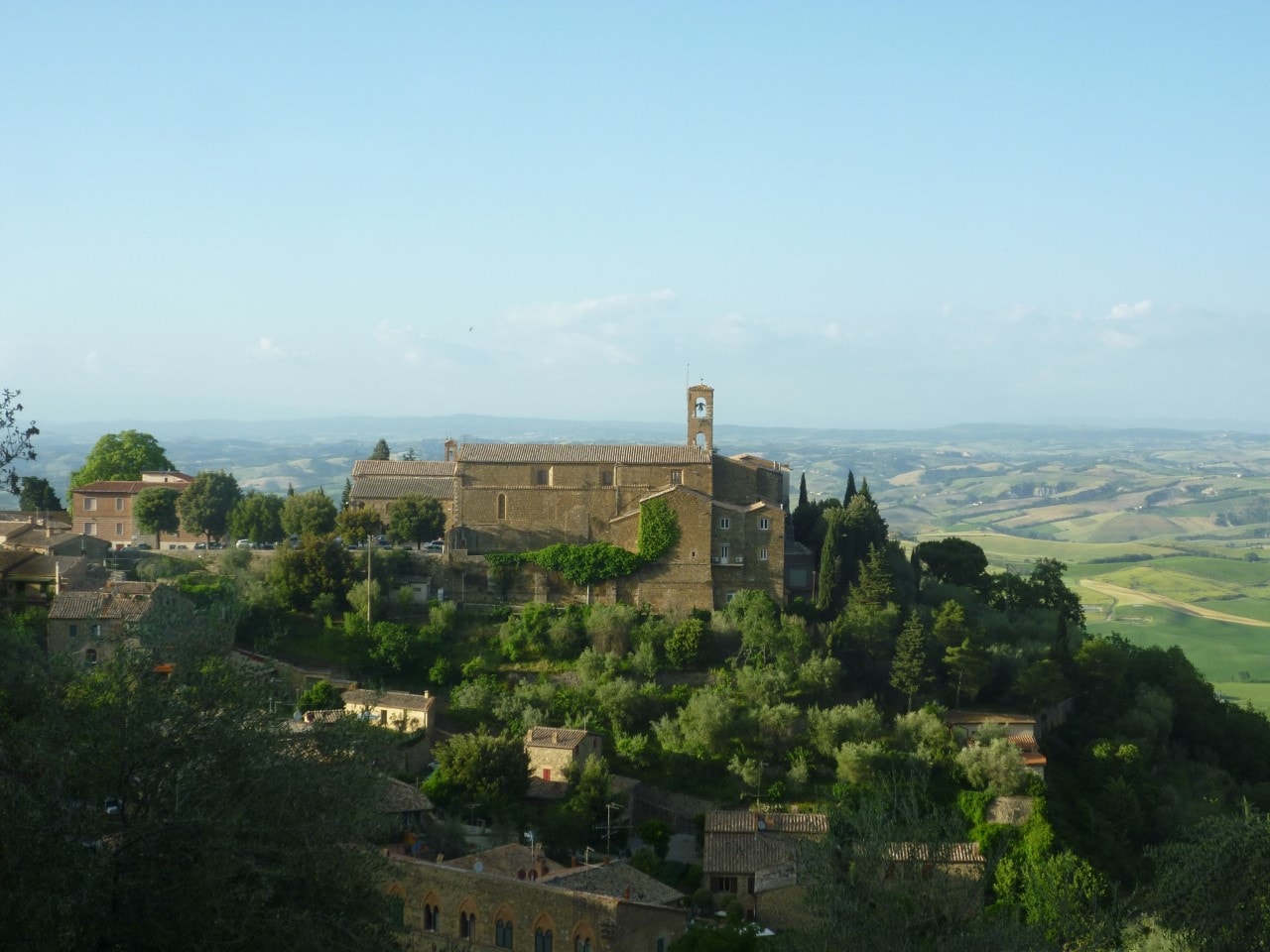 Montalcino is a beautiful historical town perched in a hilltop in Tuscany, Italy. The town is known for the for the production of its precious Brunello red wine.
Despite acclaim, Brunello remained a true rarity for decades. When the denomination of Brunello di Montalcino was officially established in 1966, there were only 11 producers counting less than 100 hectares. This has grown to over 200 estates with 2100 hectares of Brunello vineyards fanning out from the tiny hilltop town of Montalcino.
Brunello didn't really shoot to world-wide fame until the 1980s. This is thanks in large part to Banfi. Italo-American brothers John and Harry Mariani founded Castello Banfi in 1978 after making a fortune selling Lambrusco in the US. Similarly, they introduced America to Brunello and these robust, powerful, earthy reds were a hit.
Today Brunello is regarded as a classic Italian wine, one of the county's most famous – and longest-lived. Yet its image is far from staid as Brunello has barely had time to rest on its laurels.


Beautiful sunrise from the town of Montalcino. The town has been made incredibly famous for its Brunello wine, which is considered one of the world's best and most appreciated Italian wines.
Evolution for the Better
The basic recipe of 100% Sangiovese aged four long years before release is unchanged.
However, over time, mandatory barrel ageing of three and a half years has wisely been decreased to two. Though many producers still keep their Brunello in wood for upwards of 36 months, Andrea Leonardi, oenologist at Val di Suga is among those who believe in "more glass, less wood". Since the 2015 vintage, he has reduced the time in barrel to the 24-month minimum and bottles earlier than in the past. This is a direct response to the changing climate. According to Leonardi, as warmer vintages produce riper grapes, Sangiovese oxidizes more rapidly especially in porous wood barrels. He explains that the protective environment of the bottle helps preserve the fruit.
In a similar adaptation to climate change, in 2015, the growers' consortium abolished the maximum altitude of 600 metres for Brunello vineyards. In the past, it was difficult to ripen Sangiovese above these lofty heights. However, in today's balmier conditions, these higher elevation sites may play a role in keeping Brunello 'fresh'.
Clones are another tool. In Montalcino, much has been made of a single Sangiovese clone - BBS11 or 'Biondi Santi Sangiovese 11', which the late, great Franco Biondi-Santi identified and then officially registered in 1978. In reality, the region's vineyards are planted with a variety of clones. At Col d'Orcia, the Count Francesco Marone Cinzano and his team have been involved with extensive research in that regard. "We have discovered that it isn't advisable to plant single clone vineyards," he says. "Quality is obtained by having diversity." Even the revered Biondi-Santi estate works with multiple clones.
Above all, biodiversity and organic viticulture are rising in tandem with concern for the environment. According to the Count, just under 30% of the region's producers farm organically. Early adopters were boutique producers like Salicutti, San Polino and Cupano but more recent converts include bigger estates, notably CastelGiocondo and Col d'Orcia which are Montalcino's second and third largest respectively. Argiano, which boasts a sizable 50 hectares, also received full organic certification in 2020 and is now even a 100% plastic-free company.
The New Generation
Reassuringly, some references in Montalcino remain the same. Banfi is the largest, and still owned by the Mariani family and Biondi-Santi still sits at the top echelon of quality (though the estate was sold in 2016).
Nevertheless, a dynamic new generation brings with it a breath of fresh air. At the Franco Pacenti estate, the third generation took the reins in 2015. "We have introduced a new scientific approach to deal with climate change," says Lisa Pacenti referring to the weather stations they have installed in their vineyards.
Nearby, at Canalicchio di Sopra, 34-year-old Francesco Ripaccioli runs the property with his siblings. His grandfather established the estate in 1962 and was one of the founding members of the consortium. "We are not trying to break from the past," says Ripaccioli explaining that he and his cohorts value the hard work of their parents.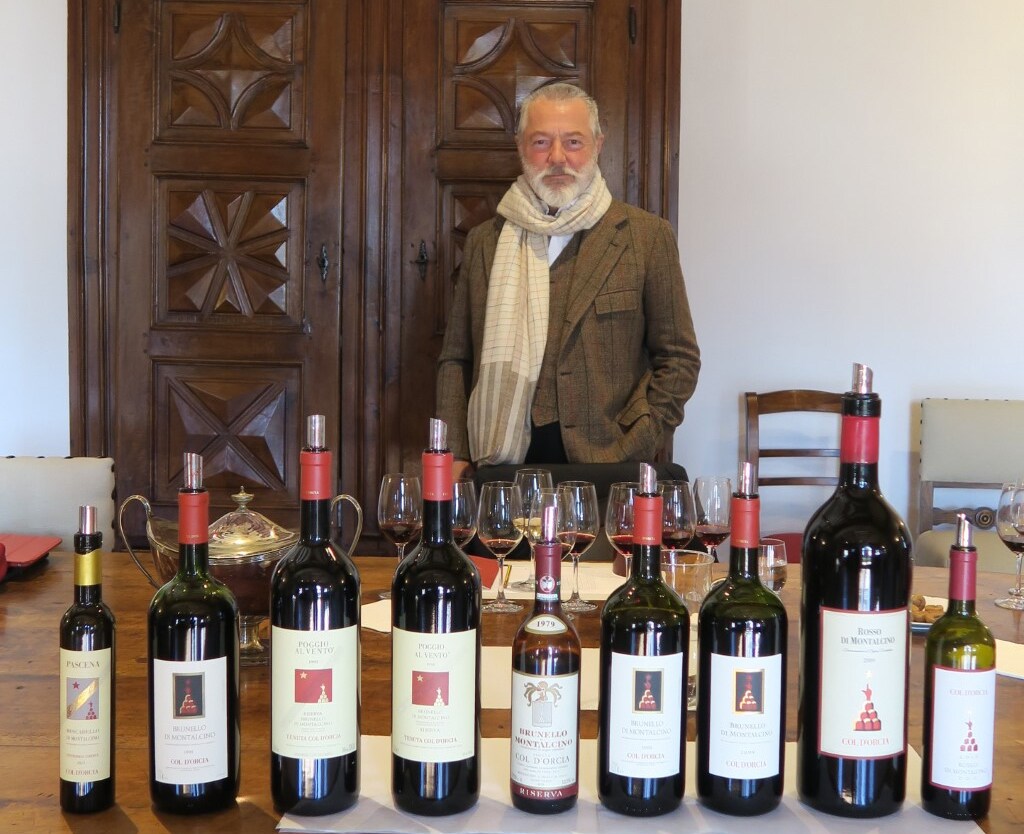 Count Francesco Marone Cinzano at Col d'Orcia.
Pacenti is quick to back that up and points proudly to the release of Franco Pacenti's new Brunello. Called 'Rosildo', it is dedicated to her grandfather who, like Ripaccioli's, started the property in the 1960s.
If ever there was a time to rediscover Brunello, it is now. The just-released, highly anticipated 2016 vintage follows hot on the heels of the equally acclaimed 2015. These are excellent vintages to tuck away in the cellar and many 2015s are delightfully approachable now.

Col d'Orcia, Brunello di Montalcino DOCG 2015
The 2015 Brunello definitely plays to Sangiovese's earthy side with sunbaked soil and dried balsamic herbs wafting from the glass. Firmly and assertively structured, it is backed up by a generous core of wild black cherry. This will unfurl slowly but surely.
Argiano, Brunello di Montalcino DOCG 2015
A heady mix of exotic flowers, mushroom and smoke make way for spice-infused forest berries on the palate. Grainy tannins need a bit more time to resolve but there is promising brightness here.
Canalicchio di Sopra, Brunello di Montalcino DOCG 2015
The 50th anniversary bottling of this Brunello simply vibrates with energy. Aged for three years in medium-sized Slavonian oak casks, it offers lovely scents of lavender, violet and fragrant potting soil. Medium-weight and mineral driven, the palate is gracefully framed with layers fine-grained tannins.