Shoe horning Barolo into either a traditional or modern category has long been outdated. More relevant today is the distinction is between single cru bottlings versus a 'classic' blend of sites.
Not so humble beginnings
Barolo has been revered since the mid-1800s. Until then, the wines were purportedly sweet, fizzy concoctions. Camillo Benso, Count of Cavour and first prime minister of Italy, engaged the help of oenologist Paolo Francesco Staglieno to make a serious red at his estate in Grinzane. Staglieno's method for fermenting dry was revolutionary at the time. It was adopted by others and soon Barolo became the wine of the royal court of Turin.
Despite its dignified heritage, Barolo did not shoot quickly to worldwide fame. The region descended into poverty and obscurity throughout the First and Second World Wars. For decades, its wines, long aged in large old Slavonian oak casks, were little appreciated outside the zone.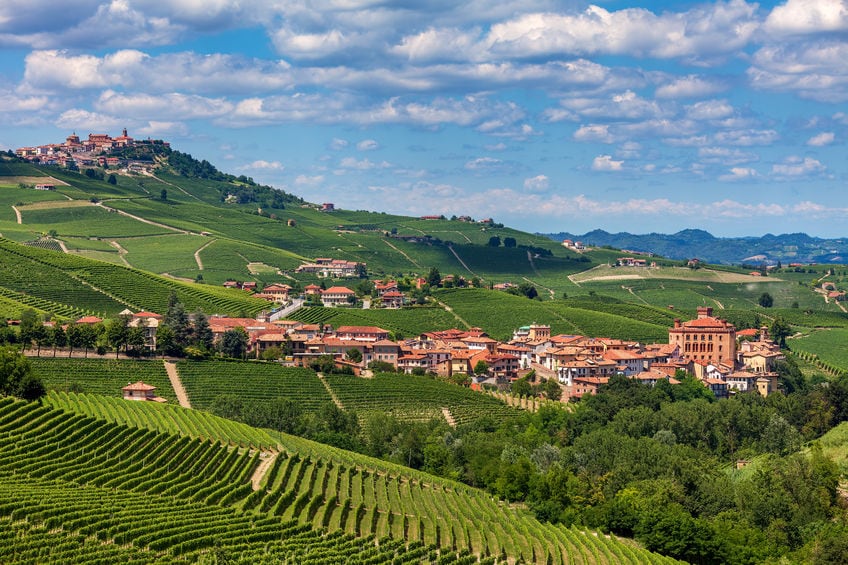 Barolo Town is located in the northern Italian region of Piedmont, south of Alba. Barolo, also known as "the king of wines", is a magnificent Italian red wine with complex and powerful aromas.
But you can't keep a great terroir – or grape down. At the end of the last century, a new generation emerged, and their re-stylized, barrique-aged Barolo pleased the contemporary palate bringing fervent renewed interest in the region. There was a clear division between these modern offerings and traditional Barolo. Nevertheless, the pendulum eventually started swinging back in favour of time-honoured practices like long macerations and ageing in large casks or botti. As the line between traditional and modern blurred, these references became moot especially as overall quality soared.
A complex marriage of grape and place
In the southern reaches of Piedmont, Barolo is made up of 11 communes. Barolo (after which the region is named) along with La Morra, Serralunga d'Alba, Monforte d'Alba and Castiglione Falletto are the five principal townships. In recent years, Verduno and Novello have also risen in importance.

The region is encircled by the Alps. However, rarely do you catch a glimpse of these majestic mountains looming in the distance because the hills of Barolo are so often shrouded in fog - la nebbia in Italian. The fog gives its name to the one and only variety that can be used to make Barolo; the noble Nebbiolo grape.

With an amazing ability to translate its terroir, Nebbiolo is a transparent grape. Barolo's calcareous clay soil gives a powerful expression of Nebbiolo and the firmly structured wines demand ageing. Wondrously complex, Barolo exhibits an exotic mix of florals, spices and herbs when young. Captivating tar, truffle and earth nuance emerge with age.
But there are differences – sometimes not so subtle – between Barolo's vineyards. Slopes rise from 200 to 520 meters with ever changing exposures to the sun and variations in soil composition.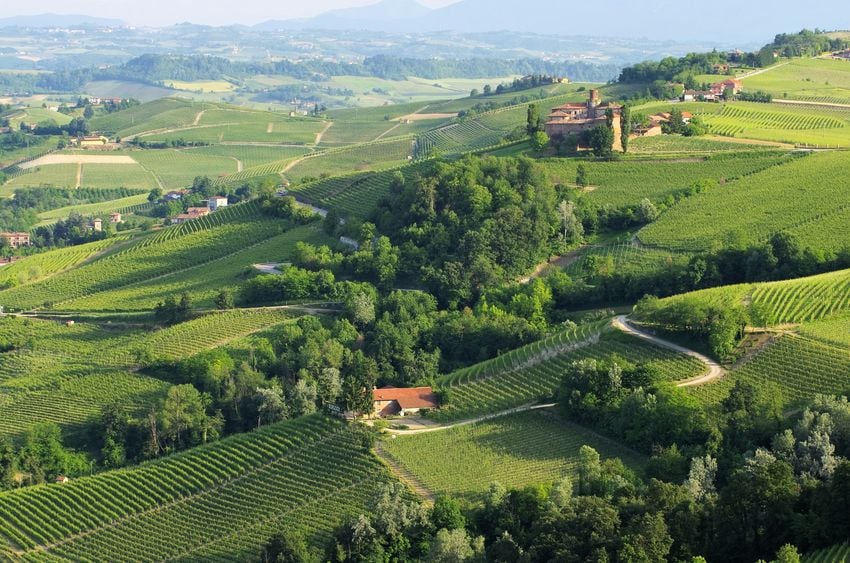 The beautiful landscape of Barolo. The Barolo wine region is probably the most famous DOCG in Italy. The wine is made from a grape called Nebbiolo, which is well-known for its flavours of dried rose and liquorice.

"There has always been great respect for the vineyard and great knowledge," says Fabio Alessandria owner of G.B. Burlotto. "The old-timers knew the differences each of the vineyards gave but they always blended them together."
For example, the compressed sandstone of Serralunga can give an excruciatingly tannic wine in its youth while looser sandy soil around the town of La Morra yields a fragrant, softer expression. While this is a generalization, it underscores how the whole might be better than the sum of its parts.

Luca Currado of Vietti also points to the vagaries of weather. "In the 1940s to 1970s when the climate was cooler, the grapes didn't ripen properly everywhere - but if you blended you were able to make a wine of good quality."
_________________________________________________________
More interesting articles:
>> A guide to ageing potentials
>> Sicily - Much More Than Marsala
Diversification
Currado's family along with the great Beppe Colla at Prunotto broke the mold and started producing rare, single site bottlings in the early 1960s with their Rocche di Castiglione and Bussia respectively. Slowly others followed suit and Barolo's best sites like Cannubi, Brunate and Cerequio started appearing more frequently on labels.
Bringing order to potential chaos, Barolo's subzones were legally defined in 2010. They are known officially (and unromantically) as Menzioni Geografiche Aggiuntive (MGA) or Additional Geographical Mentions in English - and colloquially as 'crus'. A whopping 170 subzones plus Barolo's 11 communes make for a grand total of 181 MGAs.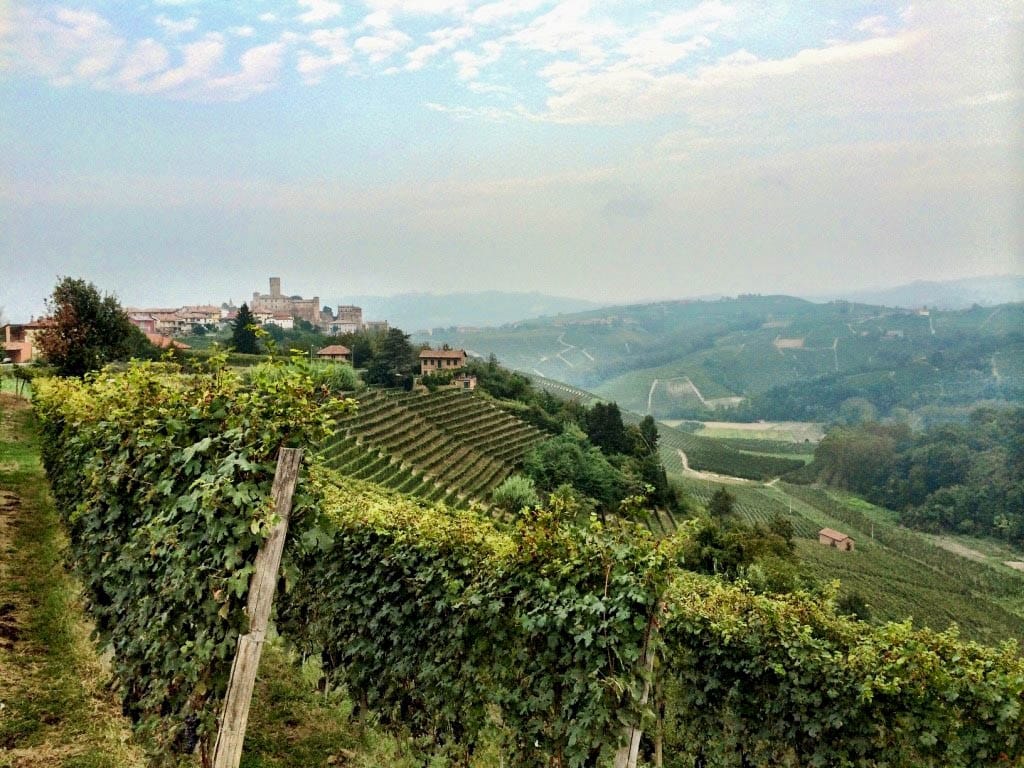 Castiglione Falletto, which is one of the "Barolo Langa" towns. Castiglione Falletto borders the following boroughs: Barolo, Alba, La Morra, Monforte d'Alba and Serralunga d'Alba.
While the system is not a hierarchy of quality, many producers do bottle at least a portion of their top sites separately and these typically command higher prices. As of the 2016 vintage, almost 30% of all Barolo bears an MGA.
Clearly a growing trend, separate cru bottlings allow for unique and distinct expressions of Barolo. I have equal esteem for the spicy fragrance of Monvigliero and gorgeous florals of Bricco delle Viole as I do for the chilling austerity of Vignarionda or the unbridled vigour of Prapò. I revel in how very different they are and embrace the opportunity to savor that.
But what of those Barolo without an MGA? These are not simply made from undistinguished bits and pieces. Instead, they are typically crafted carefully from an assembly of parcels and may even include some illustrious crus. Producers have adopted the expression 'classico' to describe these Barolo alluding to the tradition of blending.
However, there is a bit of poetic license involved. Many of these 'classic' Barolo are made in a more immediately drinkable style than the Barolo of yesteryear.
Ultimately, one isn't necessary better or worse. While a classic Barolo may be a rich choir of harmonious voices, a cru Barolo is akin to an evocative solo.

Oddero, Barolo 2015
Oddero's finessed 'classic' Barolo brings together grapes from the Santa Maria and Capalot crus of La Morra with Bricco Fiasco in Castiglione Falletto. It flows gracefully across the palate and a core of succulent fruit is hemmed in by long grainy tannins. Wait another year before opening. This is one for the long haul.

Giovanni Rosso, Barolo del Comune di Serralunga d'Alba 2016
A blend of crus all within the township of Serralunga, this gives a wide-angled view of the commune's firm, powerful expression. Savoury nuances of balsamic herbs, forest floor and iron offset heady wildflowers. Needs a couple more years to relax its grip.

Monchiero, Barolo Rocche di Castiglione 2016
One of eight producers crafting a single cru bottling from the 16-hectare Rocche di Castiglione cru of Castiglione Falletto. Fragrant aromas red currant, clove and licorice lead to minerally, earthy depths on the palate. Beautifully proportioned with powdery tannins giving sneaky structure to this elegant Barolo. Drink 2023 to 2033.