It was a Brit that discovered the secret of putting the fizz into wine and its current crop of wines are giving the French a run for their bubbles.
Tongues were firmly in cheek when English fizz producer Hattingley Valley Wines produced a commercial for its 'Unapologetically British' bubbles. The television advert starts in the cellar of a winery "Somewhere in France" although the location is, in fact, its Hampshire barrel room. Two French blokes in gruff accents are tasting a sparkling wine "C'est incroyable" - it's incredible – says the first. "The bubbles, the fruit" the other declares in his native language, shaking his head in disbelief. "C'est impossible!" They pour a glass for a third who announces: "It's really good" but when he's told it's "Anglais" he responds "Ugggh", puts his glass down and walks off in disgust. Sadly, it's not just the French that turn their nose up at English wine despite the evident quality – it's often viewed as inferior by locals, as evidenced by some of the derogatory – and occasionally unpublishable – comments about English wine on Hattingley's social media feed following the advert's release.
Recent investment by two Champagne houses, Taittinger and Pommery, has provided much-needed endorsement for English wine. There's still only 3,500 hectares of vines planted in the UK, which makes it pretty insignificant on a world scale – the Champagne region alone is more than 10 times greater in size– but let's not forget the UK is starting from a very small base; since the turn of the century, plantings have quadrupled from a meagre 857ha and 70 years ago, there weren't any commercial vineyards. Despite evidence of winemaking in Roman and Medieval Britain, the Little Ice Age saw vineyards largely disappear from the British countryside, save for the occasional optimist, until a decorated army Major General, Sir Guy Salisbury-Jones, planted an acre of Seyval Blanc vines in 1951. This was the beginning of England's wine restoration.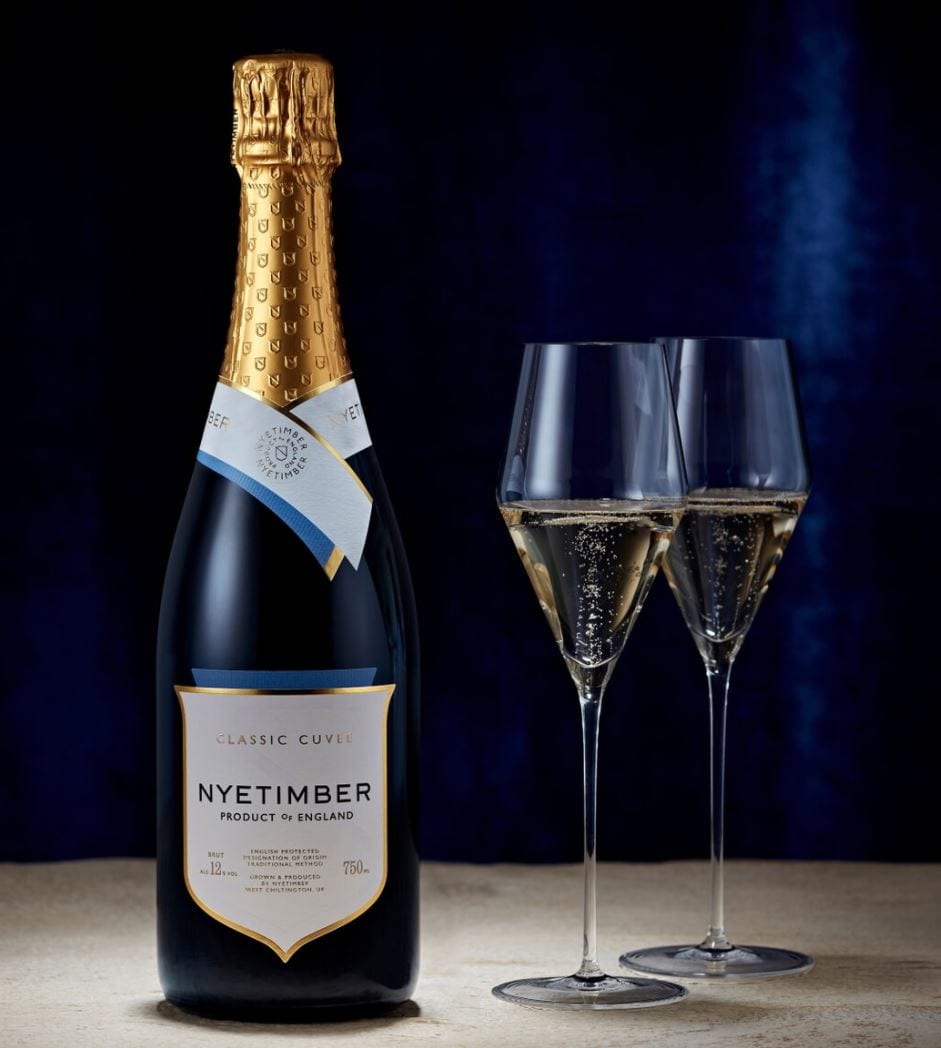 English winery Nyetimber's Classic Cuvee is a blend of Chardonnay, Pinot Noir and Pinot Meunier, and is characterized for its elegance, gentle texture and its lee-derived creamy brioche flavour. Photo by Nyetimber.
While hybrid varieties were favoured in the early restoration period for their ability to ripen in the coolest of climates, the trio of Champagne varieties, Pinot Noir, Chardonnay and Pinot Meunier, now dominates the vineyards of England, representing almost 70% of the country's vineyards. That's because sparkling wine represents nearly three-quarters of all bottles sold and the style is likely to remain the country's calling card due to its tepid summers and abundance of chalky soil. And yet, still wines are increasingly successful, particularly in warmer seasons like 2018.
Scotswoman Ruth Simpson and her Northern Irish husband Charles founded Simpsons Wine Estate in Kent in 2012 having earned their winemaking stripes running their other estate Domaine de Sainte Rose in the south of France. In the far cooler, more variable climes of southern England, the couple planned to focus on sparkling wines but still wines represent around one-third of their current production. It's a riskier proposition, requiring riper grapes and a later harvest that could potentially be ruined by bad weather. In the winery, English-grown grapes' naturally racy acidity also requires a skillful winemaker to achieve balance and texture without resorting to sugar, through malolactic fermentation and time on lees.
There's seemingly plenty of demand for still wine particularly in Scandinavia and they are also good for the finances. "There's a lot of excellent sparkling wines but it's an expensive process and you can't rush them to the marketplace. It's much better for cashflow, it's also a way to get your brand into the market," she says.
Ruth Simpson and Charles founded Simpsons Wine Estate in Kent in 2012 having earned their winemaking stripes running their other estate Domaine de Sainte Rose in the south of France. Photo by Simpsons Wine Estate.
A study exploring the impact of recent climate change on UK viticulture published in the Australian Grape and Wine Research Journal showed an increase of 1˚C during the growing seasons of 2004-2013 compared with 1954-1983. Climate change has certainly played its role in the warming of the UK's vineyards but grape growers remain highly vulnerable to the weather on this wet and windy island whether it's spring frosts or rain at crucial times in the season, undoing all the growers' hard work. For example, the cool and wet conditions during the summer of 2012 meant the average crop size was a miserly 6hl/ha compared with a 10-year average of 20.7hl/ha. Emma Rice, head winemaker of Hattingley Valley Wines, says: "The biggest viticultural challenge is the variability from year to year and the unpredictability of the crop. It's like feast and famine. You can have a severe frost as late as May while flowering is usually during Wimbledon so if it rains throughout the tournament you know we are in trouble but if they play without the covers going on, it's going to be a good year!"
Staycationing Brits are reminded every summer that things are not always bright and sunny in Blighty. In an interview with trade publication The Drinks Business, the owner of Hush Heath Estate, Richard Balfour-Lynn, claimed that the pace of planting didn't match sales. "If we carry on the way we are in England, then we will have a massive oversupply," he said. It's not difficult to see why he's worried: in 2018, production exceeded the equivalent of 13 million bottles but in the same year, sales totaled 4 million bottles – which was a record. What's more, Wine GB reports that 3 million vines were planted in 2019 and it has to be asked: who's going to drink all this wine? Rice is more optimistic: "Why is there all this doom and gloom that everyone is going to go bust? There's a huge lag between planting, harvesting and releasing a [traditional method] sparkling wine. Our sales trajectory is looking just fine." The industry's association, Wine GB optimistically predicts that it "could easily be selling 40 million bottles by 2040", an eightfold rise.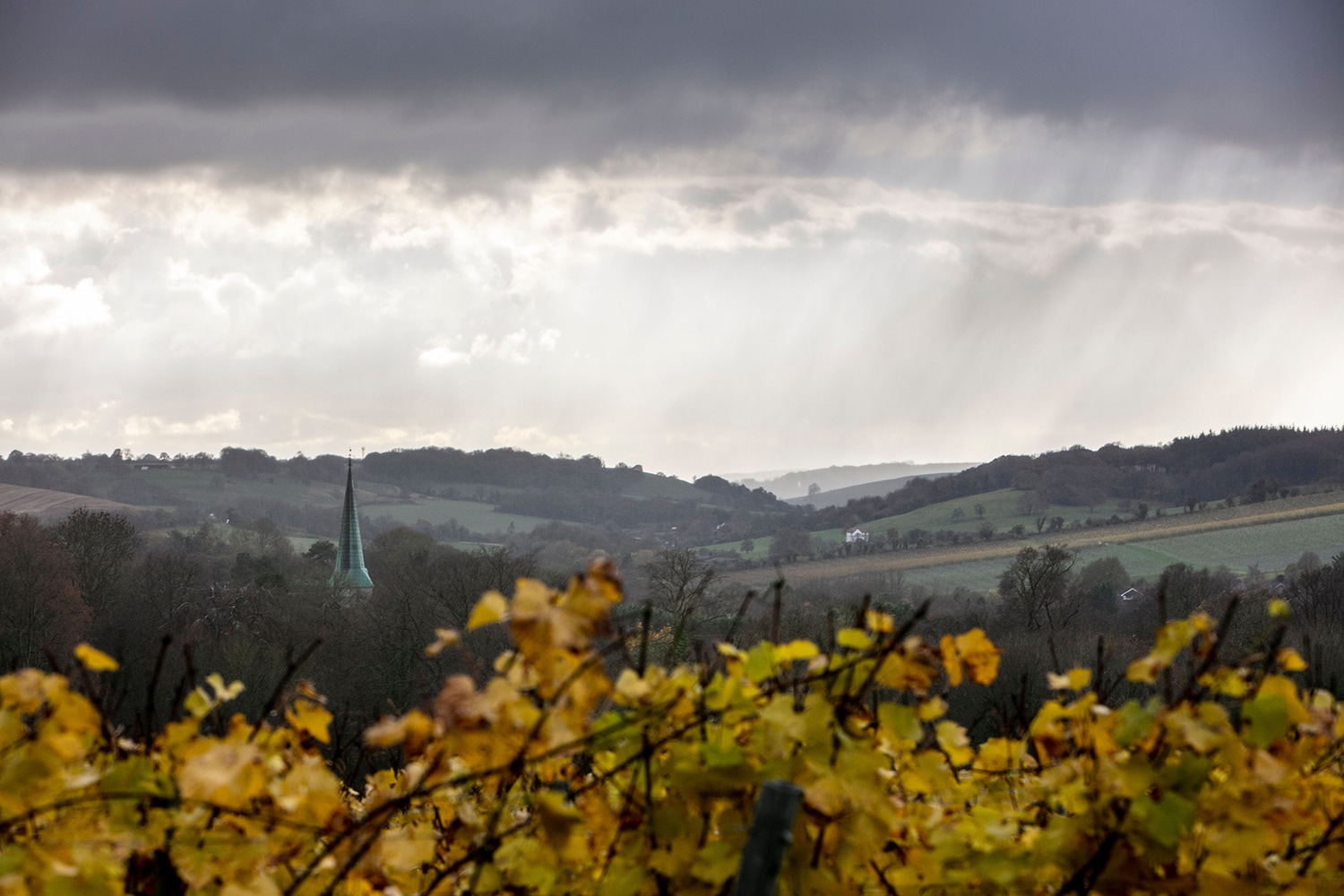 The variability of temperature and rainfall is still one of the main challenges English wines face, with crop sizes varying widely from year to year. Photo by Simpsons Wine State.
While the domestic market is the main outlet for English wine – just 8% is exported – it can now be found in 40 countries from the USA and Europe to China and Australasia. Hattingley is unusual in its export focus with strong sales in North America. Rice explains the rationale behind its strategy: "There are more and more brands and more competition in the UK. There are only so many slots on restaurant lists and retailers' shelves. It's not like Champagne, where a store might offer 10 choices, there's one. In the U.S. there are maybe two or three other English wineries competing in a market of 350 million people."
The quality of English wine is rising like the string of bubbles in a fine glass of fizz but consistency remains a huge challenge in this most inconsistent of climates. For many drinkers, English wine remains a curiosity but for sustained long-term success, the wines must convince drinkers that they are worth having in their glasses.
Passionate about Sparkling Wines? Here's other amazing articles:
>> Sparkling Wine: The Global Bubble Phenomenon
>> Returning to Craftsmanship: Cristal 2012
>> All That Sparkles Is Tasmanian Gold

Simpsons Wine Estate Derringstone Pinot Meunier 2019
Rarely seen as a single varietal bottling, Pinot Meunier is normally part of a trio in a sparkling Champagne blend. Here it is showing its still life version, revealing a deeply coloured hue and aromas redolent of smoke and spice, poached pear and subtle raspberry. Medium in body, this has a sense of richness on the palate and the merest hint of tannic grip providing mouthcoating texture followed up with a fistful of English acidity on the powerful finish. Idiosyncratic. Bottled under Vinolok, a glass closure.
Gusborne Estate Blanc de Blancs 2015
Scented and satisfying, I love the precision of a good Blanc de Blancs and this hits the spot. It offers a richly aromatic nose with plenty of lees-derived almond croissant-like flavors meeting apple and nectarine. Light in body it has plenty of concentration, a very fine bubble and a lengthy, taut finish. Excellent.
Nyetimber Classic Cuvee Brut NV
A dry, fine and elegant fizz with a lees-derived creamy brioche flavour and gentle texture. Lovely harmony between the dosage and the fine line of acidity. Notes of red apple and citrus linger long on the palate.