Most wine lovers in the US have heard of Temecula, even if they've never been there, and there's a reason for that. It's a uniquely beautiful area that's only an hour or so away from some of the most popular and well-known regions of California. San Diego, Palm Springs and Orange County.
Exploring the Temecula Valley Vineyards
Most wine lovers in the US have heard of Temecula, even if they've never been there, and there's a reason for that. It's a uniquely beautiful area that's only an hour or so away from some of the most popular and well-known regions of California. San Diego, Palm Springs and Orange County.
Temecula Valley was voted one of the 10 Best Wine Travel Destinations in 2019 (Wine Enthusiast) and when you're done tasting and looking for something else to do, there's still plenty of options to add to your list.
Okay, so if you're thinking about taking a wine tour or checking out a new region, why would you go with Temecula Valley? Well, besides some of the best wines you've tried, the people are friendly and welcoming and the Temecula Valley has some of the best views.
So if you're the type who likes to sit and have a glass of wine while you watch the sunset, you're not going to be disappointed here.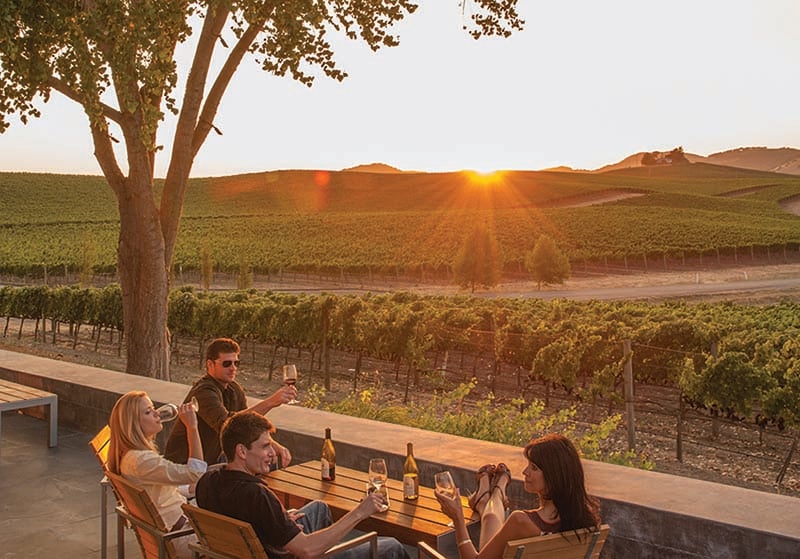 California outdoor wine tasting during sunset. Amazing experience where you can enjoy the magical view and discover new wines. (Photo by Robert Holmes, California Wine Institute)
Many of the vineyards are actually owned and operated by local families, which makes them a whole lot of fun to visit. When you go to one of these family wineries, you're experiencing great styles, flavours and practices that have often been carried out for generations.
You're also getting something that these people are passionate about and depend on day-in and day-out. They take great pride in producing something that people enjoy discovering and hopefully finding a new "favourite" wine. That's definitely what I've found.
Top vineyards to check out
California as a whole has some of the most diverse wine regions, vineyards and wineries. But Temecula Valley is actually becoming one of the more popular regions with a climate and soils that allow the region to produce distinctive wines that truly give one a "sense of place".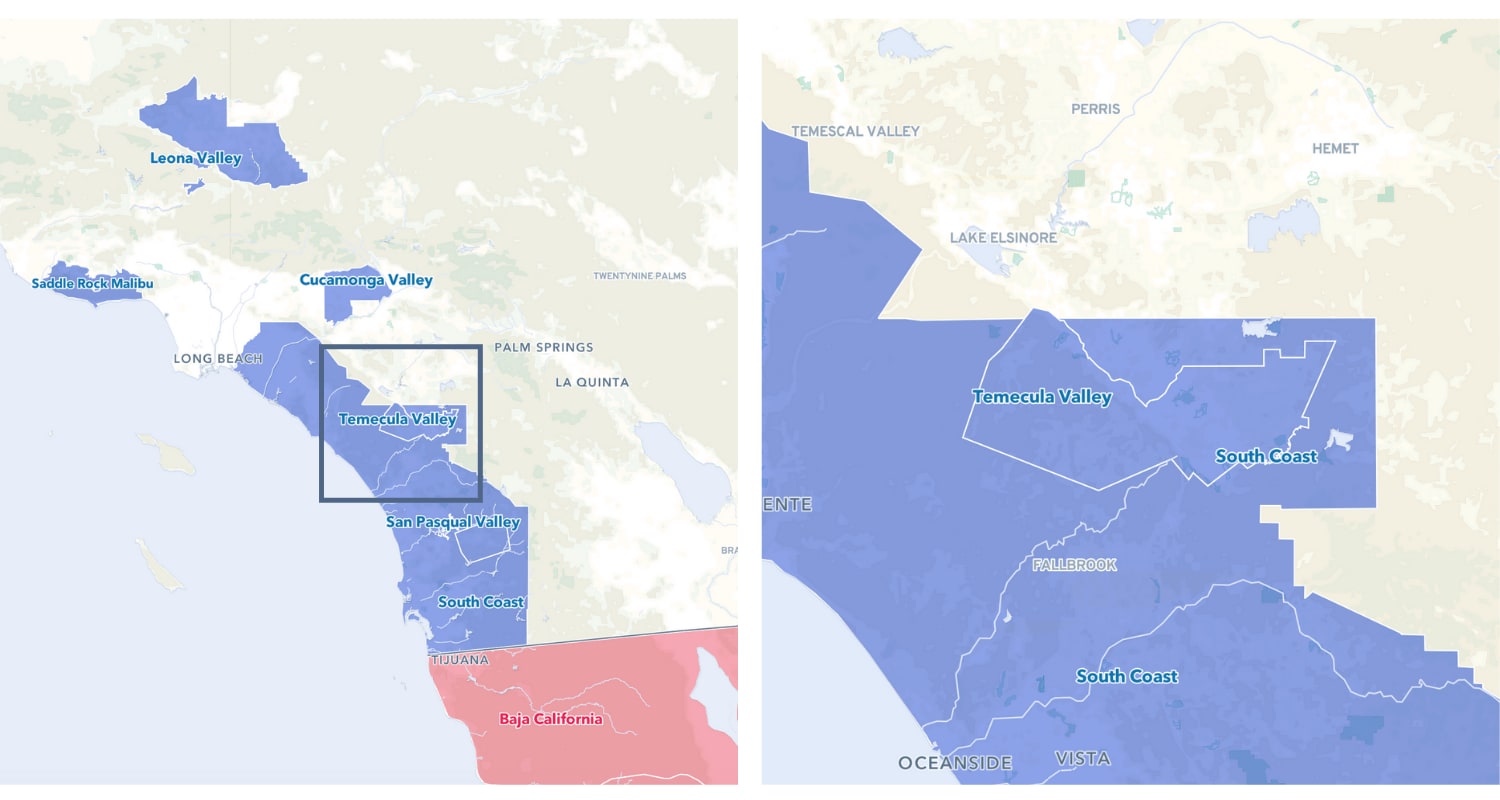 Temecula Valley Wine Country spans more than 33,000 acres, actually the largest viticultural area in Southern California, with a short distance from cities such as San Diego and Los Angeles. Temecula Valley has hundreds of award- winning wines. (Map source True Wine)
Palumbo Family Vineyards
A beautiful setting and what's really cool is that it's run by a single family. They produce 2,500 cases per year, which is actually pretty small, and the main reason they're considered a boutique operation. They create handcrafted wines and everything comes directly from their own property, so you know exactly what you're getting. On top of that, the owner likes to mix the best of old and new ideals and styles when creating the wine and it definitely shows in the beauty and the flavors that you can expect.

Mostly you're going to find big, full-bodied red wines here, along with some very special red blends as well. Their property is filled with different varieties of Cabernet Sauvignon, Merlot, Cabernet Franc and Sangiovese, so there's a very dedicated and high quality array available. Making wine since 1998, there are options for tastings, gatherings and even private dinners here, so you can really sit back and enjoy yourself.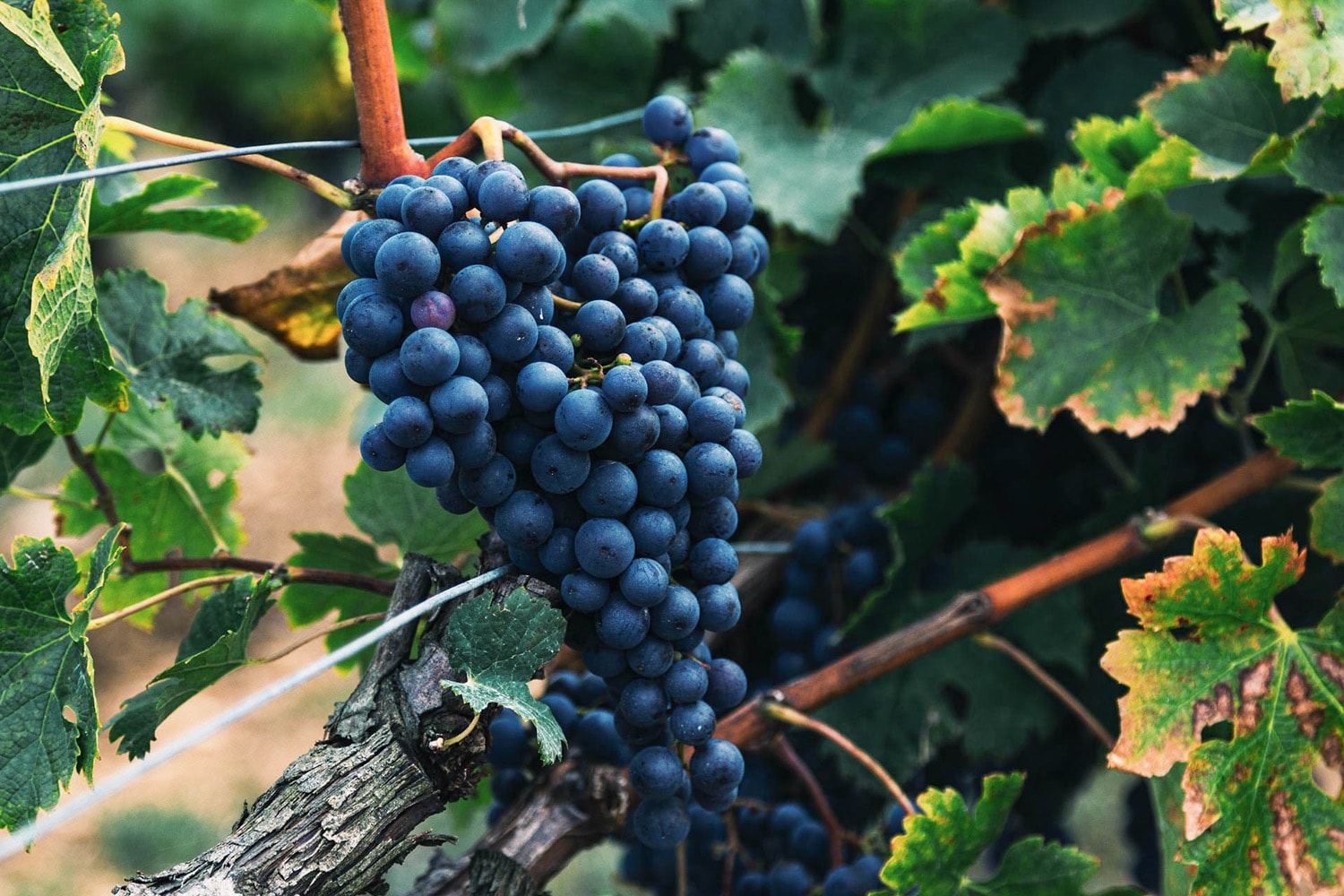 If you are a red wine lover, this vineyard is for you. You will find big and full-bodied red wines here, with special red blends as well. Palumbo Family Vineyards is overwhelmed with different types of Cabernet Sauvignon, Merlot, Cabernet Franc and Sangiovese. (Photo by Alasdair Elmes on Unsplash)
Carter Estate Winery and Resort
For those who are looking for an option that's more of a resort first and winery second this is another way that you can go. They actually have an on-site restaurant as well as outdoor pools, beautiful bungalows, hot tub, spa and more. It's definitely a great way for you to have some fun, enjoy the beautiful weather as well as the views and spend a little bit of time trying some really awesome bottles of wine.
The vineyard itself boasts 109 acres, allowing them to produce a fair bit of wine. The sunshine in Temecula and the soil throughout Southern California are - what they claim - behind the amazing quality of the wines that they produce and when you're ready to get a sample or try out a full glass, you're definitely going to be happy you came here. They have tasting rooms as well as plenty of food in the restaurant that you can pair with the wines that you like best.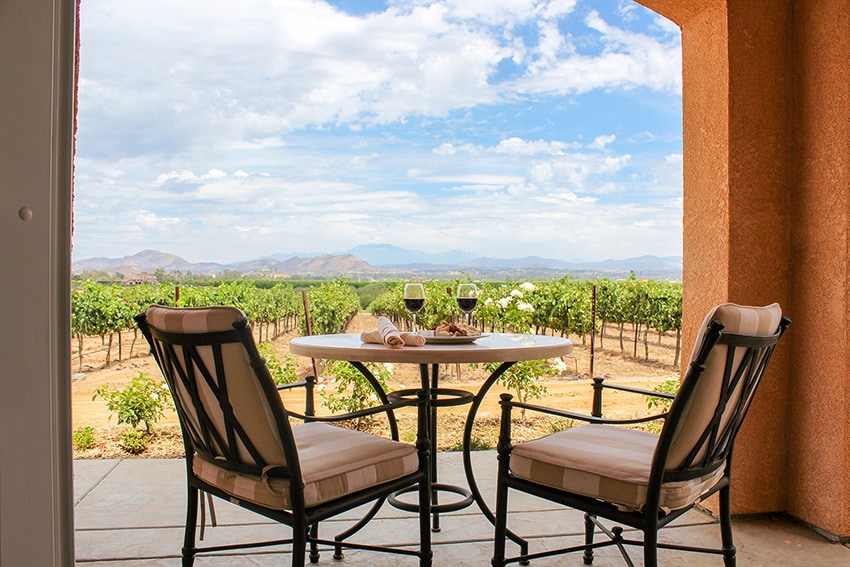 Vindemia Winery
Another family-owned and operated winery that offers something truly spectacular in the way of views. They seem to have a bit of Europe mixed with a bit of Southern California to create a vibe that's difficult to explain and definitely impossible to replicate. What's great though is that they have a whole lot of options for what you can experience and because it's all from one family it doesn't get much better.
The Vindemia Winery has a whole range of different reds, whites and dessert wines, so you don't have to sacrifice your taste based on what others in your group are looking for. There are complimentary tastings as well as a wine club and you can rest assured that the wines you taste all come from sustainably-farmed products. So you get a great wine experience and can be happy about what you're doing for the planet while you're at it.
Nothing better than watching the sunset in California while you are sitting with a glas of wine. Temecula valley will not make you disappointed. (Photo by
California Wine Institute)
Callaway Vineyard & Winery
Finally, this one actually offers some of the high-end wines that you've probably been looking for in your home town. It's all about premium wines and all of them are designed to be fruity, full-bodied and great for light fare. Almost all the fruit comes directly from the region, which means you're getting something even fresher and higher quality. And you're going to have some of the best wine in the entire country, because this winery boasts being one of the top producers of some of the best brands in the entire United States.
The wines are fermented at a lower temperature than most wineries, which means you're getting a longer skin contact and extraction. This makes sure the flavor of the grapes used is even higher in terms of quality and flavor intensity throughout.
You'll end up with a clean and smooth finish to each of these wines that definitely comes from the way the grapes are cared for from the time they are planted until when they're harvested, crushed and fermented to create that next bottle. No matter what wine ends up being your favorite, you'll be happy you checked it out.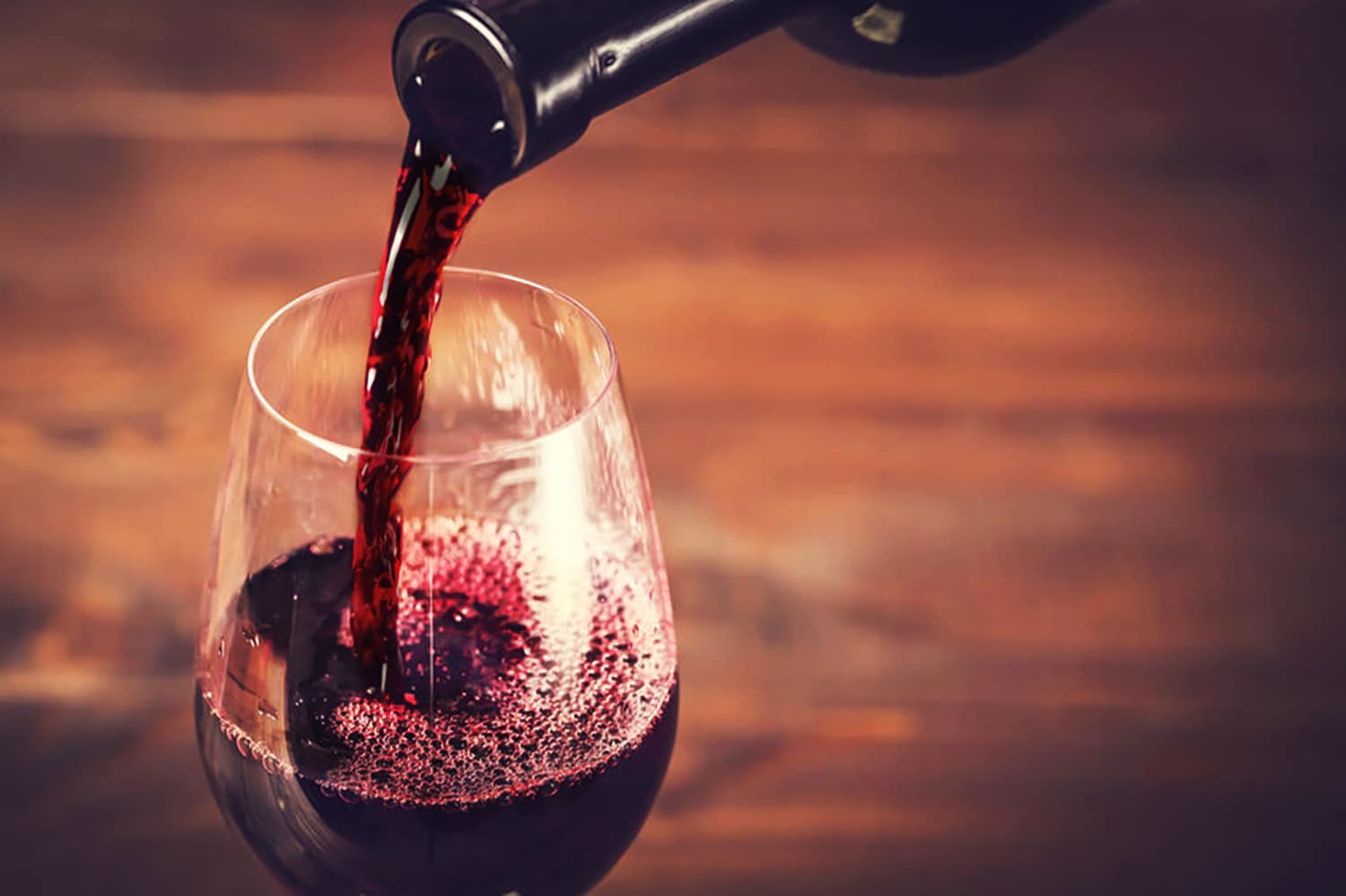 Callaway Vineyard & Winery are famous for their premium wines, which are more fruity, full-bodied and great for light fare. The wines are fresher and are having a higher quality, and you will taste some of the best wine in the entire country.
Where to eat
Knowing where to eat is always an important part of any adventure, especially when you're going to be tasting at a bunch of wineries. You want to have some options too, right? Well, you're going to be more than happy in Temecula because no matter what type of food you like best, you'll find it here.
The Goat and Vine is one of the best places that the locals really love too. Considered the best restaurant in the area this American food restaurant also offers all kinds of pizza and a really good vegetarian menu too.
The best restaurants in the area have a lot of food options, such as American food, pizza and vegetarian/vegan menues. In other words, there is something for everyone! (
Photo by Pinar Kucuk on Unsplash)
Gourmet Italia is a great option for those who love Italian food and are looking for something a little more upscale. It's not going to be super expensive by any means, but you're going to pay a little bit more. There's something on offer for everyone to enjoy with both vegetarian and vegan options too.
You'll find snacks and small meals at the Penfolds Café, a moderately priced place that's one of the favourites in the area. They have breakfast, salads, snacks, vegetarian options and the café atmosphere you would expect. Plus, they're open really early so if you're heading out at breakfast time this the place to stop by.
Enjoy your trip
There's a whole lot to enjoy in Temecula and if you're looking for a place with the vineyards, wineries and tasting rooms you're definitely not going to be disappointed in finding perfect places to wine and dine. Cheers!