Housed in the same family for over 400 years, Vintec Club members are invited to sample the delights of the Le Puy estate (Côtes des Francs, Bordeaux) in our next series of events for Australia and New Zealand.
Our host is Frédérique Roine, Global Ambassador of Le Puy. *We're following precautions due to the coronavirus outbreak and have taken the decision to postpone these events to a later date.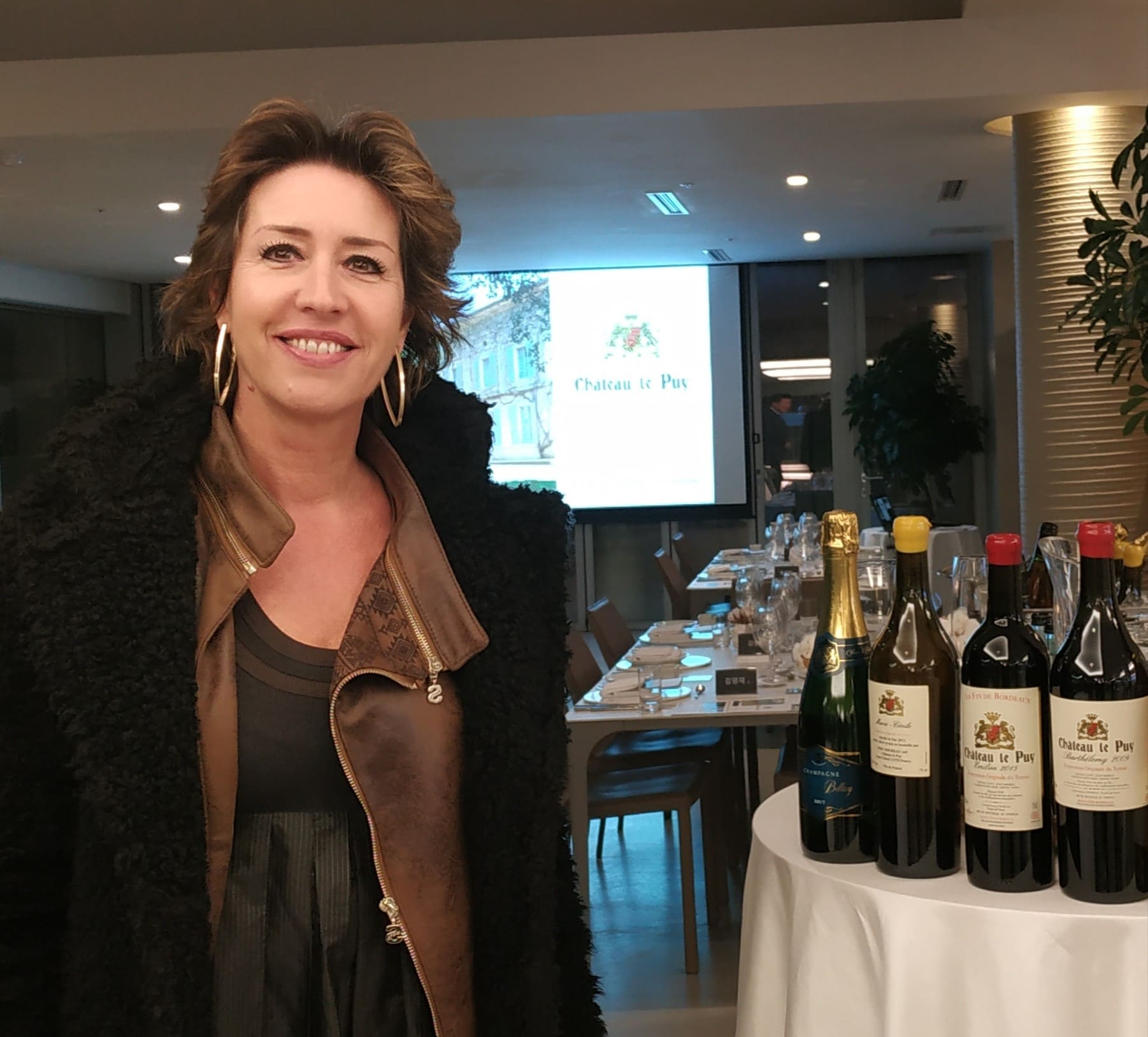 Tell us about your special relationship with Le Puy!
My grandparents had a vineyard just a kilometer from Le Puy where I was born and I spent all my holidays at the château. My family estate was unfortunately sold so after 10 years in Paris as a commercial supervisor and 14 years in the wine business for Bordeaux wine merchants, I met Le Puy's current custodian Jean Pierre Amoreau and was given the opportunity to become ambassador. I've always been a big fan of wines coming from this place and it was the perfect moment to go back to my roots with authentic and committed winemakers.
What are the unique qualities about Le Puy and its wines?
The estate has a long and unique history, being in the Amoreau family since 1610 and now the 14th generation of winemakers remain committed to a natural approach. The terroir is unique with red clay and limestone and is full of life, biodiversity and free of any chemicals. The result is original Bordeaux wines produced as naturally as they were 100 years ago.
The name recently changed from Château Le Puy to simply Le Puy. How come?
We noticed that our loyal customers refer to us as simply Le Puy and over time we have become used to it and like it too. Le Puy evokes the sense of a place and our wine is not the produce of an appellation or a classification, but of the land which has been in the hands of ancestors for over four centuries. It also represents a return to our roots - a time when the word château was absent and we were simply called Le Puy.
The Amoreau family have long been working on getting their own AOC Le Puy appellation – what is the latest and the chances of it being approved?
A few years ago, a geological study identified a small plot with a distinct limestone composition within Le Puy vineyards - used to produce cuvee Barthélémy - and this is what would become AOC Le Puy.
The AOC – Appellation d'Origine Controlée – system defines and preserves identity of a terroir. Since we have identified a part of the vineyard that is totally different from the surrounding terroir of the Francs appellation, we would like the AOC system to acknowledge the specificity of Le Puy. That requires quality charter that details the winemaking practices, checked by a local wine syndicate and a quality control agency. We believe we meet the criteria and a single château would be a first for Bordeaux.
So far it has not been accepted but we remain convinced of our approach and we will continue with attempts to recognize the specificity of Le Puy terroir.
Present the Le Puy wine list that our Vintec Club Members will have the opportunity to taste.
We start Rose Marie (2018 vintage), the only rosé produced at Le Puy and a completely natural wine, produced from a single variety, Merlot. Its colour can change from one year to another, from light to a very light, almost transparent, ruby.
Then we move on to Emilien, the cuvée that represents all the plots of Le Puy. It's a wine of great finesse, with smooth tannins in its youth but also the potential to age and grow for several decades, revealing the full depth and character of this prestigious terroir. Members will be able to assess this since we're going to taste 2016 and the 2000 vintage - the latter in magnum!
Next we focus on the flagship of the château – Barthélémy – again with two vintages – the current release 2017 and back vintage 2008. It is the fruit of a plot of vines known as 'Les Rocs', planted with 85% Merlot and 15% Cab Sauv. A very rich palate expresses all the complexity of a deep, yet silky structure and its finish is temptingly moreish - an invitation to keep on exploring this wine.
Lastly, we will showcase a very rare wine from our portfolio, Retour des Iles, 2016 vintage. The winemaking for this wine is unique and each year, our winemakers' taste and select a few barrels to load aboard a sailing ship for an Atlantic crossing. After at least one year of maturing by dynamization in our cellars, this wine benefits from the ocean swell and winds for almost a year aboard a schooner.
This is a wine list where Vintec Club members will be able to assess aging potential by comparing current releases with back vintages along with the savoir-faire of the château in the Rose Marie and Retour des Iles.