In 1896, the most expensive wines listed by Britain's oldest wine merchant, Berry Bros. & Rudd, were from the Rheingau. These German whites would each set you back 200 shilling a dozen, making most Bordeaux classified growths look like a steal. How times have changed.
In the year that first modern Olympics were held, wines worth of a gold medal – and with prices to match were German Rieslings. In 1896, the most expensive wines listed by Britain's oldest wine merchant, Berry Bros. & Rudd, were from the Rheingau. These German whites would each set you back 200 shilling a dozen, making most Bordeaux classified growths look like a steal: you could buy a magnum of Château Lafite Rothschild 1870, the second most-expensive wine, for 144 shillings and become the owner of five cases of Chateau Palmer for the same price as a case of these Rieslings. How times have changed.
Heading further back in the time machine, Riesling can be traced back to the fifteenth century in Germany and it became the as-yet unified country's grape of choice after the Thirty Years War. The variety had a lot going for it and the Germans were pretty sensible to choose it: it is a hardy variety that withstands the cold winters of Germany and buds late, which mitigates the problem of spring frosts. It isn't particularly sensitive to fungal diseases and can produce a relatively large crop without compromising on quality, and that's not something you can say about many grape varieties. While Riesling has recently fallen out of favour with wine drinkers who mistakenly think that it only produces sweet wine, in the late 1600s, growers would have sold their right arm to have been able to make something naturally sweet and luscious.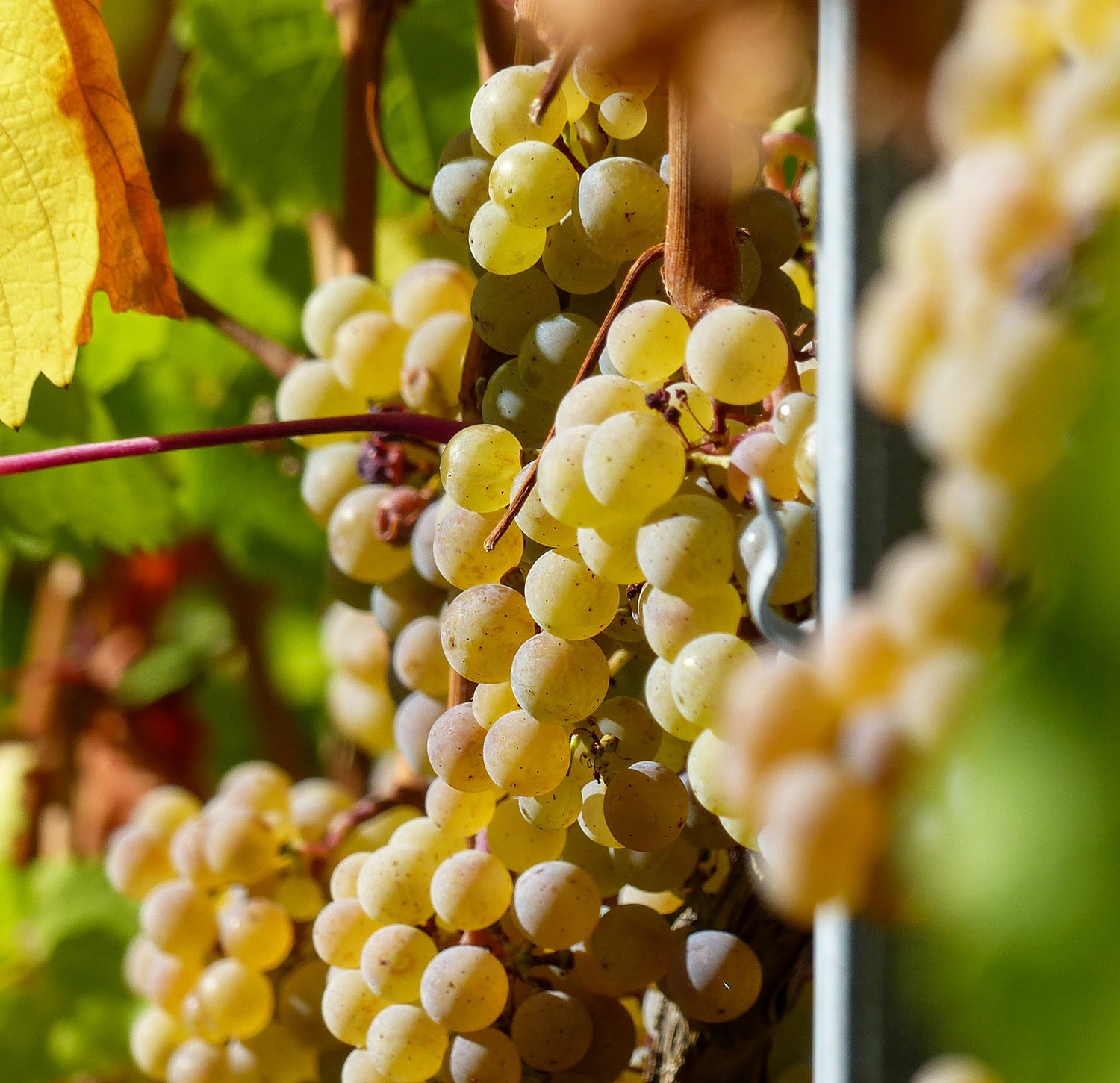 Riesling become the Germany's grape of choice for its resistence to cold winters and late budding – helps to prevent spring frost (picture by Luca on Unsplash).
The fact that Germany adopted Riesling long ago and now accounts for half of the world's Riesling vineyards means the reputation of the variety and the country are inextricably linked. Unfortunately Germany shot itself – and therefore Riesling - in the foot when it created an overly complicated wine law in 1971, enshrining a quality system based on the sugar content of the picked grapes not the quality of the site nor the calibre of the final wine. "It was the origin of German misery, " says Egon Müller IV, maker of the world's most expensive and coveted sweet Rieslings from the Scharzhofberg vineyard in the Saar. "The idea of terroir was disregarded," he adds. The Riesling grape's reputation was inevitably dragged through the mud by a troubled German wine industry. However, there's been a fightback by quality-oriented producers in Germany and the concept of terroir is back on the menu: What's more, with a new generation of drinkers with no Black Tower or Blue Nun baggage there's hope that it can start afresh.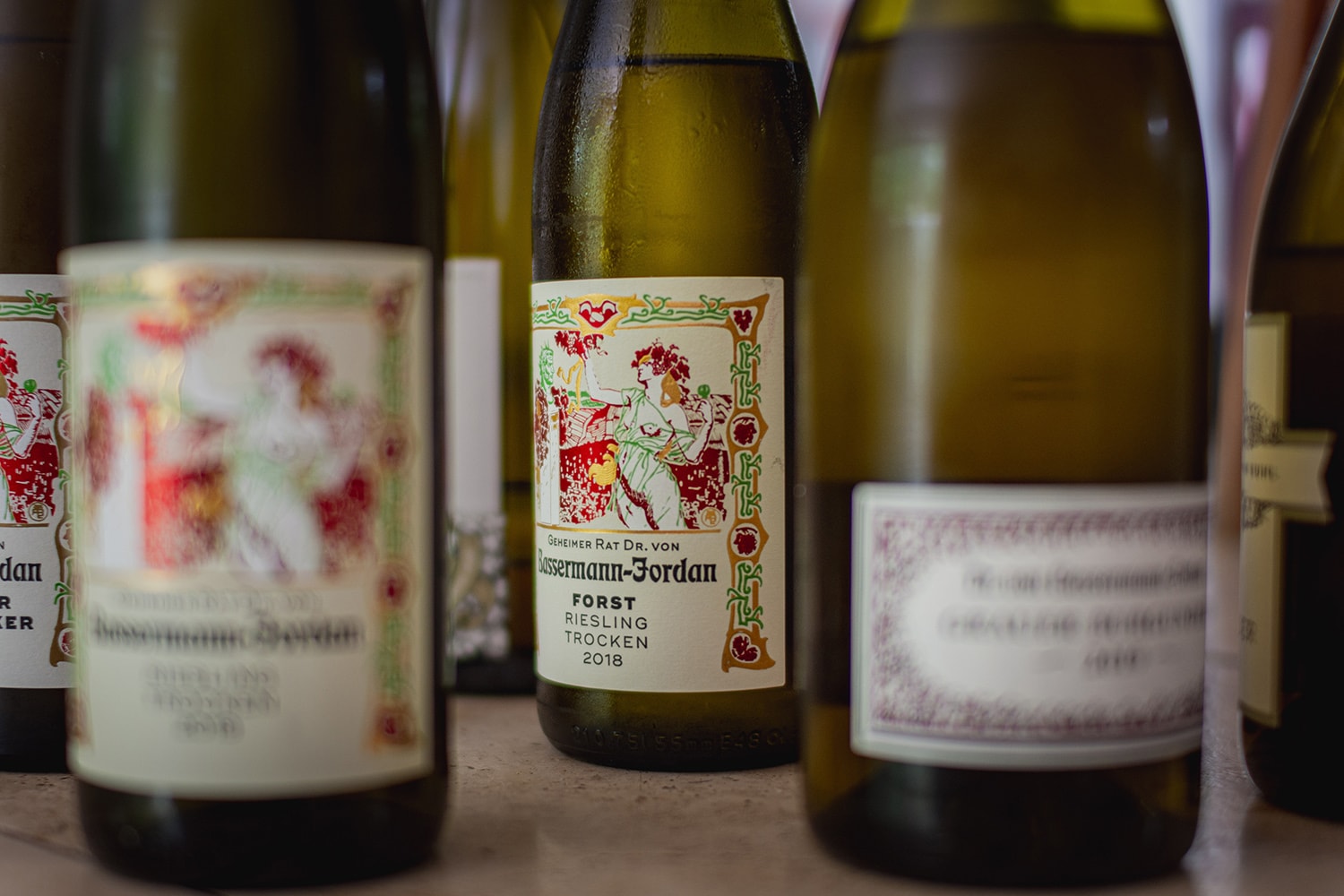 Unlike other countries such as France and Italy, the German wine classification is based on the sugar contents of the picked grapes – Kabinett (semi-sweet), Spätlese (late harvest), Auslese (select harvest), Beerenauslese (select berry harvest), Trockenbeerenauslese (dry berry harvest selection) and Eiswein (ice wine – naturally frozen grapes). Picture by Sandra Grünewald on Unsplash.
Given that Riesling is a leading contender for translating its sense of place better than any other white variety, Germany's decision to base quality on sugar rather than origin seem even more ludicrous. Its sweeter styles offer crystalline purity and floaty-light delicacy, particularly in the Mosel Valley while the Rheingau and the Rheinhessen are a touch more powerful. Whether you're in Germany or beyond, the defining factor in Riesling, which thrives in cool climates, is its steely spine of acidity that provides the sensation of an arrow shot by an Olympic archer. The absence of any palpable oak in the vast majority of cases, also means Riesling is an unsullied expression of grape and site.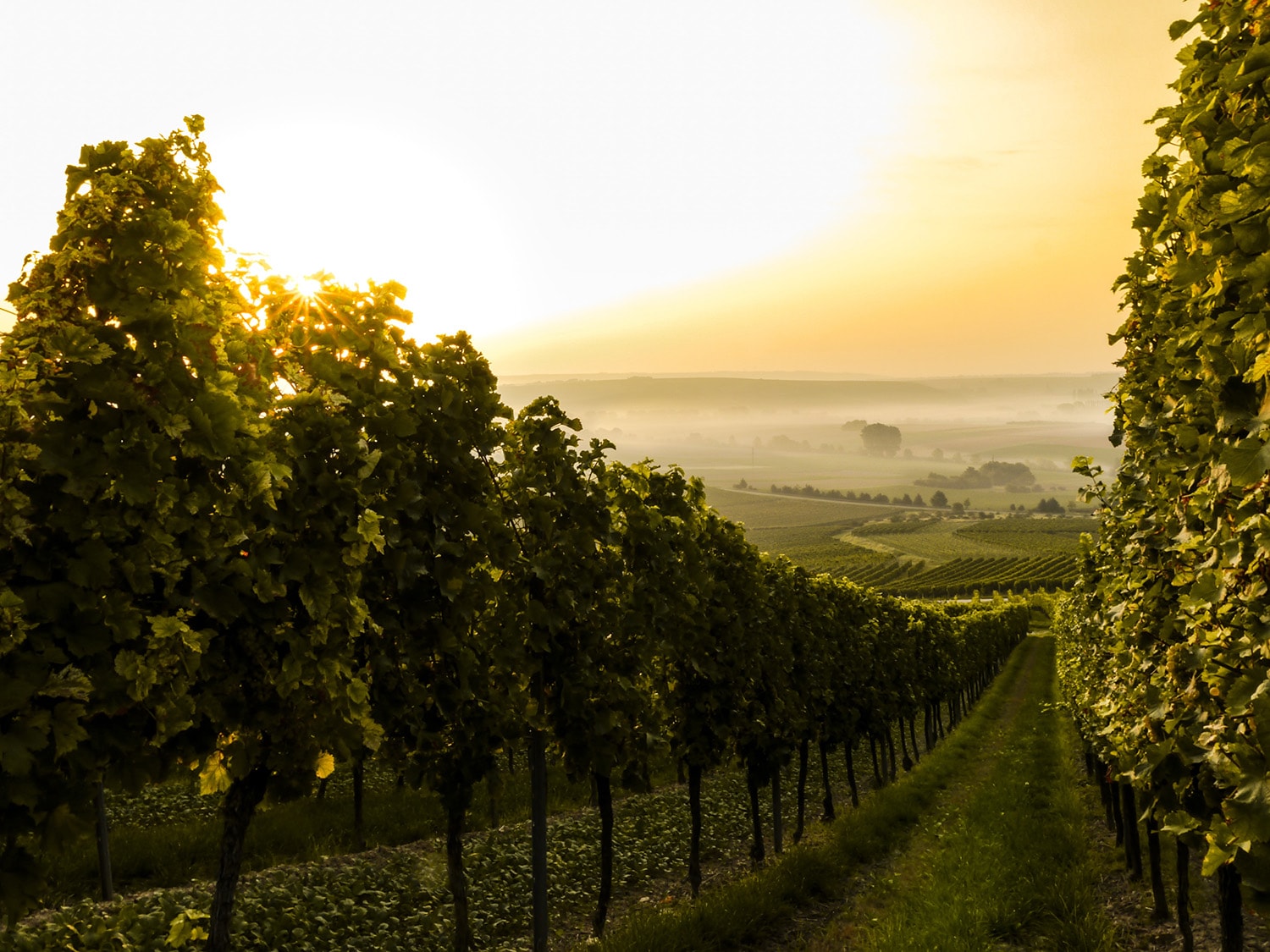 Rheinhessen is the largest of the 13 German wine regions for quality wine production. It lies on the left banks of the Rhine river (picture by Sven Wilhelm on Unsplash).
Perhaps that's why Riesling is that grape that wine lovers love to love. Despite the wine community's declaration of devotion, Riesling just can't get a decent grip on normal people and that's why it covers a paltry 42,000 hectares of the world's surface. By comparison, Chardonnay has spread its sometimes buttery wings across 210,000ha of the earth and flamboyant Sauvignon Blanc now makes up 123,000ha of the world's vineyard.
While Germany remains the dominant force in the minority league that is Riesling, cross the French border to Alsace or head south to Austria, and you'll find full bodied, powerful expressions with plenty of grip. Far beyond the European continent, Riesling-loving German migrants made sure that they could experience a taste of home in their new life Down Under in the 19th century.
The variety has flourished in South Australia despite the warm climate and Australia is now second only to Germany in terms of total plantings. Its popularity sparked the curiosity of Müller and, in 2005, he produced his first Riesling in the Adelaide Hills. The two climates are dramatically different. "We are on the 50th parallel (latitude) in Germany so our seasons have a different pattern to those in Adelaide on the 50th." He likes to compare growing great Riesling to slow cooking: "the season is much longer in Germany. At the end of the season, the daylight falls, which I like to think urges the vines to ripen their grapes; it also means temperatures are lower and the sun is weaker so you get ripe grapes without a lot of sugar." This tortoise-like progression towards the harvest is one of the reasons for his superlative wines. I don't want to tell him but if he had gone a little further south, he would have found a similarly cool, long season in New Zealand, producing Rieslings with scintillating acidity and purity but perhaps he didn't want two nail-biting vintages a year; growing and selling Riesling is already an Olympian effort.
How to spot it blind…
Germany
Mosel
Classic sweet styles are low in alcohol yet impeccably poised thanks to its fine acidity. Delicate and precise with tingling aromas of citrus, green apple, talc and white flowers in youth, the best can age for decades and decades.
Rheingau
An increasing amount of dry (trocken), clean-as-a-whistle wines are made in the Rheingau. They are typically more powerful and firm than the Mosel
Pfalz
In the warmer climes and heavier soils of southern Germany, the style is full, fruity and increasingly dry.
France
Alsace
Typically bone dry with medium to high alcohol thanks to long, settled autumns allowing for full ripeness, Alsace Riesling can be deep in colour, grippy and savoury with ripe apple and spice, perhaps even a whiff of smokiness.
Austria
Dry, tangy and minerally, expect a powerful, medium to full bodied style that can be spicy, not unlike its signature variety, Grüner Veltliner.
Australia
Expect dry Rieslings from Australia and a grippy sensation (from low pH not skin contact). Often displaying a lime-citrus flavour in Clare or a floral note in the Eden Valley, these wines offer toasty flavours with age, honey and a whiff of petrol.
New Zealand
In the cool climes of New Zealand, Riesling retains its racy acidity and produces low to moderate alcohol levels. Generally off dry to balance that acid zing, they offer pure apple fruit, lemon citrus and white flower notes Not dissimilar to Germany but a bit juicier.

J.J.Prüm, Graacher Himmelreich, Riesling Spätlese 2012, Mosel, Germany
An open and seductive style redolent of mango, mandarin and quince with sweetness that's beautifully balanced. There's a sense of stone-licking texture on the finish which is so satisfying that you almost want to sink into it. (Alc 9%)
$32 ex sales tax
>>Order on Vivino (subject to availability in your location)
Reichsrat von Buhl, Forster Pechstein, Grosses Gewachs 2013, Pfalz, Germany
One of the best wineries in the Pfalz, the Pechstein vineyard sits on a rare piece of basalt dirt. Yielding just 30hl/ha there's not much of this dry Riesling made but it's worth getting your hands on. Expect an intensely concentrated Riesling with a huge core of fruit that's starting to become a touch savoury as well as filling the mouth with oranges, peaches and a creamy essence that hails from extended time on lees.
$54 ex sales tax
>>Order on Vivino (subject to availability in your location)
Egon Müller, Kanta 2015, Adelaide Hills, Australia
Classic but classy, this is a bone dry, delicate and elegant style texturally made from the Balhannah vineyard (400m above sea level) at the Shaw + Smith winery. The aromas are lime- and toast-driven with a touch of grippy phenolics, as Müller allows some skin contact in his Australian Riesling unlike those of his homeland. Left on lees for 6 months bringing additional textural elements to the aromatic style.
$22 ex sales tax
>>Order on Vivino (subject to availability in your location)