If Nebbiolo is among Italy's most noble grapes then surely it must produce great wines beyond Barolo. Indeed, the northwest corner of Italy is teeming with other Nebbiolo-based gems that live up to the grape's lofty reputation.
It's easy to get lost in Nebbiolo's evocative aromas. Transcending classic descriptors of rose and tar, this grape offers up an intricate assortment of scents that range from violet, rosehip and sweet spice to mint, thyme, rosemary, white pepper and, with age, dark chocolate and truffles. Its pale, usually garnet color belies its power. Assertively structured with brisk acidity and long, grainy tannins, Nebbiolo is not a fruity wine - and it demands food. The long-aged, long-lived elixirs of Barolo are held up as archetypes.
Nevertheless, Nebbiolo's greatest strength is its ability to express where it is grown, and it is cultivated far beyond the hills of Barolo. Oft overshadowed by the latter, the nearby region of Barbaresco sits closer to the Tanaro River. The milder climate and overall lighter soils give less compact wines with immediately seductive aromas. They are the epitome of elegance. While generally ready to drink younger than Barolo, Barbaresco still has plenty of tannins to go the distance. I will never forget a blind tasting in which I guessed the wine to be a 1990 Barolo. It was a 1978 Barbaresco.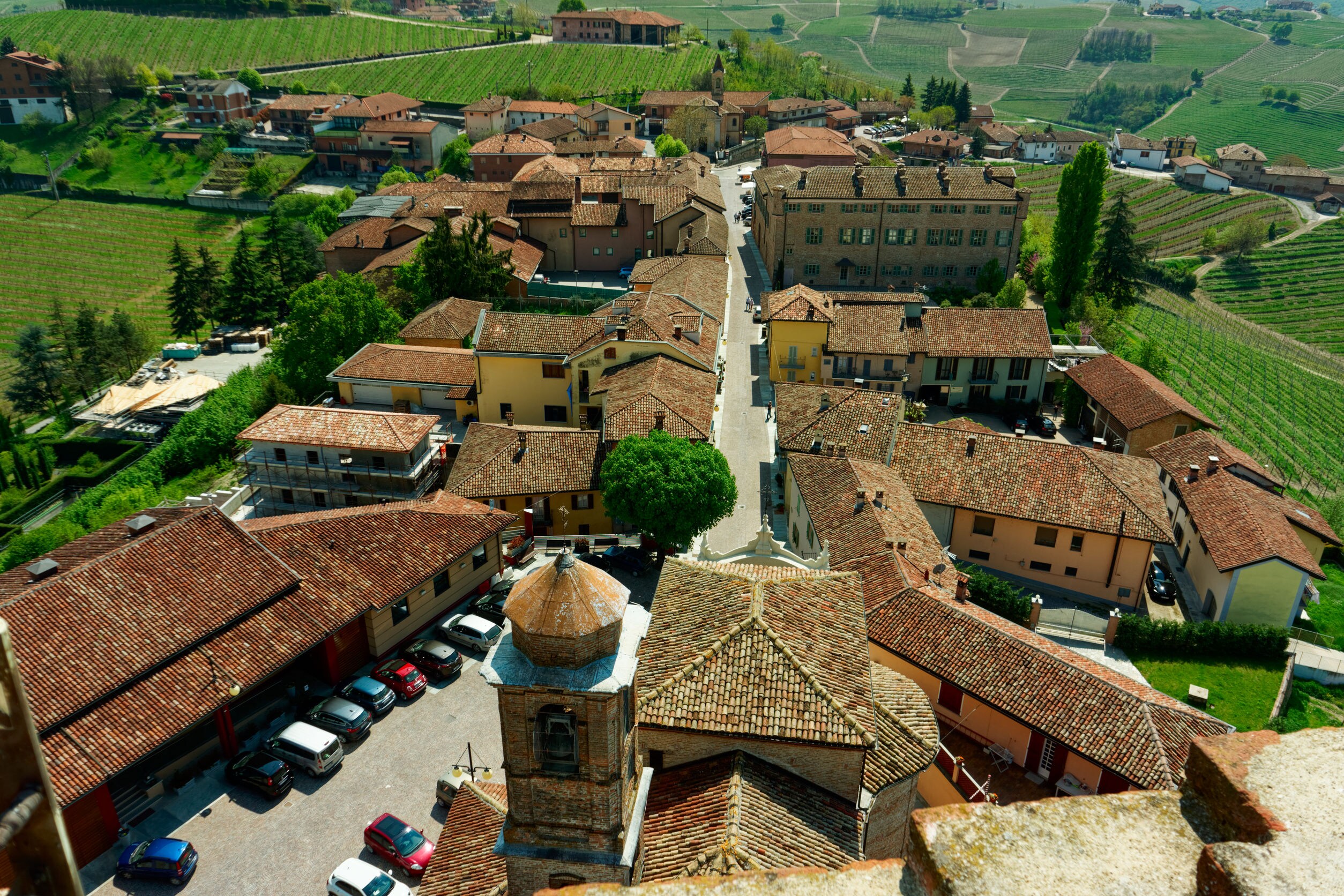 (Town of Barbaresco, Piedmont, Italy).
The aforementioned Tanaro River separates the Langhe, which encompasses Barolo and Barbaresco, from the region of Roero. The two banks have very different geological foundations. "The sandy soil plays an important role in the character of the wines," says Francesco Monchiero of the Monchiero Carbone estate. It accentuates the gorgeously perfumed side of Nebbiolo and gives finer, gentler tannins. Roero sometimes struggles with its identity, trying too hard to emulate its more illustrious neighbors. Yet recent tastings show more producers embracing Roero's charming, graceful disposition. Nevertheless, Monchiero is quick to make the distinction with Roero's longer-aged Riservas, explaining that these tend to hail from sites with pockets of clay producing more robustly structured wines.
Ninety percent of the world's production of Nebbiolo is concentrated in Piedmont. The vast majority of that comes from its southern regions of Langhe and Roero. Yet this hasn't always been the case. "In the past, there was much less Nebbiolo in southern Piedmont and much more planted closer to the mountains," says Dr. Anna Schneider, a grape genetic researcher and leading expert on Nebbiolo. She is referring to the area Alto Piemonte on the foothills of the Alps. "Industrialization wiped out the zone at the end of the 1800s as vineyards were abandoned." Today, plantings represent a mere five percent of what they used to be, yet an increasing number of producers are trying to restore this area to its former glory.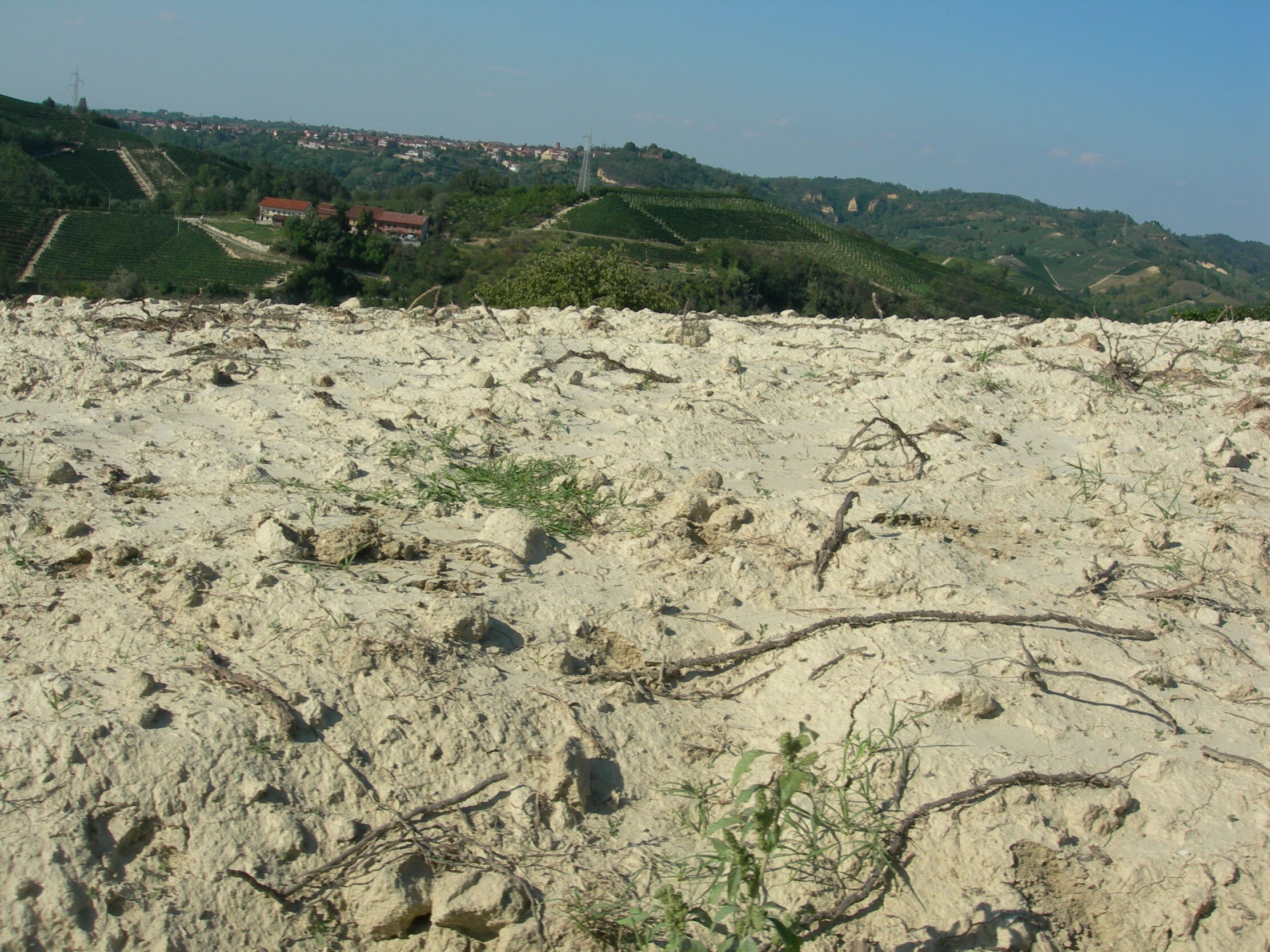 (90% of the Nebbiolo global production comes from Piedmont, and the vast majority within the region comes from the southern regions of Langhe and Roero. In picture, Roero soil and vineyards on the back).
Alto Piemonte unites ten diverse denominations, like lesser-known Gattinara and Ghemme along with the truly obscure Bramaterra, Boca, Fara and Lessona, among others. Though they posses different soils, all are markedly acidic. "This brings out the mineral-like aspect of Nebbiolo," explains Luca De Marchi at the Sperino property in Lessona. Furthermore, significant day and night time temperature differences accentuate Nebbiolo's (or Spanna as it is known locally) already poignant fragrances. On the palate, the wines are relatively slim-framed, somewhat austere but focused and crunchy.
In the northwest of Piedmont, the lonely denomination of Carema is not included under the Alto Piemonte umbrella as it doesn't share the acidic soil matrix. In fact, Carema has more in common with Donnaz which sits across the political boundary in the alpine region of Valle d'Aosta. The two supply lean, acid-driven and slightly rustic Nebbiolo. The renaissance here is not as advanced as in Alto Piemonte but these are still areas to watch.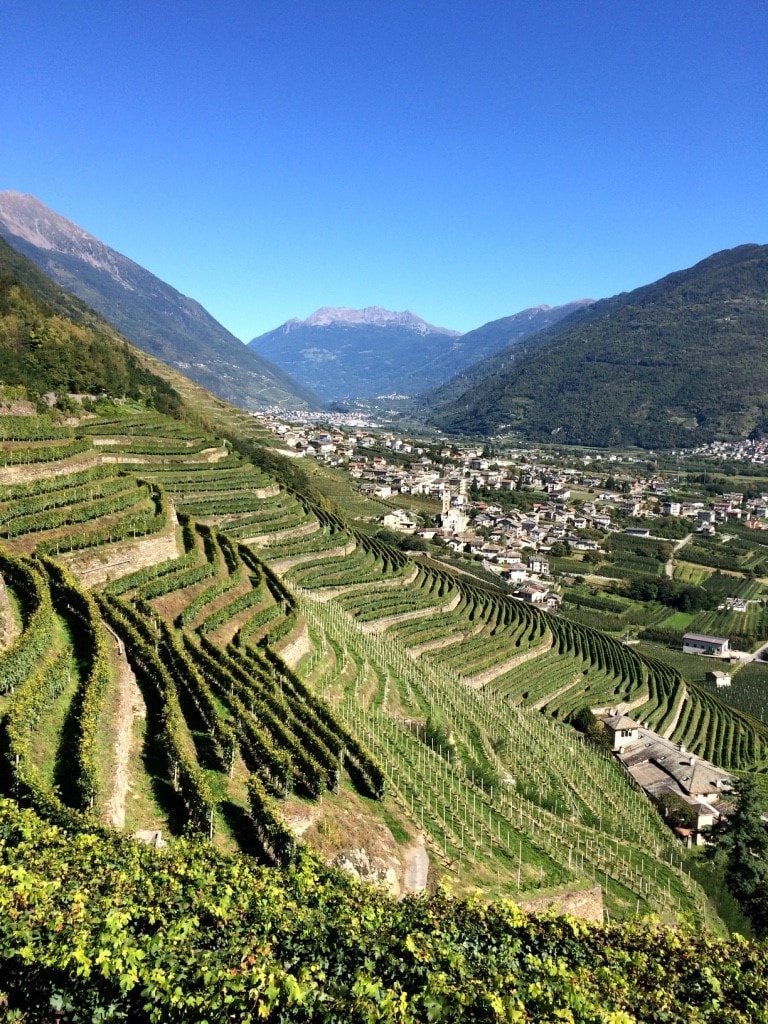 (Stone walls hold the terraces in the mountaineous region of Valtellina. The steep angle of the vineyards increases direct exposure to sun, helping the grapes to ripen while in a cooler climate).
Finally, to Lombardy where the mountainous region of Valtellina offers yet another expression of Nebbiolo (aka Chiavennasca). In this chilly, far-flung outpost, vineyards are stacked on top of one another on the steep, south facing slopes above the Adda River. Stone walls hold the terraces up and help reflect the sun onto the vines so as to coax enough ripeness out of Nebbiolo. Even so, some Valtellina are still only a very modest 11 percent alcohol. These ethereal wines are angular in structure and characterized by forest growth and tea nuances. In order to produce richer, more ample versions, the region adopted the appassimento method from the neighbouring region of Valpolicella long ago. Grapes are dried prior to crushing as they are for Amarone della Valpolicella but here the wine goes by the name Sforzato or Sfurzat.
Nebbiolo's star is on the rise. While Barolo hasn't lost its benchmark status, it is surrounded by a host of fascinating cohorts that speak just as clearly of place - and quality. It behooves any Nebbiolo aficionado to seek these out.

Matteo Correggia, 'Roche d'Ampsej' Roero Riserva DOCG 2015 (US$55)
Gorgeous raspberries, violet and tobacco scents are accented by integrated, subtle oak. Textured and layered with tangy acidity. Tannins build up on the palate but are polished and sophisticated promising a decade of life ahead. Seriously good Roero.
Colombera & Garella, 'Cascina Cottignano' Bramaterra DOC 2015 (US$45)
From the up-and-coming appellation of Bramaterra, this is quietly seductive, linear and tight with an irony edge. Red currant and cranberry give a succulent, mouthwatering quality while fine, fresh tannins provide an elegant frame.
Nino Negri, Valtellina Superiore DOCG Inferno 2016 (US$28)
One of five official subzones in Valtellina, Inferno is a particularly warm district as its name might suggest. Earthy forest nuances mingle with dried rose petal and raspberry tea. There is enough fruit to balance the searing acidity. A transparent and intriguing Nebbiolo.