Rodolphe Frerejean Taittinger and his brothers were raised in a family of Champagne lovers. They grew up riding their bikes through the vines of Avize in Côte des Blancs - and knew every one of them.
Ahead of a Vintec Club Private Tasting event with Rodolphe, he told us more about how their initial passion to produce wonderful Champagne for friends and family successfully transformed into the creation of Maison Frerejean Frères.
What was the motivation for creating Maison Frerejean Frères?
It wasn't actually meant to become a Champagne House! At the beginning it was purely a quest to make a wonderful confidential wine of Champagne but word spread and we went into business in 2005.
We wanted to forge our own path and aspired to focus on quality instead of quantity; to make Champagnes with emotions and strong character. Although we do our utmost to remain a confidential production, we are delighted that our house is developing strongly throughout the world, especially in haute cuisine and with lovers of Champagne wines.
What is your favorite Frerejean Frères cuvée?
It is really hard to choose a favorite wine, each cuvée is like my kid! They all have a different personality but if I had to choose, it would probably be the Cuvée des Hussards 2007. Its fresh minerality does magic with seafood.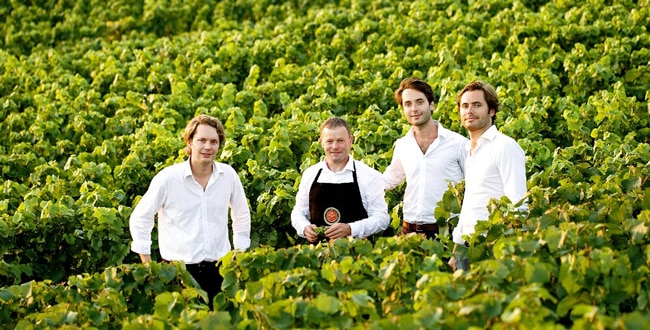 Tell us about the name - Frerejean Frères
My ancestors Georges and Louis Frerejean were Masters of Forges and manufactured magnificent cannons for Napoleon Bonaparte. The name on the cannons was Frerejean Brothers and my brothers and I decided to pay tribute to this glorious past. Our best vintage Cuvée des Hussards is a homage to the history of which my family contributes.

What are the particularities of your Champagne?
They are Champagnes right in their soil, generous but very slightly dosed in sugar when it comes to our great terroirs Premier Cru and Grand Cru. We develop a 'parcellaire' approach and are proud to know each of our vines. We only work with Chardonnay and Pinot Noir and in a quest for maturity take time to age of Champagnes on average between five and ten years.
Can you define them in a number of words?
Rare, exclusive, elegant, complex, subtle, surprising.
What can we drink Champagne with?
Having returned from Japan where our Maison is very successful, the subtlety and sophistication of Japanese cuisine goes very well with our Champagnes, especially sashimi with our excellent Blanc de Blancs Premier Cru.
Your favorite pairing?
Risotto with mushrooms and a white wine cut Premier Cru Frerejean.