Is it worth aging white wines and, if so, what should you put in your cellar?
Cellaring wine is a niche sport. Most wine drinkers buy a bottle with the intention of opening it with dinner that evening or within days.
A 2018 study by Sonoma State University reported that 90 percent of wine purchased was consumed within two weeks of purchase and just 6 percent bought wine for ageing.
For the minority buying wine to cellar, there is one dominant colour: red. Wines from Bordeaux, Burgundy and Barolo are famously long lived with decades of records charting their evolution.
While the abundant tannins in these wines certainly helps to preserve them, reds do not have an exclusivity on longevity. Ageworthy whites deserve their place in a serious cellar too.
However, Will Hargrove, head of fine wine at historic London merchant Corney & Barrow, explains that red wines account for nine out of 10 bottles sold with the intention of cellaring for a decade or longer.
"I think in most cases it is simply because a large number of people perceive reds to be more robust and need age where quite often the view of white is that they can age rather than that they need it," he says.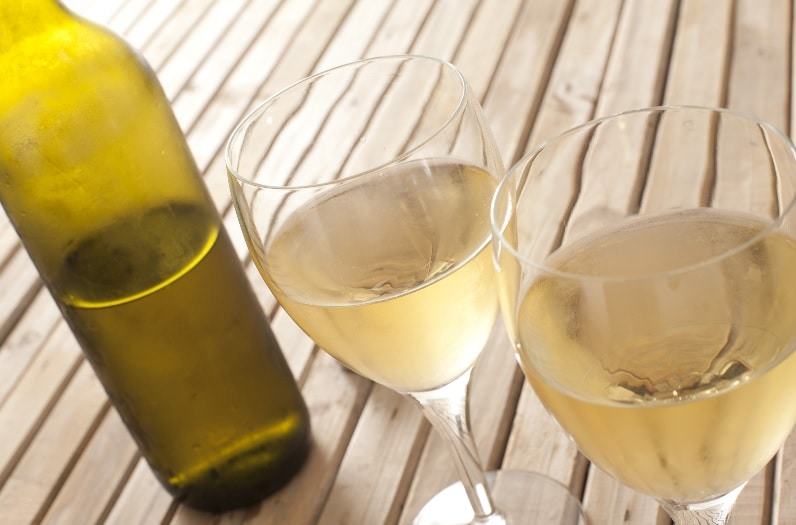 White wines, particularly those made made from phenolic varieties such as Chenin Blanc and Viognier also have tannin, which imbue these wines with structure.
When it comes to ability to age, acidity and concentration are also key indicators so top producers located in cool climate regions such as the Loire, Burgundy and Germany are ripe for the cellar.
Sugar is also a great preservative so the best sweet white wines from Sauternes, Tokaji, as well as Alsatian and German Rieslings go the distance.
Whether you decide to age them is often a matter of taste. If you like your wines fruity and fresh then open that bottle. However, there's a mellifluous beauty to gracefully aged whites.
Riesling and Semillon becomes sonorous like a baritone, taking on lime, honeyed and toast-like flavours while mature cool-climate Chardonnays and Chenin Blancs caress the palate, inviting you to wallow in their silky texture withough every losing their fine-line of acidity.
Earlier enjoyment
Wines that were once made for the long haul are ready to drink earlier than in previous generations. For example, 30 years ago, the Chenin Blanc-based wines of Savennières in the Loire Valley were undrinkable in youth.
The firm acidity of the wines produced in the cool climate of the Loire Valley on its volcanic soils have since been softened in part due to a warming climate but also by ditching the SO2 and allowing the wines to undergo the malolactic fermentation.
Evelyne de Pontbriand took over from her mother at Domaine du Closel in 2001. She remembers the first time the malo occurred in the cellar and her mother's reaction: "She couldn't believe it. She looked at me like I had killed someone!"
The wines are now approachable much younger although the combination of the phenolic Chenin grape and the power of the schistous soils means they stil have the staying power to go for a decade or longer.
The allure of cellaring whites hasn't been helped by fears of premature oxidation that have dogged white Burgundy since the 1990s. As a result, some Burgundy lovers have reacted by drinking their Chardonnay earlier but Hargrove says: "Burgundy remains the most important region our customers think of when it comes to aging white wines.
People who have experienced the best of aged white Burgundy tend not to forget it and search for that sensation again." It's a risk they are willing to take.

5 ageworthy white wine styles
White Burgundy
German Riesling, particularly sweeter styles from Spatlese and up
Loire Valley Chenin Blanc
White Hermitage
Hunter Valley Semillon

Mature whites to enjoy now*
Moulin Touchais 1989, Coteaux du Layon, Loire Valley, France
Hailing from a warm vintage, this is starting to take on a deep golden appearance. A very complex nose of nuts, raisins, walnuts, olives, warm pastry, cinnamon, cooked orange peel. It's round and what the French call moelleux- sweet but not overly sweet with richness on the mid palate while retaining a lightness and acidity that refreshes the palate. Drink now or anytime betwen now and your departure from this earth.
Domaine Luneau Papin Excelsior 2005 Muscadet Sevre et Maine, Loire Valley, France
Mellow and round with beautiful silken texture. The wine is taking on a hint of nuttiness with time in bottle and mouthwatering freshness keep this wine vibrant and youthful. Feels luxurious; a real keeper.
Neudorf Moutere Chardonnay 2009, Nelson, New Zealand
Sealed under screwcap, there's no fear that this Chardonnay will suffer premox unlike white Burgundy. Hugely satisfying, fully flavoured and savoury, hailing from an excellent, low cropping vintage with a cool, dry autumn. Delicate handling has produced an alluring medium to full-bodied wine with bright lemony freshness. It has developed lanolin and almond meal-like characters with bottle age, and an appetising creamy richness on the palate. At its peak so enjoy it now to 2021.
*These are some of the top mature whites I have tasted in 2019