Along with the release of Langtons Summer Reds 6-pack, Langtons Head of International Buying, Jesper Kjaersgaard, shares with Vintec Club Members insights about lighter reds and tips to drink them for an enjoyable summer.
In the last few years we have seen a rise in interest for lighter style reds, such as Pinot Noir, Gamay, Barbera, and more restrained versions of Grenache. Although wine lovers are still dawn to the bigger and more traditional styles of Shiraz and Cabernet, those earthy, textural, 'food-friendly' styles are becoming increasingly popular with our customers. Light in style, these wines are perfect for the Australian climate. Alcohol expands in rising temperatures making your already rich and robust wine seem richer and even more robust. For some, this is a good thing... but too often, it leaves the wine with a slight burn and not-very-desirable flabby sensation. If I have a wine of higher alcohol content, I will very often chill it ever so slightly in the fridge, or put it on ice in the esky to accompany the family barbecue.
With all of the above in mind, Langtons together with Vintec have assembled six wines that we think will give you a good look into what these lighter-styled grape varieties have to offer, and their extraordinary range, which runs the gamut from fruit-driven to highly complex and earthy.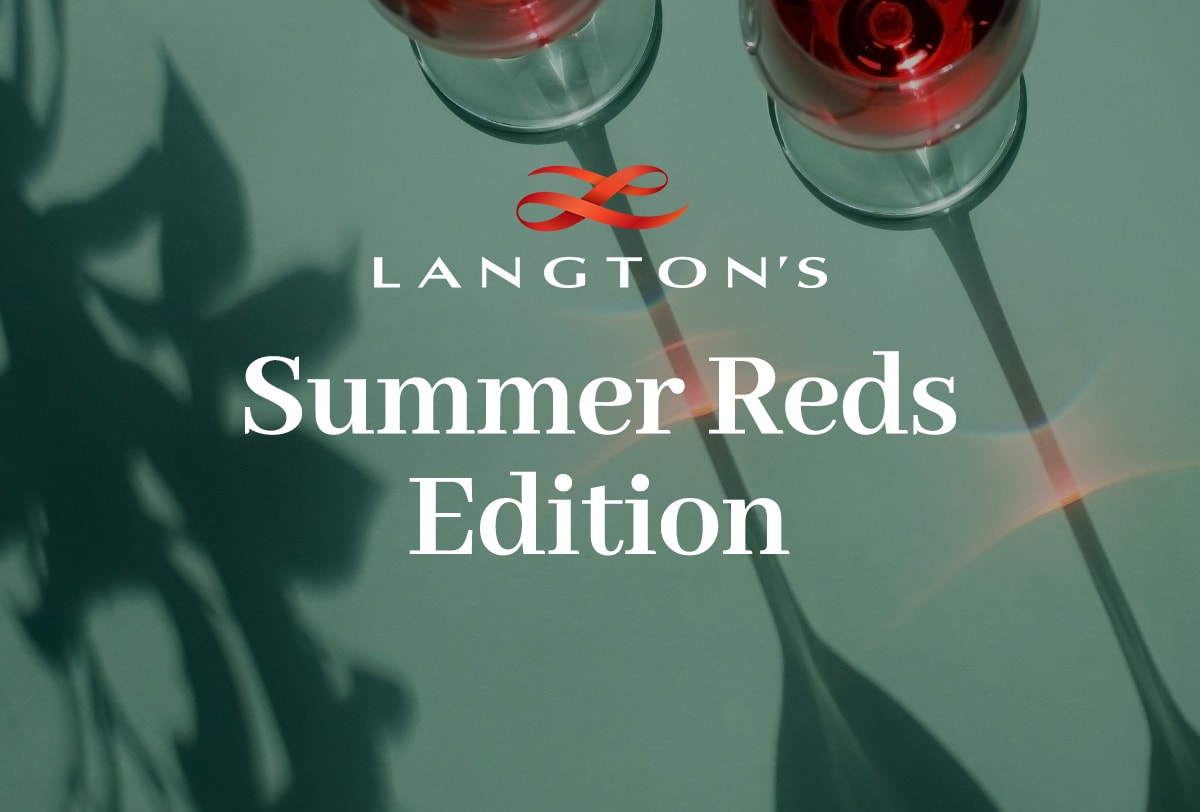 DISCOVER LANGTONS SUMMER REDS SIX-PACK
Pinot Noir, with its storied Burgundian history, was once a grape that few sought out and, due to its scarcity and often high price point, was limited to certain drinkers. It is now the fourth most planted red variety in Australia after Shiraz, Cabernet Sauvignon and Merlot. Long gone are the days where you wouldn't buy Pinot Noir for less than $30.
Another variety which has had a great upswing in popularity is Gamay. Gamay hasn't always had the best reputation and, way back in 1395, Duc Philippe Le Hardi (or Philip the Bold, the fourth son of King John II of France) said: 'it is very harmful to human creatures, so much so that many people who had it in the past were infested by serious diseases'. No wonder we have all avoided Gamay! What we see today is a beautiful fragrant and mineral style of wine not just limited to its spiritual home of Gamay in Beaujolais. Delightfully, plenty of Australian producers are offering worthy expressions.
Grenache is a grape variety that has a long successful history in this country and traditionally, the Australian version of this grape has been big, bold and loud. We are now seeing more fragrant, red-fruited and almost Pinot-like styles becoming more popular. This is a style that is often linked back to the European heritage of Grenache in Southern Rhône and Spain but, truth be told, I have had big, flabby and loud wines from there too. Grenache is one of the last varieties to fully ripen and with that comes an increase in sugars (and alcohol). It is naturally very low in acidity and, unless you time your picking just right, the chances are your wine will be big and bold. Regardless of style, Grenache is a beautiful grape which, in my opinion, is grossly underrated and one of the more diverse and enjoyable varieties.
And so, onto the Langtons Summer Reds pack especially curated by us for Vintec Club Members. Amongst this half dozen selection, you will notice that the vintages are all recent. Central to the success of a chilled red is its retention of primary fruit character, and youthful vibrancy is a vital component of this.
Happy chilling, and happy drinking!
DISCOVER LANGTONS SUMMER REDS SIX-PACK
In Langtons Summer Red Six-Pack, you will find:
Domaine Arnaud Aucœur, Beaujolais Villages Vieilles Vignes 2018
A wine from one of the oldest producers in Beaujolais. This is 100% Gamay all from or around some of the most famous villages in the region, such as Morgon and Fleurie. It's a delicate, elegant wine with beautiful fruit and spices.
Envínate Albahra , La Mancha 2018
From one of the most exciting wineries in Spain comes this wonderfully mineral and vibrant Garnacha Tintorera (Alicante Bouschet) which leaps at you with plum and floral characters and a great vibrant acidity. A great wine to serve slightly chilled.
An Approach to Relaxation Magnolia Grenache, Vine Vale 2019
Made by globetrotting couple Carla and Richard Betts, this Grenache, sourced from the sandy soils of Vine Vale in the Barossa Valley, is a great example of the red-fruited and perfumed style of Grenache that is currently sweeping our shores. A gorgeous wine and arguably one of the wines of summer for me.
Mulline Nouveau, Geelong 2020
From the new generation of winemakers in Victoria, Ben Mullen makes some of the most exciting wines of the region. A straight Pinot Noir, this is a blend of fruit from Moorabool Valley (80%) and Bellarine Peninsula (20%). Made with 80% whole bunch and aged only for four months in oak, it's a juicy, joyous and vibrant Pinot Noir with great grape characteristics such as raspberry, cranberry and strawberry.
Dr. Edge Dr. Ongo Red 'ish' Blend, Tasmania 2020
If there ever was a wine made for summer, this would be it. A blend of Pinot Noir, Pinot Meunier, Pinot Gris and Pinot Blanc, with a splash of Riesling (phew!). An absolutely delicious wine with a lot of things going on. It's red-fruited, floral, textural, vibrant, juicy and an absolute ride to drink. I would definitely drink this slightly chilled. Pair with backyard cricket.
Tyrrell's Special Release Barbera, Adelaide Hills 2020
Here's a great new release from Hunter stalwarts Tyrrell's. Barbera is traditionally a grape from Piedmont which showcases blue and dark fruit, low tannin and high acid. Tyrrell's have made a stunning example of this grape variety. Grown in the Adelaide Hills, it's medium-bodied with dark fruits, lavender and spice with a brooding palate in the darker spectrum of blackberries, dark cherries and plum. It's beautiful wine with great tension and weight. A great example of a summer red which is dark and brooding, yet light on its feet.