If someone says "sherry" and you envision a proper lady having an afternoon tipple, adjust your eyeglasses, because sherry is not your granny's sipper.
This fortified white wine from southern Spain has been making inroads in the UK and the US, showing up in sleek bars and sophisticated clubs—up straight and in cocktails. And, its popularity shows no sign of abating.
"I am currently using sherry in most cocktails I make, its wide variety of styles allows for implementation across many cocktail categories," says Caitlin Laman, a Chicago-based beverage consultant." I love taking classics and re-imagining them into a lower-alcohol riff."
For sommelier Alisha Blackwell-Calvert, the tasting menu she works with at Elaia in St Louis, Missouri, is a palette for showing how different styles of sherry pair with menu items.
"I have a platform to get creative and showcase wines outside the norm," she says. She calls Fino, the lightest style of sherry wines, "a fantastic aperitif wine; crisp, with notes of almond and dried pear." She pairs the lusher Pedro Ximénez with rich desserts.
"I like that working with sherry changes guests' opinions," she said, noting that it still suffers a reputation as a "cloying, low quality cooking wine."
"Sommeliers and bartenders are fighting to combat that assumption by incorporating Fino and Manzanilla wines into cocktails or pairing them with cheeses and savory dishes like paella," she said.
In San Francisco, Ian Adams, general manager at 15 Romolo and founder of Merchants of Thirst, a boutique import company focused on sherry, says his goals include "overcoming misconceptions, enlightening curious guests, and ultimately finding the "a-ha!" sherry." At 15 Romolo, he offers cocktails and suggested pairings to every dish on the menu.
"Having a variety of tools in our belt allows us the opportunity to bring the sherry conversation to nearly any guest with confidence," he says.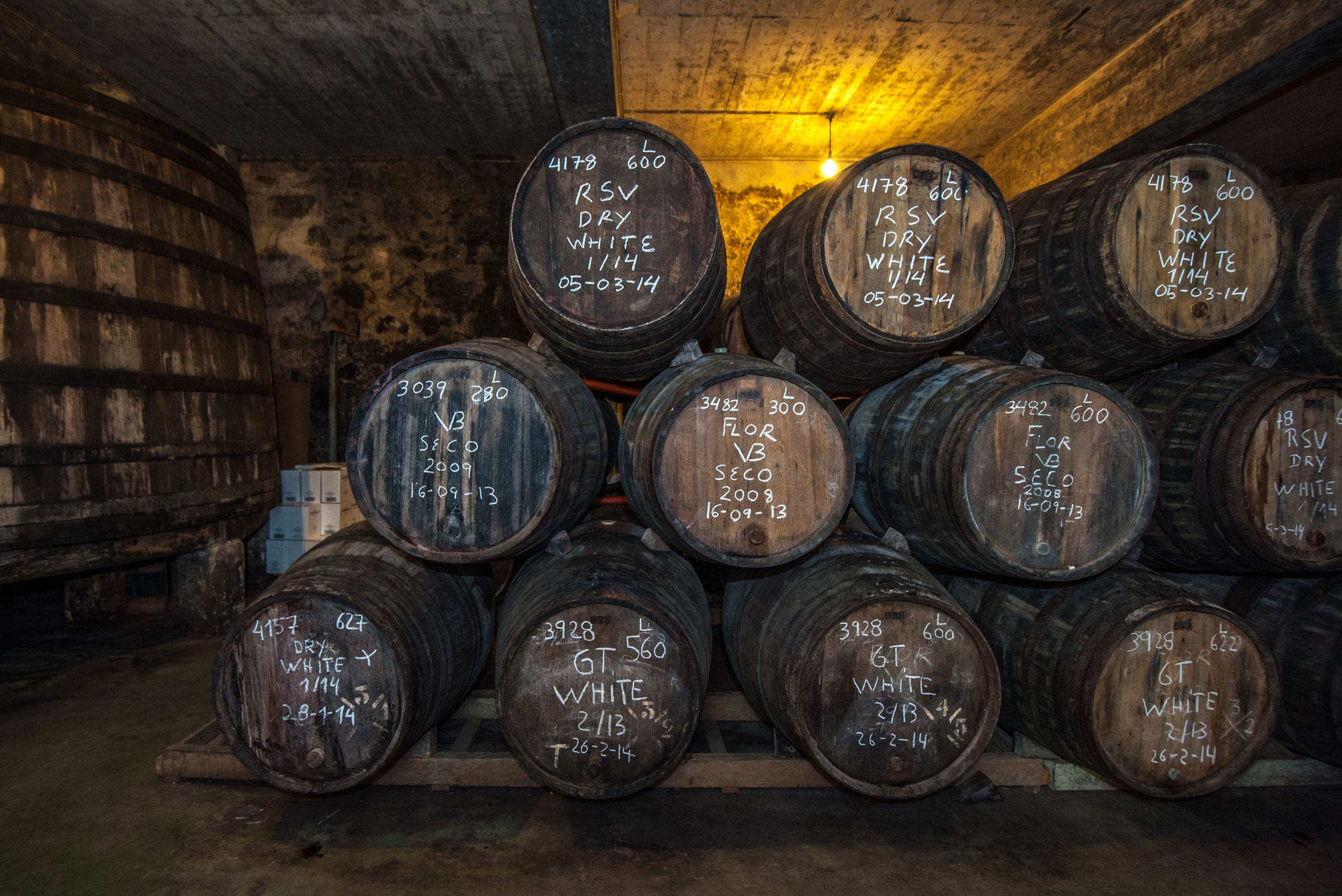 Geography matters
"In order to understand sherry thoroughly, we need to understand the natural facts of the wine—the geography and climate," says César Saldaña of the Consejo Regulador, the agency that regulates the production of sherry wines.
Hailing from the province of Cadiz in Spain's sea-surrounded southwestern tip, the wine is specifically made in the "Sherry Triangle," with the towns of Jerez de la Frontera, Sanlúcar de Barrameda and El Puerto de Santa María at each vertex.
Though the approved white grapes, Palomino, Pedro Ximénez and Moscatel, may be grown elsewhere in the province, the wine must be produced, aged and bottled within the triangle to earn the official denomination.
Sherry's location matters because the influences of the sea, humidity and trade winds uniquely contribute to the wine. And, the white, chalky Albariza soil places a distinct role in viticulture, reflecting heat and retaining moisture the vines will need during the dry season.
Another point of distinction is the historic barns or bodegas in which sherry is aged—themselves unique micro-environments that encourage the very specific conditions in which the wines age.
It's all in the yeast. Or not.
Without getting too technical, sherry is aged by two methods: biological or oxidative. And this matters to the wine's various styles. In the former, a thick layer of living yeast—called flor—grows on the surface of the wine in the cask, protecting it from oxidization, and resulting in light, fresh dry wines that are high in acid with delicate nutty and saline aromas and flavors. Fino and Manzanilla fall into this category.
In oxidative aging, the addition of higher alcohol (17% versus 15%) kills the flor. The wines then undergo controlled exposure to oxygen while they rest in old casks. Oloroso, Amontillado, Palo Cortado, Cream and Pedro Ximénez (PX) all fall into this category, with varying hues and levels of sweetness. These aging techniques help give the wines unique characters: nuttiness, umami, a salty caramel-like aspect and higher levels of residual sugars.
One thing to remember: even the sweetest of sherries have high acidity levels that keep these wines in delicious balance.

Sherry is celebrated for its wide range of styles. The Sherry Council's rule of thumb with food pairing: If it swims, drink Fino. If it flies, Amontillado. If it runs go with Oloroso.
Here's how to sip your way through from light to dark. Just remember to put a chill on them before serving. And, ditch the dainty granny glass: pour these into a proper white wine class for full enjoyment.
Fino: The driest style, fresh and saline-inflected. Drink with salted nuts, olives and jamón. Want something cutting edge? Look for Tio Pepe En Rama, a newer unfiltered style of Fino that's trending now.
Manzanilla: Also a lighter style, it's a delicious companion to seafood such as oysters and other shellfish, fried calamari.
Amontillado: Darker in color, with a nutty, caramel-like flavor, it stands up to lighter meat dishes.
Oloroso: Ranging from amber to deep mahagony in color, this is a dry, full-bodied expression of walnuts and butterscotch that can also show citrus-zest notes. Perfectly partnered with roasted meats such as lamb.
Palo Cortado: A cross between Amontillado and Oloroso, this wine results from an unexpected evolution in the cask. It starts as a Fino, but if the flor fails to thrive, the cask is taken out of the Fino solera and aged oxidatively with 17% alcohol. My sample was rich and complex, but still bright with citric notes, accompanied by tobacco, butter and nuts. If you can find it, savor this on its own.
Cream: Contrary to the name, these wines are not creamy and are usually produced by blending a dry wine such as Amontillado or Oloroso with naturally sweet one like Pedro Ximénez or Moscatel. Rich and raisiny, these silky wines express dried fruit, smoky notes, and a saline character that still says sherry. You can go sweet or savory with this.
Pedro Ximénez: Dark as molasses but much tastier! Opulent, luscious and sweet with notes of coffee bean, caramel, chocolate; drink with salted caramels, blue cheese, chocolate anything. Or pour over vanilla ice cream for instant dessert.
Solera: sherry's dynamic aging process
Sherry undergoes aging in a complex fractional blending system called "solera," a sort of stacked matrix of old barrels. Each tier or criadera contains wines of the same vintage, with the youngest at the top of the stack (sobretabla).
As wine is extracted from the barrels in each tier, it is refilled with the same amount of wine from the tier above. The oldest wine will be on the bottom tier, also called a solera. Containing portions of all the wines in the criaderas above, it represents the final blended product (saca) for bottling.
The process of refreshing the casks is called rocío and may be done several times a year, in accordance to yeast activity and house style.