Sparkling wines are much appreciated on their own at pre-dinner receptions and celebrations of all kinds, however with great food, the two together can tango beautifully.
When it comes to pairing food and Champagne, there are traditionally two
schools
of thought:
'
Champagne goes with everything and can be happily drunk throughout the meal
'
and
'Champagne goes with nothing and should be drunk on its own.
'
In the former camp, I recall on early visits to Champagne being virtually indoctrinated into
the joys of champagne and food only to find myself yearning halfway through
the meal for a Bordeaux, a Burgundy, or, frankly any red wine at all to wash down the beef, lamb or chicken. To be fair, while all others were doing their
utmost
to ram champagne with everything down my ungrateful throat, I recall Rémi Krug stylishly serving his guests a 1978 Château Margaux with the lamb. As for the much-vaunted idea of rosé champagne with the dessert, I prefer the theory to the practice.
And yet while I'm no evangelist for food and wine pairing, whoever thinks that champagne goes with nothing has to my mind missed out on some excellent fizz and food matches. In my view, the truth, as is so often the case, lies somewhere between the two extremes. Attitude is the main obstacle. Most of us are so used to thinking of sparkling wine as an aperitif wine or an excuse for celebration that drinking it with food may not cross our mind. And nothing is more off-putting than being told what you should or shouldn't drink with your food, or, for that matter, eat with your fizz. It's also the case that champagne on a restaurant wine list, especially vintage and prestige cuvées, often the best matches, can be prohibitively expensive.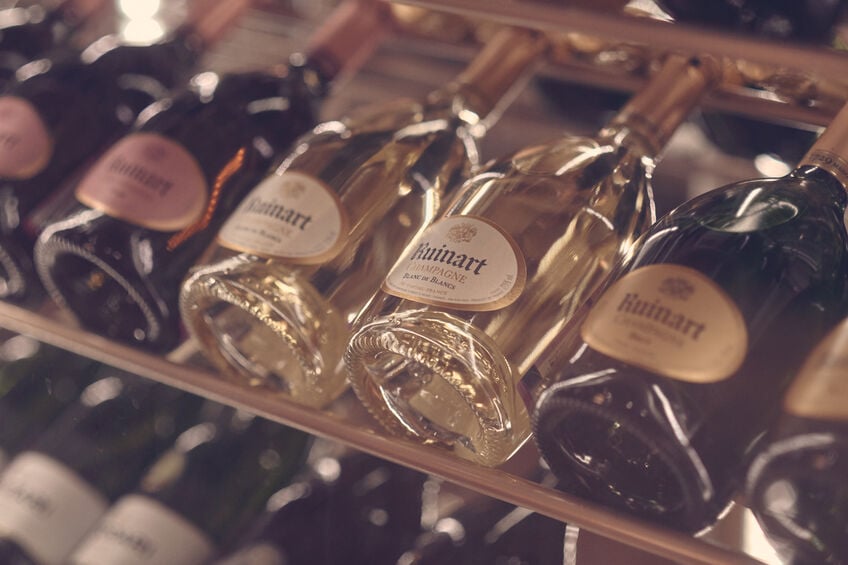 Champagne and sparkling wines are not only for drinking on their own but there are also many exceptional fizz and food pairings.
-------------------------------------------------------------------
The English way of drinking champagne
I believe that there is a happy medium in which we can look at guidelines without being hidebound by rules. The affinity of champagne and food doesn't have to be some champagne marketing wheeze or new foodie phenomenon. It was recognised as a serious endeavour in 1850s England. In a book called the Art of Dining, the essayist Abraham Howard wrote: 'The wines which may be deemed to be indispensable as a complete English dinner are sherry, champagne, port and claret'. As Andrew Barr pointed out in his book, Drink, 'champagne remained central to the meal and was served with the principal courses'. It was still sweet in mid-Victorian England and so more likely to be conducive to drinking with the dessert course than any other.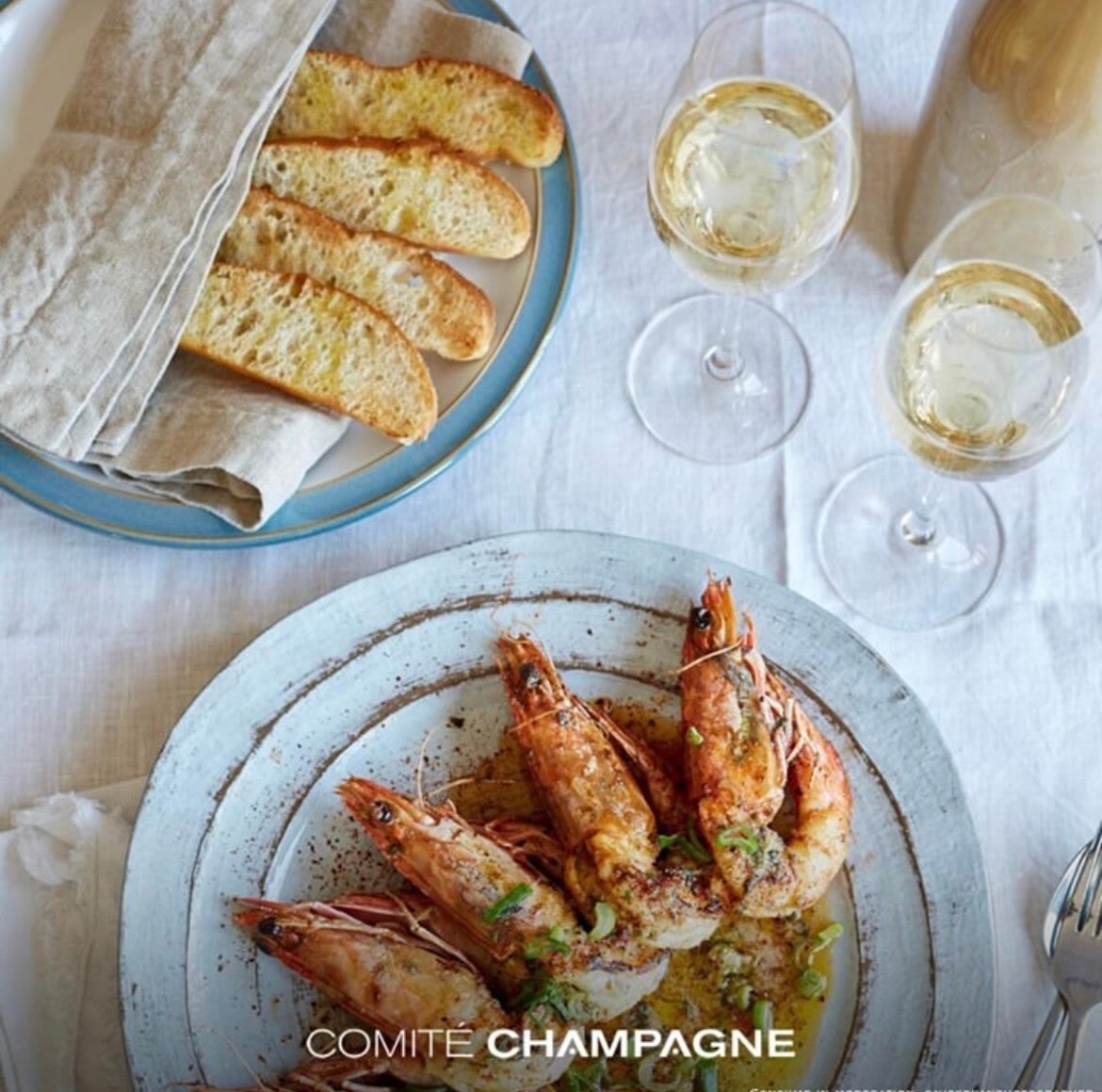 In the mid-Victorian period, when champagne was sweeter than today, it was regularly served with the main courses.
As the fashion for dry champagne caught on later that century in England, it was drunk at formal dinners accompanying the course at which roast meat was served, and while the match may sound dubious to us, a drier fizz would have been a better bet than a sweet one. In the Gentleman's Cellar and Butler's Guide (1899), H.L. Feuerheed wrote: 'the drinking of champagne with all kinds of food is not recommendable…Dry champagne should only be offered with the roast'. In dinners that took place between 1884 and 1905, George Saintsbury, author of Notes of a Cellar Book, presents 13 menus and champagne was served in 12, with chicken, mutton and beef.
Champagne, sparkling wines, and food pairing principles
So are there any useful general principles worth looking at when we're thinking about potential champagne and sparkling wine and food matches? As much as any versatile white wine such as riesling or chenin blanc, sparkling wine varies in its relative dryness to sweetness and drier styles tend to be more versatile with food simply because they are refreshing. Chilled down, bubbles add coolness of touch and texture to our sense of refreshment. A serious rosé sparkler may also have an almost imperceptible firmness of grip, making it a good complement to seafood or cured meats, or even game such as pheasant or partridge. Longer lees-aged wines are often more food-friendly as a result of greater wine-like concentration and complexity.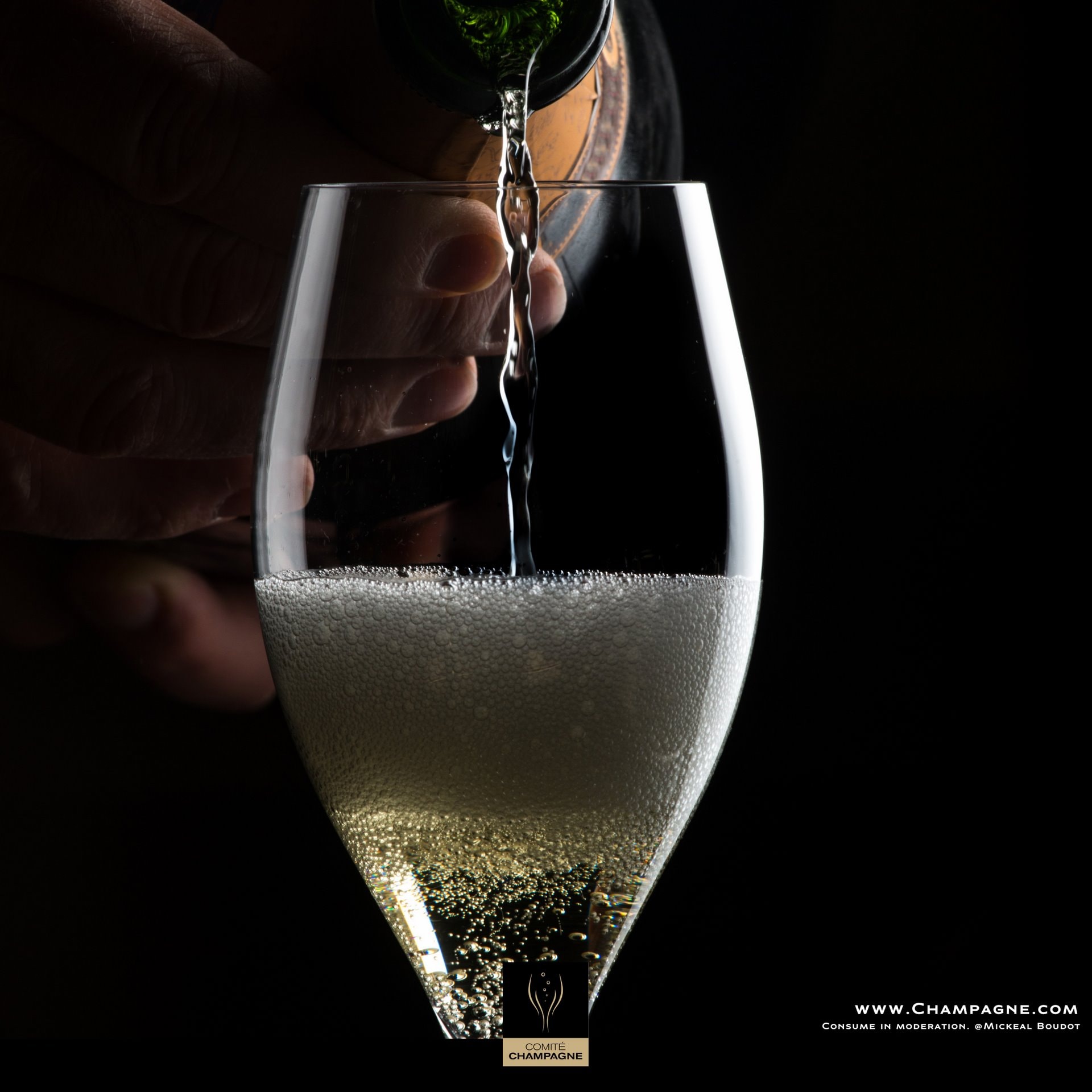 Champagne is literally bursting with flavour.
Taking an average champagne flute, 11 million bubbles need to escape to maintain a balance between the pressure in the air and the pressure in the wine.
(Photo from champagne.fr)
I'm always a little sceptical when I read the results of some scientific survey appearing to confirm that this or that food and wine match is a marriage made in heaven. It was with a large pinch of salt then that I read a 2020 study from Copenhagen published in
Nature, Scientific Reports
, looking at
the classic pairing of champagne and oysters. After extensive research, in which for reasons best known to the researchers I was not involved, the scientists found varying levels of glutamic acid in champagne, most notably in some of the older, longer lees-aged vintage champagnes. Cue umami, the fifth taste. The levels found were below the taste threshold of umami, but when paired with oysters, which contain a lot of umami (and more particularly European oysters as distinct from Pacific), they found that the two together unleashed an enhanced umami taste, or 'synergistic effect' as they, being boffins, call it.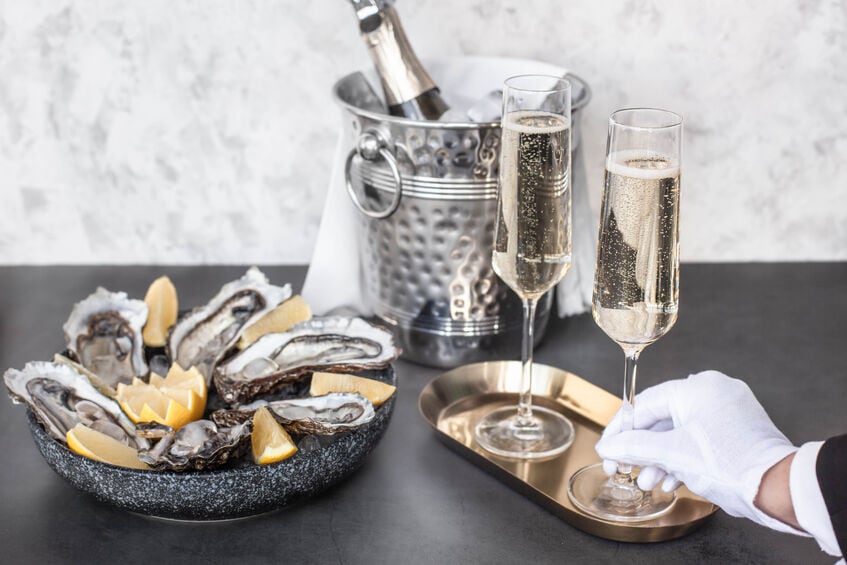 Champagne and oysters are a classic match.
In a 2021 Champagne Committee Zoom presentation based on this research, a number of similar so-called synergistic matches were suggested as good options by the participants in the Zoom room: mushroom risotto, scallops with pea purée, chicken and morel mushrooms, pissaladière, (the savoury tart with its riot of umami flavours of onion, anchovy and olive) and even Eggs Benedict. Unfortunately, I was in the Zoon room, so unable to put mouthwatering theory into actual practice. The researchers did also acknowledge
that there are other factors such as minerality and acidity that may shift the dial. And let's face it, there are too many variables - the seasoning, the saucing, the spicing, the temperature, the many different sparkling wine styles, even the mood - to make scientific analysis a reliable certainty.
The versatile drink
'For champagne and lobster salad, the divine Miss Fotherinagy would have gone anywhere', wrote George Saintsbury. A sweeter, plumper shellfish such as scallops or lobster might cry out for a vintage champagne or a non-vintage champagne with a large percentage of reserve wine such as Charles Heidsieck Brut Réserve or Krug. Then again, fish and chips with champagne is a marriage made in heaven thanks to the complementary crunch of the batter and the texture of the bubbles. According to Matthieu Longuère MS, wine development manager at Cordon Bleu Cookery School, sparkling wine, including Prosecco, can work well with moderately spicy foods as the dosage in the wine acts as a soothing shield against the heat of spiciness while mouthwatering acidity also dilutes the impact of the spices and refreshes the palate between bites.
Charles Heidsieck Brut Réserve is one of the examples that could be a perfect pair for any plumper shellfish dishes.
I get the affinity of sparkling wine, not just for parmesan, but a variety of cheeses. Difficult as stinky cheeses such as camembert and brie are thanks to the taste of ammonia, the late Gérard Basset MW recommended blanc de blancs champagne with its ability to cut through the high fat content of the cheese. Vintage blanc de noirs champagnes with some of the biscuity effects of autolysis go well with hard cheeses such as Mrs. Kirkhams Lancashire, Comté or Beaufort. English sparkling wine and pet nat or Italian col fondo (sui lieviti), with their yeasty notes and softer pressure, have a role to play. Trying out Exton Park Meunier Rosé in classes at Cordon Bleu, the sommelier Matthieu Longuère found that it went well with a variety of cheeses apart from blue cheese which needs lees-ageing, or a touch of sweetness in demi-sec or méthode ancestrale style. The last word goes to Matthieu, 'ultimately, any guidance should take on board the underlying principle that taste is subjective and that what works for me may not work for you, and vice versa'.

Fresh and nutty aromas, fine-textured richness with a telltale almond and vanilla element shot through the blend, finishing elegantly dry in a mouthwateringly crisp, citrus-zesty explosion.
Hattingley Valley's brilliant prestige cuvée From Hampshire is an intense fizz wearing a touch of smoke from barrel fermentation lightly and delivering a delicious mouthful of tangy and saline fruit.
A serious champagne for food thanks to aromatic notes of cherry and the richness of hazelnut and fruit flavours in a full-favoured mousse that trips off the tongue with effortless style.
Almost like a Grand Cru Chablis with bubbles, the intense citrus-zesty flavours and savoury underpinning of this pure chardonnay makes this one of the best Dom Ruinarts ever produced.