Skin contact white wines are a classic case of 'everything old is new again'. Made in ancient amphora or modern-day ceramic eggs, flavor is the key to the best skin contact whites with sustainably a bonus.
What is a skin contact white wine?


Modern white wines are made by fermenting the clear juice of white grape varieties. Skin contact white wines take a tangential path that mirrors the process of red wine making. The white grapes are crushed but the juice released remains in contact with the skins during the fermentation process and beyond - often for weeks, sometimes months and even a year. The ferments can be in tanks, open vats or increasingly in ancient amphorae or modern-day ceramic eggs.
The skins add color, flavor and a hint of skin-derived phenolics, similar to that of a light red wine. In essence, skin contact whites are a red wine made with white grapes.
A side benefit of the extended skin contact is longevity – both in the bottle and in your glass. Skin contact whites should not be overchilled and open up with air just like good red wine. The best build to a crescendo over three or more days.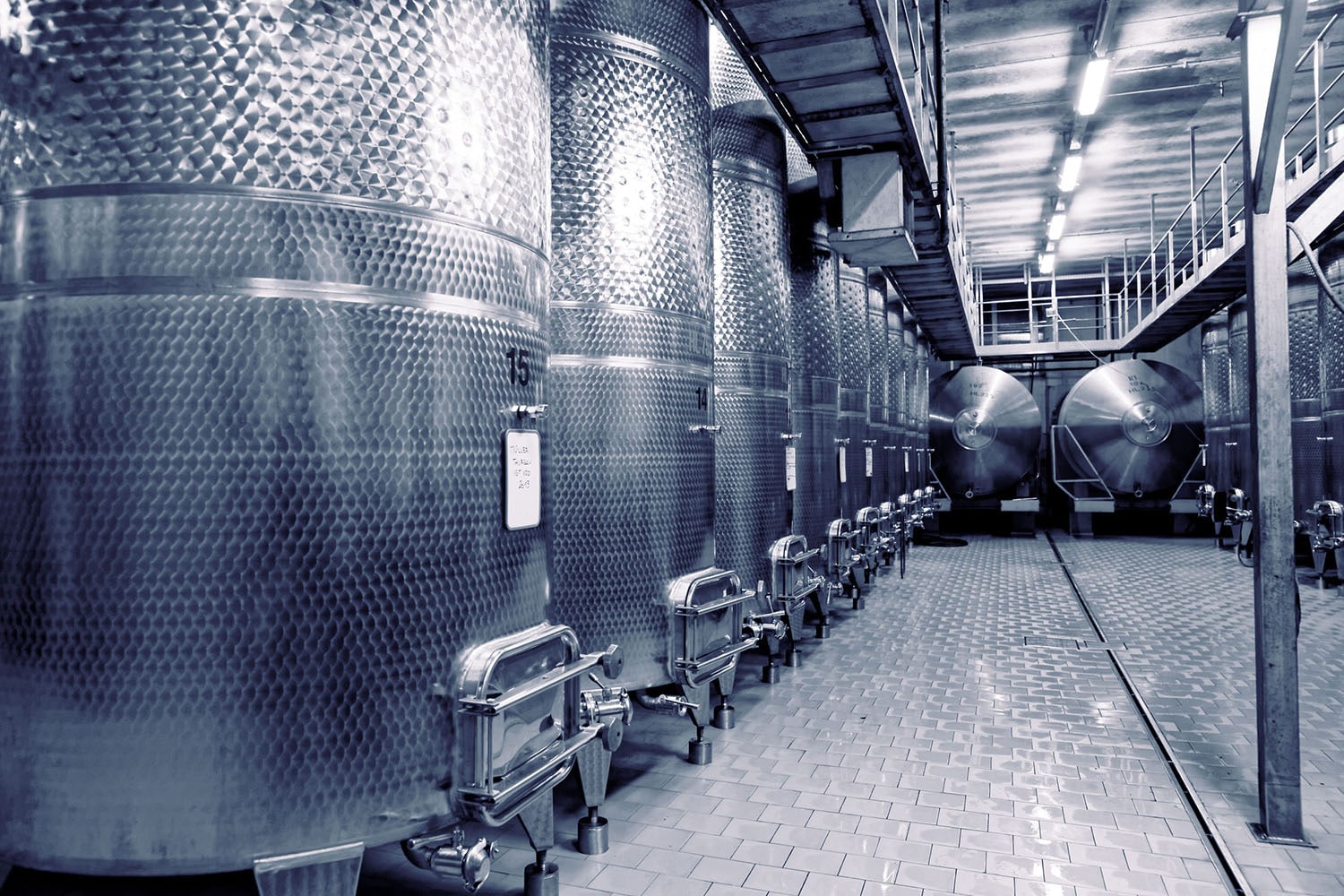 Skin-contact wines are white wines made like red wines, aslo known as "orange wines" and "amber wines". They ferment with the grape skins, which give wine its color. Depending on how long the juice ferments with the skins (between a few hours to many months) skin contact wines can range in color from golden-straw yellow to vibrant amber.
The attractions of skin contact whites


Idiosyncratic is a good word for these wines with texture and body a key to their enjoyment. They're rich and complex with a distinct bronze/orange/amber color and often a cloudy appearance. Flavor, flavor, flavor is the key plus a mouthfilling texture and a compelling grip to the finish. Attributes of a gentle red wine but made from white grapes. Like many reds, skin contact whites need food – and substantial food to really shine. Think chicken Kiev, lobster mornay or a soft smelly cheese.
Modern history


The 'natural wine' movement eschewed the use of sulfur dioxide with the claim that low intervention wines were more authentic than 'industrial' wines. Sulfur dioxide inhibits oxidization, helps preserve fresh fruit flavors and enhances a wine's cellaring potential. 'Natural' wines traded off these benefits for authenticity or 'funk' as it was often described.
Many of these 'funky' sulfur free wines had spoilage problems with premature oxidization and off, sour and bitter characters like ethyl acetate – the smell of nail polish remover. The tide has turned with the current bunch of low or minimal sulfur wines carefully made to avoid faults and produce a characterful wine.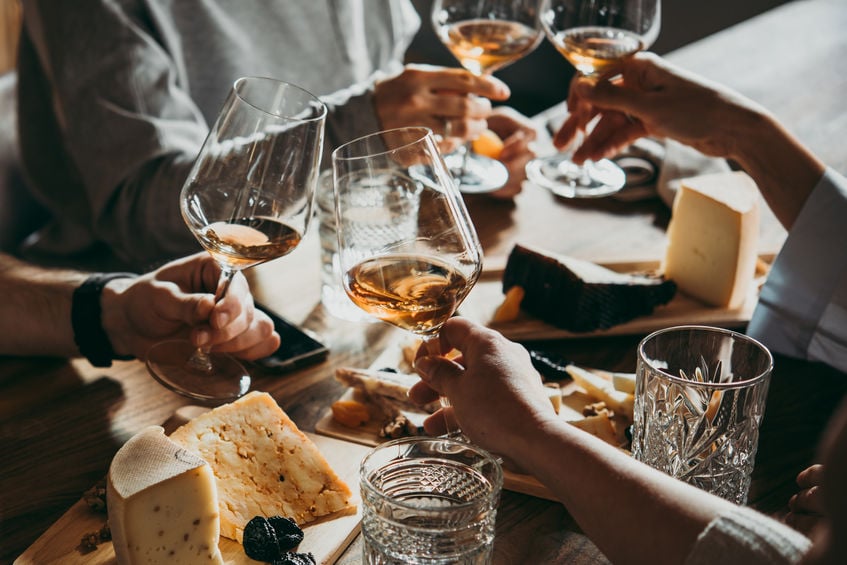 It is the more aromatic whites that work best for skin contact. These wines are some of the world's most versatile food wines - going with everything from pork, to fisk, to beef.
The skin contact white wine style emerged as part of the 'natural' wine movement and have slowly carved out a whole new genre. They're variously known as 'orange', 'amber' or 'skin contact whites' - a clumsy term, though it aptly describes the style. The winemaker's aim is to play down the grape variety and emphasis the wine's sense of place (or terroir) and the hand of the winemaker. In many ways the skin contact white wine style is a case of 'everything old is new again'.
Both 'natural' and 'skin contact wines' have found a niche with the growing awareness of organic and biodynamic grapegrowing across the globe fueled by climate change concerns and the rise of veganism. Once a niche in hipster bars and vegan restaurants, skin contact white wines have moved into the mainstream with all quality wine-lists offering a decent selection. It's now almost mandatory to have at least one skin contact white on pour.
Ancient history


The origins of wine date back 8,000 years with modern day Georgia recognized as the birthplace of winemaking. Archeological and carbon dating evidence support the claim. In those primeval days the color of a grape's skin or the grape variety were of no real importance. It was all about flavor and alcohol with grapes of all colors and varieties picked, crushed and fermented together.
The 'everything old is new again' reference alludes to Georgia (and neighboring Armenia) as leaders in the skin contact white wine charge with their ancient quveri (an egg-shaped earthenware vessel similar to an amphora) their fermenter of choice. American artist John Wurdeman is accredited with galvanizing Georgian winegrowers to return to traditional wine styles with lots of character and personality. His Pheasant's Tears wines are just that.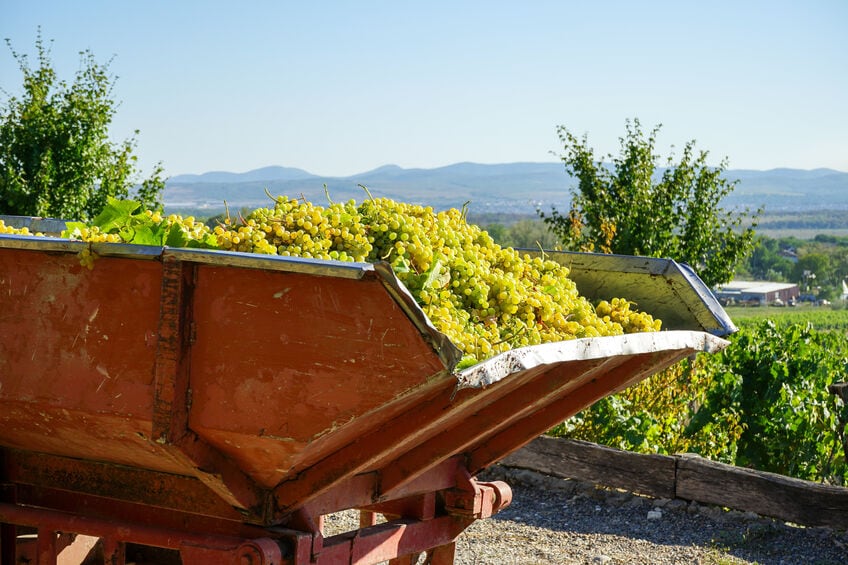 Inspired by Georgian winemaking techniques and natural viticulture, a pair of cult winemakers from the northeastern Italian region of Stanko Radikon and Josko Gravner, began to produce skin contact wines.
Wurdeman founded Pheasant's Tears in 2007 but a decade earlier pioneering Italian winegrowers Josko Gravner and the late Stanko Radikon were making wines in amphora buried in earth - to keep their ferments cool. Both eschewed modern methods and varieties with low intervention their mantra. Other regions like the Jura have long keep white wines in barrel with a deliberate oxidative character while a swathe of Sicilian winegrowers hark back to the winemaking of Sicily's Greco-Roman origins.


Australian protagonists of the style


Australian winemakers are highly innovative and adaptive. Kathleen Quealy and Kevin McCarthy were early adopters of the style, initially making a skin contact pinot gris with a blushing pink color but now playing with historical Italian varieties like Friulano and Greco di Tufo. Their Queally brand has spawned Mandi with daughter Celica McCarthy at the helm. Many others have entered the fray with young guns like Owen Latta (Latta Vino), Nick Peterkin (L.A.S. Vino), Peter Dredge (Dr Edge), Anton Von Klopper (Lucy Margaux) and Mac Forbes just a few of the exponents.
Like many movements, it's about where you sit in the cycle. It was only in the mid-late 20th century that Australian winemakers embraced 'modern' white winemaking with airbag presses and temperature-controlled stainless-steel tanks designed to enhance the core flavors of a grape variety. Chardonnay saw barrels come into play but it took the 'natural' wine movement to swing the pendulum way back to ancient amphorae.
Serious winemakers like Vanya Cullen follow conventional winemaking alongside biodynamic farming and these 'new again' techniques. Cullen calls them 'supernormal' wines that offer more flavor, more character and a greater harmony with our environment. It's a persuasive model for a sustainable winegrowing future for Australia.
To age or not to age?


Most skin contact whites are ready to drink when they're bottled. The extended skin contact and oxidative handling builds their character and complexity with time in the amphora, tank or barrel adding to the wine's maturity. That said, the top drops of makers like Radikon and Gravner will cellar for a decade or more. Don't be afraid to aerate your skin contact whites. Decadent if you wish – remember they're more like a red than a typical white wine. An open bottle will not only last but improve over several days.

COS Pithos Bianco 2020 – Cerasuolo di Vittoria, Sicily
Pheasant's Tears Chinuri 2017 – Kakheti, Georgia
Radikon Ribolla Gialla 2013 - Friuli-Venezia-Giulia, Italy
Gravner Ribolla 2010 - Friuli-Venezia-Giulia, Italy
Brash Higgins ZBO Zibibbo 2021 – Riverland, SA
Dormilona Skinnie 2021- Margaret River, WA
Cullen Amber Wine 2020 - Margaret River, WA
Quealy Lina Lool Field Blend 2019 – Mornington Peninsula, Vic