"It smells like Romanée-Conti!" exclaimed one of Sweden's premier sommeliers in surprise, finding a Blaufränkisch from Spitzerberg in his glass. A better sign that Austria's top producers have left behind the over-extracted, over-oaked iterations of the grape would be hard to find.
Austria is well known for white wines: Grüner Veltliner, Riesling, and a few Weissburgunder represent 70% of the country's crops, while red grape varieties, like Blaufränkisch (7%), Zweigelt (14%), and St. Laurent (1.7%) are barely represented. Yet when I visited Austria, these grapes gave me my greatest wine experiences. Especially Blaufränkisch has completely turned around, and at their best now exhibit an elegant mix of spicy floral scents with fresh, food-forward acidity and soft fruitiness. If you can snag a bottle, this is exactly what the grape offers when it's been grown and vinified with care.
Blaufränkisch has been called many names outside Austria, including Lemburger in Germany and the United States, and Kékfrankos in Hungary. Traditionally, it's been described as slow to ripen, resulting in deeply spicy, unbalanced wines with low acidity – the total opposite of today's finest examples. These wines have more in common with a tight Burgundy than their heavy, late-harvested siblings, which in the 80s and 90s were mostly used to blend Cabernet Sauvignons and Merlot.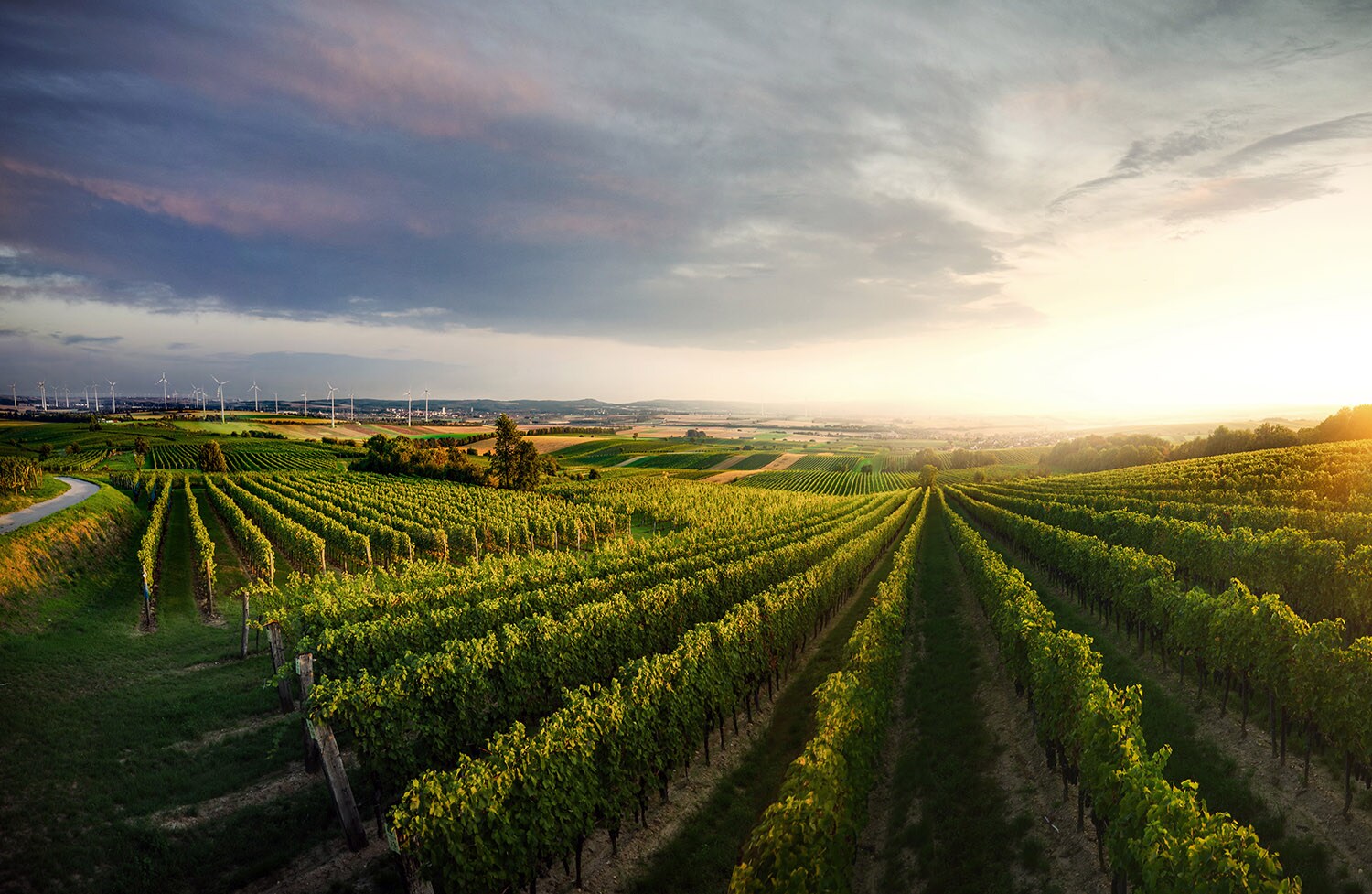 Even though red grape varieties have limited availability in Austria (approx. 22% of all planted crops in the country), they can be responsible or great wine tasting experiences: their best can exhibit an elegant mix of spicy floral scents with fresh, high acidity and soft fruit. (Photo by AWMB / Marcus Wiesner,
Austrian wine
)
The transformation has been quick. When the New York Times wine critic, Eric Asimov, tried a selection of Blaufränkisch in 2007, he found most of them crude and over-extracted. Only a few years later, in 2015, he expressed surprise that more people hadn't discovered these elegant, energetic wines with their delicious spice and juicy fruit.
"International interest in Blaufränkisch is rapidly on the rise," says Dorli Muhr, winemaker at her own Weingut Dorli Muhr (previously Muhr van der Niepoort) and owner of a Vienna-based wine PR firm. She explains that the change came with the new millennium, when a handful of producers saw just how well the grape could express its terroir.
A leading figure in this change was Roland Velich in Mittelburgenland. He was also responsible for my personal change in perception of Austria as a red wine producer. Entering Velich's home was like stepping through the door of a philosophically inclined Hollywood star. The old stone house was tastefully decorated, and his long-legged, Hungarian hunting dog turned out to be just as relaxed and cool as its master. But what truly got me out of the weariness which follows too many days of vineyard visits, were the wines. Totally unprepared, I found myself at full attention with my nose deep down in the glass. From the first bottle to the last, these were the sorts of wines that transcend description in terms of scent and taste, presenting instead their souls through emotion. These were world class wine experiences.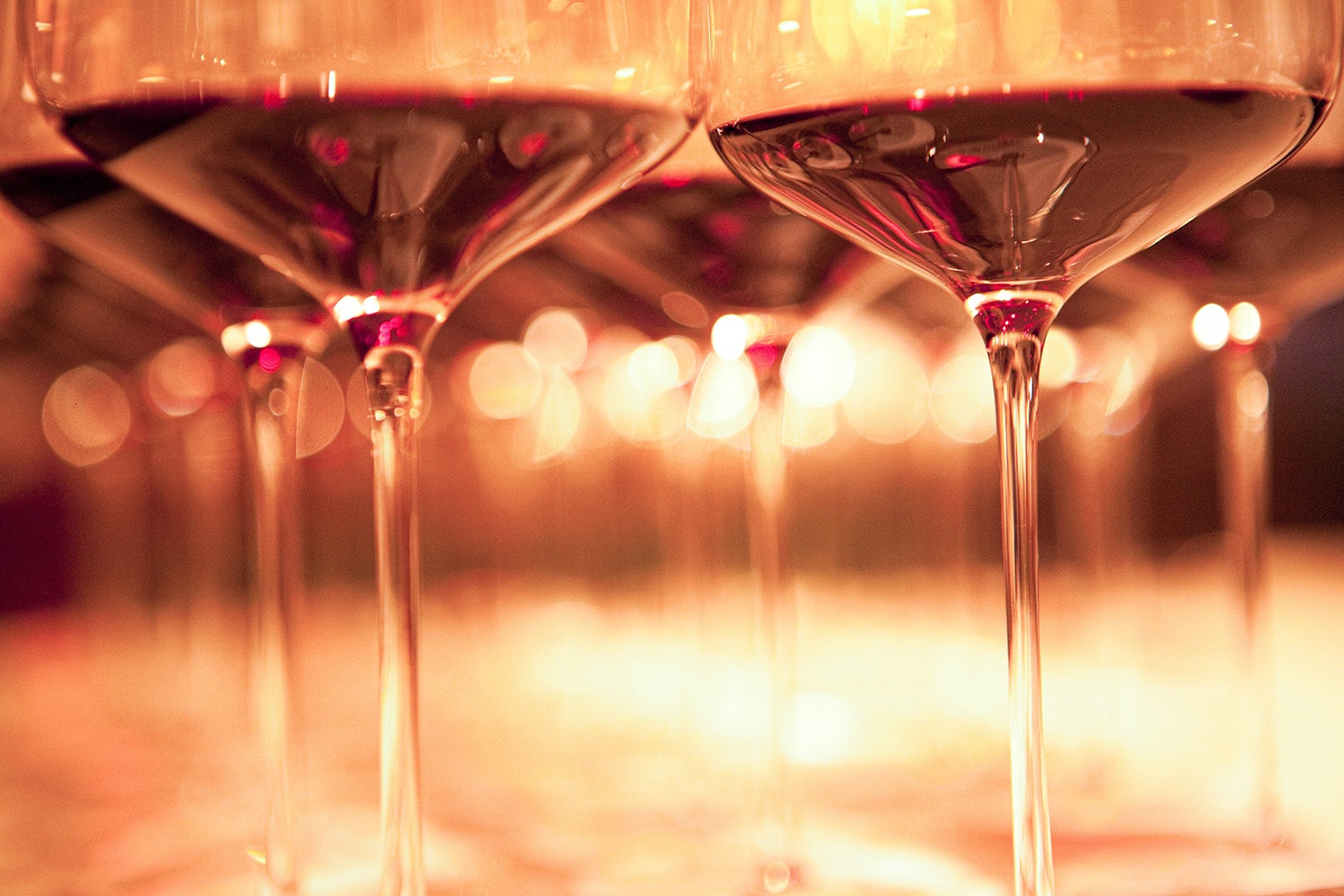 A wine tasting with world class experience.The transformation of the Blaufränkisch wine has progressed rapidly. The change came with the new millennium, when producers found out how well the grape could express its terroir. (Photo by AWMB / Bernhard Schramm, Austrian wine)
While Velich makes a sublime Grüner Veltliner, his reputation currently rests on the Blaufränkisch. I ask him why it's only in recent years that Blaufränkisch has this new, elegant expression.
"Winemakers here saw acid as the enemy," he says. "If you are heavy-handed in handling the Blaufränkisch, with a late harvest, high extraction, and low acid, the wine will be heavy. Blaufränkisch cannot be made in high volume, or it becomes too rough. I want to get that acidity to keep it fresh and grow the grapes as free-standing bushes for lower yields and earlier ripening. In making the wine, we avoid new oak and let the wines ferment slowly. I don't filter, and keep the sulfur at the lowest possible level," he continues, echoing most internationally sought-after Blaufränkisch producers today. Perhaps the extra dimension to Velich's wines comes from his inclination to philosophy?
______________________________________________
Read more about sulfites in wine:
"Origin and cultural context are completely necessary to make wine here," he says. "Nature is important, but a human makes the wine, so history and culture also play a part." The best areas for Blaufränkisch, from Carnuntum near Vienna to Leithaberg, Neusiedlersee, Mittelburgenland, and Eisenberg, are all situated near the Hungarian border.
"We used to be a part of Hungary and have more in common with their traditionally proud, light-handed winemaking than the typically Austrian," Velich explains. But the iron curtain cut the connection. From the 1970s, the region instead began imitating the heavier wines of Bordeaux or focused solely on Grüner Veltliner.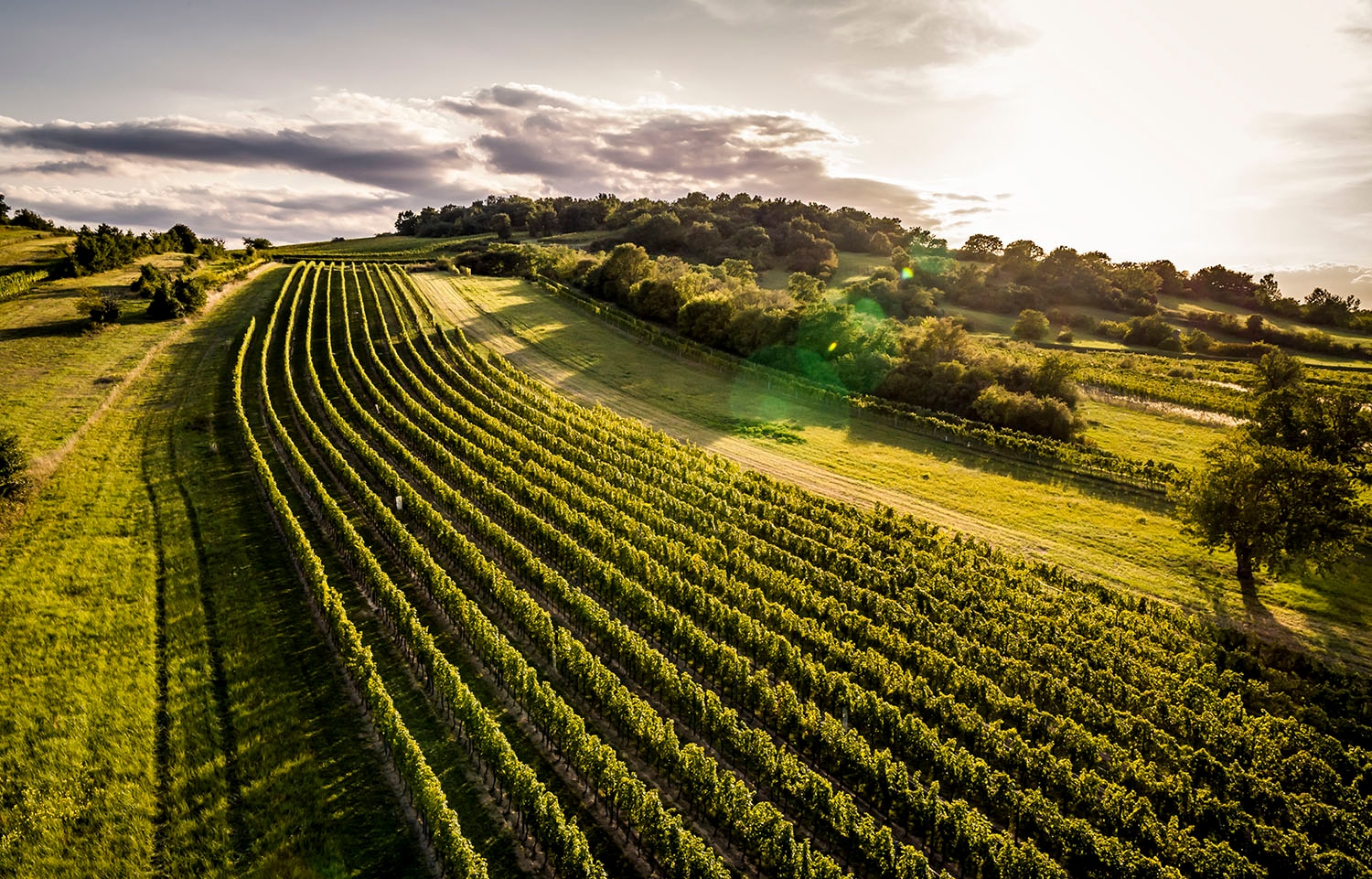 Austria Vineyard in Leithaberg close to Hungary. The best areas for Blaufränkisch vineyards are all situated near the Hungarian border. It used to be a part of Hungary before the iron curtain cut the connection. (Photo by Ried Goldberg Schützen Leithaberg AWMB / Robert Herbst, Austrian wine)
"This is a fantastic region for red wines. We just got lost for a while," Velich smiles. The result of Velich's winemaking is a Blaufränkisch with the elegance of a red Bourgogne, the spice of a good Syrah, and the floral notes and fine, bitter tannins of a Piedmont Nebbiolo.
"The cool thing is that the subtle style of the Blaufränkisch means it can be served slightly chilled with fish, such as European bass, to show off its lovely fruit. The same wine can then be served in large Burgundy bowls, to a meat-based dish like slow-cooked braised ox cheek, which brings out its tannins and structure. It's a very versatile wine, which is one of the reasons that sommeliers at fine dining restaurants were among the first to discover it," explains Dorli Muhr.
"The norm with Blaufränkisch is still high yield, late harvest, and large, powerful wines," she continues. "We want to show a lighter style with lower tannins and a medium body that accompanies food rather than dominates it." The acidity also enables aging. Muhr's Muhr van der Niepoort Spitzerberg is an excellent example of a top red wine from Carnuntum, which only improves with cellaring.
The leading personalities, like Uwe Schiefer, Roland Velich, and Muhr herself, are now joined by many others with similar philosophies, such as Gernot Heinrich, Angela and Werner Michlits at Meinklang, and the Wachter-Wiesler family.
On Velich's kitchen table lay a note with a quote written on it. "You can hear what the past can tell and what the future will bring." We listened to the glasses he poured and heard both tales of Austria's history and signs of its future as a leading red wine country.
Trends
The best Blaufränkisch-based wines can still be difficult to find. The top producers are all relatively small and work according to the less is more motto: wild yeast, old oak, minimal manipulation, low harvest yields, and organic or biodynamic methods. All can be cellared and should be aired. Here are a few names worth looking out for:
Moric
Good-looking wines in good-looking bottles. The wines need airing, and age beautifully. The vineyard designated Neckermarkt and Lutzmannsburg gain a lot from 5-10 years in a wine cellar. Check Moric Reserve.
>>Order on Vivino (Subject to availability in your location)
Weingut Dorli Muhr (previously Muhr van der Niepoort)
Originally a project between acclaimed Duoro producer Dirk van der Niepoort and his then wife, Austrian Dorli Muhr, Muhr has now taken full control of the vineyard and produces tremendous Blaufränkisch and Syrah. The top wine, Spitzerberg is available for around $42 for the 2012 bottle and $55 (USD) for the 2016. A simpler, but still very good, Blaufränkisch-Syrah, Cuvee vom Berg is available on the market.
>> Order on Vivino (Subject to availability in your location)
Heinrich
Biodynamic producer Heinrich makes juicy, delicious wines in Wagram and nuanced top wines primed for aging in Leithaberg. Heinrich Blaufränkisch has the lovely fruit of a young Blaufränkisch but with juicy fruit and light spice to balance it out.
>> Order on Vivino (Subject to availability in your location)
Weingut Uwe Schiefer
Uwe Schiefer is one of the trailblazers alongside Velich. These ageable, biodynamic wines are a steal - available for around US$15-20.
>> Order on Vivino (Subject to availability in your location)
Wachter-Wiesler
These wines are widely available in America, and the Béla-Joska (2017), made from grapes on younger vines, is perhaps the loveliest example of their Blaufränkisch. A great every-day wine that matches many dishes.
>> Order on Vivino (Subject to availability in your location)