Australia has a harsh climate; our national anthem speaks of 'droughts and flooding plains'. However, the grape vine is resilient. To sustain a viable industry in the face of a changing climate, the focus needs to be matching grape varieties to specific regions and sites in the manner of European terroir. The race is on.
The Australian Wine Industry


Wine has been grown in Australia since the beginning of European settle in 1788. A century later Australia was seen as an important producer of high-quality table wine in the style of the classical wines of France. Australia is now entering its third century of winegrowing with climate change forcing the re-evaluation of the grape varieties we grow and where our vineyards are planted. These decisions are driven by consumer taste, commercial opportunity and, increasingly, sustainability.
This article cannot cover all the issues relating to sustainability like carbon fuel versus solar and wind energy and the broader issues uses of our environment. Nor is it the forum to examine financial sustainably (an often-overlooked notion) or the role of government. Instead, I'll focus on the challenges and opportunities of offering a decent glass of Australian wine made with sustainability in mind.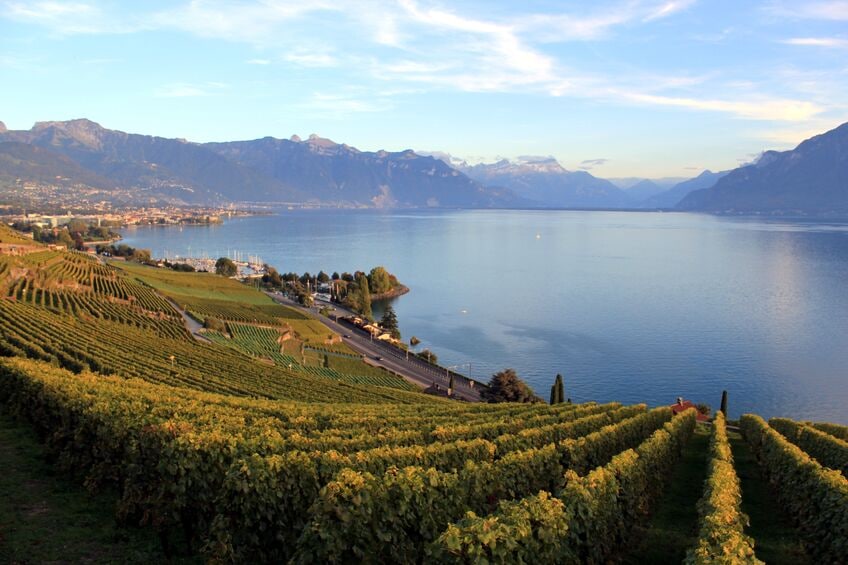 Climate change is already impacting the grape and wine community. Australia is now entering its third century of wine growing with climate change forcing the re-evaluation of the grape varieties and their vineyards. All the decisions are driven by consumer taste, business opportunity and sustainability.
Synchronizing grape varietieswith Australia's warm climate
The French varieties planted in the early 19th century still form the core of the Australian Wine Industry. Shiraz, Chardonnay and Cabernet Sauvignon made up 60% of the 2021 crush. Yet only Shiraz has the ability to perform well in warmer climates, Chardonnay and Cabernet Sauvignon prefer a more temperate environment. To sustain Australia's 146,244 hectares of vineyards (the Wine Australia 2021 estimate) into the 21st century there's a push to plant varieties that suit our warming climate and scare water.
Varieties such as Fiano, Vermentino, Sangiovese, Montepulciano and Nero d'Avola from Italy and Tempranillo from Spain. Luckily, the sun-loving Grenache thrives in our warmer regions but it's less than 1% of the annual crush. That said, more Grenache (both red and white) is being planted along with its Rhône cohorts Mourvèdre and Cinsault. Other warm blooded red varieties like Malbec, Petit Verdot and Durif are the varieties that will sustain our viticultural future.
Water Management and Practices
Grape vines need water - be it from natural rainfall or irrigation. The more elevated or coastal wine regions are cooler with a more consistent rainfall negating the need for irrigation. However, three quarters of Australia's grapes are grown in the warm to hot regions along the vast Murray-Darling inland river system. These grapes go into everyday wine selling for less than AUD10 (USD7) a bottle. Irrigation is essential to sustain these vines and water is a limited resource in Australia. That said, these Riverland vineyards use sophisticated technology with excellent water efficiency.
Wine grapes need regular watering. When the landscape has cold temperature, the water comes from natural rainfall. However, when the climate is too hot, then using irrigations are necessary, especielly when the water is a limited resource in Australia.
The rest our Australia's vineyards are in temperate climes with a more reliable rainfall. The past 50 years seeing new cool climate regions pioneered such as the Canberra District, Tumbarumba and Orange in NSW. Victoria's rebirth began in the historic regions of Yarra Valley and Geelong before spreading to newer areas like the Mornington Peninsula and Macedon Ranges. The Adelaide Hills of South Australia and the Margaret River and Great Southern regions of Western Australia add to the quality quotient as does the in-vogue island state of Tasmania.
These regions were initially planted with Chardonnay and Pinot Noir for both sparkling and table wines along with Cabernet Sauvignon and Merlot. However cool climate varieties such as Nebbiolo, Barbera, Gamay and Grüner Veltliner are now in play.
The grape vine is hardy and, while irrigation is an essential tool in establishing vines, over time the tap is turned off to encourage the vines to dig deep for moisture and nutrient. Mature vines are not only drought resistant but also speak clearly of their terroir.
Organic, Bio-dynamic and Sustainable Credentials


Like most of the wine world, Australian winegrowers are abandoning pesticides and herbicides as they move down the organic and bio-dynamic path. Export markets are increasingly looking for organic and bio-dynamic credentials, which are almost mandatory in Japan, South Korea, the Low Lands and Scandinavia. Alongside those dedicated to organic and bio-dynamic winegrowing is a pragmatic cohort of winegrowers who have formed
Sustainable Winegrowing Australia
.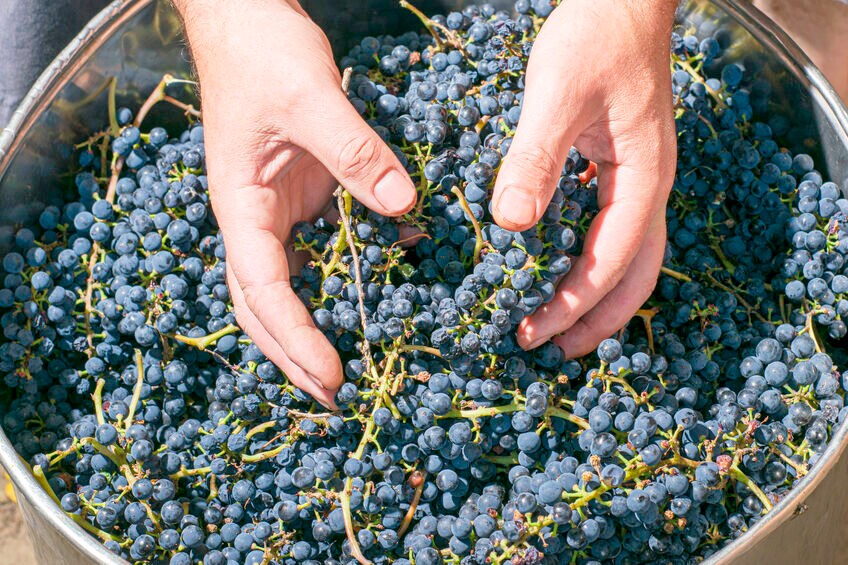 Sustainable wines strive for having a winemaking process that protects the environment, maintains economic feasibility, supports social responsibility and produces high quality wines. Many environmental factors are highly prioritized in the process.
To date the organization has 852 members with 157 already certified. Their vineyards cover 51,200 hectares, over one third of Australia's vines.
Sustainable Winegrowing Australia
has adopted the United Nations Sustainable Development Goals in line with the Australian Grape and Wine Sector Vision 2050 statement.
Beyond these certified winegrowers are wineries seeking carbon neutral status. Cullen Wines in Margaret River led the push though it was Ross Hill Wines in Orange that was the first winemaker to be registered as an NCOS certified carbon neutral winery. They are not alone. All new wineries look to minimise their carbon footprint with solar energy a key driver.
Water management is paramount not just in the vineyard but the winery too. It takes a lot of water to make a litre of wine – rinsing tanks and barrels, hosing down and flushing hoses and lines gobble up water. The recycling of waste water is an important (and expensive) issue with an increasing priority.
Packaging and Delivery


A lot of thought and energy goes into managing the environmental impact of growing and making wine but there's an equally important part of the process - packaging and delivery. A big problem (not just in Australia but across the world of wine) is glass. Some producers believe the heavier the bottle, the better the wine and the more they can charge.
There are plenty of well-designed lightweight bottles available but still the 'big is best' brigade use obscenely hefty bottles – some tipping 1 kilo (2.2 pounds). Prominent wine critic, Jancis Robinson MW has taken up the challenge, calling out winegrowers for their excessively hefty bottles. It's the contents that are important, not the weight of the bottle.
On the same path, these heavy bottles need to be transported by road, rail and air adding to their carbon footprint. And it's not only glass but carboard cartons too. Some commercial wine is exported in bulk – using a collapsible bladder inside a shipping container. The wine is then bottled in situ with big savings both in monetary and environmental terms. Alternative containers are making a mark such as cans, kegs and new look 'bag in a box' packs and pouches. The market for canned wine is booming – its light and compact, easy to chill and recyclable.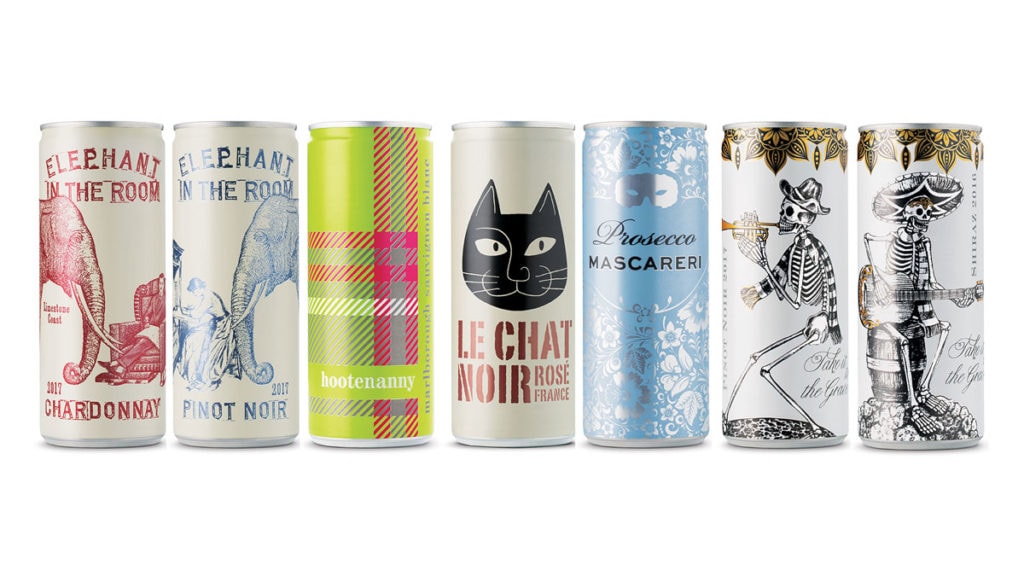 Don't underestimate canned wine. The market for canned wine is going successfull, and there are reasons why: They are light, recyclable and easy to bring to parties and outdoor activites.
The credible Murray-Darling producer Trentham Estate has released a snazzy 1.5liter pouch with bottle quality wine inside. The pigeon-pair of Pinot Grigio and Pinot Noir sell at a mere AUD15 (USD10.50) a pack. The innovative team at Fourth Wave offer Elephant in the Room Chardonnay and Pinot Noir in an attractive 250ml can at AUD 3.00 (USD2) each. The uptake has been encouraging – especially for picnics, parties and outdoor events.
The Future

Consumers are part of the sustainable plan with many attracted to a bottle (or alterative pack) of wine not for its label and its contents but for its sustainable credentials. The Australian Wine Industry is actively pursuing carbon neutral status in line with the Australian Grape and Wine Sector Vision 2050. A sustainable future seems assured.

Elephant in the room, Pinot Noir, South Australia

Elephant in the Room Pinot Noir is a dark blood red in colour with an expressive nose of ripe plums, dark berries and a hint of forest floor. The palate is fruit driven with a core of supple red berry and cherry flavours high lighted by smoky spice complexity. Bright acidity and fine tannins provide definition to the long finish.

>>Order on Vivino (subject to availability in your location)
Elephant in the room, Chardonnay, South Australia

Elephant in the Room Chardonnay is medium, deep straw yellow in colour with a highly expressive nose of ripe peach and melon aromas, struck match and notes of creamy oak. The palate is bold and upfront with a burst peach, guava and melon flavours with a rich and soft texture building to a mouthcoating and full back palate framed by subtle toasty oak. Fresh acidity gives balance before a soft dry finish.

>>Order on Vivino (subject to availability in your location)