London, Korea, the Rhône: all of them are famously divided into north and south, and each half views its neighbor with suspicion.
In the northern Rhône, Syrah has reigned supreme for over 200 years. The appellations of Hermitage and Côte Rôtie provide the perfect conditions to conjure the savory black fruit, peppery spice and meaty, ferrous complexity that are considered the variety's greatest qualities. Such wines are the benchmark to which all other Syrah aspires.
Whereas in the warmer southern Rhône, Grenache is the champion, as exemplified by Châteauneuf-du-Pape. Here, the style is fuller and softer with higher alcohol and sweeter, red fruit flavors. But Grenache rarely does this alone: it is routinely blended with other varieties, and Syrah plays the main supporting role.
Yet the south can also produce convincing solo Syrah, not only in Châteauneuf-du-Pape but also in nearby appellations such as Duché d'Uzès, Costières de Nîmes and the neighboring Languedoc. And at much lower prices, the savvy wine lover has a lot to gain from taking a closer look.
Stepping into the limelight
Syrah might only account for ten percent of the vines in Châteauneuf-du-Pape, but that equates to 320 hectares; the same size as Côte Rôtie. It was authorized as a variety in the original appellation laws written in 1923, but is normally a minor constituent of the blend, providing the color, piquancy and tannin that Grenache sometimes lacks. More recently though, it is stepping into the limelight.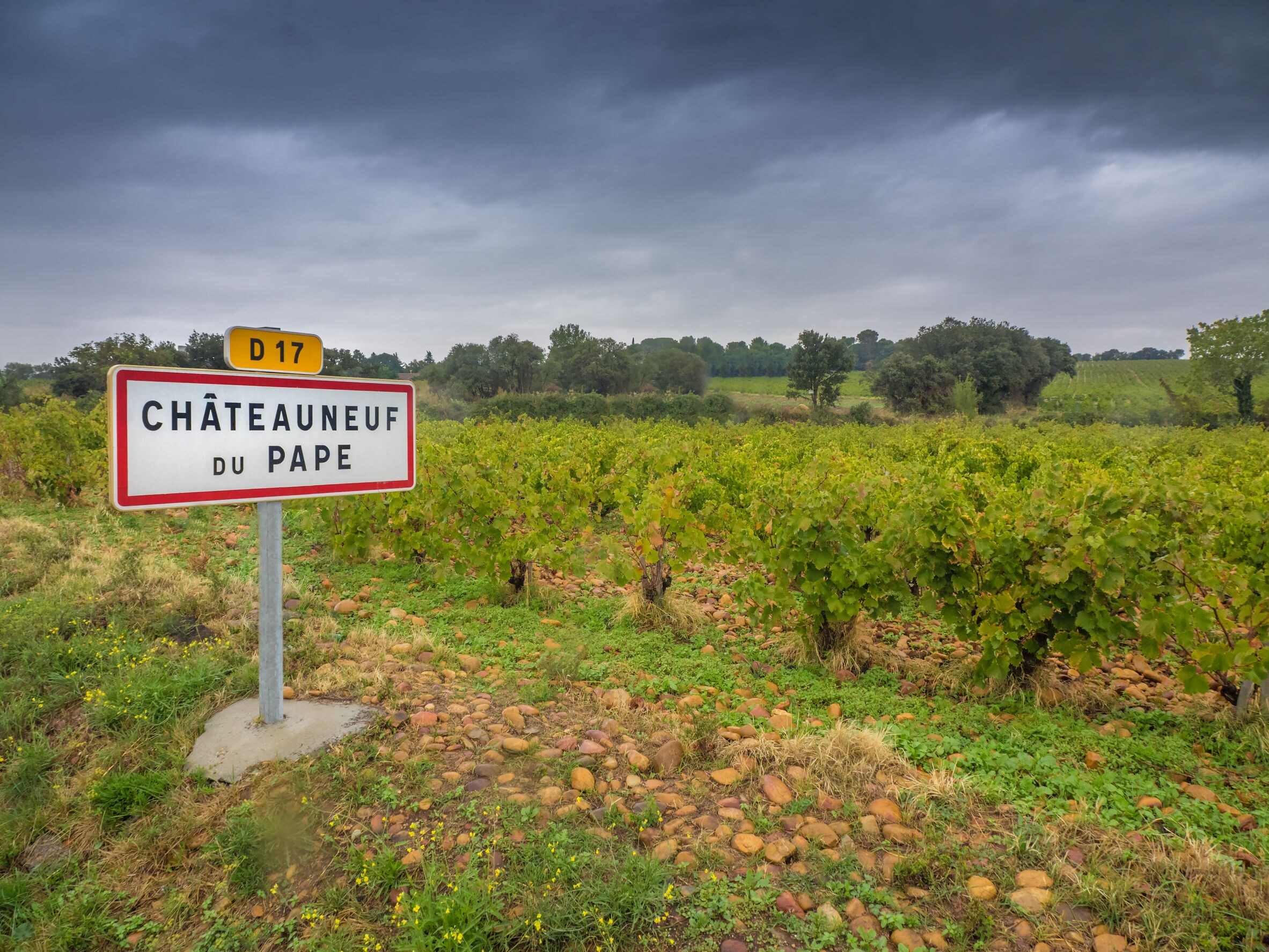 (Syrah account for ten percent of the vines in Châteauneuf-du-Pape, with 320 hectares, representing the same size as Côte Rôtie, in the Northern Rhône).
Several estates now produce a single-varietal Syrah. Since the 2000 vintage, Château de la Font du Loup have been taking advantage of their cool, elevated vineyard – nicknamed the fridge of Châteauneuf – to produce a Syrah that bears more than a passing resemblance to the Hermitage style, albeit with more fuel in the tank.
Most unusually, Domaine de Maravilhas started out in 2015 making only pure Syrah cuvées from Châteauneuf-du-Pape. The leathery, earthy style of their Espirito has the rusticity of classic Cornas, but again with the heat of the south on the finish.
Jean Royer's Sola Regalis is another impressively powerful example, while in nearby Gigondas Domaine des Bosquet produces a similarly successful Syrah called Les Routes.
Star attractions from the south
Such examples are very much the exception, however, and produced in tiny quantities. But there are other southern Rhône appellations where Syrah is the star attraction.
Costières de Nîmes and Duché d'Uzes lie on the west side of the Rhône river, and both can make a claim to some of the best – and best value – Syrah in the region. However, unlike in Châteauneuf-du-Pape and Gigondas, appellation laws prohibit single varietal wines, so the maximum percentage of Syrah allowed is 80 percent.
Even so, the characteristics of the variety are crystal clear. Top Duché d'Uzes has a distinctive black pepper character that evokes the best examples of Crozes-Hermitage, while the vineyards of Costières de Nîmes have pebble-dashed terroir that is very similar to Châteauneuf, helping to create wines with comparable concentration and intensity.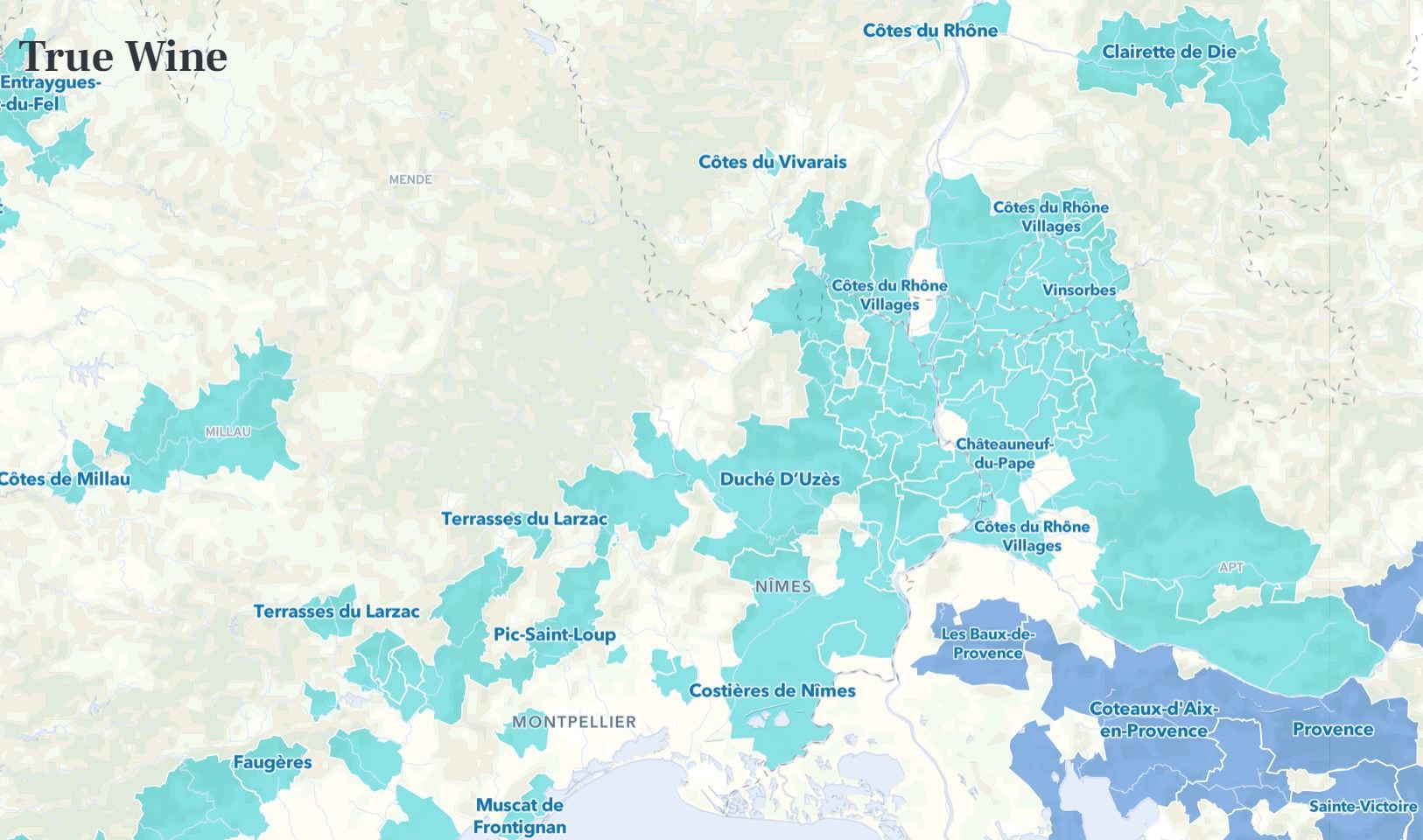 (Syrah's star attractions from the southern Rhône include Costières de Nîmes and Duché d'Uzes. Map source: https://truewine.io/wine-rgion-map/, © Mapbox, © OpenStreetMap)
Without the same international reputation, however, these appellations cannot command the same high prices. That makes them a bargain for canny wine lovers, but makes it much harder for many producers to invest in the techniques that would allow them to focus purely on quality.
After all, the Languedoc region which Costières de Nîmes abuts is notorious for producing colossal volumes of cheap wine – although there are some notable exceptions to this rule, especially from Château La Négly and Domaine Peyre Rose, whose excellent single-varietal Syrah cuvées achieve both high scores and high prices.
For the moment, the northern Rhône can rest assured that it produces the best Syrah on the planet, but wine lovers with an adventurous palate should cross the divide and look south.

Château St-Cosme Côtes du Rhône 2018 (US$14.69 bqewineandliquors.com, AU$17.77 vintagecellars.com.au)
From 100 percent Syrah grown in Vinsobres and the Gard, this demonstrates the outstanding value that can be found among Côte du Rhône reds. There's plenty of ripe red fruit, seasoned with the distinctive peppery spice for which Syrah is renowned.
Mas de Volques, Volcae Duché d'Uzes 2016 (US$19.99 Acespirits.com, AU$23.99 nicks.com.au)
Made by the local co-operative, this is a great introduction to southern Syrah blends. It is composed of 40 percent Syrah with 35 percent Grenache and 25 percent Carignan to make a forceful, hefty red with all of Syrah's gutsiness on full display.
Domaine Jean Royer, Sola Regalis Châteauneuf-du-Pape 2007 (US$75 winebank.com)
This 100 percent Syrah combines typical Châteauneuf density with the tar and leather savory character of the variety. It's a convincing advert for the style, showcasing the ripeness of the southern Rhône with the fragrance of the north.
Château La Négly, Clos des Truffiers Languedoc 2012 (US$124.99 Phillipeswinecellar.com, AU$288.99 dynamicwines.com.au)
From one of the star names of the Languedoc, this varietal Syrah is justifiably expensive. It offers an explosive fusion of the fruit intensity of premium Barossa Shiraz with the elegance and perfume of top-end Côte Rôtie. World-class Syrah.