There are many myths about Spain: the rain doesn't fall mainly on the plain, paella is not the national dish and when it comes to the Spanish climate, it's not all scorchio. Yes, the costas are waiting for northern Europeans to arrive each summer, eager turn their pale skin to a lobster-like hue but the package holiday brochures fail to represent the verdant, rain-drenched west coast and the country's mountainous interior, providing a vivid palette...
There are misconceptions that need to be debunked about the current Spanish wine scene. The country's most talked-about red wine-producing regions rarely refer to oak they've used or how long the wines have been in barrel; instead, it's about the place it was made – which is usually a very old vine situated on a steep slope at high altitude.
New barrels are no longer the go-to maturation vessel; clay tinajas now on trend, as well as older barrels and larger formats like foudres. What's more, the white wine producers are no longer content with playing second fiddle to the country's reds. Gone are the dull, oxidized wines of old; say hello to modern, fresh, aromatic styles that give New Zealand Sauvignon Blanc a run for its money in the zesty stakes.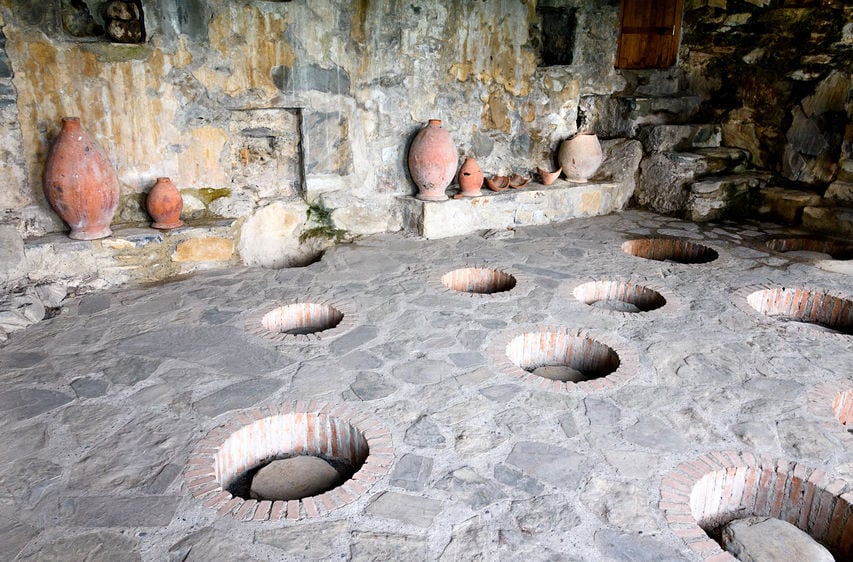 Picture - clay vessels buried in the ground. Clay tinajas, or clay vessels, have been used to age and ferment wine since ancient times. It's an old ancient winemaking technique that is now making a comeback. A tinaja is a Spanish clay vessel that narrows at the bottom and the top, almost like an egg, but a big one.
The areas producing these seemingly new wines that offer incredible purity of fruit, freshness and texture are actually ancient in some cases: the Galicians were making wine during Roman times and it's rumored that Columbus took Ribeiro wine on his most famous of voyages, potentially making it the first wine on American soil.
What is new is a change in attitude. Instead of focusing on the process of making wine, producers are going back to the land. They are rediscovering the great raw material that has been in the ground for decades – sometimes a century. Ferran Centelles, the director of the El Bulli foundation, explains that grapes from many of these 'new' regions would be sold by his parents' generation to a cooperative to make anonymous bulk wine. "There are lots of young people taking those vineyards back," he says.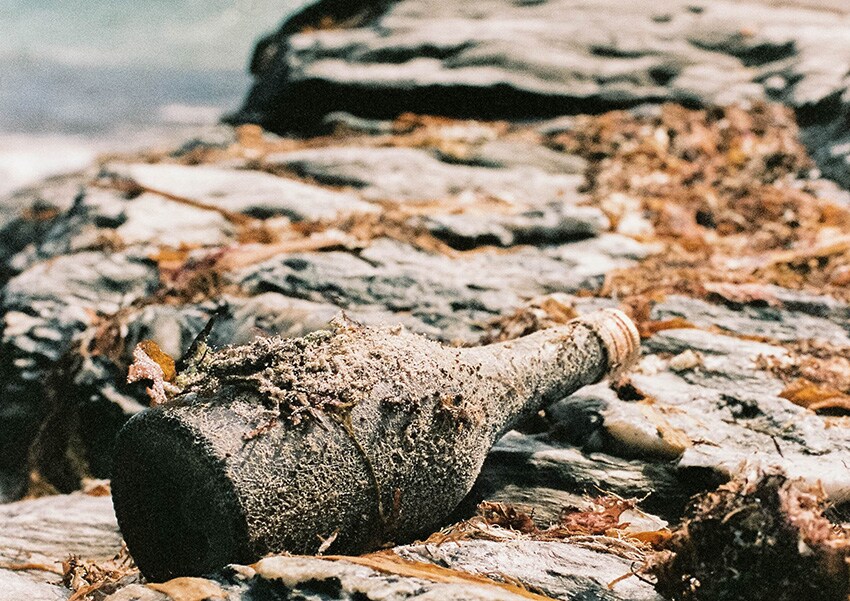 The Galicians were making wine during Roman times and it's rumored that Columbus took Ribeiro wine on his most famous of voyages, potentially making it the first wine on American soil. (Photo by Pelayo Arbués on Unsplash)
It's not only new regions but well-known, traditional regions that are experiencing a quiet revolution. In Rioja, the country's most famous wine producer, the focus has long been on promoting the ageing process – Crianza, Reserva and Gran Reserva were the barometers of how much a wine was worth. This tradition isn't going away but the dial is shifting toward expressing site not the flavors of a barrel made on the other side of the Atlantic. Bijou producers are emerging from beneath the shell of behemoths, making single parcel wines in shared winemaking facilities. Centelles says: "I'm totally lost and it's very exciting because I'm discovering new producers all the time!"
Staying in Rioja, the subregion formerly known as Rioja Baja is also being shaken up, led by one of the country's most famous producers, Alvaro Palacios. Wine students have long learned that the area now known as Rioja Oriental was the source of fruit-filled, high alcohol Garnacha that large Rioja producers used as stuffing in their blends.
However, the release of the $400-plus Quiñon de Valmira from Palacios in 2014 set a new benchmark for the local producers. While the vines are 'only' 30-odd years old, old vine Garnacha is starting to be taken much more seriously and producers are playing around in the winery, many trialling whole bunch fermentation to bring structure to this low-in-tannin variety and additional lift to complement its bright red fruit.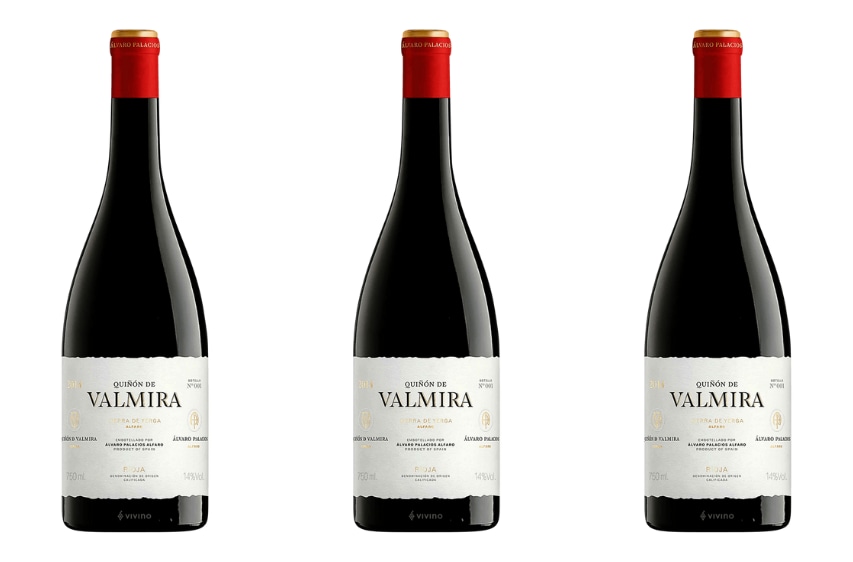 And due to the international success of Rioja, the region's most famous producers had the means to invest in lesser-known Spanish regions and put them on the world's wine map whether it was Marqués de Riscal dragging Rueda into a new age of crisp, vibrant Verdejo production or Palacios, who extended his reach to both Priorat and Bierzo. Several well-known producers including La Rioja Alta, Marqués de Vargas and Granbazan have ventured west to the land of Albariño, Rias Baíxas.
While Albariño is gaining in recognition, Spain's indigenous grapes haven't yet had their time in the sun unlike Italy, whose native grapes have been getting more than their fair share of love from the international wine trade. Having taken what seemed like the route of least resistance by planting international varieties at the end of the 20th century, there's a realisation that Spain's unique selling point needs to be Spanish and producers are now revisiting their roots.
Inquisitive drinkers are close behind, going beyond the country's most widely planted red variety, Tempranillo, to its native grapes including Mencia, whose red fruit, herbal notes and natural acidity have drawn comparisons with Cabernet Franc.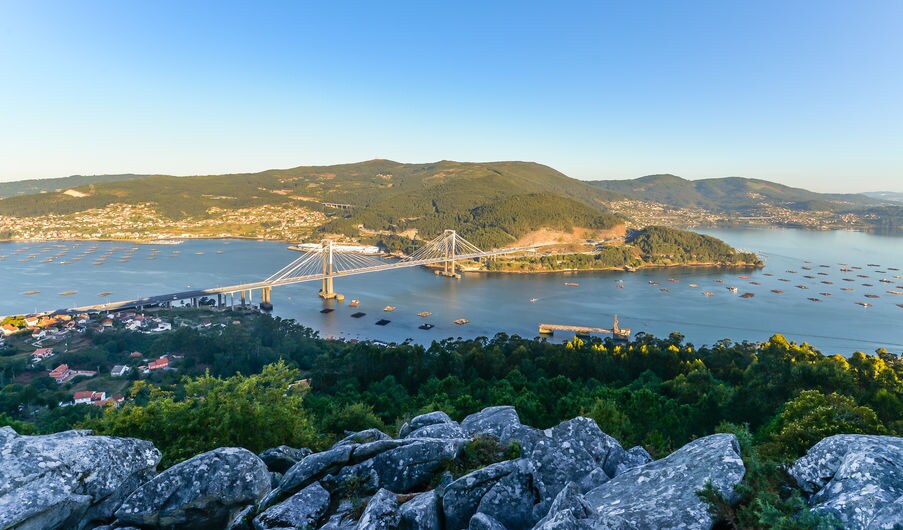 The beautiful landscape of Ria De Vigo, close to Rias Baíxas.
____________________________________________________________________
More interesting articles:
The whites of the north-west of Spain have also made the traditionally made Viura-based whites of Rioja look very neutral indeed. Australia-born Beth Willard, now based in the UK has been a wine buyer for more than decade, specialising in Spain, and extols the virtues of Ribeiro's main white variety, Treixadura. "It has wonderful acidity and is mouthfilling as well a bit tropical. It's a textural wine in the same way as Albariño, which appeals to those who want richness." In terms of volumes, it represents a small drop in the Spanish wine scene but the tide is turning.
It seems that Spain has a wealth of vinous riches at its fingertips that would be the envy of most nations. Long undervalued, its indigenous old vines, often planted on steep slopes at altitude are being re-evaluated. Forget the conquistadors of old, the Spanish are reconquering their own country.

Dominio do Bibei, Lalume, Ribeira Sacra, 2017
A Treixadura fermented in various vessels including tanks, barrels and concreate. It has lovely weight and the texture caresses the plate thanks to lees aging. At four years old, it is starting to develop some characteristics of age including almond meal alongside pineapple and citrus fruit but it retains a burst of fresh acid that just keeps on giving. Ripe for drinking now.
Alter, Ribeiro Tinto 2018
Hailing from a site just 45km from the Atlantic from the little-known Brancellao and Souson grapes, this wine is like a joyful friend with its bright freshness. It also happens to have a darker, broodier side – think Antonio Banderas – with its smoky, coffee-notes blending with ripe raspberry and red cherry flavours. Long, finely textured finish with bags of acidity.
Doamine Lupier, El Terroir, Navarra, 2017
I picked this wine for its fun, almost Gamay-like character. It has masses of energy and life. The makers have revitalized old vine Garnacha parcels at more than 650 meters altitude, and it tastes of raspberries, herbs and a savory element. It's not massively concentrated but it's a joy to drink with its chalky tannins and vivacity – and thankfully very little new oak, allowing the fruit to shine.