Are you curious about one of the biggest trends in champagnes in recent years? Then look no further than the fine print on your bottle's label! Two little letters, RM, at the beginning of the producer identification number of a champagne bottle signify that the champagne producer has made wine based solely on their own grapes.
RM stands for Récoltant Manipulant, French for "Grower Producer". Technically, the term in English might be grower champagne, but if you want to sound like the young sommeliers of New York, simply call it "farmer's fizz". Because while the Champagne region has some of the world's wealthiest farmers, at the end of the day these guys are still farmers, who own their land and grow their grapes.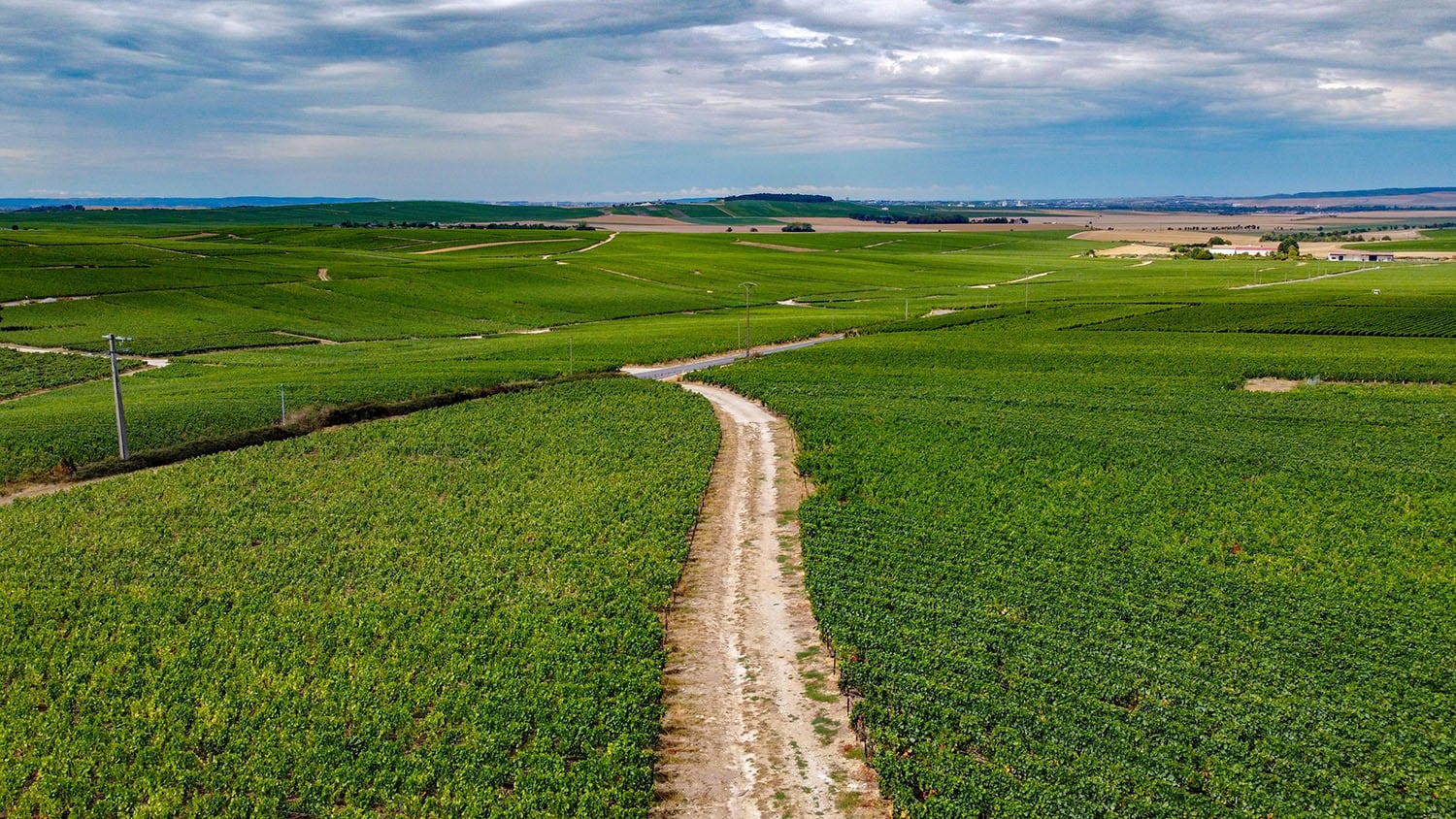 Identified by the letters 'RM' on the wine label, growers champagne are Champagnes produced by the estate that owns the vineyards where they grow the grapes.
Historically, the grower champagne category represented only the simpler champagnes, sold within the region for locals' own needs. But when renowned wine prophet Anselme Selosse brought his father's company, Champagne Jacques Selosse, to new heights, a new category was created: grower champagne with an attitude, internationally sought after and at a steep price. Anselme – notoriously hard to impress – declared that champagne can only be truly good, unique, and personal if it can express its terroir; the place where it was grown. For this to happen, you cannot mix grapes from different growers and regions, but must work your own soil in order to know it well. He also encouraged growing the grapes in harmony with nature, without pesticides and with limited harvest for full maturity. These opinions, at a time when the champagne houses mostly ignored grape quality, made him both a hero and a heretic.
The Champagne region houses nearly 16,000 growers, 4,000 of whom make their own champagne. Most still sell a large portion of their grapes to the champagne houses, who are allowed to purchase all or most of their grapes for production. These champagnes are labeled with the code NM. While several of the houses are quite large (or enormous, like Moët), the label says nothing of size, and thus does not divulge everything about the bottle. Even the smallest addition of purchased grapes requires the code change.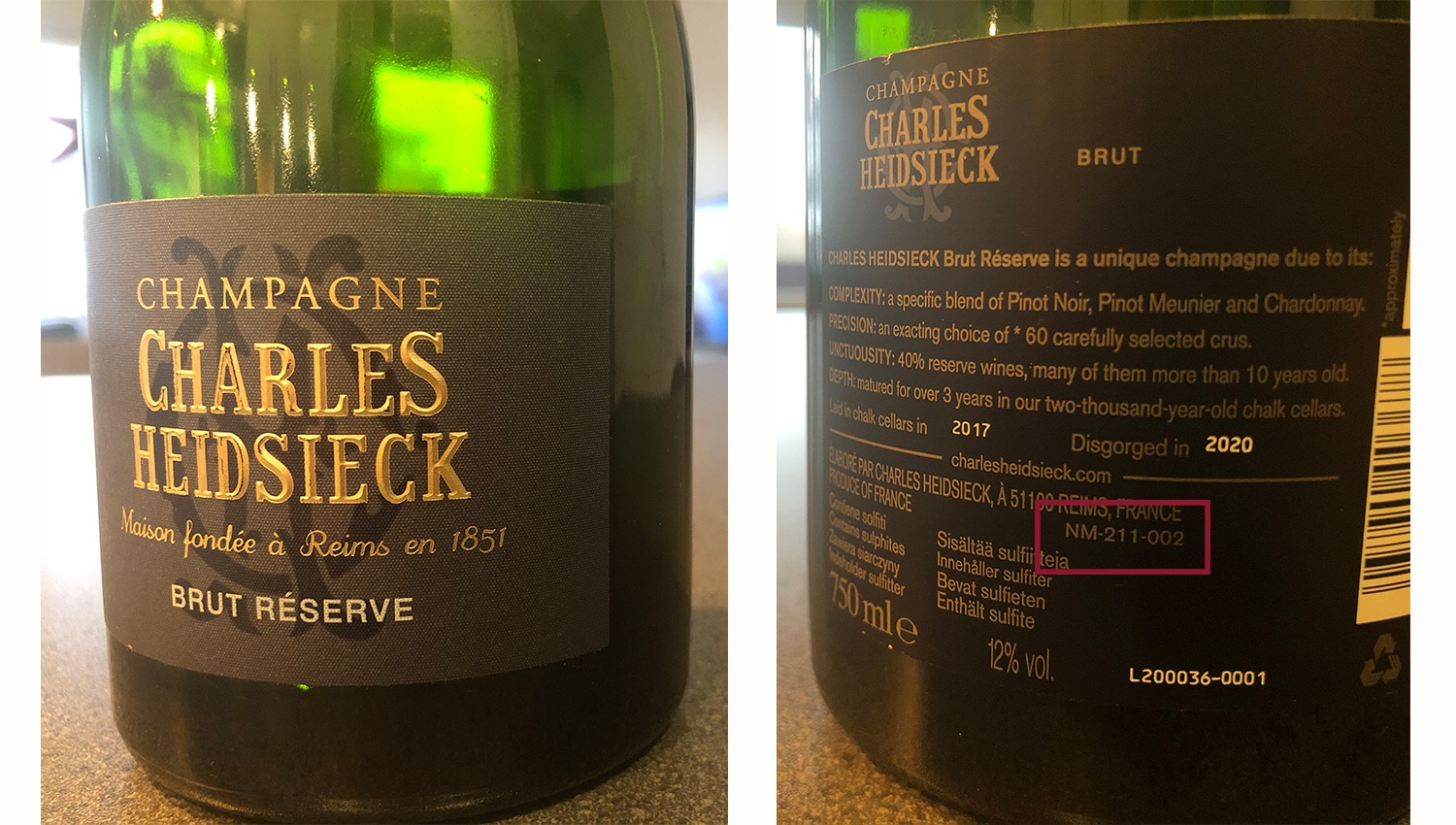 Most producers in the region sell a large portion of their grapes to the Champagne houses, who are allowed to purchase all or most of their grapes for production - those are labeled with the code 'NM'.
Smaller houses can function essentially like a small grower, mindful of their soil and their grapes. One example is A. R. Lenoble, who still add in 10% from neighbouring vineyards to round out their basic cuvée. The efforts of large houses, such as Moët, Veuve Clicquot, and Piper Heidsieck, should not be underestimated, but these "Grandes Marques" (and many others) essentially create their standard cuvée via industry production. Quite the contrast to the genuine craftsmanship of the finer growers. At a large house, a "Grande Marque", the customer buys a lifestyle, so the house champagne should taste the same year after year, and a large part of these houses' budgets is allocated to marketing and PR. With a high-end grower-producer, this money can instead be spent on cultivation and winemaking, with the winemaker doing their own marketing. Despite this, several mid-sized houses offer champagnes expressly made from their own grapes; one such example is Taittinger's Cuvée de la Marquetterie. Champagne Louis Roederer own large tracts of land and only purchase grapes for their Brut Premier. The rest of the Champagnes in their portfolio is made from their own grapes. Along with Selosse, Roederer's head winemaker Jean Baptiste Lecaillon might have done more to improve grape growing in the region than anyone else.
Nearly all growers who followed in Anselme Selosse's footsteps by creating prestige champagnes under their own label use organic, biodynamic, and/or sustainable practices to grow their grapes.
____________________________________________
Read more about Sustainable Practices in Winemaking and Champagne:
>> A Guide Into Biodynamic Wines
>> The Devil's Wine Was Tamed By A Monk
>> Winemaker For A Harvest (Part 1): A California Winery Calling My Name
______________________________________________
This is a stark contrast to most of the Champagne region, where growers focus on high, reliable yields; most of the big houses pay based on weight and growing area, not quality. Traditionally in Champagne, the winemaker creates the wine based on standard methods and the annual blend to reach a consistent house style, rather than based on the terroir or the exact quality of the grapes. Grapes are harvested early to reduce risk of rot, and the unripe acidity is balanced out by adding sugars.
This all changes with the rise of grower champagne. Of the thousands of growers in Champagne making their own bubbly, perhaps a few hundred are of interest as affordable alternatives to the large houses, and a few dozen stand out in the same way as Selosse: high quality champagnes with their own, unique personality. These represent the region's most exciting bottles, easily competing with (and sometimes beating) the large houses' top cuvées. Villemart&Cie, Francoise Bedel, Pierre Peters, Bérêche, Savart, Eric Rodez, Agrapart, and Legras & Haas are a few. Growers of the next generation, such as Benoît Marguet, Melanie och Benoît Tarlant, Alexandre Chartogne-Taillet, and Olivier Collin are all clearly inspired by Selosse, but have now made their own marks on the Champagne world. These producers focus on origin and quality, happily endorsing vineyard designated bubbles. Regarding the bubbly as a wine, they try to let the grapes reach full phenolic ripeness where the flavors are completely developed. Instead of polishing it with sugar, so called dosage, these producers stick with the smallest possible amounts or none at all, called Brut Nature or Zero Dosage.
The growers truly care for the vineyard, and through their efforts, the expression "Good wine is made in the vineyard" finally reaches Champagne. The houses' roles remain strong, but the growers have helped us see champagne in a new light and encouraged us to widen our palette - and palate! In the same way as growing your own carrots or eating organic lamb from local farms have become fashionable, these growers match current trends. They combine the traditional luxury of champagne with the contemporary luxury of carefully farmed produce.
Champagne label codes (listed in front of producer's identification number)
RM – grower champagne
NM – Champagne house of unspecified size
CM – producer co-op
ND – wine is bought as finished product and sold under own label
MA – buyer's own brand

Grower champagne worth trying:
Pierre Peters – prestige grower champagne. Cuvée de Reserve (approx. USD $50) is the house standard wine, an excellent, mineral-rich and razor-sharp champagne made exclusively from Chardonnay grapes. Also available in magnum bottle, or the vintage L'Esprit, 2009 (approx. $70-80).
Tarlant – brother and sister duo Tarlant have taken the international restaurant world by storm. Zero Brut Nature ($45-55) is an excellent champagne for food pairing, with warm nuttiness from its time in the barrel and a very low sugar content.
Hebrart – a lesser known producer with really good wines. Top wine Rive Gauche Rive Droite, made from grand cru grapes and with low dosage is well worth treating yourself with. Ca USD 120 depending on vintage.
Dehours – works a lot with the perhaps often dismissed but lovely Pinot Meunier grape. However, Dehours Lieu-Dit Brisefer, a vintage vineyard designated wine is 100% chardonnay, with a very low dosage.
Champagne Paul Déthune – excellent food-pairing champagnes at a solid price. The crisp, tart Déthune Extra Brut (around $45) is a perfect match for your seafood platter.
Savart - one of the best producers of grower rosé champagne. His Premier Cru "Bulles de rosé" is a gorgeous non vintage champagne with a very personal style. Pinot Noir dominant, his rosé champagnes are rich in red fruit aromas with lean mineral backbones.
"Le grower du standing" (prestige grower producers), worth keeping an eye out for:
Chartogne Taillet, Legras&Haas, Vilmart&Cie, Larmandier Bernier, Benoît Lahaye, Laherte Freres, David Léclapart, Agrapart&Fils, Ulysses Collin, Bérèche & Fils, Hurè Fréres, Eric Rodez, Egly-Ouriet, Marguet.