While Italy's ruby-hued beauties tend to steal the limelight, this wine producing giant is equally well endowed with weird and wonderful whites, the very best of which offer rewarding cellaring potential.
Does the thought of Italian white have you yawning Pinot Grigio? Then it is time to wake up to the thrilling parade of Italy's native grapes oft overshadowed by this international superstar.
Extensive research and revival, greater respect in the vineyard and vast improvements in winemaking have given Italy's white varieties a new lease on life. With literally hundreds to choose from, narrowing down my selection to a mere five was no easy feat. The determining factor came down to each variety's proven ability to offer age worthy examples. I highly recommend carving out a space in your cellar for these Italian whites.
Garganega
An oldie but a goodie – Garganega is one of Italy's most ancient grapes. Grown predominantly in the Veneto, its most famous starring role is in Soave. Alas, this denomination was victim of its own success.
To meet growing demand in the 60s, the zone was expanded well beyond its original volcanic hillside sites to incorporate the high yielding surrounding plains. This led to an inevitable downward spiral. Though overall quality has improved, innocuous Soave still exists. To experience the nuance, depth and class that made Soave renowned, look for producers like Filippi, Gini, Pieropan and Pra.
Aerial view of Soave, in Italian countryside. Which is one of the most famous wine area in Italy, where we can find Garganega, one of Italy's most ancient grapes. Garganega wine is marked out by aromas of peach blossom,
baked
golden apples,
almond and apricot.
A midweight darling, Soave is rarely oaked. When it is, only the deftest touch ensures that the wood does not overwhelm. While the very best may stand up to five to eight years, Soave is typically best when young. Above all, it shines at the table. One of my most memorable food and wine pairings experiences matched Soave with a ceviche of sea bream, lime, shaved almond and dill.
Verdicchio
A true champ, Verdicchio has risen above insipid examples of the past thanks to a critical mass of quality-minded producers coaxing out its vibrant and multi-faceted personality.

This zippy white can be characterized by sweet herbs as well as almond, which intensifies as it develops. The best boast a life span of eight to ten years though I have had stunning bottles even older than this. While most are aged in stainless steel, Verdicchio is one of the few Italian whites that can handle a bit of oak – albeit judiciously.
The name Verdicchio comes from verde (or green) and refers to the slight green/yellow shade the grape can have. The
Verdicchio
wines usually show citrus fruit flavors of lemon, mandarin and grapefruit, and an extraordinary almond character.
The region of Le Marche is Verdicchio's main stomping ground and here it rules in two distinct zones. Castelli di Jesi extends over the hills that roll down towards the Adriatic Sea yielding predominantly fruity and floral versions. Conversely, the denomination of Matelica is surrounded by mountains.
Hot summer days and cool crisp nights give ripe, intense wines with a steely backbone. From Jesi try Bucci, Andrea Felici, Marotti Campi and La Staffa. From Matelica, Bellasario, Bisci and ColleStefano are all savvy choices.
Carricante
On the island of Sicily, Mount Etna is one of the world's most fascinating wine regions. Vineyards encircle this active volcano reaching altitudes of 1000 metres. The numerous eruptions and resulting lava flows make for a varied terroir, interpreted by both red and white wines. Labeled Etna Bianco, the whites are led by Carricante. Mineral-driven, elegant and lean yet powerful in expression, they evoke the scrubby landscape with reoccurring notes of wild fennel and broom.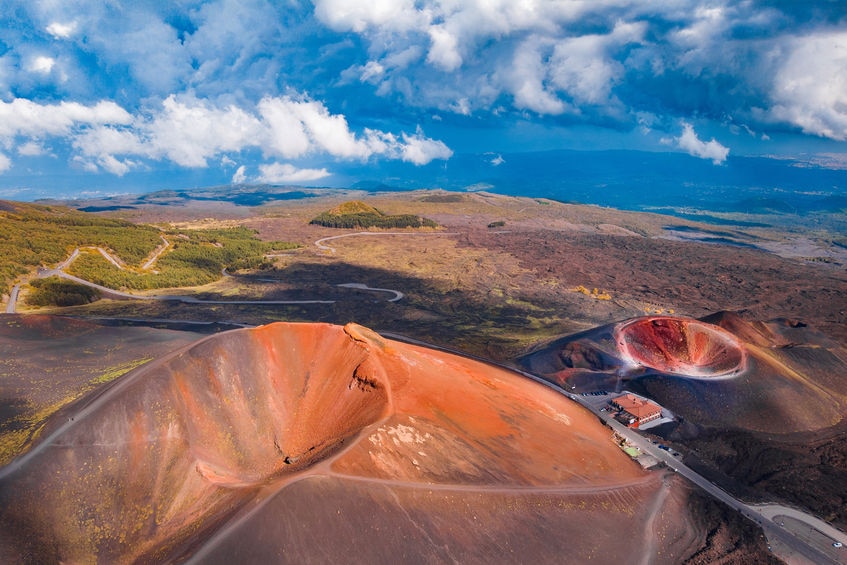 Mount Etna, on the island of Sicily. Mount Etna is an active volcano that dominates the northeastern corner of Sicily. Etna's primary wine producing zone rises up the slopes of Mount Etna to a height of 3,500+ feet, which results in the highest commercial vineyards in the world.
"Not that Carricante is better, but the big difference with other Sicilian whites is that the climate on Etna allows us to make age worthy whites," declares Francesco Cambria at Cottanera. The region is characterized by significant diurnal temperature differences - from 35C in the day to 15C at night.
This helps preserve the wine's acidity, which is astoundingly spine tingling given Etna's southerly latitude. The top wines have no problem enduring five, even 10 years. And with time, Carricante's smoky, flintiness is accentuated.
Besides Cottanera, Tornatore, Benanti and Pietradolce are all names worth seeking out.

Fiano
The region of Campania is well-endowed with compelling grapes. Greco, Falanghina and Fiano make for a characterful trio of white varieties. Of these, I would venture to say that Fiano is the most finessed. It reaches its apogee in the hilly, forested zone of Avellino which gives its name to the DOCG of Fiano di Avellino. The expression ranges from light, slender and minerally to full and creamy depending on the specific microclimate and soil. Often botanical scented in its youth, Fiano develops hazelnuts, honey and smoke over time.
It is astonishing to think that this striking grape was once on the brink of extinction. We have the great Mastroberardino estate to thank for altering its fate. Since first bottling it as a single varietal in 1945, Mastroberardino remains a benchmark. Other noteworthy examples are crafted by Quintodecimo, Pietracupa and Colli di Lapio.
_______________________________________________________
________
________
________


More interesting articles:

Timorasso
Reviving abandoned native grapes is a reoccurring theme throughout Italy. In Piedmont's southeastern province of Alessandria, Timorasso was literally reduced to a few scattered vines in the 80s.
Walter Massa is given much credit for saving Timorasso from complete oblivion. He has been joined over the years by about 30 other local estates who are equally committed to linking the Colli Tortonesi denomination with their Timorasso grape.
You know you have something good when winemakers from Barolo start buying up vineyards. Borgogno, Oddero, Pio Cesare and Vietti are among those trying their hand at Timorasso. "It is the true Barolo of white wine," says Borgogno's Andrea Farnetti.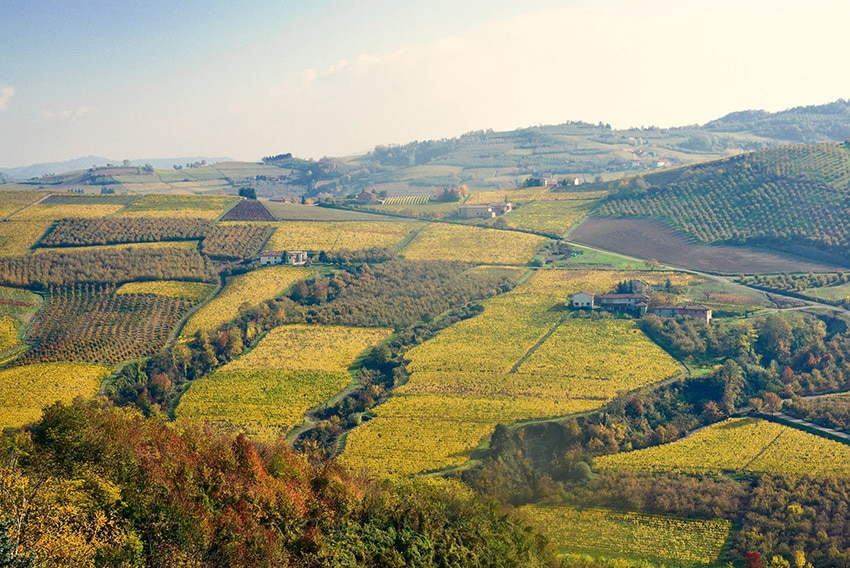 The beautiful landscape of Piedmont, a region in northwest Italy. Piedmont borders Switzerland to the northeast and France to the west. (Picture from

Pixabay

)
Indeed, Timorasso is a full, firmly structured, complex white with generous alcohol and lip-smacking acidity. It can be austere in its youth, eventually revealing a range of herbal and floral nuances with citrus and stone fruit. Like Riesling, it takes on the gunflint and petrol notes with age though is much weightier. It has the potential to sit alongside Italy's great reds in the cellar.

Pieropan, Soave Classico 2019
Gentle scents of lavender and camomile waft from a backdrop of citrus and yellow apples. Soft and caressing with a bitter almond finish. Drink throughout the next three years.

Villa Bucci, Verdicchio Dei Castelli di Jesi Riserva 2015
Lemon, peach and fennel lead to a creamy textured palate where saline and nutty nuances comingle. Enjoy now or tuck away for another five years to experience the charms of aged Verdicchio.

Tornatore, Etna Bianco 2018
Pure, fluid and bracing with mouth filling white peach and accents of anise and sweet blossoms. This delivers plenty of immediate gratification for drinking now through 2023.

Pietracupa, Fiano di Avellino 2018
Notes of jasmine and smoke weave through fragrant orchard pear. Quite fleshy and ripe, this is offset by a racy, mineral backbone. It will continue to evolve over the next eight years.

Giacomo Boveri, 'Piccolo' Derthona Timorasso 2019
A very linear Timorasso with more herbs than fruit. Lime and pompelo sneak in but it's a tangy sapidity that makes the mouth water. Give this another year in the bottle.