Italy's hilly terrain is intrinsically linked with the character of its wines. High altitude vineyards are found from the top to toe of the boot, providing some relief from the heat - particularly in the wake of climate change.
Hilly Italy
Over 75 percent of Italy's land mass is categorized as either mountains or hills. The towering Alps create a natural physical border in the north while the Apennines form the spine of the country, from the Po River Valley in Emilia-Romagna all the way south to Calabria and into Sicily. Italy also boasts several volcanos – both active and dormant. All these various peaks provide a richness of foothills ideal for grape growing.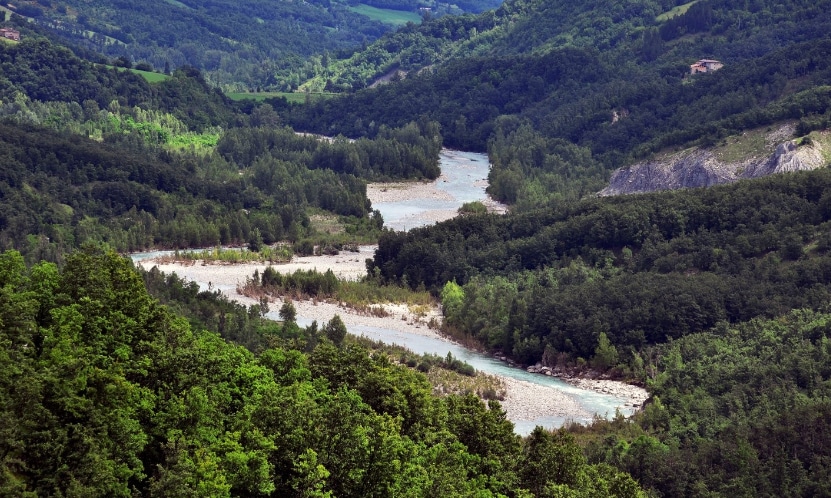 View of the Panaro river in Emilia Romagna, Italy.
With few exceptions, the country's finest wines hail from slopes rather than low-lying plains. Altitude plays a role in distinguishing ordinary sites from top ones. The sprawling Prosecco region is one such example. The pinnacle of quality (recognized by the Prosecco Superiore DOCG) is in hills around the towns of Conegliano and Valdobbiadene that sit above the vast expanse below.
Elevation is one of the key components of terroir - a defining factor of a territory. For every 1000 feet (305 meters), average temperatures plunge by 5.4
degrees Fahrenheit (-15 degrees Celsius).
That decrease is typically felt at night and the drop in temperature helps preserve acidity and aromas.
Italy's highest vineyards
Some of the highest vineyards - not just in Italy but in all of Europe - are found in the small region of Val d'Aosta, in the northwest of Italy. Right below the ski mecca of Mont Blanc, vineyards lie between 3280 to 3937 feet (1000 to 1200 meters). It is too chilly for reds to ripen. However, the indigenous Prié Blanc grape variety can endure the mountain cold making a wine called Blanc de Morgex et de La Salle. This dry white is light, delicate and fragrant - like drinking alpine streams and meadow flowers. Thrillingly chiseled, it is one of Italy's great undiscovered gems. Rarer still are the sparkling and sweet versions.
In the northeast, the alpine region of Alto Adige boasts vineyards from 600 feet to 3300 feet ( 183 meters to 1005 meters), often on steep terraces. The intense sunshine encourages impressive fruit ripeness while the nippy mountain nights give crisp vibrancy. Elevation determines which grapes are planted where. In the coolest, highest reaches aromatic whites like Gewürztraminer, Müller-Thurgau, Kerner and Riesling as well as steely Sylvaner thrive. These are supplemented by crunchy, fine boned reds made from the Schiava group of grapes and perfumed, juicy Pinot Nero (aka Noir).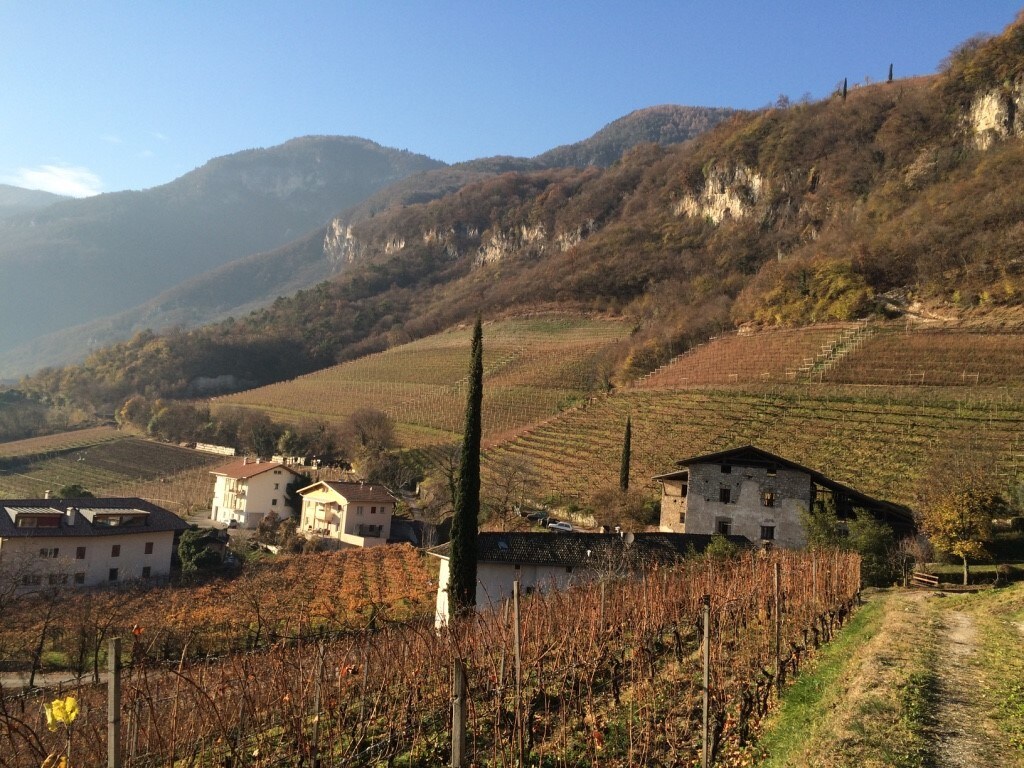 Vineyards in Alto Adige.
Mitigating heat
In Italy's southern regions, altitude is vital to mitigating the heat. On the island of Sicily, vineyards wrap around the active volcano of Mount Etna in a backwards C-shape. The wines are truly astonishing. At such a southerly latitude for winemaking (37.75 ° N), the expectation is full-throttled, jammy reds and rich blowsy whites. However, Etna's elevations from 1310 to 3300 feet (400 to 1005 meters) offset the balmy latitude. Reds based on Nerello Mascalese are midweight and elegant reds while Carricante gives racy, mineral-driven whites. Both are cellar worthy.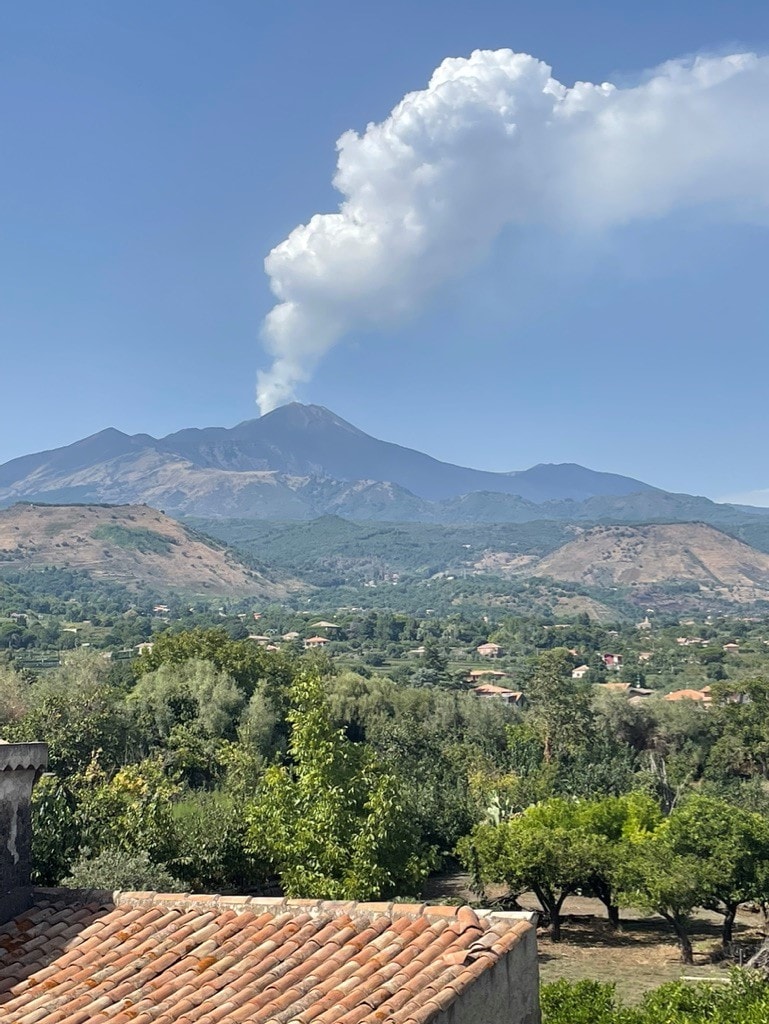 Mount Etna is an active stratovolcano on the east coast of Sicily. The fertile volcanic soils support extensive agriculture, with vineyards.
Altitude is equally crucial in Basilicata. On the slopes of the dormant Vulture volcano, vineyards creep up to 2300 feet ( 700 meters). The nights are decidedly chilly. Even in summer, a sweater is required. Vulture sees one of latest harvests in Italy, well into October. These conditions (along with the volcanic soils) suit Aglianico well, allowing for a long slow ripening period to work out this grape's powerful tannins. With captivating floral scents and dark fruit, the wines are intense, concentrated and firm with potential for long-aging. Conversely, at lower elevations, warmer temperatures encourage Aglianico's sugars to spike long before phenolics have ripened leading to green tannins with baked fruit.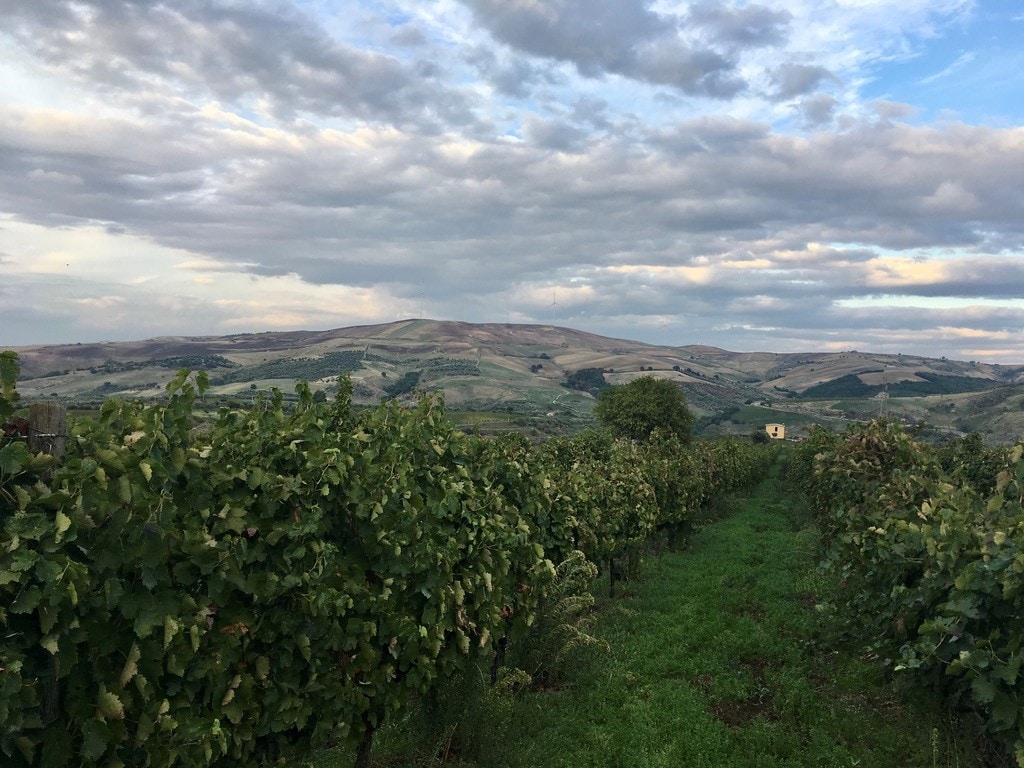 View of Vulture volcano from a vineyard. Mount Vulture is an extinct volcano located 56 km north of the city Potenza in the Basilicata region.
Altitude and climate change
High altitude vineyards are particularly desirable as global temperatures rise.
In Barolo, the confines of the region are set in stone with the highest vineyards reaching 1770 feet (540 meters). The denomination's most historically acclaimed sites – like Cannubi and Cerequio - sit at much lower elevations than this. Higher ones were considered marginal as they were often too cool to fully ripen Nebbiolo reliably. This has changed as vintages have become consistently warmer. Barolo's highest cru, Serradenari is now garnering attention and acclaim.
In another celebrated denomination – Brunello di Montalcino, the upper limits have been increased to bring vineyards above 1970 feet (600 meters)into the fold.
To date, there are very few plantings at these lofty elevations, and these are mostly confined to
the Passo del Lumo Spento area
. Riccardo Campinoti at
Le Ragnaie planted a vineyard there in 2012 and came out with his first Brunello from the site in the torrid and dry 2017 vintage. Tellingly, both Antinori and Gaja have recently purchased property above 1970 feet ( 600 meters)as well.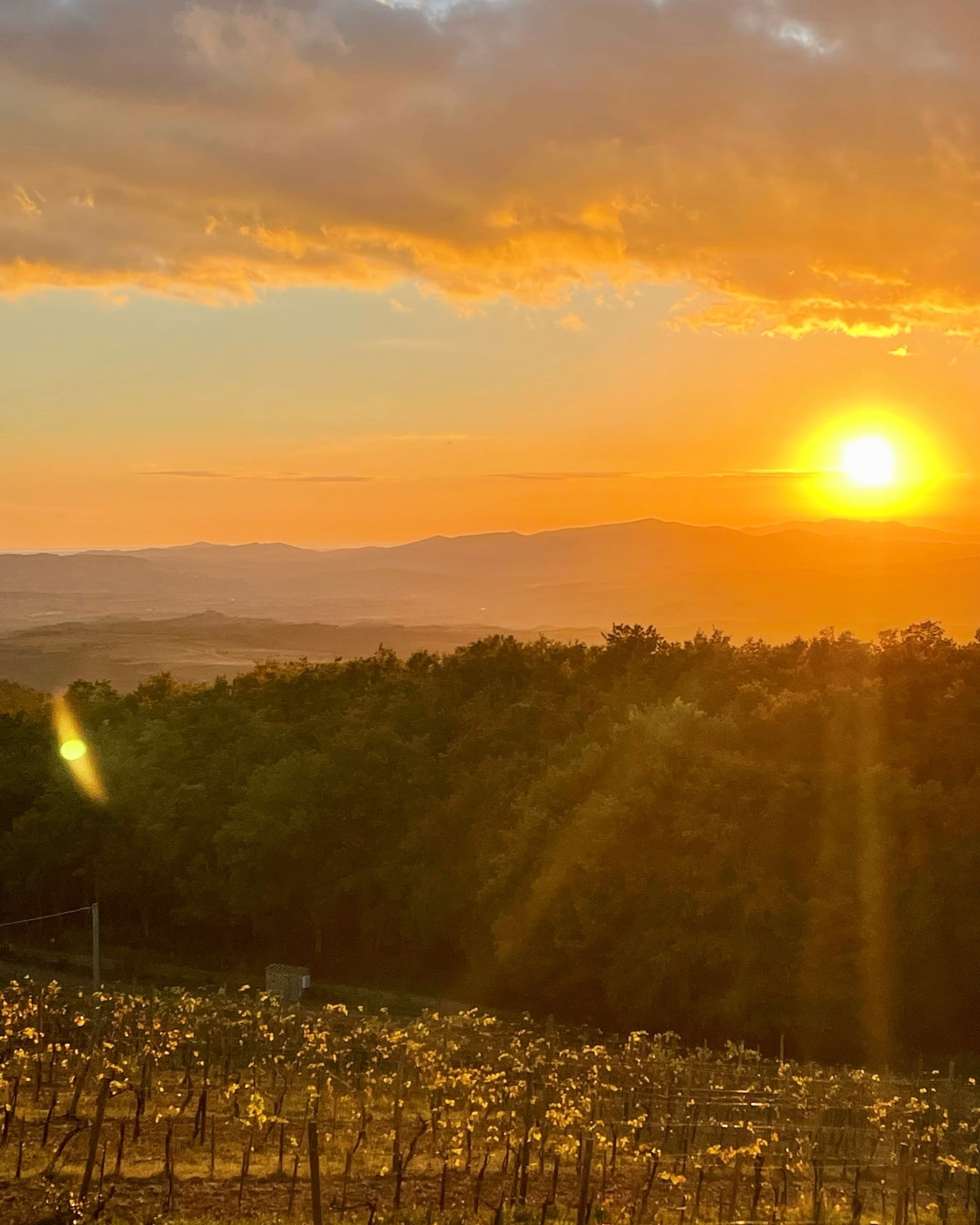 Sunset from Passo del Lume Spento, a saddle in Montalcino, Val d'Orcia. Passo del Lume Spento is situated nearby to the hamlets Poggio Antico and La Croce.
Likewise, in Chianti Classico, high altitude sites are being snapped up. With vineyards between 1475 to 2130 feet (442 to 650 meters), the small township of Lamole has a long history of grape growing but was largely abandoned in the 50s. It was long considered too cold and remained virtually unknown until recently with just a small handful of tiny estates. Now prestigious producers such as Fontodi, Querciabella and Istine have either bought or rented vineyards here. Nevertheless, there is only so high producers can go. The denomination's upper limits are capped at 2300 feet ( 700 meters). "Above that, the soil isn't suitable," says Giovanni Manetti proprietor of Fontodi and president of the growers' consortium. "There is too much sand, and the resulting wines lack substance."
Lamole is a small village high up in the Chianti hills, accessed from a turnoff between Greve and Panzano.
While altitude isn't the only key to Italy's success, it remains an important one. A reminder to look upward for many of Italy's great wines.
Iron, smoke and earth give way to nuances of strawberry and dried sweet herbs on the ever-evolving nose. Decidedly dry but still juicy, the palate is suave, ample and textured. Deftly delivers the power of the volcano with grace. Serve between 16 to 18 degrees Celsius (61 to 64 degrees Fahrenheit).
From a vineyard planted in the 60s reaching an elevation of almost 1970 feet, Le Ragnaie's full-throttled 2017 bottling demonstrates the warmth of the vintage. Dark brooding fruit and leather meet vigorous, chewy tannins. Serve between 18 to 20 degrees Celsius (64 to 68 degrees Fahrenheit).
A lithe and lovely Chianti Classico, this is beautifully perfumed with floral nuances of violet and rose. Succulent red berries are framed by lean, powdery tannins. Drink over the next five to seven years. Serve between 16 to 18 degrees Celsius (61 to 64 degrees Fahrenheit).