Neither a region nor a grape variety, Amarone is a unique style of wine specific to Valpolicella. But it isn't the only wine produced here - and its cohorts are equally worth exploring.
Surrounding the romantic city of Verona, Valpolicella stretches over 11 valleys covering more than 8000 hectares of vineyards. In 2021, the region yielded over 73 million bottles. The wines are always based on native grape varieties Corvina and Corvinone with support from Rondinella (anywhere from five to 30 percent). A robust roster of other Italian grapes is also permitted but only ever in limited amounts.
While the wines share a common blend, they are made in four distinct styles. Each bears its own denomination which is linked to specific winemaking techniques.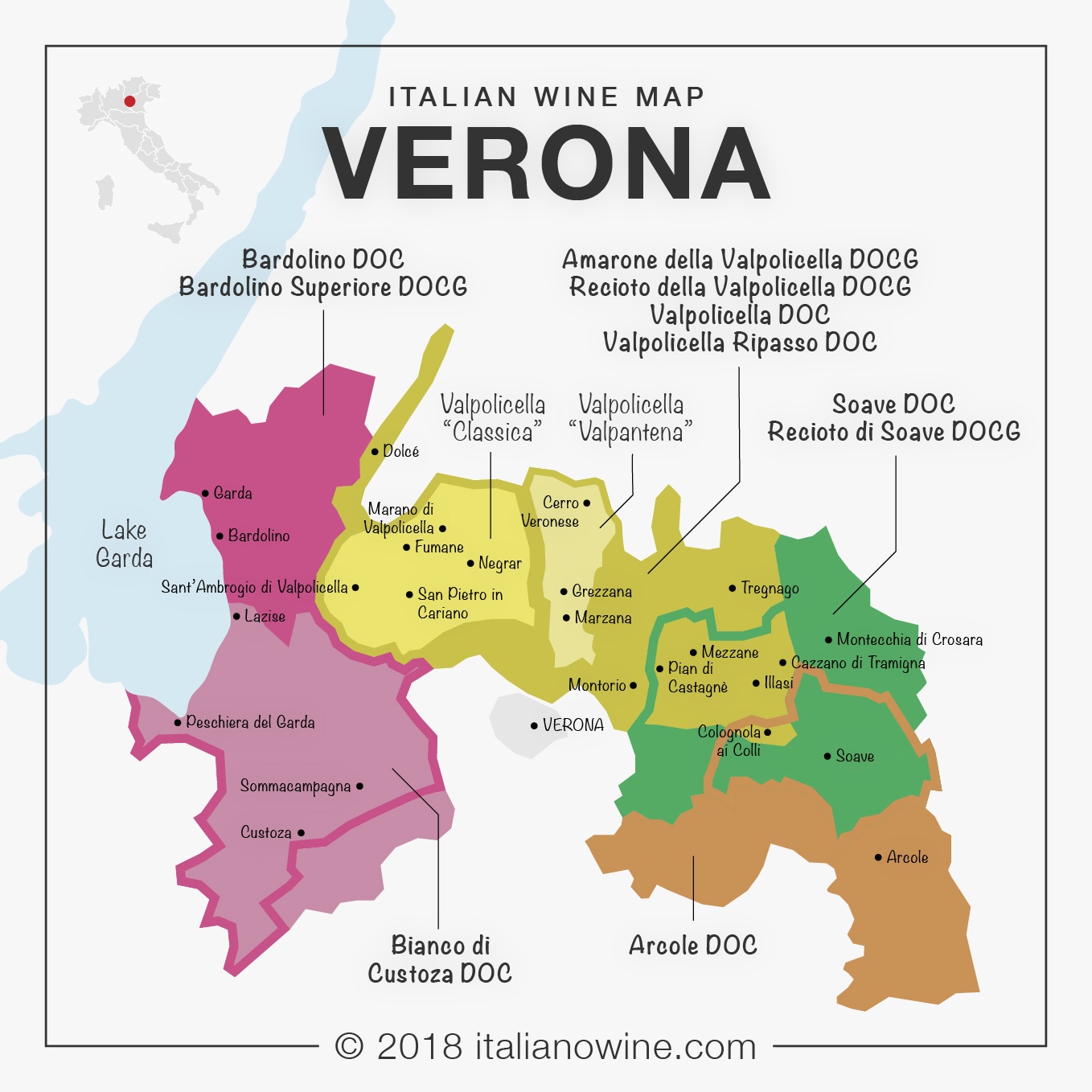 Valpolicella is a viticultural zone of the province of Verona, Italy. Valpolicella ranks just after Chianti in total Italian Denominazione di Origine Controllata wine production. (Photo from italianowine.com)
Valpolicella DOC
Identified simply by the name of the region, Valpolicella represents 27% of the production. It is made like most red wines, with fresh picked grapes.
"It is a wine that expresses most immediately and directly the character of our grapes and the diverse terroir of Valpolicella," describes Gabriele Righetti at Vigneti di Ettore.
Light to midweight with moderate alcohol (12-13%), barely-there tannins and bright acidity, straight up Valpolicella wines offer instant and cheerful drinkability. Often unencumbered by oak, the freshness of the fruit is allowed to shine. Classic summer berries may be nuanced by attractive herbal, pepper or floral notes.
However, it isn't just an entry level wine. "Valpolicella represents the culture of drinking in Verona, the famous glass of red in the city's casual eateries," says Antonio Cesari at Brigaldara. Alas, the concept of an everyday wine may mistakenly imply low quality. Instead, Cesari prefers to describe Valpolicella as an 'everyTHING' wine which captures its ability to pair with a vast array of food.
Valpolicella wines possess the notes of freshness, summer berries topped by the attractive herbal, pepper, or floral. The wines are versatile and can be matched with variety of food.
Amarone della Valpolicella DOCG
Fascinatingly, from one of the world's lightest grapes - Corvina, one of the biggest wines is conceived. This is thanks to the
appassimento
process. After harvest, selected grape bunches are dried for anywhere from two to four months before being crushed and vinified. The grapes lose upwards of 30 percent of their original mass which concentrates sugar and tannins while allowing for the development of complex flavours and glycerol.
Despite the same mix of grapes coming from the same territory, Amarone is thus stylistically different from Valpolicella. While the latter is light, fresh and fruity, Amarone is full, rich and concentrated with dried fruit characteristics and heady alcohol hovering around 16%
.
Amarone is also a more expensive proposition – definitely not an everyday drinking wine. It has earned its moniker as a
vino di meditazione
, a wine to sip thoughtfully, perhaps with slow braised meat or well-aged cheese.
At the Tedeschi estate, Riccardo Tedeschi refers to Amarone as "the flagship not just of Valpolicella but also of the Veneto."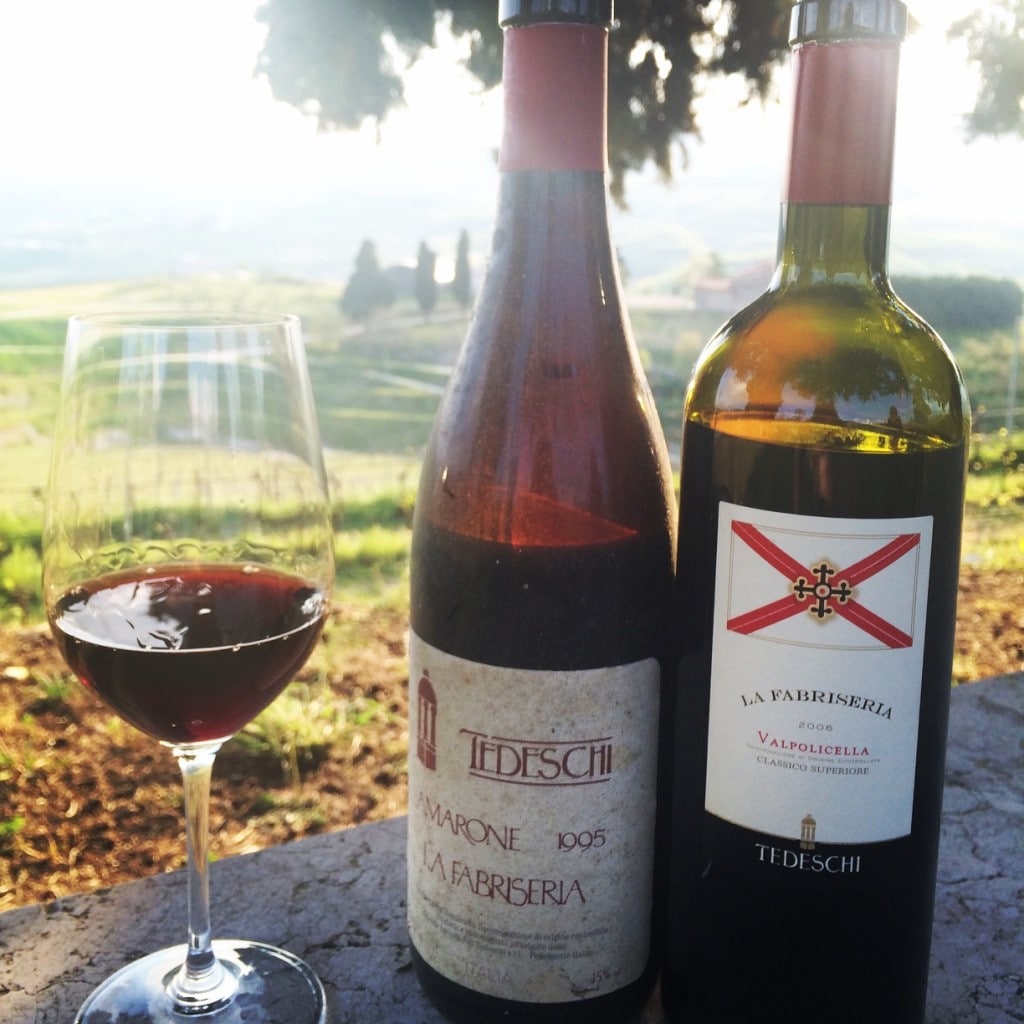 Amarone is a DOCG denomination of typically rich, dry and full

red wine

with dried fruit characteristics. It is usually made from the dried

grapes

of the

Corvina

mixed with a variety of grapes from the same territory. (Photo by Michaela Morris)
Recioto della Valpolicella DOCG
Essentially the sweet version of Amarone, Recioto is made similarly with air-dried grapes. The basic difference is that fermentation is stopped when there is still significant residual sugar.
Recioto
actually
predates Amarone by many centuries. The longstanding tradition of
appassimento
resulted in concentrated musts that were difficult to ferment dry and thus the wine was almost always sweet. The dry version, or 'Recioto Amarone' as it was originally called, is thought to have first been made by accident in the 1930s when a rare vat was able to ferment all the sugars to dryness. It took a while for Amarone to become popular and only since the mid-90s has it enjoyed raging popularity.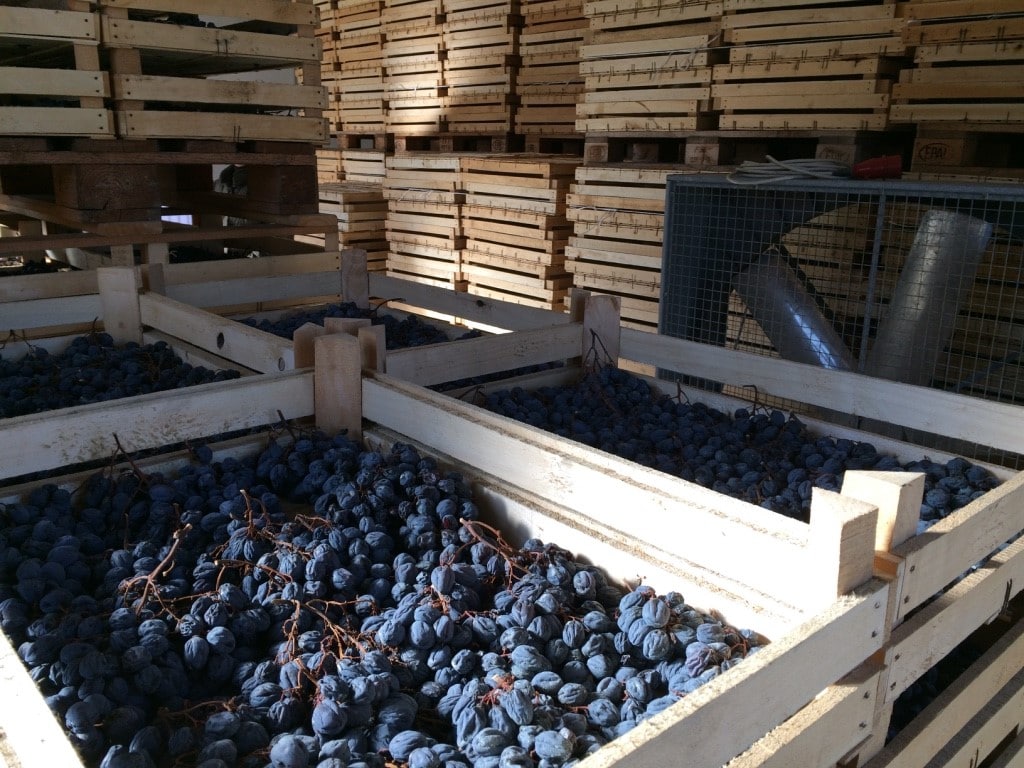 The process of natural partial dehydration of grapes to produce a greater concentration of colours, aromas and flavours in the wine is called Appassimento. This technique dates back to the times of the Ancient Romans.
(Photo by Michaela Morris)
Meanwhile, sweet wines have long faded from fashion. Consequently, very little Recioto is produced. It constitutes a mere half percent of the region's total – as opposed to 25.5 percent for Amarone. Unsurprisingly, a number of producers have given up making Recioto altogether. "Unfortunately, no one buys Recioto so it essentially steals from Amarone," explains Camilla Rossi Chauvenet at Massimago.
Other estates cling fiercely to this traditional wine, crafting small amounts to drink on special occasions with
sbrisolona
(a dry crumbly almond cake) or even
soppressa veronese
– a local salame. According to Antonio Cesari's father Stefano, the best time to drink Recioto is: "at 5 o'clock, instead of tea."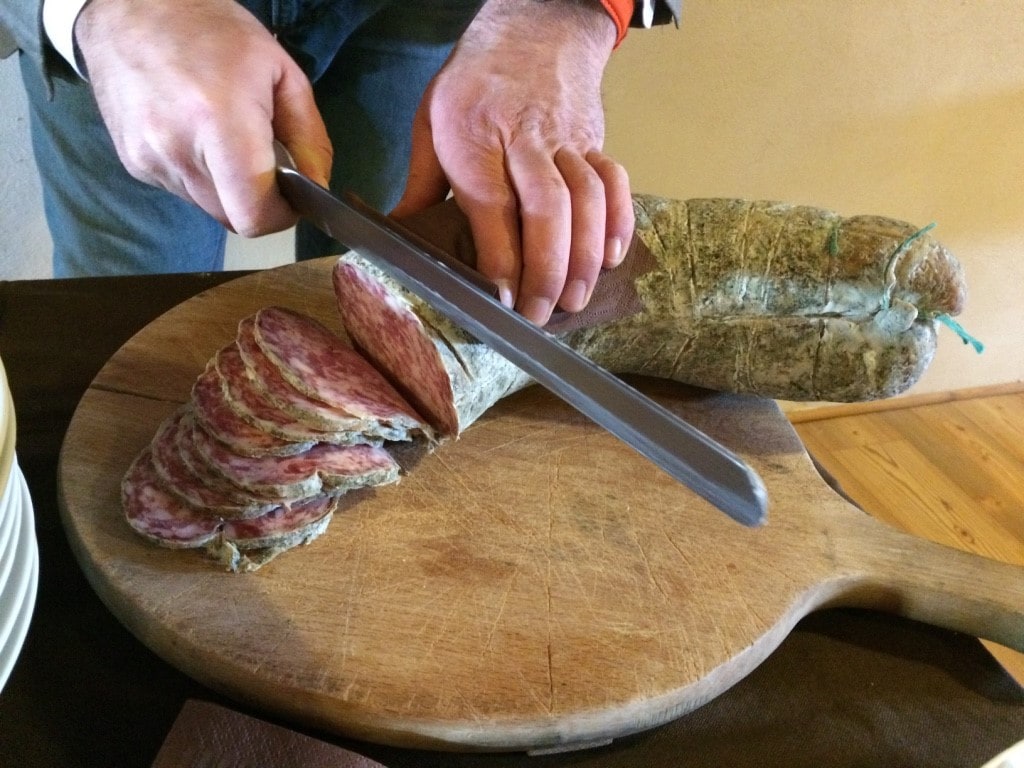 Soppressa veronese
– a local salame, is a classic match for Recioto.
(Photo by Michaela Morris)
Valpolicella Ripasso DOC
Of its four styles, Ripasso is Valpolicella's most successful wine accounting for 47 percent of the region's total production. Beyond providing a bridge between Valpolicella and Amarone, Ripasso is in fact reliant on the two for its existence. When Amarone (or Recioto) is drained off its pomace, the unpressed grape skins are added to a finished vat of Valpolicella. The remaining unfermented sugars encourage a second fermentation which thereby increases the alcohol while adding richness and weight to the original wine.
Righetti believes Ripasso should be a more structured wine than Valpolicella but still elegant and austere. He laments the trend towards overly soft, sweet examples with exaggerated wood notes. To maintain quality, both Vigneti di Ettore and Brigaldara restrict Ripasso to just one-third of their respective estates' production. At Tedeschi, it is only 20 percent.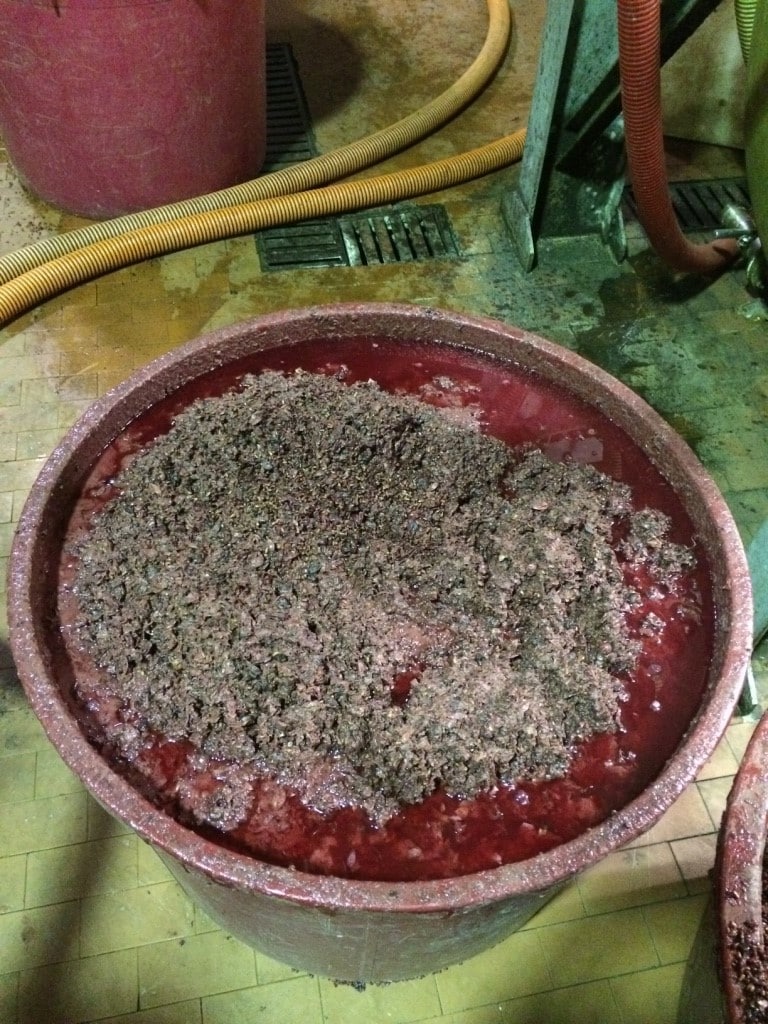 Valpolicella Ripasso is made with partially dried grape skins that have been left over from fermentation of Amarone or Recioto.
(Photo by Michaela Morris)
The best Ripasso demonstrates regional typicity relying on fruit and freshness rather than sweetness. I would caution not to expect an Amarone from a Ripasso. Furthermore, do not assume that a Ripasso is superior to a Valpolicella.
Which brings me to a final wine. Valpolicella DOC Superiore is a subcategory within the Valpolicella denomination that demands a higher minimum alcohol (12%) than Valpolicella (11%) and must be aged for at least one year before release. Often these wines included late picked fruit or a portion of partially dried grapes, imparting characteristics that resemble an Amarone or a Ripasso. On the one hand, this muddles clearcut stylistic distinctions, but on the other, it adds to the variety offered by the region of Valpolicella.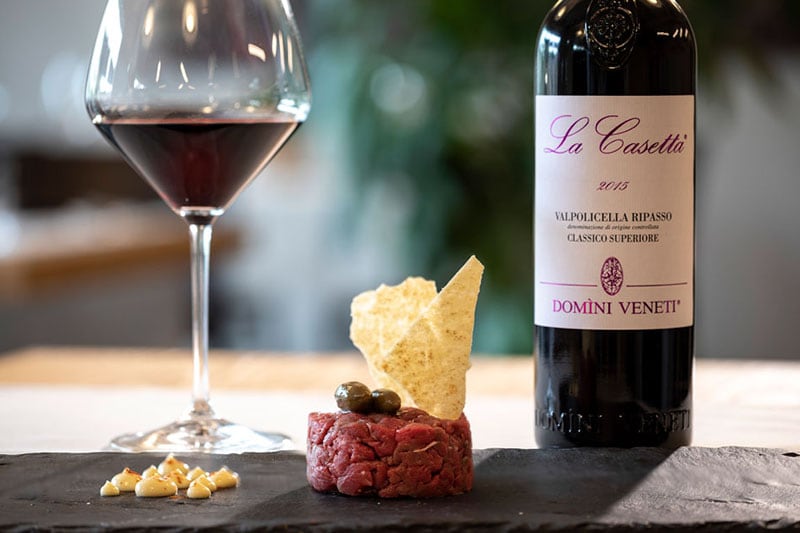 Ripasso is a more structured wine than Valpolicella, which expresses freshness and fruity characteristics rather than sweetness.

Pretty scents of red berries, cinnamon and thyme blossom lead. The palate brings in tangy raspberry flavors. Very fresh, attractive and quaffable especially when served with a slight c
hill
- 14 to 15 degrees Celsius (57 to 59 degrees Fahrenheit).
Ripe red plum is offset by hints of clove and mint. There is a pleasant bitter almond note on the palate which is savory rather than sweet. Bright acidity lifts as this fills the mouth without weighing it down.
Serve between 16 to 18 degrees Celsius (61 to 64 degrees Fahrenheit).
Dried fruit, dark chocolate and vanilla entice in this deftly balanced and remarkably finessed Amarone. It is dense, chewy and layered with blackberry, plum and cherry essence. Well corseted with sumptuous tannin
s.
Serve between 18 to 20 degrees Celsius (64 to 68 degrees Fahrenheit).
Accents of cocoa, dried balsamic herbs and tobacco lace through a luscious core of fig and cherry compote. Tannins are smoothly textured tannins and sweetness is easily absorbed by the fruit concentration. Try with Gorgonzola cheese and toasted walnuts.
Serve between 14 to 16 degrees Celsius (57 to 61 degrees Fahrenheit).