Tasmania is a cool, pristine island growing some of Australia's most sought after wines. Sparkling wines lead the way with Pinot Noir and Chardonnay table wines likewise in high demand. Volumes are minuscule, the quality astonishingly high.
Tasmania – a gastronome's delight
Tasmania is running hot, not climatically for its definitely cool, but in the popularity stakes. Across the globe Tasmanian produce is keenly sought for its purity and its clean and green credentials. Tasmania is a gastronome's heaven with fantastic seafood (abalone, oysters and salmon), dairy products (milk, cheese, yoghurt) and meat (beef and lamb) along with apples, cherries, stonefruit and exotica such as truffles, wasabi and saffron.
All you need to create a sumptuous meal is wine - and Tasmania has wine aplenty. Not so much in volume, as Tasmania with 2000 hectares under vine, produces less than 1% of Australia's wine. It's the quality that sets Tasmania apart and rivals the very best mainland wine regions. Oh, and that's a quirk of Tasmanian wine – it's a single wine region or Geographic Indicator, as its officially known.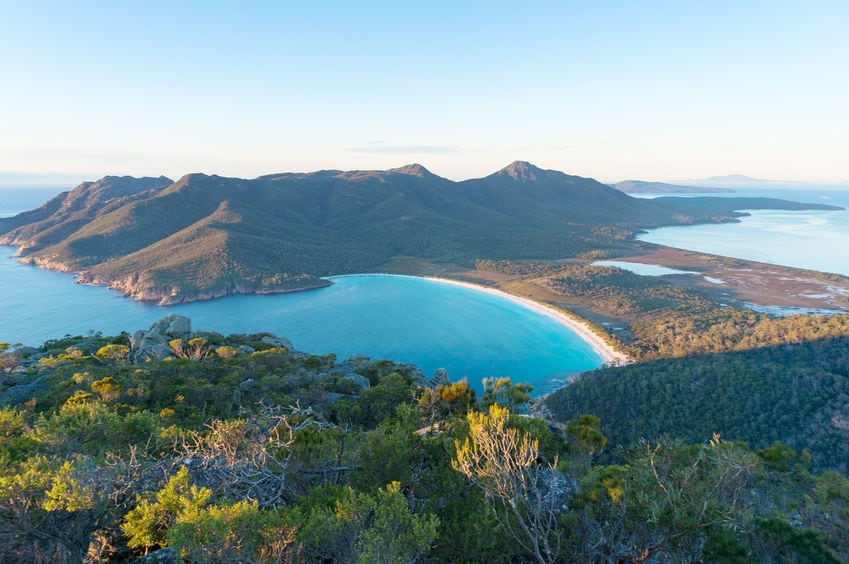 Tasmania is an island state of Australia, which is located south of the Australian mainland. September 2020, the state had 541,000 residents. Tasmania produces less than 1% of Australia's wine, but the quality is astonishingly high.
Lithe and bright wine styles
Five grape varieties dominate Tasmania's plantings with Pinot Noir leading the way at 44% from Chardonnay with 27%. Both are grown for quality table wine but it's Tasmania's sparkling wines that are attracting worldwide attention. Brands like Arras, Jansz and Clover Hill are top of the pops – the latter served at the 2004 wedding of the Netherlands' Crown Prince Frederik to his Tasmanian-born wife, Crown Princess Mary. The Clover Hill Cuvee Exceptionnelle Blanc de Blancs (USD45) is a regal bubbly.
Tasmanian (still) Chardonnay is tight and fine-boned (like the Tolpuddle Chardonnay) with the state's Pinot Noir in the fresh, red-fruited spectrum that is in fashion. The Holm Oak The Wizard is a classic Tamar Valley Pinot Noir. This refinement is echoed by Tasmania's Sauvignon Blanc (11% of plantings) with gooseberry and stonefruit flavours rather than the overt Marlborough style from across the Tasman Sea. The Tamar Ridge Sauvignon Blanc is a bright breezy example. Aromatic white varieties grow well with Pinot Gris (8%) and Riesling (6%) backed by small plantings of Gewurztraminer with the trio often blended in the Alsace Gentil style.
Sam Connew's Stargazer Tupelo is a delicious blend. Full bodied reds are a just slither of Tasmania's red wines with Shiraz, Merlot and Cabernet Sauvignon only planted in the warmest sites. Adventurous winegrowers are playing with Nebbiolo and Gamay with promising results.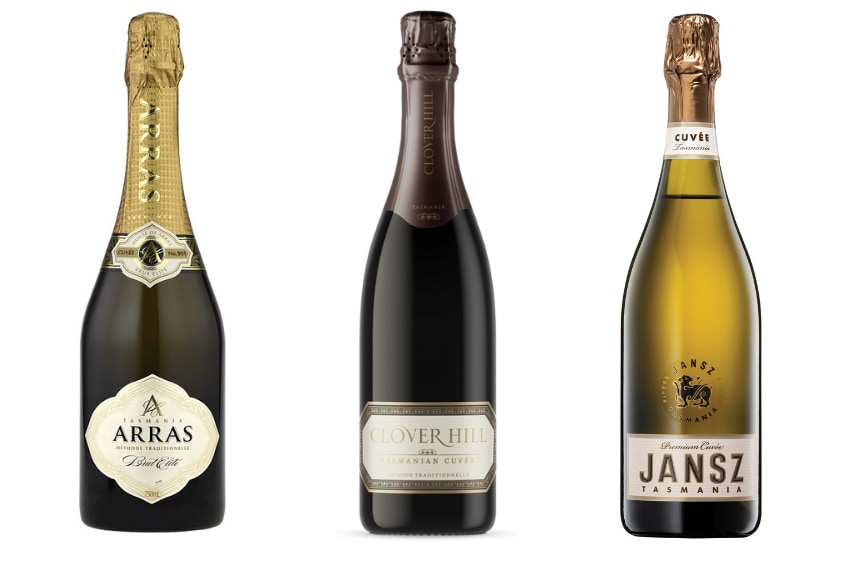 Pinot noir and Chardonnay are the most dominate grapes in Tasmania, however it's the Tasmania's sparking wines that gives worldwide attention. Arras, Jansz and Clover Hill are the most famous ones.
Distinct terroir
Tasmania is unique in many ways. It's an island state within Australia, itself an island continent. Tasmania is surrounded by three oceans – the Indian Ocean, the Tasman Sea (the southernmost stretch of the Pacific Ocean) and the icy Southern Ocean. Each contribute to the state's cool maritime climate. Wine Tasmania (the growers' association) has maintained the single wine region concept to maximise the impact of the state's quality, clean and green image in both the domestic and international markets. That said, there are distinct climatic and geological differences between the three main winegrowing areas.
The warmest area is around Launceston with a swathe of vines on the protected western side of the Tamar River and some cooler, more exposed sites in the Pipers River area. The east coast (with the Freycinet Peninsula at its heart) is surprisingly dry and relatively warm with richer, bolder wines as a result. The southern most vineyards cluster near Hobart with an amazing diversity within a small geographic area.
The coolest are in the Huon Valley and d'Entrecasteaux Channel south of Hobart with minuscule plantings but great potential. The Derwent Valley west of Hobart offers a more stable climate while the protected Coal River Valley has emerged as Tasmania's most prestigious winegrowing area.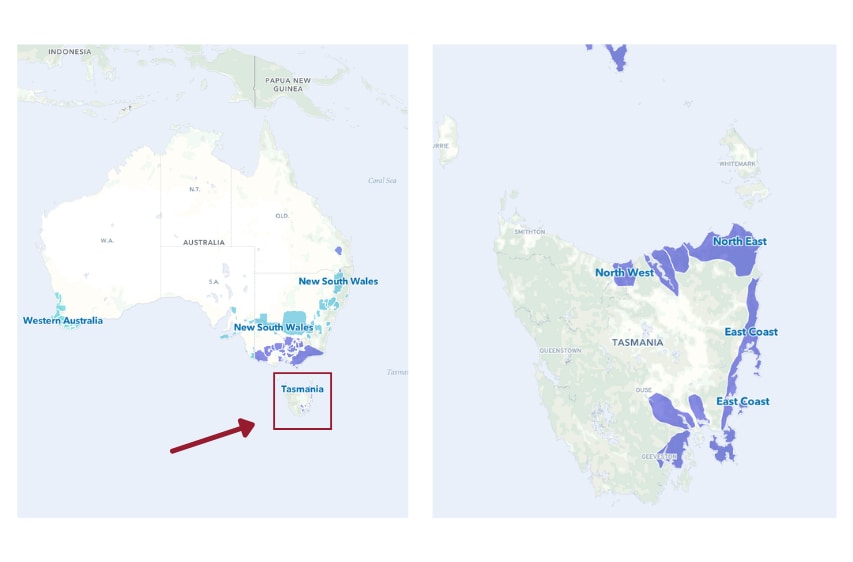 Tasmania is surrounded by the Indian Ocean, the Tasman Sea and Southern Ocean. In total, Tasmania has three main wine growing areas, and there are distinct climatic and geological differences between them. One warmer area, one cooler and the third has a more drier climate. (Map source: True Wine)
________________________________________________________
More interesting articles:
Visionary pioneers
Vines were planted in colonial Tasmanian times in the early 19th century but quickly faded. It was not until the 1950's that vines were replanted near Launceston in 1956 at La Provence (now Providence) with Moorilla at Berridale near Hobart planted in 1958. Moorilla is now in the hands of eccentric art collector David Walsh and home to MONA, the edgy museum that has led Tasmania's renaissance from a sleepy island to the thriving tourist destination it is today.
Two grapegrowing pioneers deserve mention - Graham Wiltshire (who planted Heemskerk on the Tamar River in 1966) and Dr Andrew Pirie who helped established Pipers Brook Vineyards in 1973.
Savvy Hungarian-born businessman, Josef Chromy, has played an important role in turning the Tasmanian wine industry for a fragmented group of visionaries into a cohesive industry. Chromy was involved in Rochecombe (now Bay of Fires), Jansz, Heemskerk and Tamar Ridge before finally establishing his eponymous Josef Chromy Wines.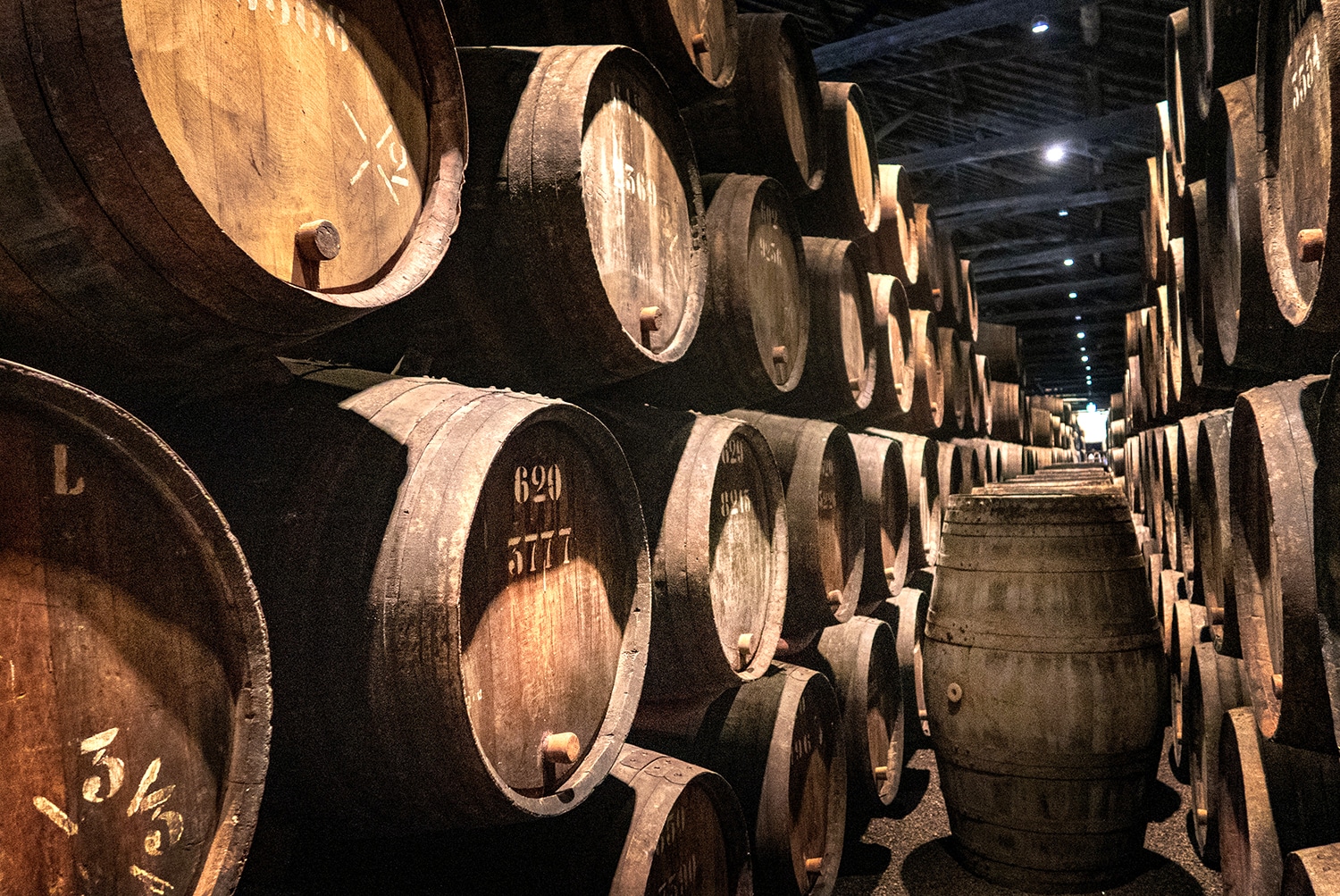 Big names from the mainland have added gravitas to the Tasmania wine scene – the Shaw + Smith cousins now own Tolpuddle with Jim Chatto, Samantha Connew and Peter Dredge bringing their skill and experience to the sparkling isle. Several mainland wineries have recently added a Taswegian outpost to their domain including Giant Steps, Handpicked, Tertini and the Hill Smith and Brown families. More will come to seek a cool Tasmanian refuge from our warming environment.
The Future
All things Taswegian are in global demand with bright the best word to describe the future for Tasmanian wine. Add the pristine environment and bucolic beauty of snow-capped mountains, sweeping coastline and windswept islands and Tasmania is the place to be. If you can't travel there, pop the cork on a Jansz Premium Cuvee Brut Methode Tasmanoise and enjoy the clean, cool flavours that epitomise Australia's island state.

N.V House Of Arras Brut Elite
The Arras Brut Elite is another success story for the House of Arras with its amazingly clean and elegant flavours and textures. This is a wine that express sheer quality. A Sparkling wine from Northern Tasmania, Tasmania, Australia. Made from Chardonnay, Pinot Noir.
N.V Jansz Premium Cuvée
Aromas of honeysuckle, citrus zest and fresh strawberries from the Chardonnay and Pinot Noir fruit. Extended time on lees during secondary fermentation contributes more complex aromas of nougat and roasted nuts. The palate is balanced with delicate fruit flavour, fine creamy texture and a refreshing natural acidity. The finish is dry and fresh with lingering flavours of citrus and nougat.
N.V Clover Hill Tasmanian Cuvée Brut
A fresh, delicate nose dominated with white flowers and subtle citrus leads to a palate of precision balanced with elegance. Clean and pure, this northern Tasmanian sparkling is the perfect match to freshly shucked oysters and pan-seared scallops.