Yorkshire has given the world the Brontë sisters, Def Leppard, Wensleydale cheese and warm beer but it's little known that this part of northern England is also the birthplace of the founding father of the New Zealand wine industry.
The Anglican missionary Samuel Marsden left British shores for Australia and New Zealand in the late 18th century in a bid to evangelize the locals. He's now best remembered for holding the first Christian service on New Zealand shores - as well as planting the country's first vines.
On September 25 1819, Marsden planted 100 vines in New Zealand's far north and in his journal entry that day, he noted "New Zealand promises to be very favorable to the Vine, so far as I can judge at present, of the nature of the soil and climate. Should the Vine succeed, it will prove of vast importance in this part of the globe".
Despite his optimism, grape growing did not gain any momentum for more than a century. Yes, there were ambitious individuals across the country that envisioned a promising future for viticulture and winemaking but in a country dominated by beer-swilling and whisky-swigging immigrants from the British Isles, a wine culture failed to flourish.
The long game
Celebrating 200 years since grapevines met New Zealand's virgin soil, Marsden's prediction has finally borne fruit. In 2019, wine has become one of New Zealand's most important exports along with lamb and rugby. You can now buy a bottle of Marlborough Sauvignon Blanc or Central Otago Pinot Noir in more than 90 countries and yet, just 40 years ago, wine exports were virtually non-existent.
It's not only an important bicentenary for New Zealand wine but it's also 100 years since the country narrowly avoided Prohibition. In the same year that America went dry, Kiwis also voted on whether to ban the production and sale of alcohol. The country voted in favor of prohibition in 1919 but troops stationed abroad after World War I were able to vote overseas and tipped the balance, keeping New Zealand wet by the narrowest of margins.
However, the strong temperance movement continued to be felt in the puritanical licensing laws imposed for the next half century. Until the 1960s, bars were forced to close at 6pm and women were not allowed at any time, nor could you drink alcohol with a meal in a restaurant.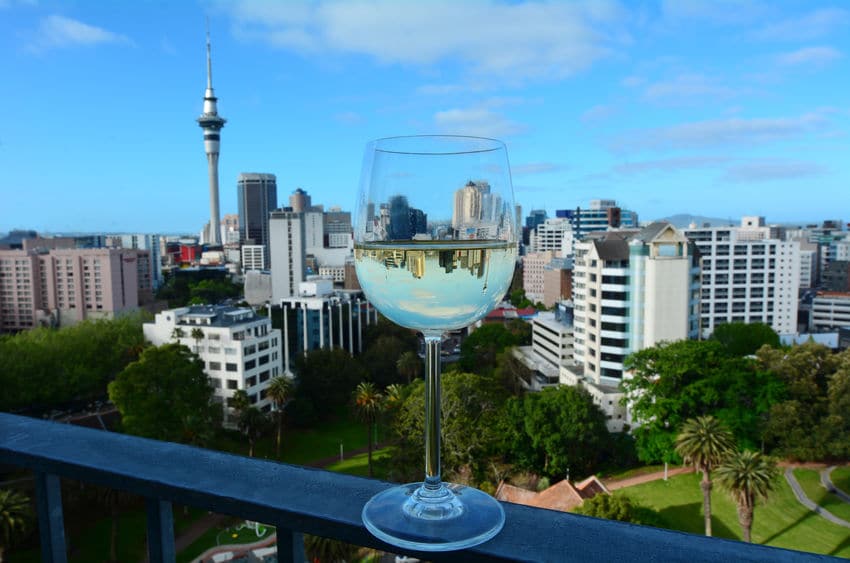 Making up for lost time
Despite its slow start, New Zealand is making up for lost time in the wine stakes. It burst on to the international scene with its exuberant and idiosyncratic Sauvignon Blanc in the 1980s and has never looked back. Since the year 2000, the vineyard area has almost quadrupled from 10,197 hectares to more than 38,000. Its reputation for making fresh, fruity wines with crystalline purity has put this tiny country at the bottom of the earth on the world wine map.
Its remote location has long imbued its people with a can-do attitude. This can be seen by its innovative approach to winemaking whether it is the almost-universal adoption of the screwcap closure from the early 2000s onward or the industry-led research in both field and winery. The Lighter Wines Programme, for example, seeks to make New Zealand the world's leading producer of lower-alcohol and lower-calorie wines.
It faces the challenge of being taken seriously as a producer of fine wines that have the ability to age. This is an issue that stems in part from the industry's most successful variety: Sauvignon Blanc is a wine typically consumed young for its vivacity. What's more, the youth of the industry means that there is no precedent of long-lived wines unlike Bordeaux or Burgundy.
In the 2000s, plantings boomed but that meant many vineyards were too young to reach their full potential and many winemakers were still getting to know their sites. Vines are now reaching maturity while vineyard management and winemaking has become more refined. As a result, many wines produced today are a world away from those earlier examples, making it difficult to predict how long wines will age.
Based on some older bottles, our perceptions of New Zealand as a producer of drink-young wines needs an overhaul: Cloudy Bay's 2006 Sauvignon Blanc and Escarpment's 2006 Rehua Pinot Noir were both drinking beautifully earlier this year at 13 years of age. Marsden would be proud.

Villa Maria Taylor's Pass Sauvignon Blanc 2018, Marlborough
Hailing from the cooler, windier climes of Marlborough's Awatere Valley, this single vineyard wine offers up a textbook aromatic profile of the subregion: green capsicum and pea shoots lead with passionfruit and gooseberries bringing up the rear. It is precise and focused with appetizing weight built through the mid palate. The acidity is crescendo-like, leaving a clean and finely textured, lengthy conclusion. USD 20
Te Whare Ra Toru 2018, Marlborough
Toru is the Maori word for three, which is a nod to the trio of varieties that make up this blend: Gewürztraminer, Riesling and Pinot Gris. The meeting of these grapes creates a mouthfilling and pure blend, offering the depth of Gewürztraminer's ample frame, the subtle, slightly oily notes of Pinot Gris and the precise, linear structure of Riesling.
While aromatic and floral, the flamboyance of the Gewürz is reined in with apple-like flavors exuding from the Pinot Gris portion. I love the layers of this wine and its nuances - like a musical composition, each variety has its own part to play with their entrances and rests coming in different bars of the score; the whole being greater than the sum of its parts. USD 16
Burn Cottage Pinot Noir 2016, Central Otago
Established by the American wine importer Marquis Sauvage with the consultancy services of Ted Lemon, who was the first US winemaker to run a Burgundy domaine before establishing Littorai in Sonoma. Burn Cottage has impressed from its first vintage (2009). The 2016 is sexy, rich and suave. It provides an intriguing scent, full of dried herbs and broody cherry fruits. Abundant yet resolved chocolatey tannins coat the palate on the long finish. USD 53