Grape vines were planted in the Hunter Valley, just north of Sydney, almost 200 years ago. The infant industry was given a boost when James Busby sent 365 vine cuttings he had imported from France to his brother-in-law at Kirkton near Branxton in 1833.
These vines became the motherlode of the Australian wine industry. However, not all survived and not all thrived in the warm, humid coastal climate of the Hunter region. Those that did, over time, found their own terroir and remain the cornerstone of the Hunter Valley's wine production today.
Semillon
Unique is an overused word but entirely appropriate for the style of Semillon produced in the Hunter Valley. Its an austere, low alcohol dry white unencumbered by oak that builds weight, complexity and richness over time. The best gracefully age for 20 or more years with screwcap elongating their lifespan. Aromas range from freshly cut grass and snow pea in their youth to buttered toast with a touch of marmalade in older examples. Acid provides the nerves and energy to extend Semillon's innate longevity.
The landscape of Hunter Valley, north of Sydney, Australia. It is one of Australia's best known wine region, playing a crucial role in the history of Australian wine as one of the first wine regions planted in the early 19th century. Photo by Lynda Hinton on Unsplash
Shiraz
Shiraz is Australia's most planted grape variety expressing itself in a myriad of different styles across this vast country. Hunter Valley Shiraz is more subtle and savoury than the warm-blooded South Australian examples. Historically, Shiraz was labelled 'Hunter River burgundy' for its similarly with the pinot noirs from the Burgundy region. Oak plays a minor role in Hunter Shiraz – French barrels in larger formats the preferred option. Aged Hunter Shiraz smells of worn leather and sweet earth with gentle tannins and a distinctly savoury finish.
Chardonnay
Although Chardonnay vines were part of the original Busby collection, it wasn't until the 1970's that Hunter Valley winegrowers made (and labelled) chardonnay as a single variety. Murray Tyrrell is acknowledged as the pioneer of the style in 1973 experimenting with oak ageing his Vat 47 Chardonnay in oak. Since then, there's been a refinement of the style with the overblown, oak-dominated Chardonnays of the 1980's morphing to more subtle wines today. Chardonnay remains an important grape in the Hunter Valley but the focus has moved to our cooler regions.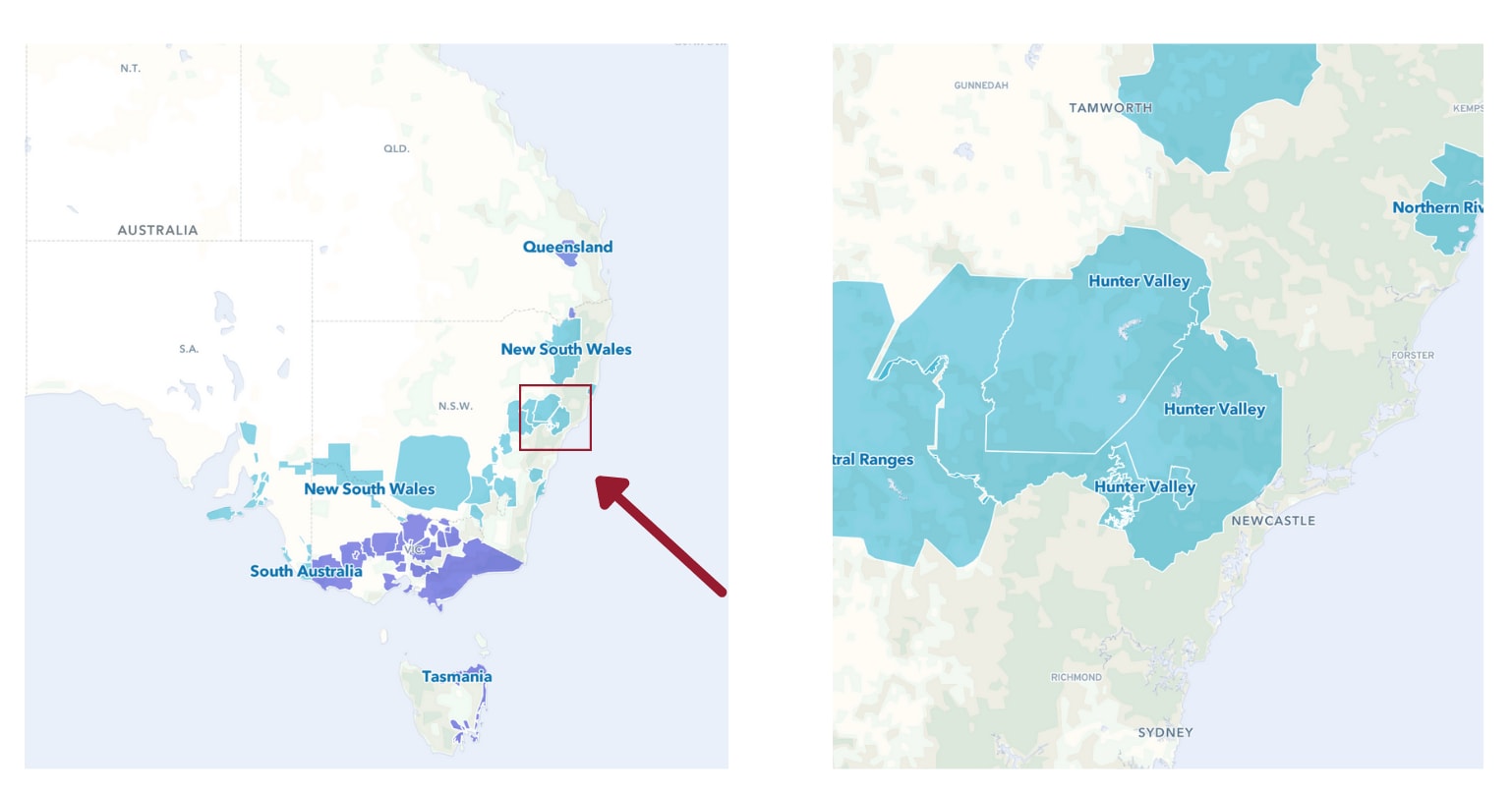 The region has more than 150 wineries and a two-hour drive north of Sydney. A flourishing wine region, with some of the world-famous wineries. Map source: True Wine
Verdelho
Verdelho is the key grape of Madeira and as such, the early Hunter Valley winegrowers emulated the Islands' fortified style. However, during the white wine boom of the 1970's, Hunter winemakers found Verdelho useful as a fruit driven, upfront table wine with bold pineapple and melon flavours. Verdelho's acid-etched finish is often softened by a little retained grape sugar. Verdelho remains a popular, easy-going option at the Hunter's numerous tasting rooms.

Three Hunter Valley's Large-Scale Winegrowers


Tyrrell's
The Tyrrell family harvested their first grapes at their Ashmans property in 1864 with fifth generation Chris Tyrrell recently taking over winegrowing duties for his father, Bruce. Chardonnay remains a key grape along with their Vat 1 Semillon universally regarded as a regional benchmark. However, it's been the accumulation of ancient plots of Shiraz that's energizing Bruce and Chris today. The oldest is the Old Patch Block which dates back to 1867 and one of their seven plots planted in the 19th century.
Benchmark Wine: Tyrrell's Vat 47 Chardonnay 2018
Tulloch
J.Y.Tulloch acquired the Glen Elgin property in 1895 as settlement of a debt. Its five acres (two hectares) of Shiraz became the catalyst for his venture into winemaking. His son Hector created the multi award-winning Pokolbin Dry Red while grandson Jay made their first Verdelho in 1982. Fourth generation Christina Tulloch now presides over the company, running one of the best tasting rooms in the Hunter.
Benchmark Wine: Tulloch Verdelho 2020
Brokenwood
What began in 1970 as a hobby for three Sydney lawyers has turned into one of the Hunter's most success wine business. Their all-new cellar door is a showpiece with integrated tasting room and Cru Bar + Pantry and The Wood restaurant. While the Brokenwood flagship wines are made from Hunter Valley grapes, other varieties are sourced from across New South Wales, Beechworth, McLaren Vale and as far afield as Margaret River.
Benchmark Wine: Brokenwood Graveyard Shiraz 2019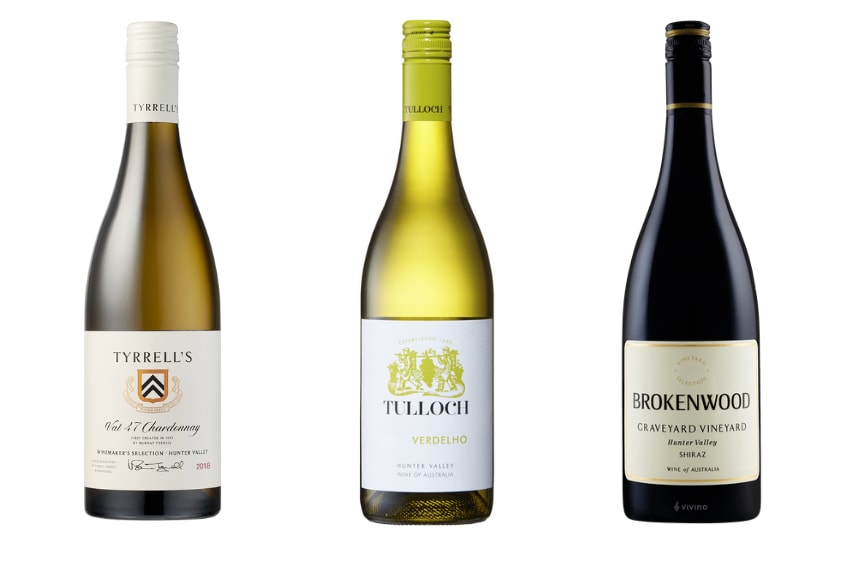 From left: Tyrrell's Vat 47 Chardonnay 2018, Tulloch Verdelho 2020, Brokenwood Graveyard Shiraz 2019
Three Hunter Valley's Small-Scale Winegrowers
Lakes Folly
Sydney surgeon Dr Max Lake is credited with establishing the first 'boutique' winery in the Hunter Valley way back in 1963. Lake counterintuitively planted Cabernet Sauvignon, Merlot and Petit Verdot to create his (now benchmark) Cabernets Blend. Chardonnay was planted in 1969 and these are still the only wines offered at Lakes Folly. Max Lake sold to the Fogarty family in 2000 however long-standing winemaker Rodney Kemp continues to celebrate Max Lake's ethos.
Benchmark Wine: Lakes Folly Cabernets 2019
Margan Estate
Lisa and Andrew Margan created their wine brand in 1997, working tirelessly for a decade before opening their rammed-earth winery, cellar door and restaurant at Broke – on the western perimeter of the Hunter Valley region. They now oversee 100 hectares of sustainably farmed vines, a flock of organic fertilizer producing sheep and a cottage garden which provides much of the produce for their restaurant. Andrew plays around with new wave varieties including Albarino, Barbera and Tempranillo. Oh, and he makes Vermouth too.
Benchmark Wine: Margan Estate Ceres Hill Barbera 2019
Gundog Estate
Matt Burton started Gundog Estate in 2010 with little capital but big ideas. He now boosts two tasting rooms - the old Pokolbin schoolhouse on MacDonald's Road, the second in Gundaroo outside of Canberra. Matt makes just three varieties – the Hunter stalwarts, Semillon and Shiraz plus Riesling from the Canberra District also the source of his cool-climate Shiraz grapes. An entrepreneurial streak sees Burton sell local gourmet products, hand-made chocolates, Gundog Dry Gin and a Hunting Ale. And yes, there is a gundog - Karl Marx, a boisterous Cocker Spaniel.
Benchmark Wine: Gundog Estate Wild Semillon 2021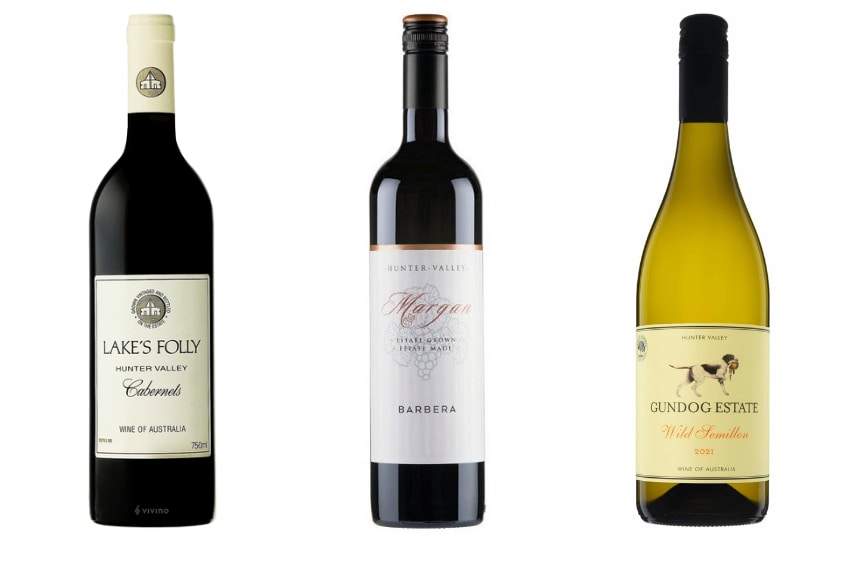 From left: Lakes Folly Cabernets 2019, Margan Estate Ceres Hill Barbera 2019, Gundog Estate Wild Semillon 2021.