Think all Chianti is created equally? Think again. Beyond a clear cut distinction between Chianti and Chianti Classico, the latter is on the brink of recognizing official subzones within its own diverse territory.
Along with the leaning tower of Pisa and Leonardo da Vinci, Chianti is intrinsic to the identity of Italy's much-loved region of Tuscany. And, with over 300 years of history, it is the world's oldest delimited wine appellation.
Chianti Classico versus Chianti
In 1716, the Grand Duke of Tuscany, Cosimo III de' Medici formally defined the boundaries of Chianti. It encompassed a particularly heralded hilly expanse between the cities of Florence and Siena. As the zone became renowned for its wine, the surrounding area slowly adopted the name Chianti for its wines too. You can imagine a few people getting their noses out of joint about this. Eventually 'Classico' was appended to Chianti to denote wines hailing from the original geographical area and the gallo nero, or black rooster, was adopted as its exclusive trademark.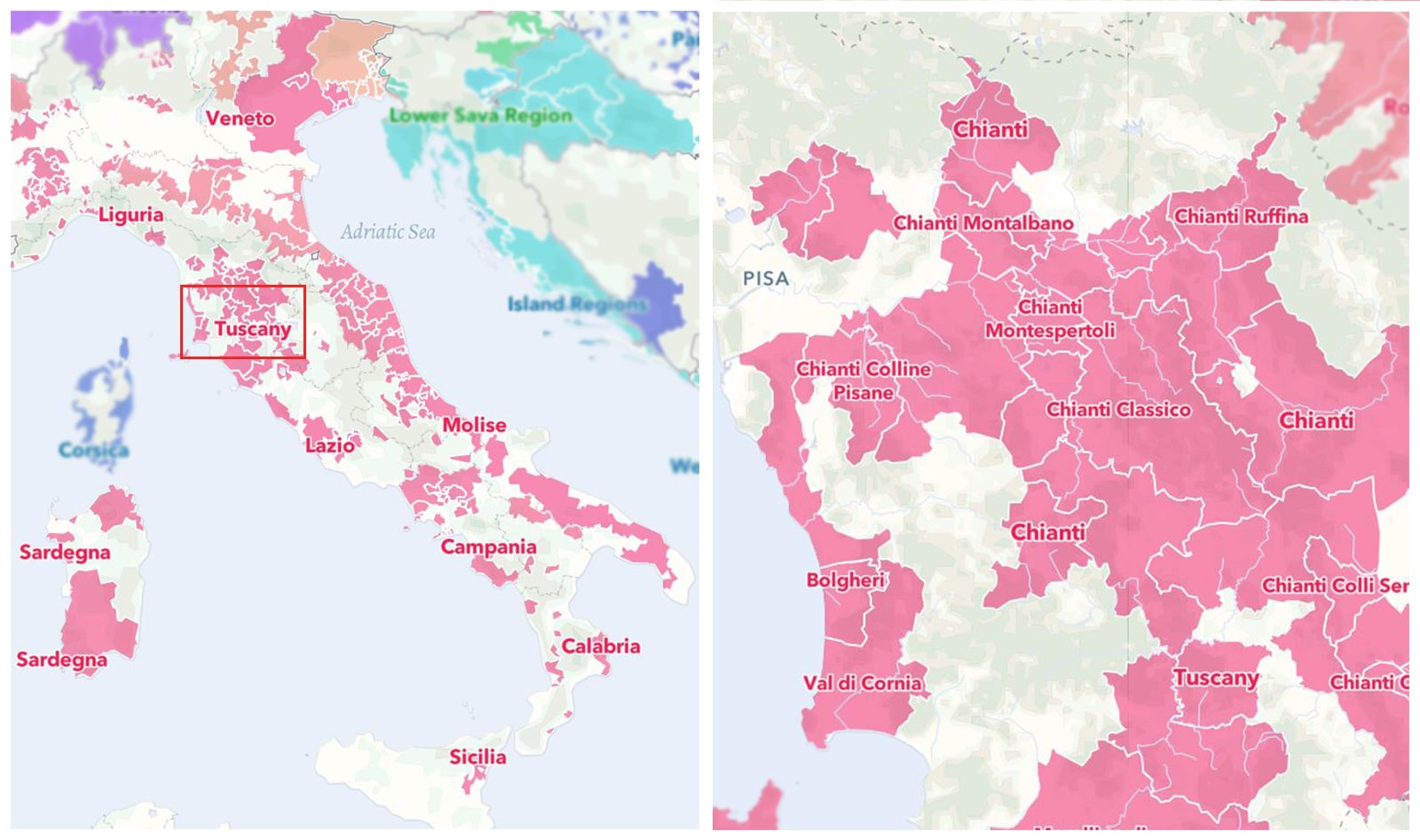 (Chianti's formal bounderies date back to 1716, and it encompassed a particularly heralded hilly expanse between the cities of Florence and Siena - today, Chianti Classico. Map source True Wine).
When Italy's appellation system (the Denominazione di Origine Controllata or DOC) was born in the 1960s, Chianti Classico was classified as a subzone of the much larger area that had become known as Chianti. More teeth gnashing! Naturally producers began lobbying for the independence of Chianti Classico as its own autonomous denomination. This was finally realized in 1996 and a complete divorce of the two regions came through in 2010. While both are based on the noble Sangiovese grape, Chianti and Chianti Classico are two distinct and separate DOCGs with their own rules, regulations and governing bodies.
Into the hills of Chianti Classico
Chianti Classico is not a tiny region. It expands over a vast 70,000 hectares in an area that is about 40 kilometers from north to south and 20 kilometers across - as the crow flies. But in the marvelously disorienting hills of Chianti Classico, it is impossible to get anywhere in a straight line. And on the winding roads from one vineyard to another, you inevitably pass through thick forests, olive groves and the occasional wheat field.
Less than 15% of Chianti Classico is actually planted to vines. The vineyards range in altitude from 250 to 700 meters above sea level, some on gently rolling hills others on steep slopes. The region also boasts a complex mix of soils. The auspicious result is a thrilling variety of wines.
The diversity of Chianti Classico was brought home to me when I was visiting the region in July of 2016. I got caught in a torrential downpour in the southwestern commune of Castellina. Later that day, I headed over to the southeastern area of Castelnuovo Berardenga. While a dramatic lightening display threatened the same, only a light sprinkle fell. The following day, in the central enclave of Panzano, Fontodi's Giovanni Manetti declared that there hadn't been a drop of water in days. "We call Panzano the umbrella handle," says Manetti. "It is the area most protected from rain."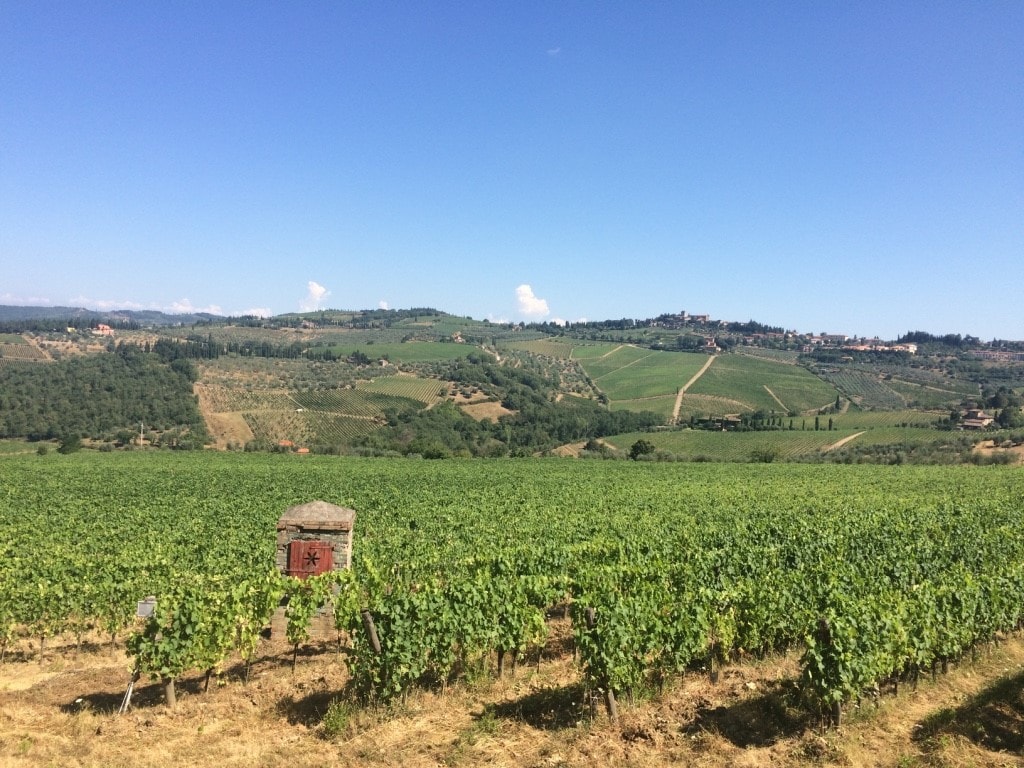 (Fontodi's vineyard in Panzano. Photo by Michaela Morris)
A further division?
Winemakers are acutely aware Chianti Classico's heterogeneity. A number have long been leading yet another movement to identify individual subzones. Given the multitude of variations throughout the region this could potentially lead to a dizzying array of impossible to memorize names. Italian wine is already confusing enough!
"The approach is not to establish lots of zones," says Manetti, the voice of reason who is also the current president of the region's consortium. "The subdivision would be based on the names of villages to which vineyards belong." Manetti estimates about 10 which would surely include Greve, Radda, Gaiole, Castellina and Castelnuovo Berardenga among others. Bordeaux aficionados are familiar with names like Pauillac, Saint-Julien, Saint-Estèphe, et al. Why shouldn't Chianti Classico fans get to know its villages? "I think it will be appreciated by wine lovers who want to have a deeper knowledge of where a wine comes from," says Manetti.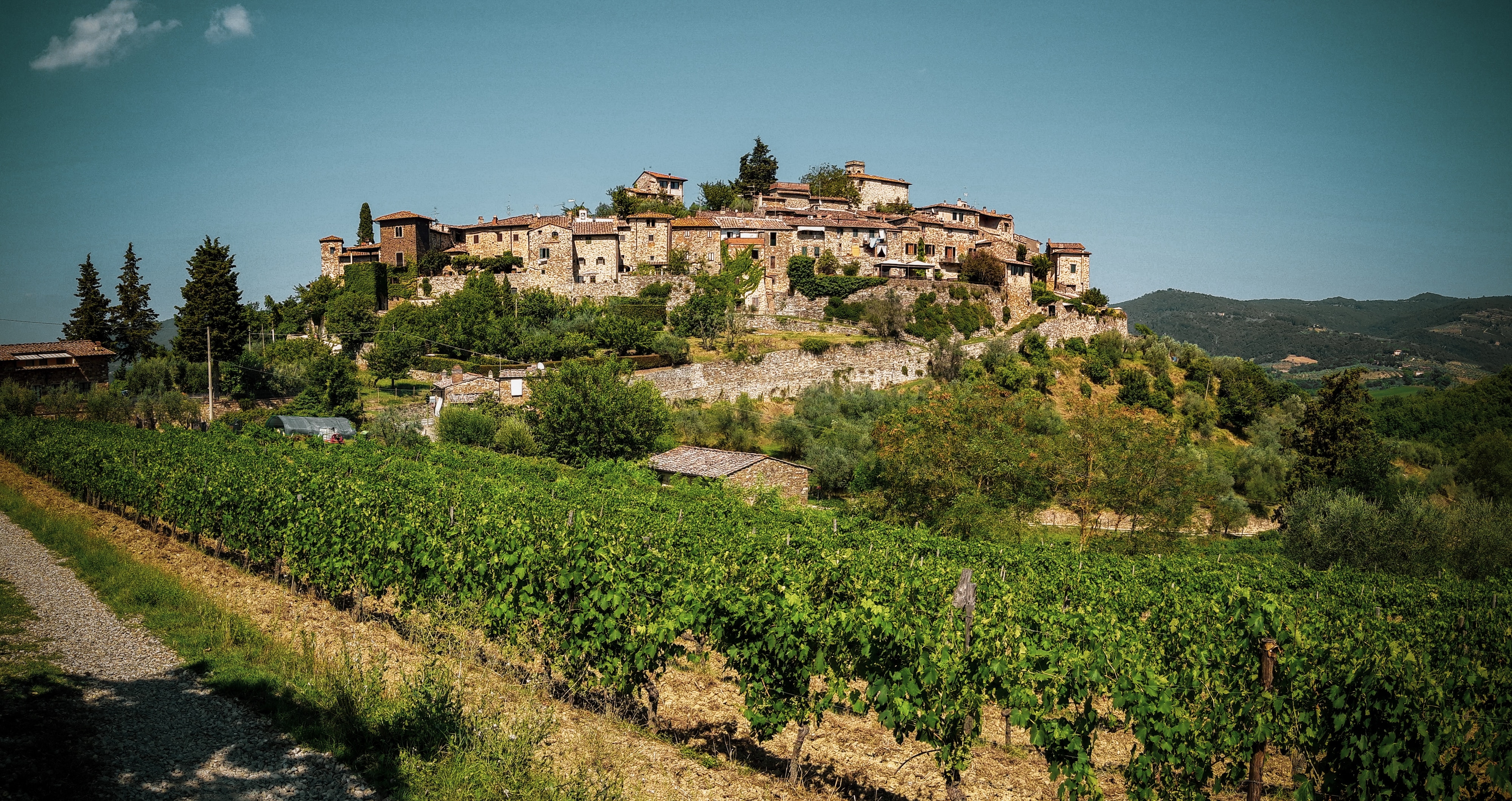 (Greve in Chianti. Photo by Matej Drha on Unsplash)
Owner and winemaker at Istine, Angela Fronti supports the initiative. "It's not about saying one zone is better than another," she explains. It is about what the specific characteristics are of each." Most of her vineyards are in the high altitude commune of Radda. "We harvest very late because it isn't easy to reach full ripeness and our wines are distinguished by racy acidity."
Sangiovese is a wondrously transparent grape with great ability to translate its terroir. From the lightness and brightness of Radda to the chewy, rich wines typically found in the warmer pockets of Castelnuovo Berardenga, Chianti Classico offers numerous - but equally laudable - expressions in between. It is impossible to point to a single wine to adequately capture this region. To know Chianti Classico is to drink widely and willingly throughout.
While Chianti Classico's subzones are not official yet, Manetti assures me this next milestone is close.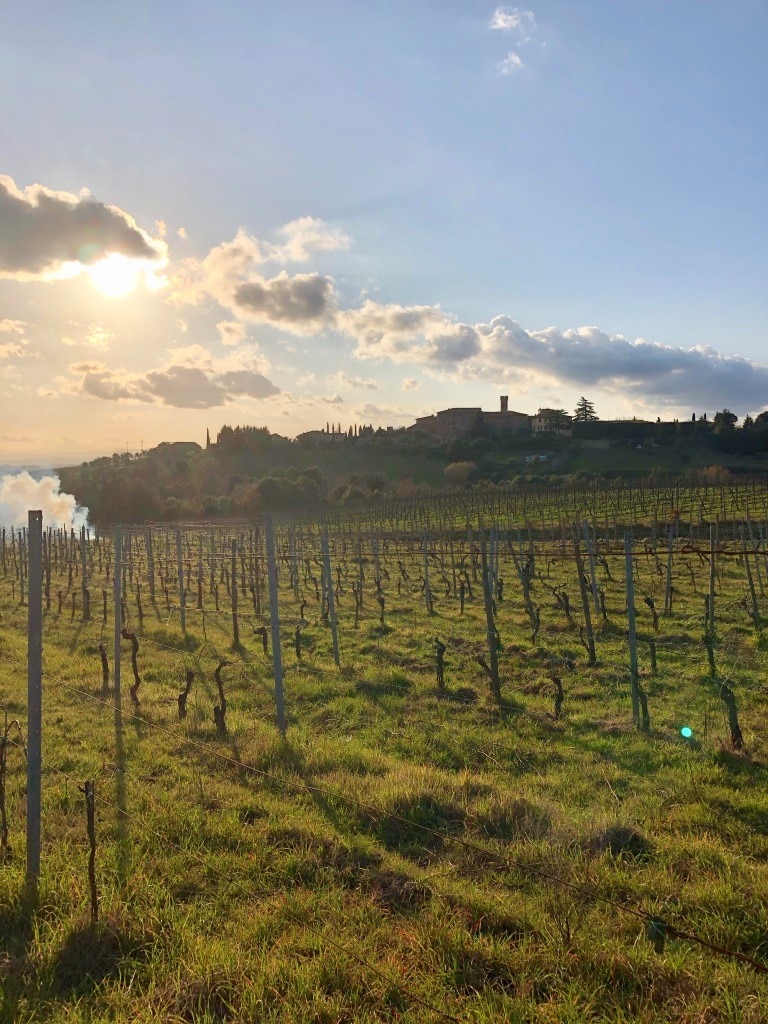 (Castelnuovo Berardenga. Photo by Michaela Morris)

Poggerino, Chianti Classico DOCG 2016 (US$26)
In the commune of Radda, Poggerino's vineyards sit between 400 and 500 metres above sea level. Pure red cherry and raspberry intertwine with scented nuances of rose. Vertical and tangy, it is exhilarating right through to the driving mineral-like sensation that lingers on the finish.
Fontodi Chianti Classico DOCG 2015 (US$42)
Fontodi's wines are the reference for Panzano. This enclave within the larger commune of Greve has long been renowned for its distinct wines and will likely be recognized as one of Chianti Classico's subzones. Here succulent, lush black cherry meets dried Mediterranean herbs and violet. Ripe and layered with firm chalky tannins that build across the palate.
Fèlsina, Rancia, Chianti Classico DOCG Riserva 2016 (US $82)
From the balmy southeastern reaches of Castelnuovo Berardenga, Rancia is Fèlsina's flagship bottling. Decidedly earthy and savoury in personality, it possesses fleshy fruit hemmed in by powdery tactile tannins. This will stand up to a couple of decades in the cellar.