To age or not to age Amarone? The answer is as complex as the finest Amarone themselves. Ultimately it comes down to quality and how you like to drink your wine.
To give this illustrious wine its full name, Amarone della Valpolicella is a unique style of wine that hails from the Valpolicella region in the northeast of Italy.
For Amarone, the native grapes of the area - principally Corvina, Corvinone and Rondinella - are left to dry (traditionally on bamboo racks) before being crushed and vinified. This technique, known as appassimento lasts for at least two months though many producers dry their grapes for three or even four.
Appassimento gives rise to a complex and fascinating transformation. As the grapes dehydrate, they lose up to half of their initial weight concentrating both the sugars as well as the polyphenols (notably the tannins). At the same time, it stimulates the production of glycerol.
This lends a mouthcoating texture which gives an illusion of sweetness even though the wines are fermented dry - or close to dry. (Maximum residual sugar allowed is 12 grams per liter). The result is a full-bodied, richly fruited, voluptuous red with heady alcohol of at least 14 percent.
The waiting game
For many Amarone-lovers, it is hard to resist popping the cork as soon as they get their hands on a bottle. Why try convincing a hedonist to delay gratification? With few exceptions, Amarone doesn't need to be tucked away.
Most are released with at least four to six years of age already. And as Giancarlo Tommasi, winemaker at Tommasi Family Estates points out, "the tannins are less aggressive than other great wines."
Call me an ascetic, but I prefer to wait. I confess that I didn't really fall for Amarone until I started tasting older examples. According to Riccardo Tedeschi, owner of Tedeschi Wines, "Aging Amarone is similar to Barolo. At 10-12 years old is when it starts to show its best." With time, boisterous fruit mellows and nuances of cocoa, tobacco and balsam - those resinous herb and forest notes - emerge.
The reward of aging Amarone is "the emotion of a unique experience," muses Silvia Aldrighetti from Le Bignele.
That being said, not all Amarone deserves a place in the cellar. All of that fruit concentration needs structure - the trifecta of alcohol, tannin and acidity. "In an Amarone, it isn't difficult to have an abundance of the first two components, however the third, acidity, is often sacrificed for a more immediate wine," says Marcello Vaona, owner of the Novaia estate.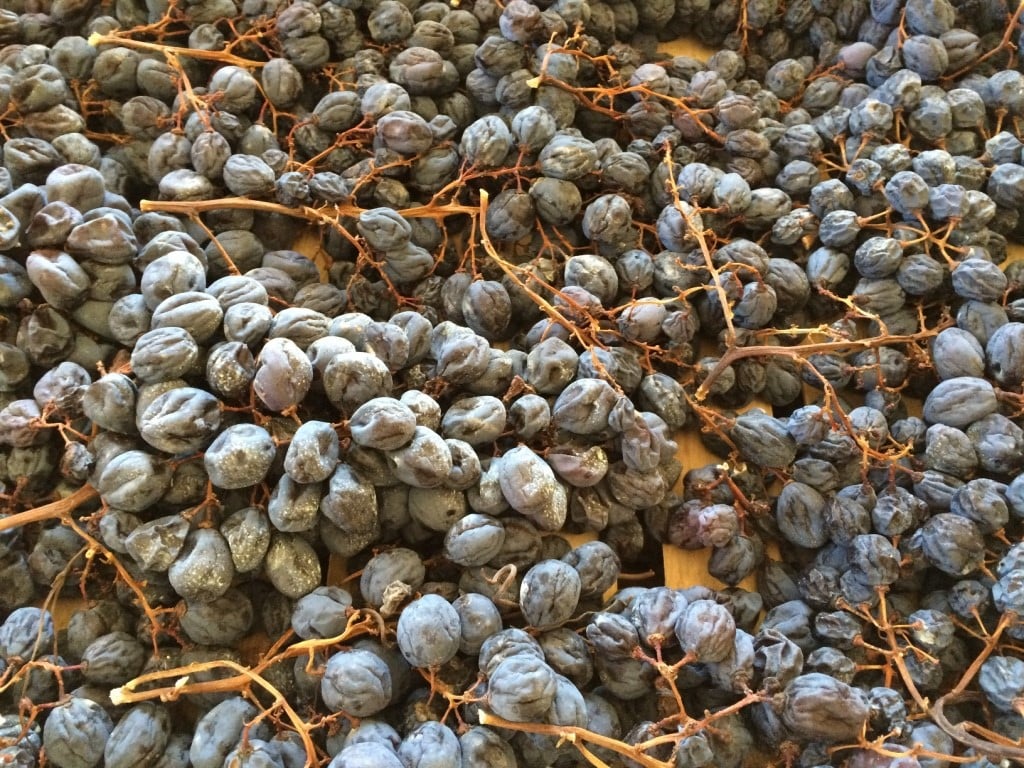 For Vaona, the key to acidity lies in provenance. "It is fundamental that the grapes come from the hills." Novaia's vineyards reach 400 meters above sea level in the cool Marano Valley and the dense plush wines are offset by balancing freshness.
Site is equally crucial for Tommasi. "The most age worthy Amarone are from a terroir that stresses the plant a bit, reducing the yield per hectare and concentrating everything into few clusters."
He also uses a small percentage of Oseleta in the blend. This recently revived ancient grape variety is rich in tannin, an important component "to stand the test of time."
"A good Amarone comes from good grapes," states Aldrighetti. "It seems obvious but it's not." As she points out, constant and attentive work in the vineyard is necessary to ensure healthy, ripe grapes picked at the right time that will stand up to the drying process.
You get what you pay for
Unfortunately, Amarone has been a victim of its own success. Simultaneous with demand, the Valpolicella region expanded enormously beyond lower yielding, hillside vineyards to include the more fertile valley floor.
The former are much more labour-intensive but produce higher quality grapes. At the risk of stating the obvious, Amarone is costly to produce. Yet there are bottles selling in grocery stores at discounted prices of €12.99 (US$15).
Certainly the only way these prices can be achieved is by using higher yielding, lesser quality grapes likely with the minimum drying and ageing required. These are mere shadows of what Amarone della Valpolicella is meant to be. The lesson here is you get what you pay for.
When I crave an Amarone, I don't even consider buying one for less than US$40. And if I'm going to put it in my cellar, I am prepared to spend more. Whether or not you should age Amarone is another matter altogether.
It really comes down to your personal palate preference. Whenever you choose to drink your Amarone though, my recommendation is to avoid bargain hunting altogether.

Bertani Amarone della Valpolicella Classico 2010 (US$120)
An elegantly fashioned Amarone aged for six years in large Slavonian oak barrels. Restrained nuances of prune mingle with licorice, balsam wood, tobacco and rosemary. Tannins are mouth caressing and there is an underlying freshness. Has the substance and balance to keep for another decade at least.
>> Order on Vivino (subject to availability in your location)
Tedeschi, 'Capitel Monte Olmi' Amarone della Valpolicella Classico Riserva 2012 (US$86)
From a 2.5 hectare single vineyard. The grapes (which include 10 percent Oseleta) are dried for four months. This is concentrated, powerful and hearty. A hefty 17 percent alcohol is backed up by plenty of lush fruit and layered tannin. Think dark chocolate, plum cake, mint and black cherry compote. Drink now to experience all of its exuberance or let it mellow out for a few years.
>> Order on Vivino (subject to availability in your location)
Le Bignele Amarone della Valpolicella Classico 2014 ($US54)
Like Novaia, Le Bignele is located in the cool Marano Valley. In the challenging 2014 vintage, the Aldrighetti family made only half of their usual production but the result is focused and wonderfully fragrant. Savoury rather than sweet, it offers up almond, spice, pepper and red cherry. A charming and accessibly priced Amarone that will drink well for the next five years.
>> Order on Vivino (subject to availability in your location)