The legendary wine writer and bon viveur, Steven Spurrier, who died in 2021, said that you needed three things in life for happiness: someone to love, something to do and something to look forward to. Creating moments of excitement, raising expectations, the anticipation of opening a bottle of sparkling wines is something very much to look forward to.
If you happen to have kept that fizz in a cool dark cellar, the greater the anticipation. So, as you peel back the foil and carefully unmuzzle the cork, it's always good to cherish that special before-the-cork-pops moment. Once the genie is out, it won't go back in again.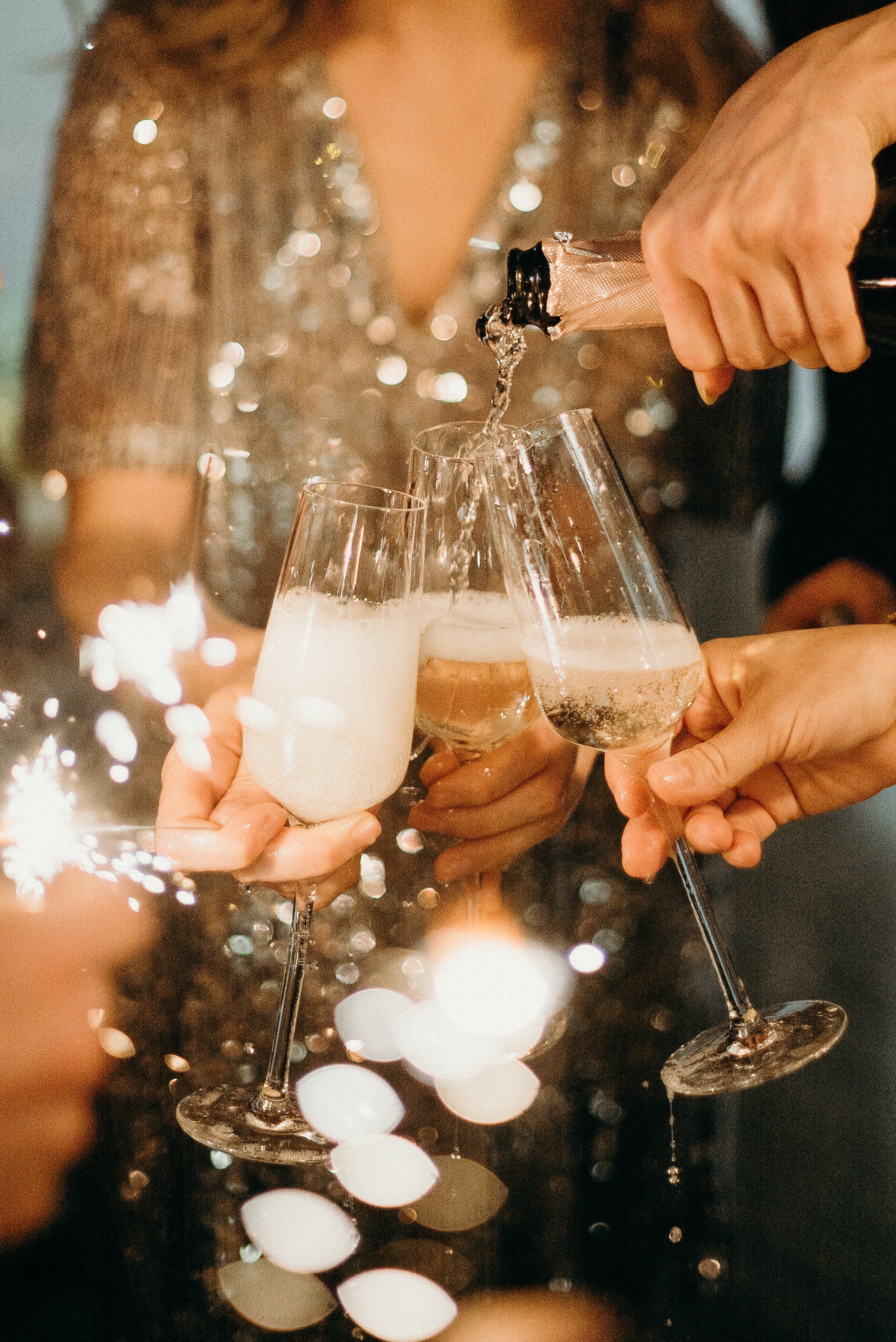 The exciting moment comes as you're about to open a bottle that you've kept in the cellar for the right moment to pop the cork
The sense of enjoyment
Observe that wisp of smoke like the barrel of a smoking gun and then, slowly, steadily pour that liquid gold into the glass and watch as a fountain of bubbles rises from the bottom of the glass. Holding the glass by the stem, have a sniff and let the freshness of the aromas guide you in. The bubble itself, or rather the steady stream of bubbles in the glass, creates a textural effect on the tongue that's uniquely satisfying, or should be. We know it of course from our enjoyment of sparkling soft drinks like lemonade, but sparkling soft drinks have none of the textural finesse and delicacy of a really beautiful champagne or sparkling wine.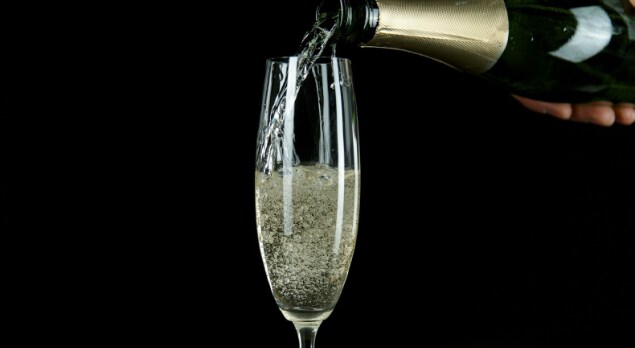 Champagne and sparkling wine bring a satisfying and refreshing feeling through a hundred thousand bubbles bursting on the tongue.
The sheer pleasure of the bubble is so immediate and so enjoyable that it would be easy to overlook the fact that assessing bubbles, as distinct from drinking them, is an exercise requiring a degree of focus and skill. The bottom line is that judgment is objective and taste subjective and this form of analysis requires a combination of both. In the world of assessment, tasting sparkling wine is a very different matter from tasting still wines. Those bubbles are more often than not sugar-coated, that is to say that when the bottle is topped up with the liqueur de dosage in all but a small minority of cases, there is an added sweetness needing our concentration on what the topping up of sugar does or does not bring to the party.
It's all about the profile and characteristics
A sparkling wine is not a fruit salad despite what wine critics of the over-effusive persuasion will have you believe. A glass of sparkling bubbles is about aroma, freshness, texture, flavour, fruit quality and balance and everything in the right proportion. You may well detect orchard fruits, stone fruits, citrus fruits, herbs, spices and oak as in the case of other wines, but, hard as it is sometimes to assess the character and quality of a sparkling wine, to attribute a fruit salad to every glass of bubbly may be doing it a disservice. Besides, once disgorged and bottled, sparkling wine goes through a variety of microbiological changes, so that what you're tasting when the wine comes on to the market can be quite different from how that wine is going to taste with post-disgorgement ageing.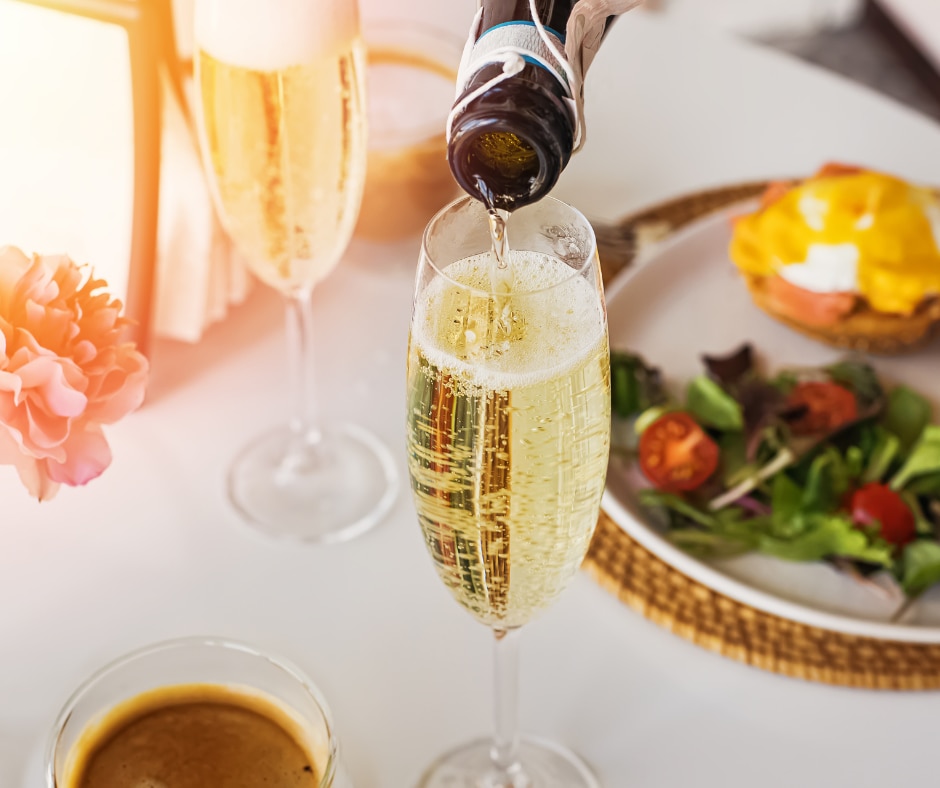 It's all about the right proportion of aroma, freshness, texture, flavour, fruit quality and balance that make up a glass of champagne or sparkling wine.
Pop your cork carefully!
Once you've peeled back and removed the foil and then twisted the wire muzzle anti-clockwise six times, the exposed cork is 'live'. Stand over it or point it at someone at your peril because, shooting out at 50 kph, it can, and has, caused some nasty eye injuries. Twist the bottom of the bottle anti-clockwise, holding the cork in at the same time to allow a gentle sigh as the cork comes out. I was taught that it should make the sound of a nun breaking wind and when I taught that to students, it seemed to go down best at Catholic schools. There are a variety of cork removers that grip the cork as you twist, and I thoroughly recommend a good one for anyone in the business of regularly opening bottles of fizz.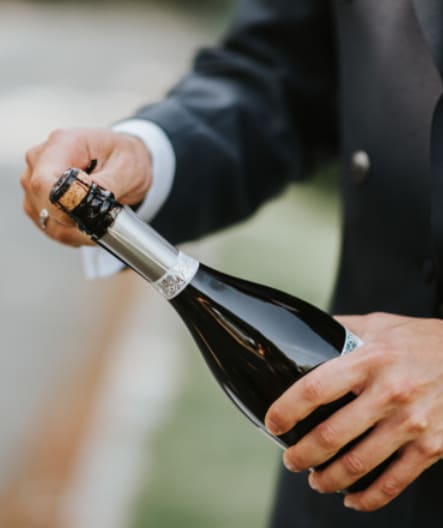 Pop the cork carefully and allow a gentle sigh as it comes out, otherwise it could cause serious injury.
The stories of glassware
Is there a right glass for champagne and sparkling wine? The traditional champagne glass was tall and flute-shaped until fashion dictated the saucer-shaped coupe, modelled as it was supposed to be, on the pert breast of Marie-Antoinette, or perhaps Madame de Pompadour. If asked which breast, just say left or right, as no-one actually knows. You then move to the unassailable point that because the saucer shape dissipated the bubbles too quickly, the coupe fell out of favour in the 1920s and, even before the Austrian glassware manufacturer and marketing genius, Georg Riedel, came along with his wine style-specific glasses, champagne drinkers reverted to the flute.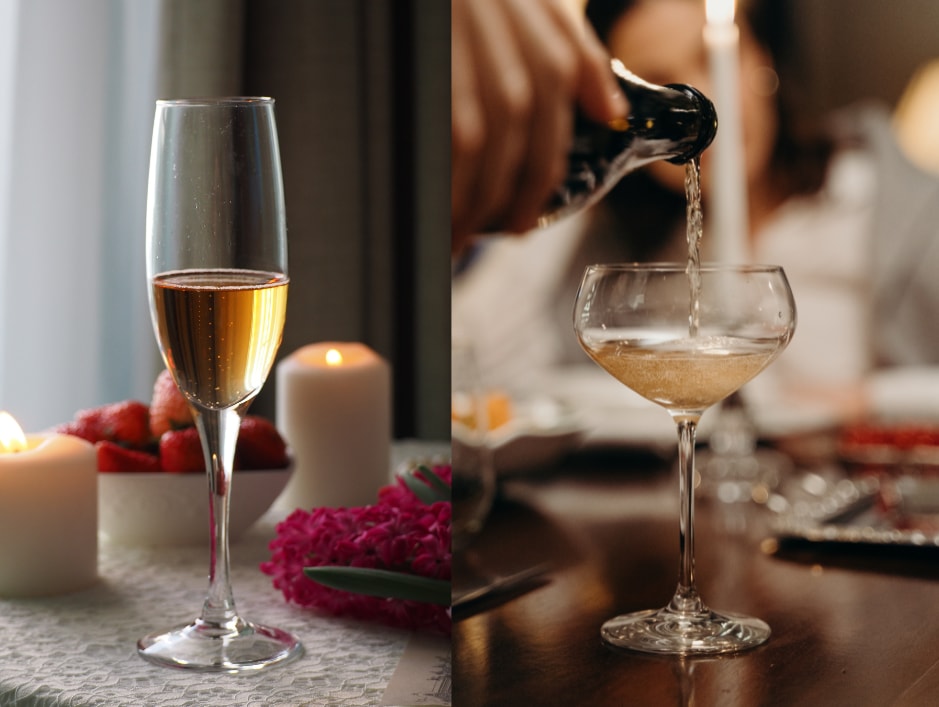 Flute-shaped on the left and saucer-shaped coupe on the right.
I wouldn't call myself a pedant by suggesting that there are glasses that make fizz look and taste better, and, frankly, if you're going to spend a small fortune on fizz, then it's better to have a good glass for it. Apart from the fact that it looks stylish, the beauty of the flute shape is that it does the opposite of the saucer in that it retains all the bubbles, especially those that shoot straight up your nose in an explosion of aromatic molecules. A narrow flute is best for light sparkling wines, a broader flute such as a sommelier flute better for champagnes.
Despite the evident virtues of the champagne flute, more recently a newer glass has been developed for sparkling wine in the shape of the broadened out tulip-shaped glass heading towards the shape of a Burgundy glass. When Richard Geoffroy, chef de cave at Dom Pérignon started to present Dom Pérignon in the new tulip-shaped glass, eyebrows were raised before those in the know started to follow suit. Sparkling wine glasses are now being made with a nucleation, or effervescent, point at the base of the bowl to encourage a steady stream of bubbles and a broader surface area. That's why I would advocate getting in a few if you, your friends, family and guests are to get the most out of your glassware.
Fizz To Try Your Skills On
(Serving temperatures: 5-9°C)
With its deep golden hue and rich, champagne like intensity of nutty and leesy aromas, the fine-textured mousse in this accomplished Cape fizz delivers complexity of flavour with notes of nuttiness and honey, a worthy prestige cuvée that's finely balanced with a delicious touch of toastiness.
A pale onion skin pink, this fizz is fresh and floral in aroma with light toasty notes and a fruit quality emphasising ripe strawberries and cream and a sumptuous texture of bubbles that dissolve creamily on the tongue, finishing with a lively berry fruit acidity for a crisply dry finish.
This prestige cuvée Champagne from the Côte des Bar Co-operative Devaux made together with Michel Chapoutier is pale lemon in colour, with delicate toasty aromas and grilled nuts and full-flavoured fresh pear fruit underpinned by zesty acidity; a well-balanced, classic champagne with a hint of grip on a mouthwatering saline finish.