I'm writing this article on the 17th of November, the 3rd Thursday in the month. It's a significant day for, from 12.01am, a million cases of the freshly bottled 2022 Beaujolais Nouveau were released across 110 countries – including Australia. You missed the excitement? Don't worry, many did.
Beaujolais Nouveau Day has been both a blessing and a curse to the Beaujolais region, an outlier of Burgundy and home to the Gamay grape. In the heady days of the 1960 & 70's, bottles of the light, bright refreshing Beaujolais Nouveau were raced by car, boat and plane across the English Channel to London in a 'first past the post' celebration of the newly fermented Gamay, which was still hanging on the vine just weeks before. The excitement mounted year by year until the mid-1980's when savvy consumers began to question why – as the many of the Nouveau wines were simple, thin and acidic. The pretty but pale color looking more like a rosé than a red wine. Beaujolais Nouveau quickly went from an incredible high to an equally absurd low – spurned by serious winelovers. Unfortunately, the fortunes of Beaujolais and Gamay sank along with the dreaded Nouveau.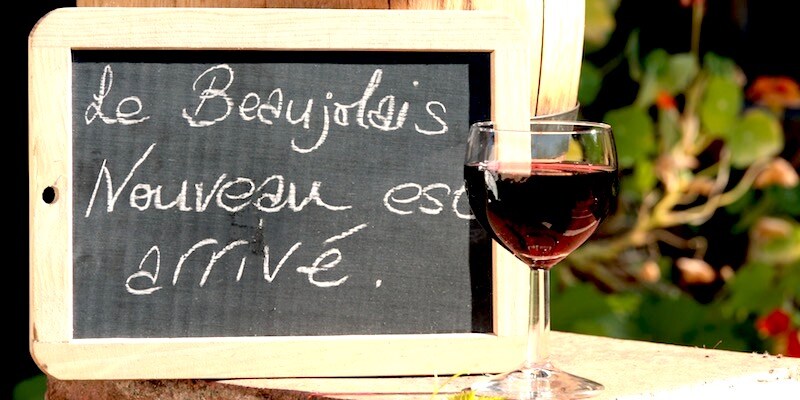 Beaujolais Nouveau Day is marked in France on the third Thursday in November. Under French law, the wine is released at 12:01 a.m., just weeks after the wine's grapes have been harvested.
The New Order
However, things are changing – and quite rapidly with a refocus on the historic Beaujolais region especially its high-quality Crus. There's 10 of these special sites with the evocative names of Saint-Amour, Juliénas, Chénas, Moulin-à-Vent, Fleurie, Chiroubles, Morgon, Régnié, Brouilly and Côte de Brouilly. The charge to Beaujolais is being led by Burgundian winegrowers who are finding that the soaring prices of their beloved Pinot Noir grapes makes the business of winemaking problematic.
The big négociants have always been in the region (such as Louis Latour, Louis Jadot, Mommessin
and
Joseph Drouhin) but more focused Burgundian growers like Philippe Pacalet and
Thibault Liger-Belair
are either buying vineyards or sourcing grapes from the Beaujolais with the crus of Morgon, Moulin-à-Vent and Brouilly especially sought-after. In parallel, the region's long term family winegrowers have upped their game as the fortunes (and prices) of Beaujolais climb. In the background is the super-sized négociant, Georges Duboeuf, who is credited with kicking the whole Beaujolais Nouveau craze in the first case.
The Gamay Grape
Jancis Robinson MW writes "According to DNA analysis Gamay is a member of the vast family of Burgundian grapes spawned by 
Pinot Noir
 and (the) obscure white grape variety 
Gouais Blanc
"
Gamay was an integral part of Burgundy until 1395 when the Duke of Burgundy, Philipe the Bold ordered that all Gamay vines be uprooted as they were damaging the reputation of Pinot Noir and that it was a "bad and disloyal" grape variety of lower quality wine and less "elegant" than Pinot Noir.
Luckily Gamay found a new home 120 kilometers south of Beaune, close to Lyon and the rest is...19,000 hectares of vines now planted in the Beaujolais region. Gamay enjoys the extra warmth and granitic soils of the area with our warming climate yielding more consistent vintages with richer flavors and lower acids – the latter a bane of the cheap, overcropped Beaujolais Nouveau.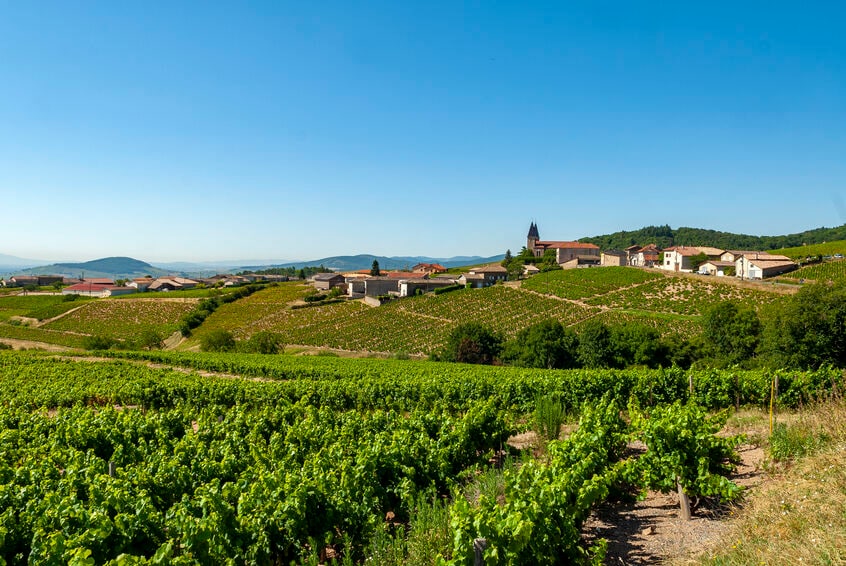 The Beaujolais wine region, south of Burgundy, is home to fresh, fruit-driven red wines made from 100% Gamay grape.
Gamay suits our lifestyle
Gamay is a lighter, brighter ve
rsion of Pinot Noir and, as such, suits our casual lifestyle. It's perfect with terrines and paté, charcuterie and spicy sausages or a classic entrée of melon and prosciutto. Pair Atlantic salmon with a youthful Gamay for a surprisingly delicious food/wine combination. Gamay drinks well solo – preferably chilled to 14-16 degrees Celsius (57-61 Fahrenheit). Gamay is generally an early drinking grape – a trait capitalized on by the whole Beaujolais Nouveau fad. However, the Beaujolais Crus deserve 3-5 years to show their best, with top drops ageing for up to a decade.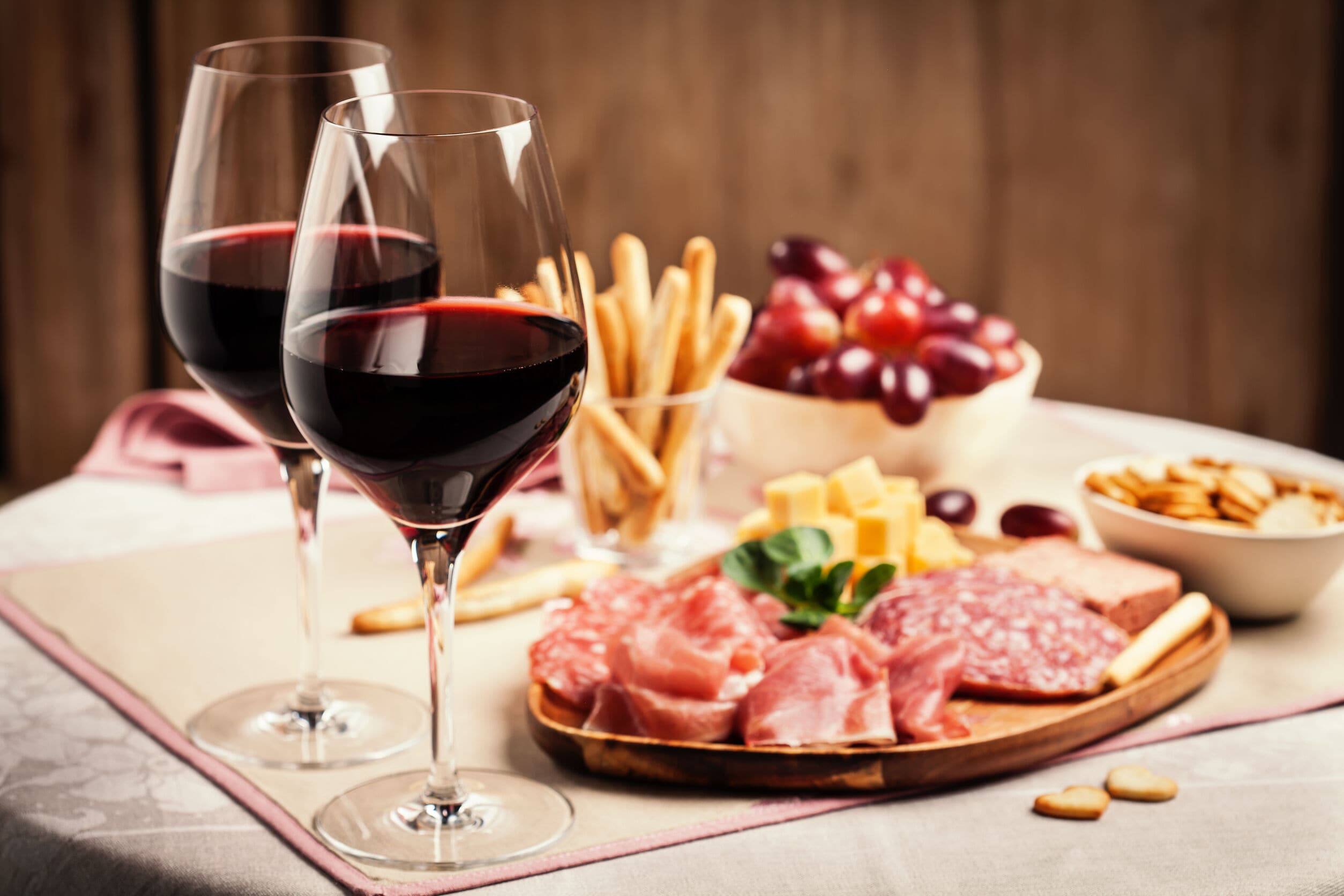 Gamay integrates well into the casual lifestyle. Similar to Pinot Noir but with lighted body and low tannin, it is best when served with charcuterie, paté, spicy saussgae or even a classic entrée of melon and prosciutto.
Australian Gamay
Gamay has been a (very) slow burn in Australia. Australia's prominent wine man, the late Len Evans championed Gamay, which he planted at his Hunter Valley property in the 1970's. Len was vocal on all matters including his Gamay. However, his enthusiasm for the variety fell on deaf ears. Barry Morey planted the variety in Beechworth in 1984 with his first Sorrenberg Gamay in 1989 setting theAustralian benchmark, which it remains to this day. The current release is 2021 and a striking example of a deeply complex Gamay. At USD50 it's not cheap but neither are Cru Beaujolais.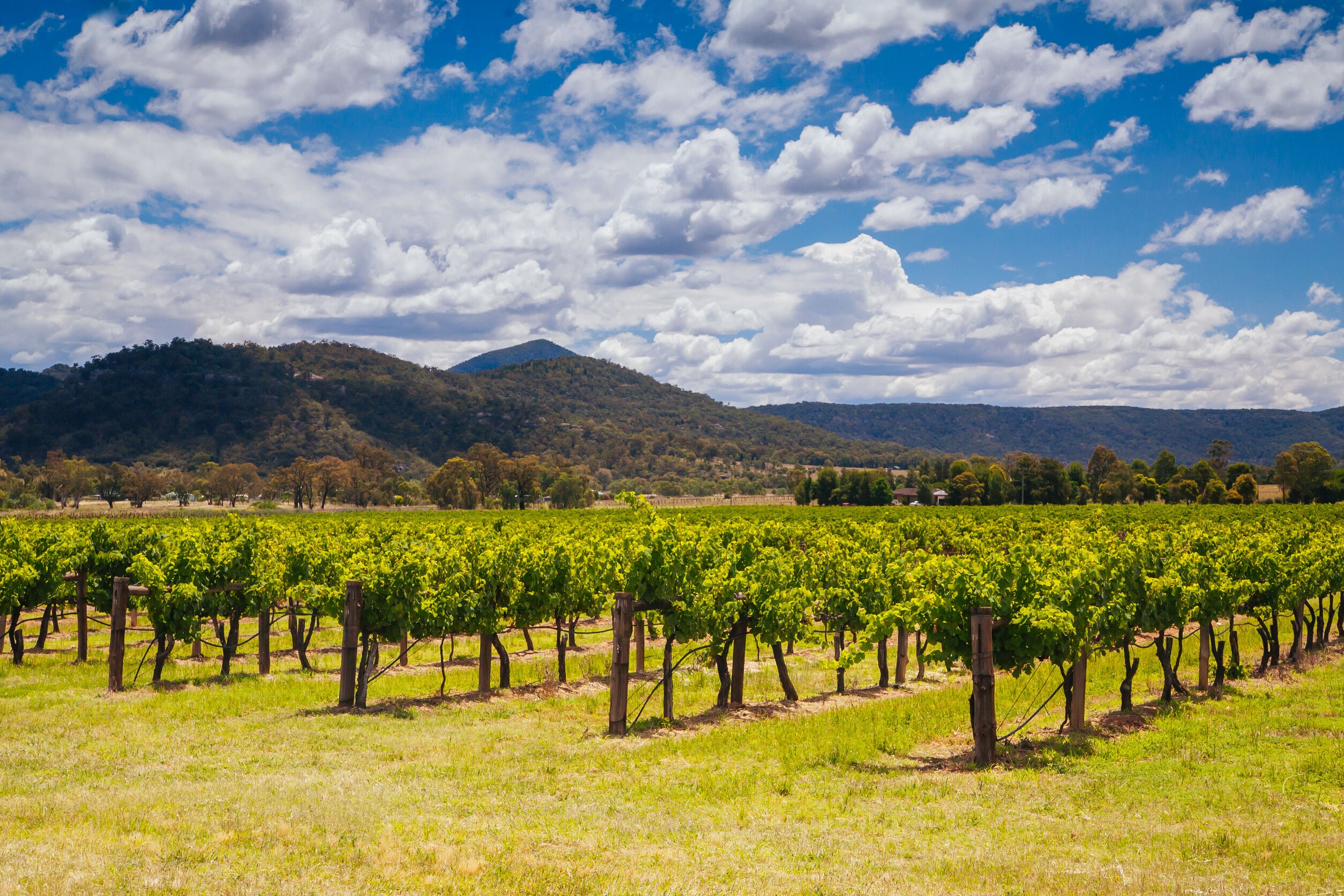 Hunter Valley, Australia where
Len Eva planted his Gamay in the 1970's.
Prominent Pinot Noir growers have been attracted to Gamay – given its synergy in style and Burgundian origins. Phillip Jones planted a few rows at his Gippsland Bass Phillip vineyard with David Lloyd following his example at Eldridge Estate on the Mornington Peninsula, as has Nick Farr at his family's By Farr vineyard in Geelong. His
Farr Rising Gamay 2021 (USD37)
is a textbook example of the variety. Juicy, fresh yet enticing and intriguing.
Given that Gamay prefers a Mediterranean climate and granitic soils, it's surprising that it's taken so long for the variety to build a workable momentum in Australia with our abundant sunshine and ancient volcanic soils. While plantings are still minute, Gamay's impetus is growing. Meadowbank and Sinapius in Tasmania, De Bortoli and Punt Road in the Yarra Valley and Lyons Will in the Macedon Ranges are all committed to the variety. New plantings in the Orange wine region look promising with Bryan Martin offering a highly slurpable version from his Murrumbateman vineyard. His
Ravensworth Charlie-Foxtrot Gamay Noir 2022 (USD27)
is scant but worth seeking out.
New Zealand Gamay
The story is similar with Pinot Noir-centric New Zealand winegrowers. Mount Edward in Central Otago has a credible Gamay but the most prominent champion is the historic Hawkes Bay producer, Te Mata. Their (surprisingly high volume)
Te Mata Gamay Noir 2022 (USD20)
is brimful of dark cherry flavors and zesty acidity – just right for barbecued lamb cutlets.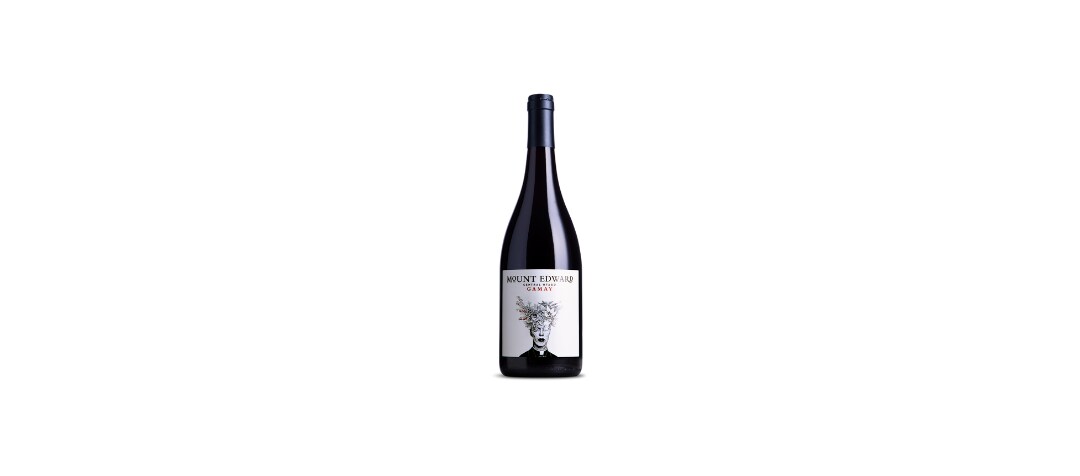 Mount Edward Gamay 2021 designed for early drink and at its best when served chilled
The final word
Gamay's fortunes are on the rise – be it Beaujolais, across France or the New World.
I'll leave the final word to Jancis Robinson MW…..
"And then there is the remarkable Sorrenberg of 
Beechworth
 in north-east Victoria, Australia which make one of the most exciting Gamays I have ever tasted."
Beaujolais (and its 10 Crus) remain the Gamay yardstick but the New World is in hot pursuit.
Just one more word
Oh, and here's a few of my favorite Beaujolais (serving temperature 14-16
°
C / 57-61
°
F):