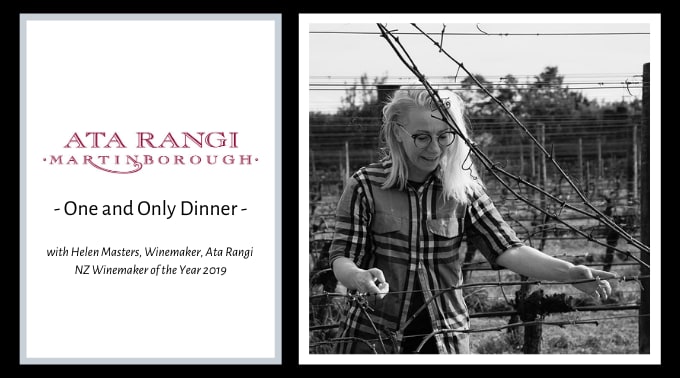 Vintec Club Private Tasting x Ata Rangi - Auckland
Event Description
Discover beautiful Pinots from Martinborough with the New Zealand Winemaker of the Year 2019.
This time, we are delighted to receive Helen Masters, Ata Rangi's Winemaker and NZ Winemaker of the Year 2019, for a degustation and dinner at The Matisse Room.
Helen's infectious passion for Pinot Noir has seen Ata Rangi become an icon of New Zealand wine.
Ata Rangi's success with Pinot Noir can divert attention from the fact she also crafts very stylish Chardonnays, aromatic Pinot Gris and textural Sauvignon Blanc!
For this dinner, Helen has designed a wine list to allow you to have a taste of all this.
The dinner will take place at The Matisse Room, one of the city's most renowned restaurant where Michelin Star Chef Josh Emmett has designed a 4-course dinner combining classic flavours and fresh seasonal ingredients.
Looking forward to welcoming you and sharing a few glasses of Ata Rangi together!
Wine List
1st Course
Ata Rangi - Sauvignon Blanc, Martinborough, 2019-01-01T13:30:00+00:00
Ata Rangi - Pinot Gris, Martinborough, 2019-01-01T18:00:00+00:00
2nd Course
Ata Rangi - Craighall Chardonnay, Martinborough, 2017-12-31T23:59:00+00:00
Ata Rangi - Craighall Chardonnay, Martinborough, 2015-12-31T13:00:00+00:00
3rd Course
Ata Rangi - McCrone Pinot Noir, Martinborough, 2014-12-31T13:00:00+00:00
Ata Rangi - Célèbre, Martinborough, 2013-12-31T13:00:00+00:00
4th Course
Ata Rangi - Pinot Noir, Martinborough, 2016-12-31T13:00:00+00:00
Ata Rangi - Pinot Noir, Martinborough, 2009-12-31T13:00:00+00:00
The 7 Commandments
of Vintec Club Private Tastings
Exclusive to Vintec Club members
Focus on cellar-release wines, dream verticals and back vintages
Relaxed and family-like atmospheres, "à la bonne franquette"
Intimate and private dining experiences
Access to rare and back vintage wines at special price
Ticket prices subsidized by the Vintec Club