You are locked in your house? You want to taste wine with friends or your wine club? Don't let Covid-19 stop you. Just like people are starting to take "happy hour" online, we can use technology to host virtual wine tastings, getting some (much needed) social interaction in the process!
But best of all, if you happen to be a big fan of a particular winery and are holding a tasting of their wines, why not reach out to them?
With a bit of luck, your favorite winemaker might also be stuck at home and happy to join for a chat! Olivier Krug, for example, sixth generation heir and director of the Krug luxury champagne house, has been popping into online Krug tastings around the world.
Wineries love to have direct contact with their consumers and now that so many tasting rooms are closed, winemaker's dinners cancelled and tasting events postponed, they are looking for new ways to interact with you too.
There are no rules to online wine tastings (except that you need wine!) but here are suggestion on how to make your own virtual wine tasting a success:
1. Decide on the crowd and format
Are you doing this with a few close friends or with a larger wine club? Do you all have a few vintages of the same wines in your cellars or should everyone order the wines to be tasted? Do you want it super casual (chat and drink, mostly) or more formal and educational? Will one person guide the tasting or are you all responsible for doing a bit of research of one of the wines or of different parts of the topic, such as the winemaker or the soil types?

These are all personal preferences. Regardless of your set-up, someone should be the designated host and be responsible for keeping the tasting moving along as well as for getting instructions to everyone in advance.
2. Choose your topic
As with any wine tasting, decide on a topic. Do you want to try the expression of Sauvignon Blanc from different parts of the world? See if different grape varietals grown in the same area show any similarities from their terroir? Try three different vintages from a single producer or three wines of the same grape, vintage and appellation but different producers?The opportunities are endless but this time, you are limited by what everyone will be able to buy or source without breaking social distancing or quarantine! Stick to 3-4 wines as it is both more expensive and more difficult to get through as many wines as you can easily do in a live tasting. It's good to have an idea about if you want to discuss and include that information in the invite.
3. Order the wine or see what's in your cellars
When you decide on the topic, you should consider how everyone will get a hold of the wine. If you all live in an area with online wine sales, perhaps pick a few (reasonably priced) bottles from an online retailer (or a winery in your country) and send everyone the links.

If there are many of you, perhaps contact the retailer/producer first to check shipping times, make sure they have stock, and perhaps ask for a discount code. Give sufficient time before the tasting to account for shipping.

If you are a small group of, say, Penfolds aficionados, perhaps you all have enough matching bottles in your cellar to pull out for the occasion? If you don't want to open a full bottle, using Coravin (LINK) is a great solution.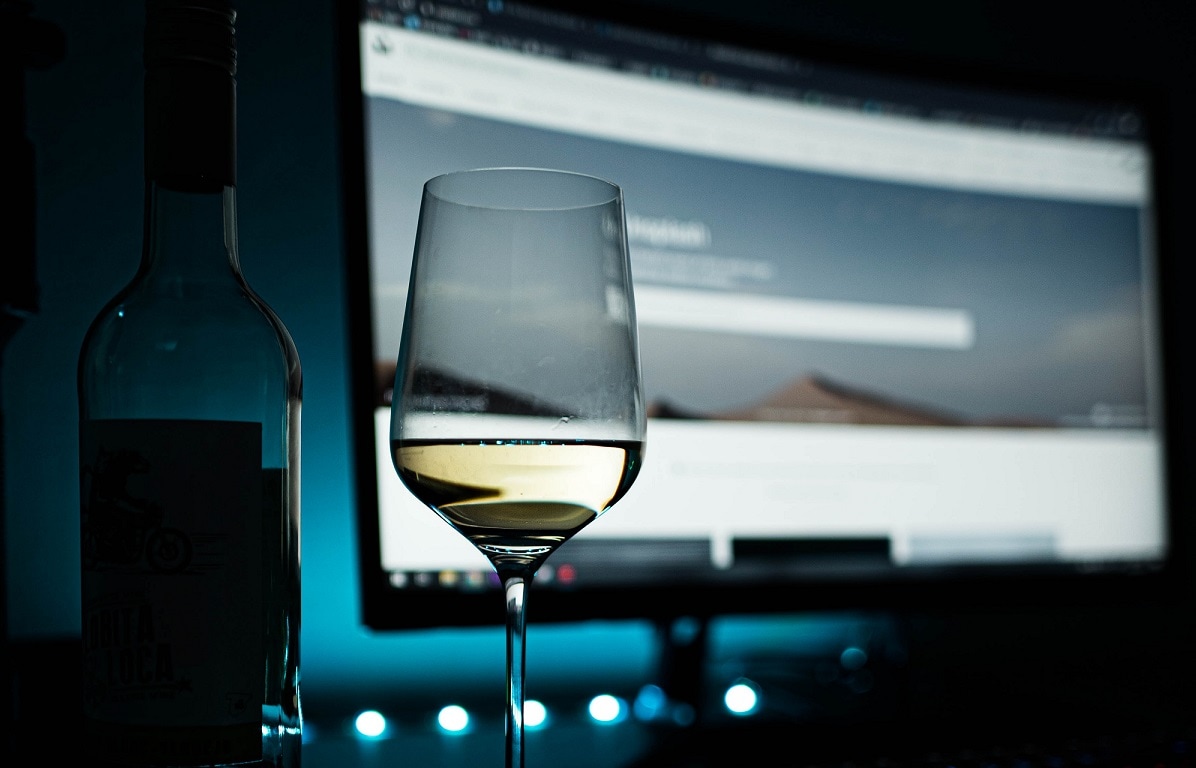 4. Pick your technology platform
There are several ways to meet virtually. Skype (now part of Microsoft Teams) is one of the early platforms. Google Hangout is free and readily available with a cap of 10 people for video, Facetime works if you are on iPhones/Macbooks (max 32 participants).

However, our platform of choice is Zoom, which has great image quality and smart features such as automatically switching the image to the person currently speaking, a "virtual touch up filter" if you want to look your best with zero effort, and a way for the moderator to switch of microphones for those who forget themselves and keep the sound on when answering their cell phone for example. (Zoom is free for meetings up to 40 minutes, for longer tastings there is a paid version or you can all click in again)

Use password protection to reduce risk of the meeting being "zoombombed" and, as part of your invite, make sure everyone downloads and tests the service before your tasting or you will spend the first half hour providing tech-support.
5. Schedule the meeting and send an invite with instructions.
Remind everyone of online meeting etiquette, such as turning off the microphone when not speaking, and not hogging the airwaves. Pants, however, are optional.

If you want, you can add instructions on correct glassware, serving temperature and aeration or anything else you would like. Perhaps a suggestion of matching cheeses and crackers to add for nibbles, if it's a less formal affair? You can add a link to our tasting sheet for printing at home too, to make it more professional!

Tell people in advance if they need to "raise their hand" before speaking (a function in most meeting platforms), which is recommended in larger groups.
"Meet", drink wine, discuss and have fun!
Just like hosting live tastings, there is a learning curve to getting things flowing smoothly. But again, just like for live tastings, the key is not to make things perfect but to have fun and enjoy both the wine and the company.
We sincerely hope that life will go back to normal as soon as possible, where we can meet friends for dinner, our wine club for tastings and make visits to our favorite winery. In the meantime, no need to put our lives on hold and feel isolated just because we are physically apart, not when there is so much useful technology!