We're welcoming World's Best Sommelier Arvid Rosengren to the Vintec family – a new recruit as wine expert and ambassador. And for the record, he's not impressed with long-winded wine lists.
Nor is he motivated by Michelin stars. In fact, some said this Swedish sommelier turned New York restauranteur broke the mould when he was crowed Best Sommelier in the World in 2016.
Rosengren had aspirations of becoming a chef from an early age yet followed an academic route before realizing life behind a computer just wasn't for him. A year spent in working in a wine shop convinced him to take the plunge and study food and wine instead.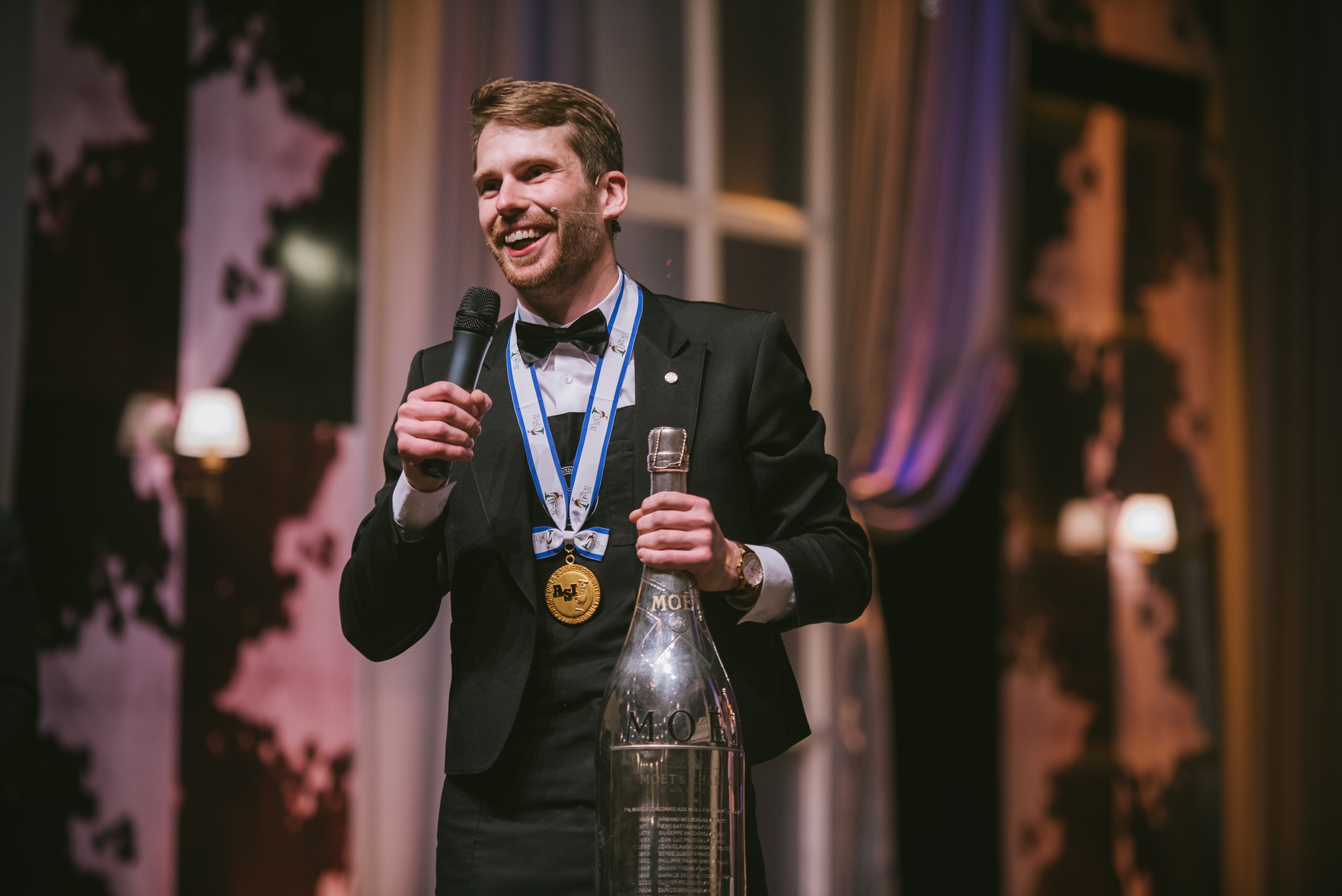 (Arvid Rosengren after taking the top prize at the World's Best Sommelier competition in Mendoza, Argentina, 2016)
He began competing in 2009 and claimed Swedish, Nordic and European Sommelier titles before going for the big one and was crowned best in the world in 2016. Today, he lives in New York and is a co-owner of Legacy Records restaurant but still travels the world when possible to widen his passion for wine.
It's been said that you were the first winner to bring a more accessible attitude and fun element to wine – true?
I think that's fair to say. People often ask about how many Michelin stars we have at the restaurant. We don't. And we don't operate like that - we want to have fun with wine. They're so locked into that mode of thinking and it took people a while to understand. I wasn't the first by any means – there are many sommelier and restauranteurs who think the same.
It might have happened first in New York, but you see the same thing in Paris and London where the greatest wines of the world are opened in very down to earth restaurants, focusing more on having fun and a welcoming atmosphere that allows everyone to participate. That's what is happening right now – it's a general trend and I think it's a good thing.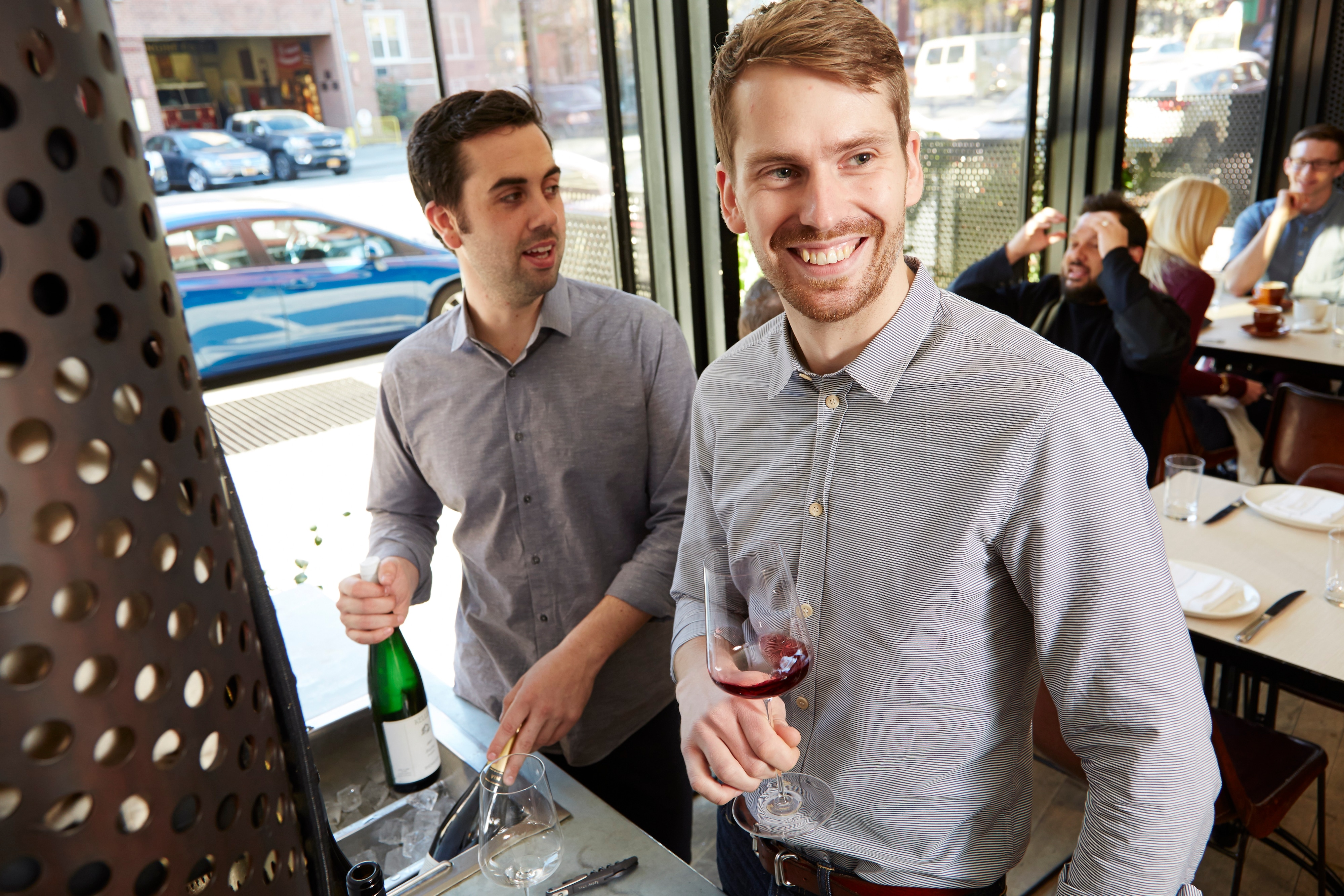 (After moving to New York, Arvid worked in Soho for a couple of years, spending most of of his time at Charlie Bird, in company of sommelier Grant Reynolds - on the left)
So, what did it take to prepare for the competition?
In the months leading up to it I was not allowed to look in my home refrigerator – I just had wine essentially. The further you get in the competition the more service is involved so I put in a lot of work on becoming more efficient - not losing time or elegance - down to the point where when I open a bottle of wine I have the same exact pattern. My hands move the same way every time, which sounds obsessive and weird and it is but that's what it takes to get to that level.
You opened the restaurant Legacy Records in NYC in 2018 – what can customers expect?
It's a high-profile a la carte restaurant but we're about creating an atmosphere where people feel welcome and can have some fun, aiming for a level of service that's disarming and friendly.
The menu is broadly Mediterranean if you have to put it into a category, leaning towards Italian. Our pasta is rolled in-house every morning, we have a bakery on site and we have one chef whose sole job is dedicated to making risotto.
(Legacy Records, NYC)
And the wine list?
My philosophy is that the era of giant wine list is over. Going out to restaurants with my wife is all too rare these days but our rule is that I have minutes to look at a wine list – and I'm a professional, I know what I'm doing! I think unless you are real wine nerd, trawling through a long wine is really useless and it's a poor use of a sommeliers' time too.
So, I keep the wine list roughly at a selection of 300. That means I don't list vertical vintages of the same wine because when a wine drinker looks at 10 vintages of the same wine, they are going to ask me which one to pick so might as well do that job for them - the one that's drinking best now is what's going on the menu.
I have about 900 wines on site and another 1,000 in offsite storage that's firmly rooted in the classics of Europe – mainly Burgundy, Champagne, the Rhône Valley, a little bit of Bordeaux, Barolo, Tuscany, southern Italy and Spain - more for younger wines.
But with the format I have, when I taste a great wine from Hungary, Greece, the US, Tasmania – wherever – I can put it on the list and have some fun with it. I use those smatterings to make it interesting and showcase what's happening in the world of wine beyond the classics.

What drives your passion for wine and what does your palette prefer?
It satisfies both my nerdy side that likes studying and trying to figure out why things are the way they are (Arvid quit studying Nanotech Engineering before venturing into wine). I can ask 'why does this wine end up tasting this way?' and dive into climate, geology and wine-making practices. For me, wine is one of the last major connections that we as consumers have to production and farming – the land - in a more romantic sense. That's what I think is really interesting about wine. Even if you buy a cheap bottle of Chablis, just looking at the label tells you the village it was made and the address of the producer.
In terms of flavor, I prefer simplicity and transparency. I've never been a fan of wines that are made to impress and punch you in the face – regardless of whether it's a 10-dollar bottle or a 100-dollar bottle – it's still in the same.

What's your best piece of advice for wine enthusiasts?
The most important thing is to keep challenging your taste. Just because you liked something five years ago, that doesn't mean you are still going to enjoy it or it's getting better. We can be obsessed by age-ability and good wine should be able to age but I don't think that everything has to reach 30 years old.
Never buy one or two bottles because you'll be attached to them and you'll never open them. At least give yourself a chance to explore your palate - otherwise you'll end up with a collection of random bottles that you cellar forever and perhaps don't even like the result.
Practically, when you start collecting, there's no way of getting around good storage. Temperature is key; keep bottles out of direct sunlight and making sure humidity is decent so corks don't dry out. I'd say temperature is number one - when wine is cooked it's just gone and there's no way of recovering from that.

And there's more from Arvid coming soon. He'll be sharing wine tips and sommelier secrets as a regular contributor to the Vintec Club.