Whether it was inspired from a memorable wine weekend getaway, discovering a new bottle at home with your honey, or the recent Zoom wine tasting you watched, there comes a time when you want to put your creative juices to work, invite over a few close friends and take your enjoyment of food, friends and wine to the next level. Here are a few simple ideas on how to Plan & Pull Off your next...
How to Throw a Wine Party
Pick a theme
Create Wine List for the dinner
Food pairing ideas
Tips, Extras
1. HOW TO PICK A THEME
It seems things tend to fall into place naturally when you have a theme in mind. Start with determining what you want to do, the interest and knowledge level of your guests, food you enjoy preparing, and most of all, the wines you like and the people you want to enjoy them with.
The focus may be on wine, but think of the food as playing a "major supporting role". Keeping it simple is a must, so let's refer back to your theme. If your theme is "Discovering South American Reds", from Argentina & Chile, you can focus on grilled meats, preferably on skewers. Think Gaucho theme with some rustic bread, cheeses, grilled veggies and possibly a hearty meat stew.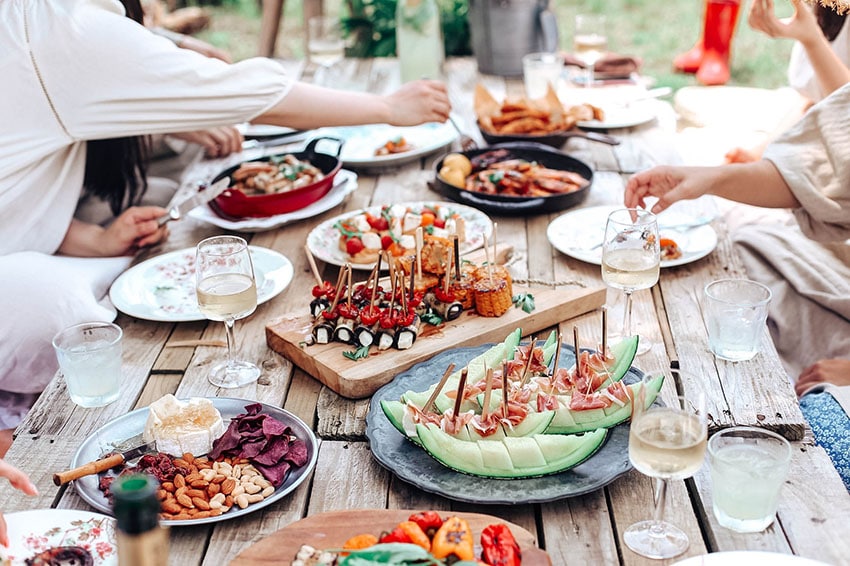 When planning a wine party, it's important to understand that your food and snacks are almost as important as the wine itself! Finding the right combination will make the entire dining experience more enjoyable. (Photo by Lee Myungseong on Unsplash)
2. HOW TO CREATE THE WINE LIST
For the wine list, plan on at least 2 glasses per person. A typical pour of 180 ml or 6 oz. should net you 4 glasses per bottle. However, since it's a "Tasting Party" you should try to maintain 60 ml or 2 oz. pours until the group has been able to taste all of the wines. Then, once your guests have discovered their new "Favorite", go ahead and "charge your glasses"!
Make your own wine list, and let your guests discover their new favorite wine. (Photo by Canva)
I'm always encouraging people to get out of their zip code, and to step out of your wine rut as well. There are so many delicious wines that you may not be familiar with just yet, but given a try you'll find some amazing new flavors and styles that can be very similar to your "old favorites" list.
If you're a Cab or a Merlot fan, then Malbec may become one of your new "go to's". Always get a couple of different labels from different areas to get a feel for the range of flavors and styles of the different varietals. Another couple of delicious, yet somewhat obscure varietals to try would be the Bonarda, a medium bodied red with light tannins. Typically not oaked, notes of cherry, plum and spice make this South American wine a Merlot lover's "new fave"!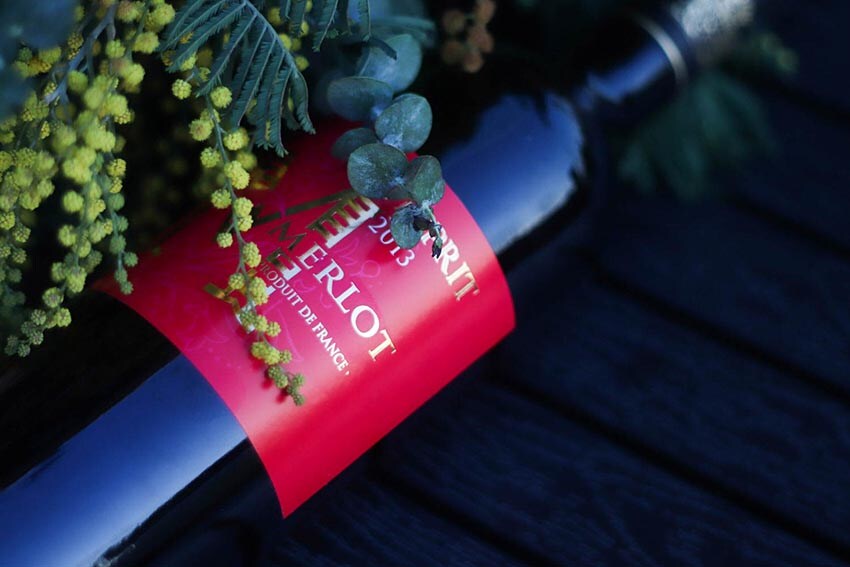 If you are a fan of Merlot, then you shoud give Malbec a try. Step out from your comfort zone and try some new wines. You can find new flavors and styles that can be very similar to your "old" favorites list. (Photo by wendymiao chen on Unsplash)
Three wines is usually a good, manageable number for a casual wine dinner. It gives you enough variety to try each and find some new favorites, without compelling you to take notes and revisit multiple times. I'd be remiss if I didn't emphasize the importance of proper serving temperatures. It's often overlooked,but will make a big difference in how well the wines show for your tasting. So, rounding out this wine list would be the Carménère.
For a long time, this grape was mistaken for a Merlot. Although it does have somewhat similar characteristics, it's distinctively different in that it offers up some tart raspberry and red fruit notes, as well as some minerality and herbal, spicy notes. A definite hit with Cab lovers and Merlot lovers as alike, cheers!
3. OTHER FOOD AND WINE PAIRING IDEAS TO EXPLORE
Location or "Regional" themes are always fun, as are food centered themes. From pizza pairings to New England Style Clambakes, your only limit is your imagination. With pizza, try blind tasting a few inexpensive vs moderately priced reds to see what the crowd deems "worthy".
Clambakes and seafood gatherings always do well to show off a selection of Chardonnays from around the world, along with some Sauvignon Blanc, and for something different try a Gavi or an Alberinio. Their bright minerality and acidity along with delicious citrus notes adds flavor to any seafood dish.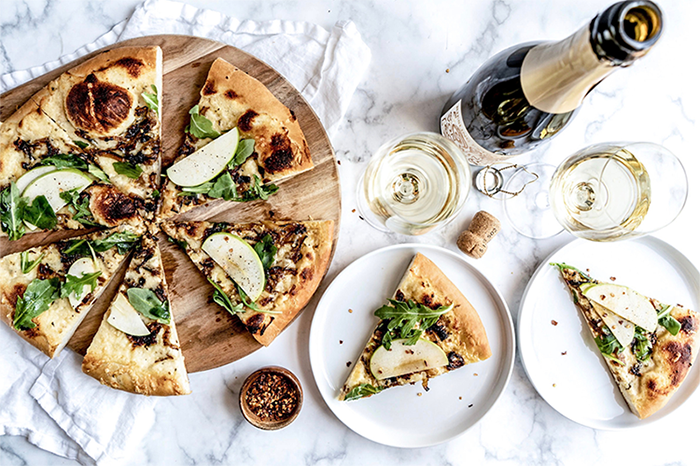 Blind wine tasting is simply that you taste several wines without knowing what wines are in the glasses. However, it doesn't literally mean tasting a wine without being able to see it, but tasting a wine with no idea of grape varieties/vintage/provenance. The wine tasting structure is essentially a guide for understanding the wine in your glass, and to reveal the identity and quality of the wine. Taste first, guess second. (Photo by Canva)
One of my favorites is to put on a "themed" buffet potluck where everyone brings a dish and a bottle of wine. Chili night, pasta night or taco night… pick something everyone will enjoy. Then, prepare to be surprised with some of the creative combos that show up. Who knew a fruity Lodi Zin will pair so well with Carnitas!
_________________________________________________________________________
More similar articles:
EXTRA TIPS TO ENRICH YOUR GUESTS EXPERIENCE
Planning a successful wine dinner doesn't have to be complicated, but don't overlook the little details that can make it a truly memorable evening with friends. The two most important features that I would recommend are Tasting Notes and Tasting Placemats. Oh, and don't forget a "dump bucket" for those who choose not to finish their taste.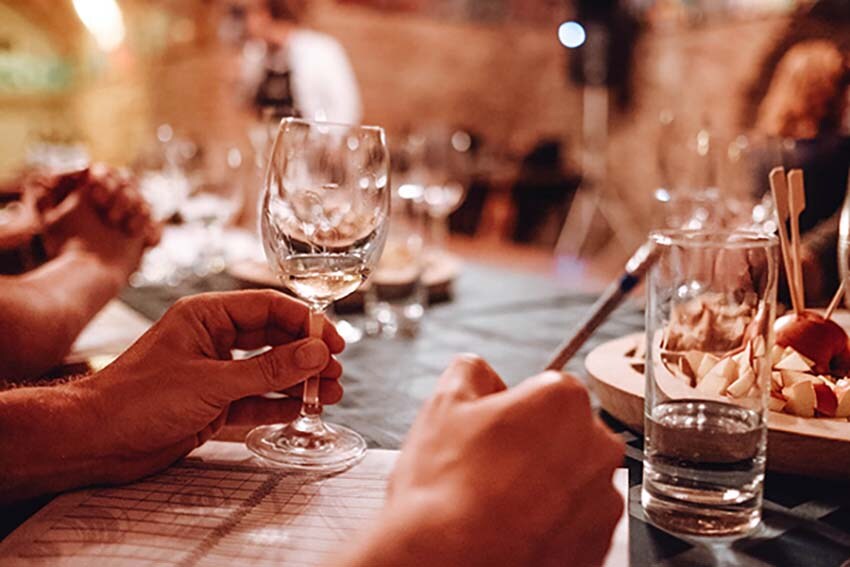 How to take wine tasting notes: Wine details: such as producer, the wine's full name, the region of origin, grape variety or varieties, price and alcohol percentage. Appearance. Aromas/Flavors. Structure. Finish, and then overall Impression/rating. (Photo by Canva)
The notes can be as simple as copying the description on the wine's back label, to searching "wine tasting notes" for specific wines and regions. The notes are a good reference guide not only for experienced enthusiasts, but informative guidelines for those seeking to learn more and get a deeper understanding of what to look for in the wines and the pairings.
The placemats are simply a convenience that allows you to have three or more glasses of wine going at the same time without mixing them up. It's also a great place to scribble some spontaneous tasting notes while you swirill, sniff and sip. These can be a simple homemade version, or there are plenty of printable templates online. Just search for Wine Tasting Placemats for some great ideas.
OENO by Vintec is a free app that can provide users with rich information about the wine, grape varietal, region, etc. as well as expert advice on how to prepare your bottles for drinking.
As the host, you'll want to spend a few moments to welcome your guest and briefly explain the concept, the theme and how your tasting will proceed. It doesn't have to be complicated, just let them know you'll be pouring small pours initially, of all of the wines you'll be tasting, and the placemat is their guide to what wines they'll be tasting, and the tasting notes will be reference to varietal, vintage, region, aromas, and flavors they may encounter on this wine journey.
As I like to say, "life's too short for bad wine", so encourage your guests to keep an open mind and give it some time when trying a new or unfamiliar wine, however, don't hesitate to "dump" and move on if it's not for them.
I hope this helps you when planning your next wine dinner, and let us know in the comments how your event turned out. Till next time, Cheers!