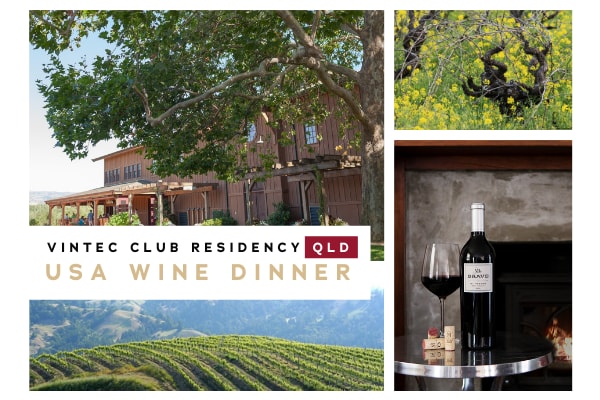 Vintec Club Residency QLD - USA Wine Dinner
Event Description
Dear Vintec Club QLD Members,
After a memorable dinner on Bordeaux wines, the Vintec Club Residency at Montrachet continues its tour around the wine world with a stop at the United States. Birthplace of the 'New World' wines, the US offers great expressions of international varieties, led by its two main regions, California and Oregon. Join us as Sommelier Alexis Rojat has curated a very comprehensive selection of what the US has best to offer: Californian oaky & creamy Chardonnay; Oregon Pinot Noir and of course, Napa Valley Cabernet Sauvignon. We will conclude the night with a celebration of California's 'own' grape variety: Zinfandel.
Chef Shannon Kellam has designed a delicious 4-course menu to perfectly complement the wines.
There are only 12 seats available for this very rare wine dinner, not to be missed. Secure yours now!
Wine List
On Arrival
Champagne Perrier Jouet Grand Brut NV
1st Course
2017 La Crema Chardonnay (Russian River Valley)
2017 Sandhi Chardonnay (Santa Rita Hills)
2nd Course
2018 Dr Edge Pinot Noir (Willamette Valley)
2019 Hirsch 'San Andreas Fault' Pinot Noir (Sonoma Coast)
3rd Course
2015 Ramey Cabernet Sauvignon (Napa Valley)
2016 Mount Brave Cabernet Sauvignon (Mt Veeder)
4th Course
2012 Robert Biale 'Rocky Ridge' Zinfandel (Napa Valley)
2018 Ridge Vineyards 'Geyserville' Zinfandel (Alexander Valley)
The 7 Commandments
of Vintec Club Private Tastings
Exclusive to Vintec Club members
Focus on cellar-release wines, dream verticals and back vintages
Relaxed and family-like atmospheres, "à la bonne franquette"
Intimate and private dining experiences
Access to rare and back vintage wines at special price
Ticket prices subsidized by the Vintec Club