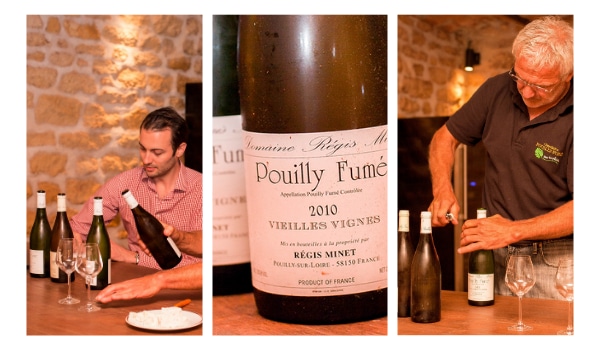 Vintec Club @ Home Tasting - A Loire Valley Exploration
Event Description
Dear Vintec Club Members,
We're thrilled to invite you to our next Vintec Club @ Home Tasting focusing on the most widespread viticultural area in France, the Loire Valley!
Vintec Club partner and friend, Alexandre Rougeot, CEO of Clos Cachet with whom we opened the year with a series of dinners focusing on wines from Jura (FRA), will be this time hosting a virtual tasting disclosing the particularities of this region that gains more and more interest among the wine lover community.
Many young vineyards are planted around the Loire Valley and winemakers are achieving true prowess, offering little gems that we will make you discover during the session.
We will get a snippet of this region by tasting 2 wines:
Domaine Régis Minet - Pouilly-Fumé 'Vieilles Vignes' 2019: a beautiful Sauvignon Blanc from understated great producer, Régis Minet;
Domaine Le Petit Saint Vincent Saumur Champigny 'Pélo' 2018 from winemaker Dominique Joseph who produces beautifully dense, vibrant Cabernet Franc.
You can complete as well your wine collection with a wine to cellar: a single-vineyard from Domaine Le Petit Saint Vincent "Les Poyeux" 2015. Cellar up to 2028+.
IMPORTANT: Vintec Club @ Home Tasting are FREE to join. You can order your wine bundle to fully enjoy the experience - not mandatory but strongly recommended!
Wine List
Tasting Bundle
Domaine Régis Minet, Pouilly-Fume 'Vieilles Vignes', Loire Valley, 2019
Domaine Le Petit Saint Vincent, Saumur-Champigny 'Pelo', Loire Valley, 2018
Wine to Cellar
Domaine Le Petit Saint Vincent, Saumur-Champigny 'Les Poyeux', Loire Valley, 2015
The 7 Commandments
of Vintec Club Private Tastings
Exclusive to Vintec Club members
Focus on cellar-release wines, dream verticals and back vintages
Relaxed and family-like atmospheres, "à la bonne franquette"
Intimate and private dining experiences
Access to rare and back vintage wines at special price
Ticket prices subsidized by the Vintec Club