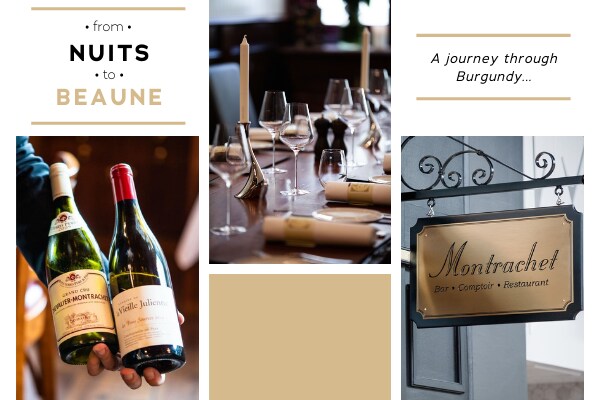 Event Description
Dear Vintec Club Members,
We hope you're doing well in these most uncertain time. We're delighted to invite you to our next Vintec Club Private Tasting in Brisbane discovering Burgundy from North to South. A wine dinner celebrating Burgundy could only happen at Le Montrachet Restaurant, where you will be welcomed by Sommelier Alexis Rojat, rewarded once again for his wine list by the Australia's Wine List of the Year Awards in 2020.
Alexis has curated a special wine list, unveiling new generations of winemakers pushing limits of quality throughout the region: from Chablis to Côte de Beaune, passing by Côte de Nuits.
Champagne Perrier-Jouët on arrival and back vintages will be poured as well in true Vintec Club style.
We look forward to welcoming you,
The Vintec Club Team
Wine List
On Arrival
Champagne Perrier-Jouët Grand Brut NV
1st Course
2018 Domaine Gérard Duplessis Chablis 1er cru 'Montmains'
2015 Domaine Vocoret & Fils Chablis Grand Cru 'Blanchots'
2005 Domaine Laroche Chablis Grand Cru 'L'Obédience'
2nd Course
2017 Domaine Jean Marc Pillot Puligny-Montrachet 'Les Noyers Brets'
2007 Domaine Bruno Colin Chassagne-Montrachet 1er cru
3rd Course
2017 Domaine Geantet-Pansiot Gevrey Chambertin
2011 Domaine Michel Magnien & Fils Morey Saint Denis 1er Cru 'Les Millandes'
4th Course
2017 Domaine Michel Noëllat Savigny-lès-Beaune
2006 Domaine Ballot-Millot Pommard 1er Cru 'Rugiens'
The 7 Commandments
of Vintec Club Private Tastings
Exclusive to Vintec Club members
Focus on cellar-release wines, dream verticals and back vintages
Relaxed and family-like atmospheres, "à la bonne franquette"
Intimate and private dining experiences
Access to rare and back vintage wines at special price
Ticket prices subsidized by the Vintec Club