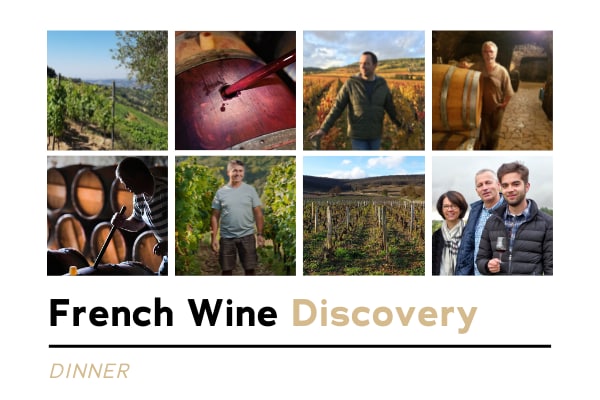 French Wine Discovery with Bhatia Dheeraj
Event Description
Dear Vintec Club Members,
We're delighted to invite you to a dinner discovering the great variety of French Wine. From Provence to Loire Valley, passing by Rhône Valley, Bordeaux and Burgundy, join us as we get to know some of the rising star winemakers, producing wines with depth & elegance that have caught wine lovers' attention recently. A great supporter of Vintec and brilliant Sommelier Bhatia Dheeraj will be your host. Bhatia was awarded Australia's Best Sommelier in 2019 and has an intimate knowledge of French Wine. We will be pouring Champagne Perrier-Jouët on arrival in true Vintec Club style.
A French wine dinner could only happen in a French restaurant: La Buvette will welcome you with 4-course dinner - matching specifically with the wine list.
We look forward to welcoming you,
The Vintec Club Team
Wine List
On Arrival
Champagne Perrier-Jouët Grand Brut NV
1st Course
Château La Valetanne Côtes de Provence La Londe Rosé, Provence, 2019
Clos Saint Vincent Bellet Rosé, Provence, 2019
2nd Course
Domaine de la Taille aux Loups Montlouis sur Loire Haut du Husseau, Loire Valley, 2018
Emmanuel Giboulot Côte de Beaune Combe d'Eve , Burgundy, 2014
3rd Course
Françoise et Denis Clair Santenay 1er Cru Clos de Tavannes, Burgundy, 2016
Olga Raffault Chinon Les Picasses, Loire Valley, 2009
4th Course
Emmanuel Darnaud Saint Joseph La Dardouille, Rhône Valley, 2015
Château Clarisse Puisseguin Saint Emilion Vieilles Vignes, Bordeaux, 2015
The 7 Commandments
of Vintec Club Private Tastings
Exclusive to Vintec Club members
Focus on cellar-release wines, dream verticals and back vintages
Relaxed and family-like atmospheres, "à la bonne franquette"
Intimate and private dining experiences
Access to rare and back vintage wines at special price
Ticket prices subsidized by the Vintec Club