In 2004, the film adaptation of a little-known novel called Sideways made a splash that soaked the globe in California Pinot Noir. Critics raised their glasses, and drinkers and developers alike flocked to the film's setting of Santa Barbara County, 90 miles northwest of Los Angeles. They quested for the grape that protagonist Miles, played by Paul Giamatti, called "brilliant and thrilling and subtle and ancient". Yet the region's Syrahs may be its best-kept secret....
Compared to the Napa Valley, which, to many, is synonymous with California wine, Santa Barbara is an oenological infant. Modern viticulture began here just 50 years ago. The area's signature, however, is millions of years old. Once upon a time, tectonic activity snatched a piece of present-day Los Angeles, spun it 90 degrees and carried it northwest. New mountains formed, and a unique pocket of ocean-exposed valley emerged. Santa Barbara is now the only transverse (east-west) growing region on the Pacific Coast of the Americas.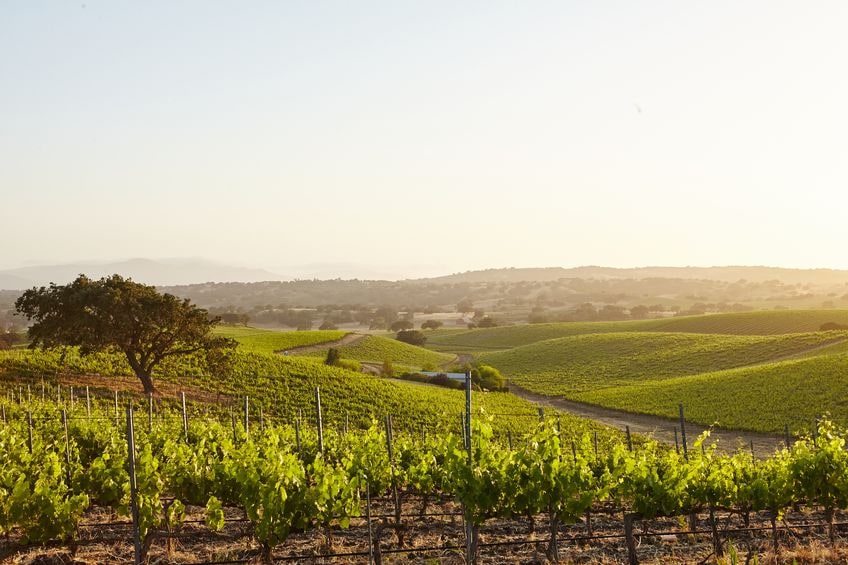 Vineyard in Solvang, Santa Barbara County, California.
These geological scars inspired grape growers and sailing buddies Richard Sanford and Michael Benedict. Benedict drove the 30-mile width of the valley with a thermometer out the window and noticed the temperature increased one degree Fahrenheit per mile east. What's more, the sea's influence reached far into the open valley, keeping nights cool and crisp. That drive yielded not only their namesake vineyard, now prized for its Burgundian impressions of Pinot and Chardonnay, but the modern era of Santa Barbara wine. What's left out from that story is the very same year, 1971, a grower named Charlotte Young planted Syrah to the east. Her Ibarra-Young vineyard sparked Santa Barbara Syrah. Within a decade the grape littered the county.
In fact, Santa Barbara is home to Ballard Canyon, the only
American Viticultural Area (AVA)
dedicated to Syrah. This hilly, moderate region flecked with limestone is building a case for its terroir, and its flagship variety, with marine soils, Rhône-like winds and unique wines. Not to mention clever marketing. As in France's Jura or Châteauneuf-du-Pape, grower-producers use a custom glass mold to emboss the Ballard Canyon name on estate bottlings. And this AVA isn't alone in growing delicious Syrah - in our changing climate, the Californian spirit of westward expansion remains alive and well. Now, growers are extending further towards the ocean, pushing the boundaries of where the variety can provide ripeness in search of distinction.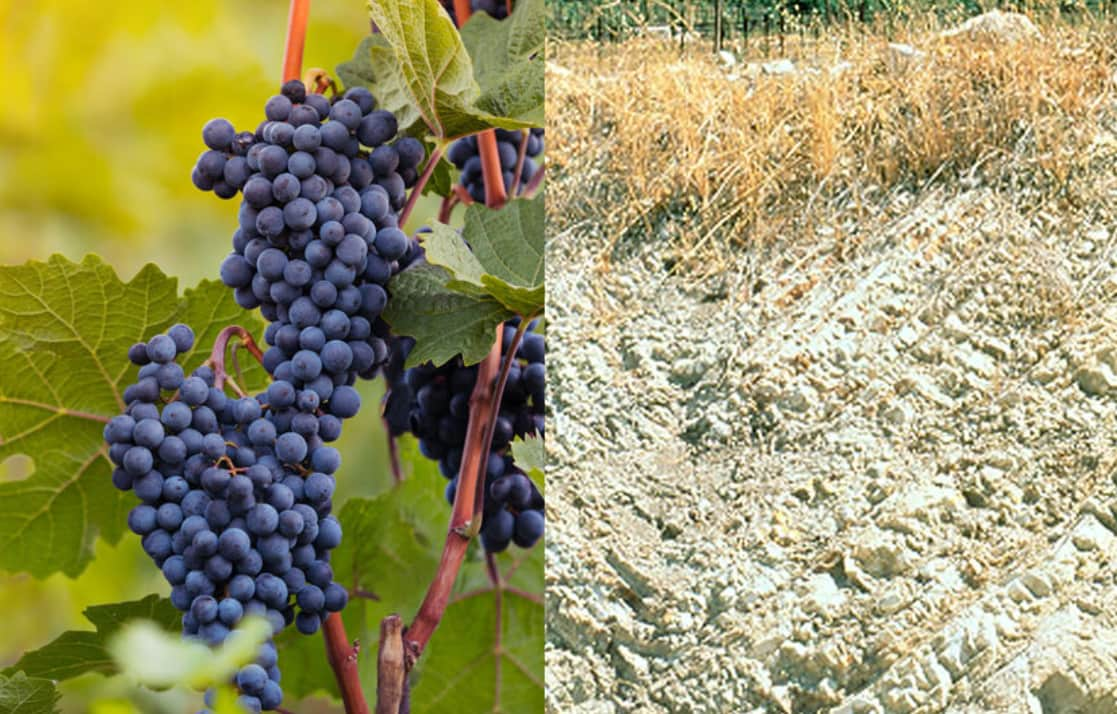 Syrah in Santa Barbara grows on rocky soils with a cool climate, which is the ideal condition for this grape variety to perform well.
Will Syrah take the mantle as Santa Barbara's signature grape? Given the stratospheric rise of Pinot Noir and Chardonnay over the past two decades (clobbering any other wines in both output and sales), it's unlikely. But these producers are making a case f
or
Syrah
to s
hare the stage. The grape is proving it performs well in a number of Santa Barbara County's fog-swept viticultural venues.
Let the following standout producers and wines guide you to the newest home of the sweetheart of the Northern Rhône!
---------------------------------------------------------------------------------------------------
More interesting articles:
Wine Getaway Weekend: Nape Valley
Stolpman Vineyards
Perched atop one of the few limestone o
utcroppings in coastal California, we find Stolpman Vineyards. There's simply no discussion of Santa Barbara Syrah without a reference to Stolpman. The family venture was key to the establishment of Ballard Canyon, and it continues to lead the way with own-rooted vines, Côte Rôtie-style trellising and heritage clones. From their carbonically-macerated, sulfur-free
So Fresh
bottlings to more structured estate cuvées, Stolpman is meeting the changing market with an array of Syrah styles.
Ironic, then, that founder Tom Stolpman was so committed to grape growing that for nearly a decade the label produced not a single drop of wine. He wasn't initially sold on Syrah either. While some plantings date back to 1993, he gave varieties like
Cabernet Franc, Merlot, and Nebbiolo
credence before later grafting them over to Syrah, which is now the center of Stolpman's entire program. And for good reason. The stylistic variety and consistency of quality are unmatched. Central to these wines is acidity and
liveliness
that speak to their limestone upbringing.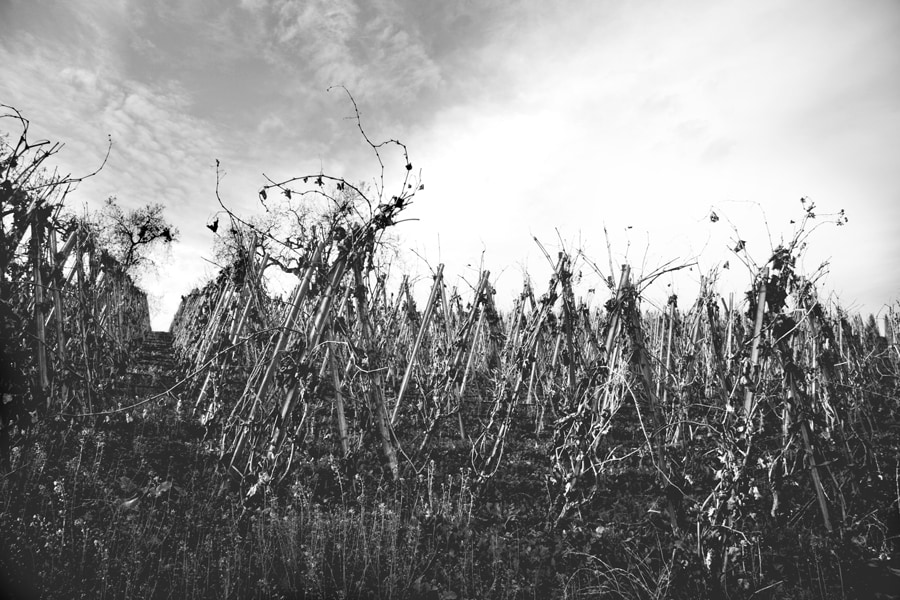 Stolpman vineyards are located on the hills of California's Central Coast, on a rare limestone outcropping naturally suited to grow Syrah.
Crunchy Rôastie
(US $24):
T
he youngest of all Stolpman cuvées, this Beaujolais
nouveau-style wine is a play on crunchy, sulfur-free Syrah, co-ferm
ented with Viognier in Côte Rôtie style. Two distinct bottlings claim two labels – a black and white label bottled just after the new year, zippy with blue fruits, violet candy and mouth watering acidity, and a rainbow label bottled in June, lending more peppered jerky and tannin to the above. The co-ferment dons both wines an intoxicating bluish-purple color. Refreshing summer reds to drink young and well-chilled. Yes, it can cuddle up next to that Sancerre or Riesling right up until opening! Best within two years upon release.
2020 Syrah So Hot
(US $42):
Another member of the
So Fresh
series, the dash of Viognier from
Cru
nchy
is absent in this cuvée and as such is deeper in color, aromatics and flavors. More brooding, animal and saline in comparison to the floral and peppery punctuations of the co-ferments, this wine shows greater concentration with ample acidity all the same. Maybe the perfect introduction to carbonic wine for a traditional Syrah drinker. Despite the name, this wine is also best enjoyed chilled and in its youth, though its structure invites one to taste again and again as it comes to temperature.
2020 Estate Syrah
(US $32):
The entry-level wine in Stolpman's traditional Syrah program. This estate Syrah is cured and dark fruited, with bacon fat, boysenberries, saddle leather and lavender. Richer than the
So Fresh
wines, there's a pleasant, dank edge to keep supple fruit and tannins in check. Ballard Canyon tattoos both the bottle and the palate. A solid statement, especially at this price point. Classic Santa Barbara Syrah to be enjoyed above cellar temperature (60 degrees Fahrenheit, or 16 degrees Celsius) within the next ten years.
Melville Winery
A Pinot house with front-row seats to the post-
Sideways
boom, Melville is nestled on the gentle, sandy slopes of the northern Santa Rita Hills AVA, about halfway between Ballard Canyon and the Pacific Ocean. It's not just the sand betraying this beachy terroir – here we
swap Stolpman's oak trees and golden ridges for hillsides blanketed with fog and eucalyptus, a waft of agriculture blowing every now and then. This appellation sees low temperature variation and a uniquely long growing season. It's Pinot country through and through. Nonetheless, Melville is to Santa Rita Hills Syrah what Stolpman is to Ballard Canyon. Planting Syrah shortly after those mid-1990s Stolpman vines, founder Ron Melville shared Tom Stolpman's trail-blazing attitude and reluctance to take the step from growing grapes to making wine. Yet he too became convinced that estate wines were the way forward, and production began with gusto in 2000. Initially crafted in a riper style, recent Melville Syrahs see less new oak and more whole-cluster inclusion. They are now emblematic of the region.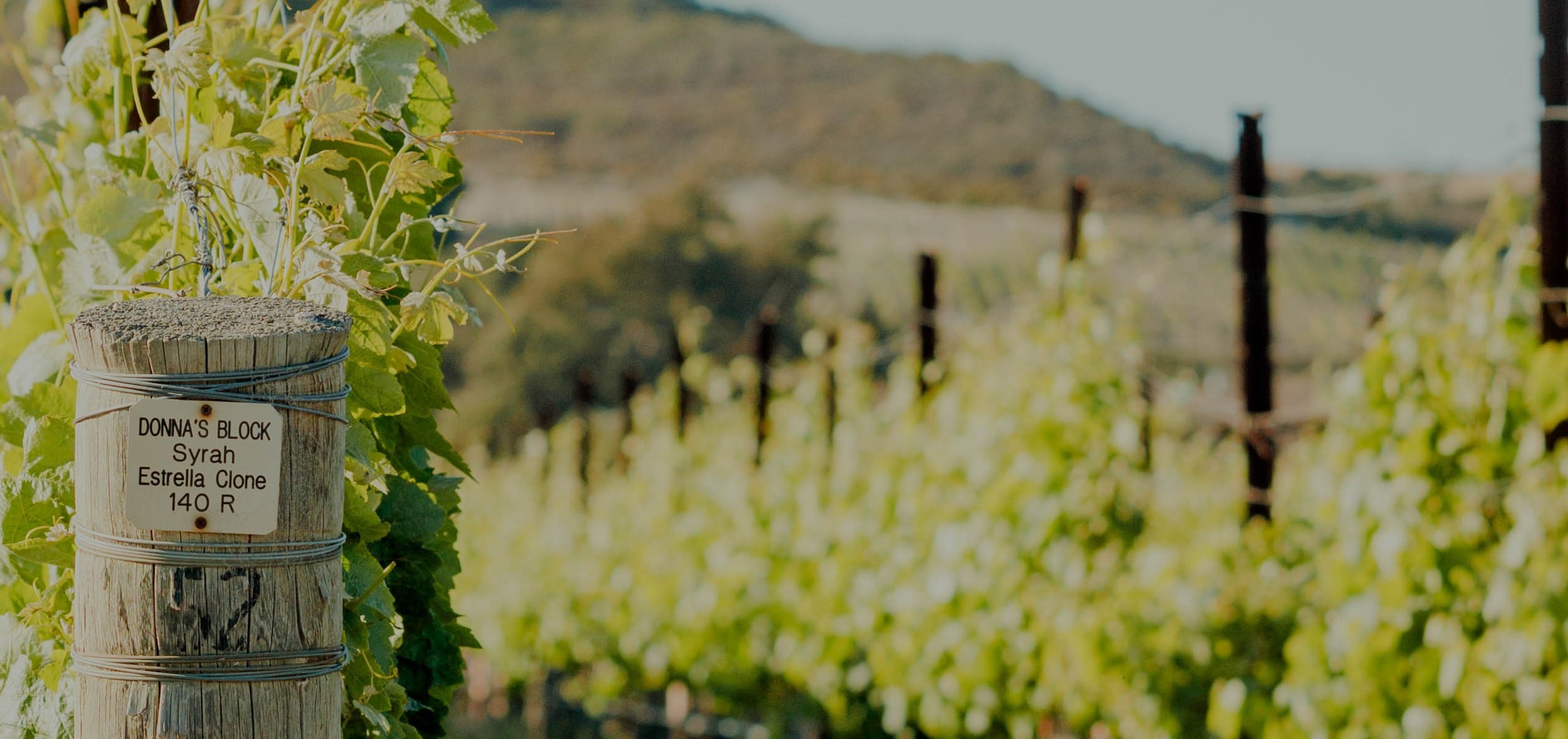 Located in the heart of the Sta. Rita Hills appellation in Santa Barbara County, Melville currently has 120 acres under vine.
2019 Estate Syrah
(US $40):
Sourced from across the Santa Rita Hills estate, black pepper dust and herbal stemminess lead into berry compote and iron. Restrained on the palate - the cool climate and airy, sandy quality of this side of the Santa Rita Hills is tangible here. Whole-cluster and sand-bred grainy tannins linger. A leaner style to Ballard Canyon that still feels like tried and true Syrah. Light and fresh, its acidity will likely carry the bottle through 2030.
2020 Estate Syrah, Donna's Block
(US $62)
:
A similar profile to the estate Syrah, but dialed up a notch. Olive brine and floral tones atop cracked black pepper and dark-chocolate covered blueberries. Both richer and more perfumed than the estate Syrah. Pine and garrigue add gorgeous aromatics, and the palate is lush with herbs and salinity. A clear and definitive statement of Santa Rita Hills Syrah. Showing well now, sure to age gracefully over the following ten years, perhaps longer. Both Melville Syrahs will perform best at 16 degrees Celcius.
Piedrasassi
In contrast with three grower-producers
in this article, Piedrasassi is a strict negociant label, focusing on Syrah from the Santa Rita Hills as well as the Santa Maria and Arroyo Grande Valleys further east and north. The brand was founded in 2003 by Peter Hunken and star winemaker Sashi Moorman, whose hand guided Stolpman winemaking for over a decade. Moorman is also known as the winemaker for internationally lauded Domaine de la Côte, Sandhi and Evening Land wineries. Still, he is as entrenched in Santa Barbara Syrah as a kid's hand in a cookie jar.
The name references the rocky soils from which the winery sources grapes, hailing from some of the most esteemed vineyards on this coastline. Moorman is hyper-selective of his sites, chasing cool-climate vineyards with own-rooted vines and picking earlier than his peers for more floral, less fruit-driven expressions. The results speak for themselves - these wines only see whole-cluster fermentation, neutral barrels and minimal sulfur, and as such are often more delicate in aromatics and lithe with acidity. From rocky terroirs to Old World production techniques, they may be the closest Southern California comes to the Northern Rhône.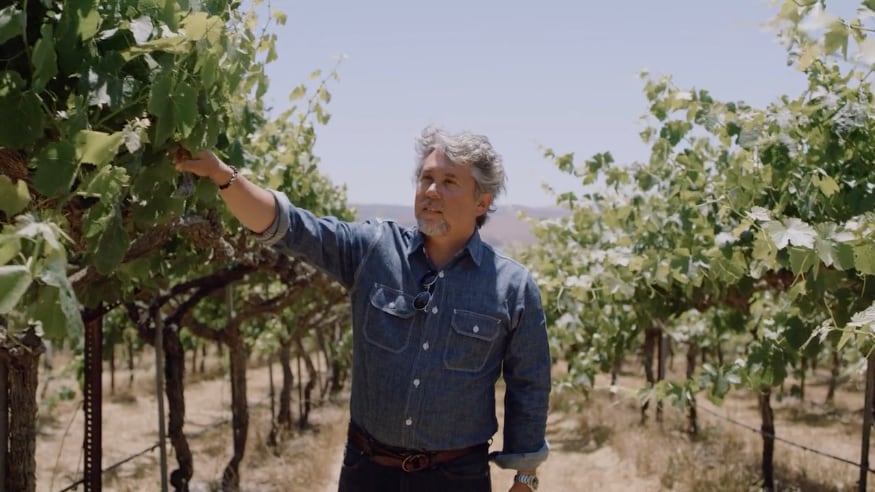 Piedrasassi Winemaker Sashi Moorman at Bien Nacido Vineyard.
2018 Santa R
ita Hills Syrah
(US $50):
Laced with beef
jerky and black cherries, this cuvée is sourced from two Santa Rita Hills vineyards, Patterson and Casa Cassara. Patterson Vineyard lends distinct, intense black pepper, leathery cedar and currants, making for a powerful nose. Yet the palate is mineral and streamlined, with acidity lifting a concentrated and dense flavor profile that settles on walnutty tannins. The most structured and intense Piedrasassi Syrah. Drink through 2032.
2019 Bien Nacido Vineyard Syrah
(US $50):
This wine hails from perhaps the region's most revered vines, planted shortly after Sanford & Benedict and Ibarra-Young. Translating to "well-bred", the Bien Nacido Syrah is decidedly sanguine and intoxicating, rife with smoked meats, iodine and herbs de Provençe. The palate contributes red and blue fruits and more savory depth that finishes with fine, airy tannins carrying the flavors in a tight balancing act. Equally delicate and intense, spiced and fruity, restrained and generous, it will unfurl much more with time. One can look forward to more than a decade of enjoyment.
2020 Rim Rock Vineyard Syrah
(US $55)
:
Youthful and bright, minty sage meets fresh roses and brambly berries on the nose. Distinctly lighter than the Santa Rita Hills and Bien Nacido Syrahs, raspberries and pepper coat the perfume and send the palate through contours of fruit and spice and rockiness that nevertheless reach a clear focal point. Acidity braces the rollercoaster all the way through. Indeed, as the most coastal of any Syrah featured, grown about two miles from the ocean, its freshness and saline minerality are undeniable. As such it can be enjoyed in its youth or with age just the same. A bottle worth cellaring into the 2030s. Piedrasassi Syrahs are most expressive above cellar temperature, though the Bien Nacido and Rim Rock in particular will reveal greater nuance with time in the glass.
Holus Bolus
Few Masters of Wine actually make what they study. Nor do many plant vines, especially Syrah, in some of the harshest conditions imaginable. But for Amy Christine MW and husband Peter Hunken, the important things in life are done
holus bolus
, or altogether, entirely, without modification. Hunken - Moorman's co-founder in Piedrasassi as well as Holus Bolus - is himself a Syrah tactician, and alongside Christine he is crafting a staggering portfolio of single-vineyard Syrahs from the Santa Rita Hills and Santa Maria Valleys. This includes bottlings of their Joy Fantastic vineyard just nine miles from the ocean.
Planted on steep, diatomaceous hillside at the edge of ripeness even for Pinot Noir, these wind-smacked vines on chalky soils offer a glimpse into the extremes, and perhaps the future, of Syrah. High-density, low-yielding, own-rooted vines speak to Hunken and Moorman's
simpatico
style (the two amicably parted ways in 2008 when Moorman retained Piedrasassi and Hunken kept Holus Bolus), but these estate wines are leaner and more saline, with few comparisons. Alongside richer cuvées, the Holus Bolus lineup provides a Syrah-facilitated crash course on Santa Barbara's diverse climes.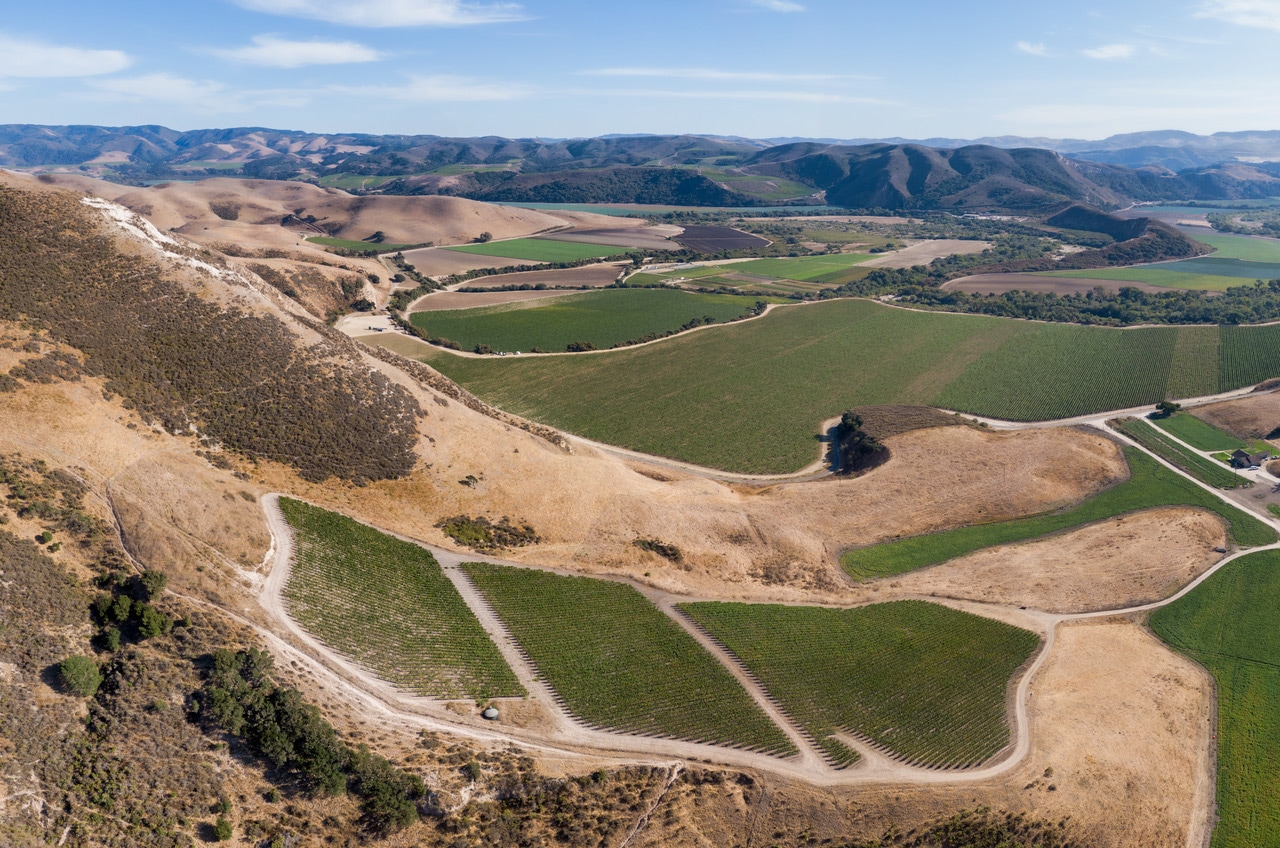 Holus Bolus Joy Fantastic vineyard.
2020 Joy Fantastic Vineyard Syrah
(US $50):
Coming from the cool, western slopes of the Joy Fantastic Vineyard in the Santa Rita Hills, this boundary-pushing planting boasts punchy blue fruits and olive brine meeting lilac on a tight and lifted nose. The palate is more savory and spiced, with peppery bacon fat and easygoing texture. Light-bodied and fresh with ripping acidity, it's clearly quite cool-climate Syrah, and a unique expression at that. Delicious now and best enjoyed through 2030.
2019 Holus Bolus Franc de Pied Syrah
(US $40)
:
While not labeled a vineyard-designate, this bottling hails from John Sebastiano Vineyard, a famous spot for Syrah on the northeast corner of the Santa Rita Hills that's known for a strong black pepper quality. Sourced from own-rooted, or
Franc de pied
(french-footed) vines, the wine shows a darker fruit profile that lends friendliness to more sharp elements of tangy pepper and graphite. Lifted and bold, this is coastal California with a Cornas edge. Drink through the next ten years.
2020 Holus Bolus Presqu'ile Vineyard Syrah
(US $45):
Sourced from Presqu'ile Vineyard at the southwestern edge of the Santa Maria Valley, this bottling showcases a different side of Santa Barbara County. The cured meats and purple berries that proliferate other bottlings are here, though seasoned with gobs of cracked black pepper. This marriage of berry, savory and spice is a happy one. Gritty tannins persist on a broad yet zippy palate. Perhaps the most well-balanced of the three, it's readily accessible but worth laying down into the following decade. Holus Bolus Syrahs will likewise drink best
at
16 degrees celsius.