After initial decision on what grape variety to chose, Erica returns to Sonoma for the harvest season. Between hard work on the field and heated winemaking philosophy discussions, she considers the risk of taking a more "natural" path. This is part 2 of 5 in this Winemaker Series recounted by Erica Löfving.
It had only been a week since I landed in San Francisco and drove up to Kunde vineyard in Sonoma, to try my hand at being a winemaker. "My" petite sirah grapes, which I had chosen from a west-facing hillside between a few rows of cabernet sauvignon, were already ripe when I landed, and it was time to harvest. The chief winemaker, Zach, and I grabbed an intern and pruning shears and stacked plastic crates on the pickup truck; I was out the door as soon as I had laced up my work boots.
Picking these grapes were child's play compared to harvests I've seen in France. The birds had nibbled at a cluster here or there, but for the most part, the California sun and a light breeze provided us with grapes that were healthy, ripe, and absolutely wonderful.
Since California is known for its chardonnay, cabernet sauvignon, and zinfandel, Erica opted to go for an underdog, petit syrah. It's a red grape that can stands well California's strong sun and builds great structure.
The first time I visited Zach at Kunde, a month or so before the harvest, I got the feeling he had the same approach to winemaking as I did. That he wanted to use as few additives and manipulations as possible. What I would quickly come to learn was that "as little as possible" means different things depending on where you are. In the New World, recipe wines are the norm and anything more "natural" than that is considered "minimal intervention". My standard was set by small family winemakers in France and Italy who either couldn't afford technology, didn't want it, or merely followed the technique of generations that came before. We used the same words but meant different things. As soon as we had dumped the first grapes into a bin (a large plastic vat for fermenting small batches of wine), our first arguments began. The assistant winemaker, Blair from New Zealand, educated in Australia, gave me the feeding schedule for the grapes. Yeast, yeast nutrients, acid, and water were to be added. I refused.
These grapes had come in sweet, already at 25 brix. Brix is the unit of measuring sugar content in the grapes and predicts the alcohol levels of the wine, measured both by sampling a number of grapes in the vineyard, and then more accurately assessing the entire batch after harvesting. At high brix, acid may disappear from grapes, so that needs adding, both to balance the taste of the wine but also since higher acid levels means lower risk of bad bacteria in the mix. Additionally, water can be added to lower the maximum alcohol level. The yeast naturally occurring on the grapes rarely brings the wine over 13-14%, although in California, wines at 14-16% natural alcohol are common. If the fermentation stops before the sugar is all used up, there is room for harmful bacteria and molds, and then water must be added. Each step of the process is complicated and requires a fine balance the whole way to create the bottle of wine that ends up on your table.
For all these reasons, and many more, winemakers at larger houses follow a strict protocol to ensure an even and safe fermentation. The more efforts you put into safeguarding the fermentation and ensuring wine stability, the more you can control the wine at the end of production. The above methods were mostly designed at UC Davis and at schools and vineyards in warm "new world" regions such as Australia and New Zealand. On the other hand, old ways of making wine (grapes, fermentation vats, grape press, time, patience, perhaps slightly less clean basements) result in wines with a little more personality. The molds and bacteria from the area can even become a part of the wine's character, and the variations between batches and vintages is generally significant, something that appeals to me.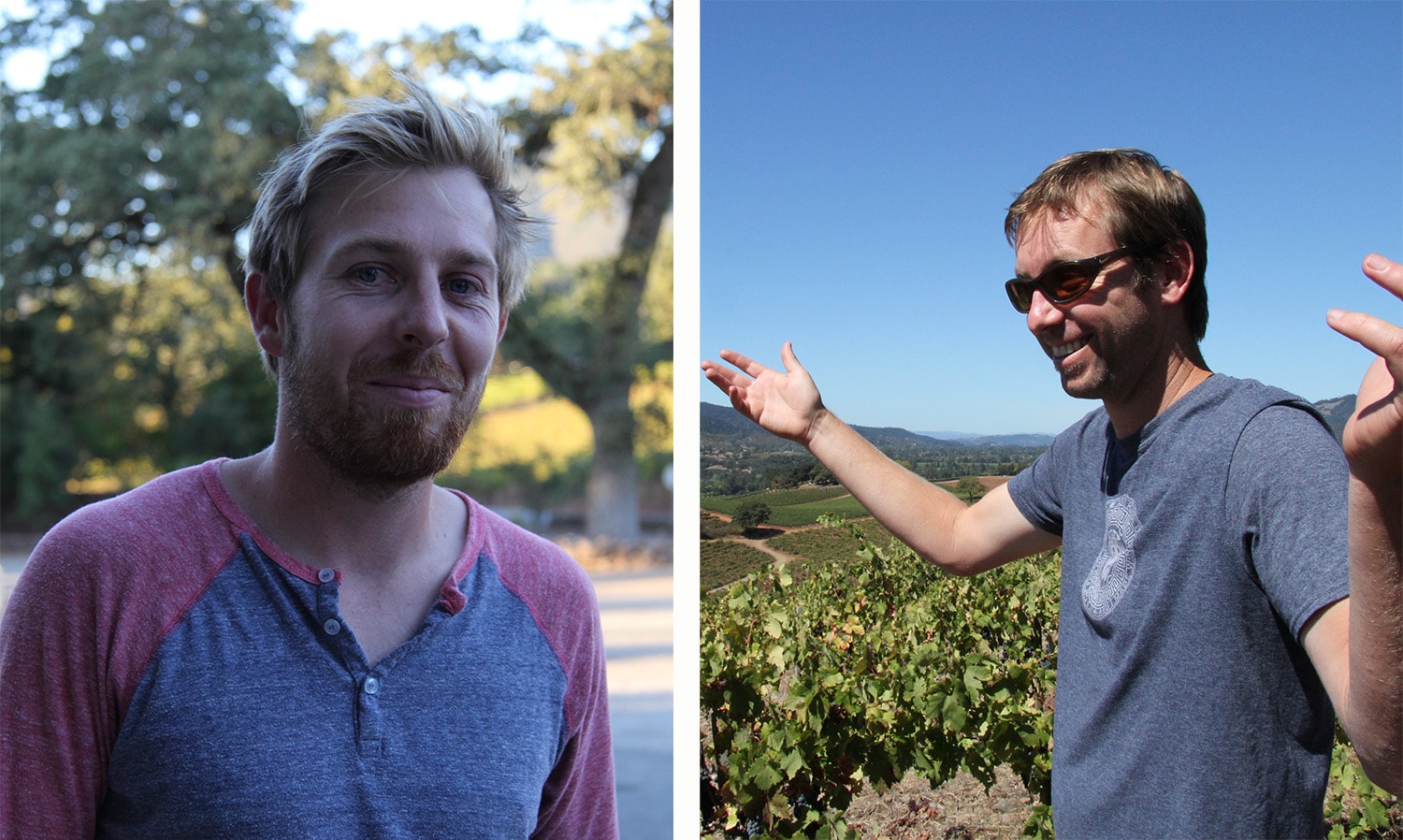 Blair (on the right), Assistant Winemaker and Zack (left), Kunde Vineyard's Chief Winemaker. Photo by Erica Löfving.
So Blair was on one end of this and I was on the other. We had little understanding for one another during those first days. Zach, who had noticed our escalating discussions, brought me out into the vineyards in the late mornings to taste grapes and learn to discern when they were ready for harvest. Weaving through the vines, we spoke a lot of winemaking philosophy, and a little of everything else. Zach said I had offended the others by saying I preferred more natural methods. He said, "That's the way Blair and most of the others have learned to make wine, from day one. When you come in and say additives make for a lesser wine, you're looking down on everything they've learned and done for 10-20 years." He reminded me that they get orders for hundreds of thousands of liters of wine, of an even quality and style, with a predetermined price level negotiated by – for example – a large buyer like Costco. In those cases, you do not take risks that garner "character". You have to be able to count on the result and deliver according to specification. Anything else would be to risk the farm and the livelihood of all your employees.
Suddenly, it wasn't hard to see why Blair was short tempered with me at times.
In contrast, Taka, the Mexican-born manager, was not short with me so much as convinced I wasn't entirely sane in my endeavors. Together with the rest of the all-male Mexican work crew, he was extremely amused at having an untrained journalist – a female one at that – in the winery, and in the end, as long as he could order me to shovel grape peels or clean steel tanks now and then, he gladly let me carry on with my ways.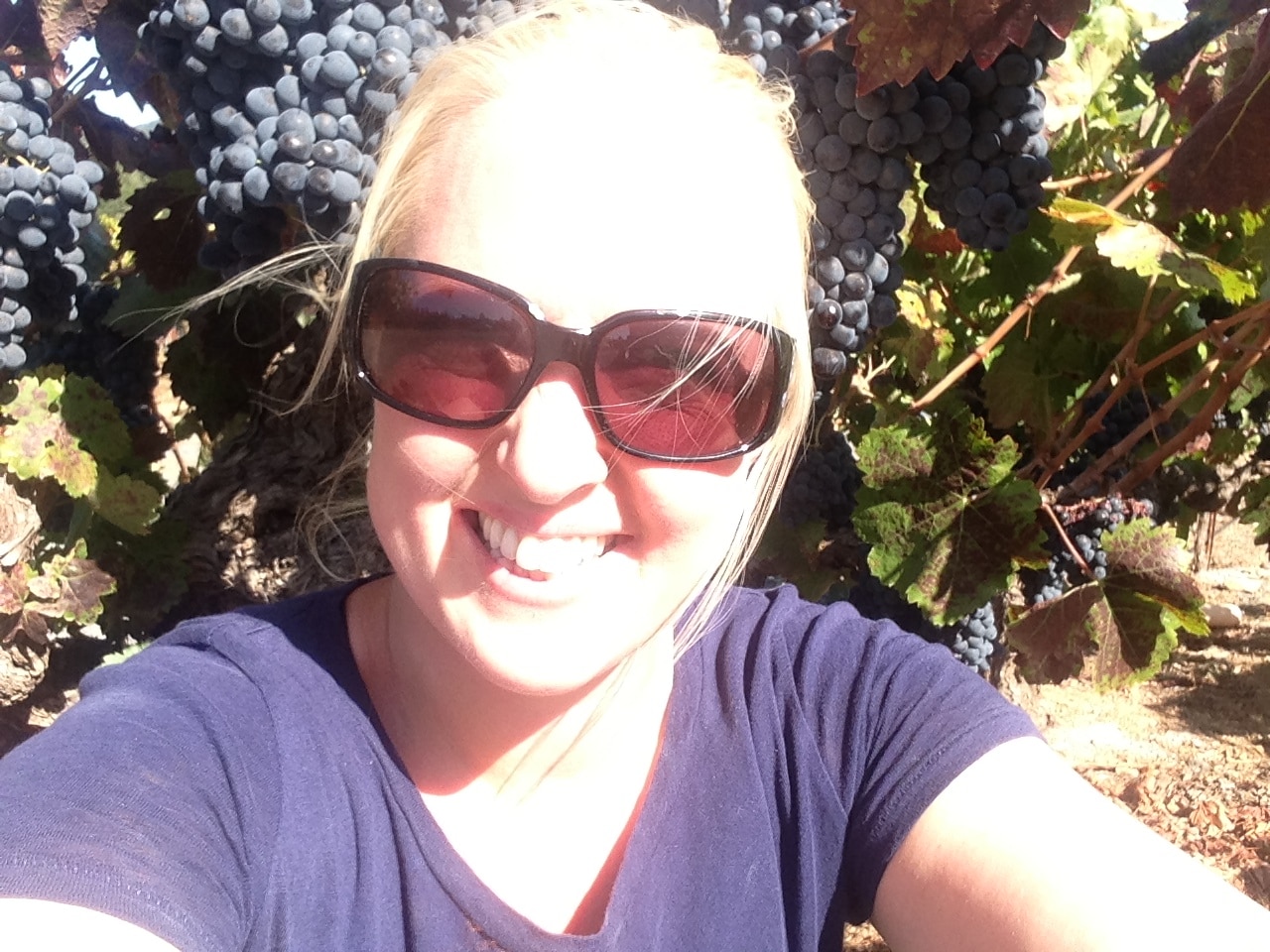 E

rica under the Californian sun in the field - spirits high! Photo by Erica Löfving.
The discussion with Zach bounced around in my head as I ran my fingers through the unaided grapes in their bin. A love song in my headphones waxed poetic about wrong turns and stumbles bringing you to where you are meant to be, and I wondered which stumbles had brought me to where I was standing in this moment. Or were the wrong turns what I was doing right now? I saw how my work would affect these grapes, and in the long run the wine that came out. What risks would I be willing to take, and what character would come out?
Continue reading the "Winemaker For A Harvest" Series:
>> Part 1: A California Vineyard Calling My Name
>> Part 3: The Troubles Making "Natural" Wine Were Only Beginning
>> Part 4: Coming Soon!
>> Part 5: Coming Soon!