Can New Zealand's viticultural Eden produce excellence from every variety?
When you claim expertise in everything, people soon become skeptical, especially where wine is concerned. Received wisdom from the Old World insists that grape varieties will only thrive in very particular combinations of soil and climate – the concept known as terroir. But the New World begs to differ.
Nowhere is this more evident than in Hawke's Bay, on the west coast of New Zealand's north island. Formerly the biggest growing region in the country, Hawke's Bay has a diverse range of soils under a sunny but moderate maritime climate, and it is this diversity that allows such a wide range of wine styles to flourish.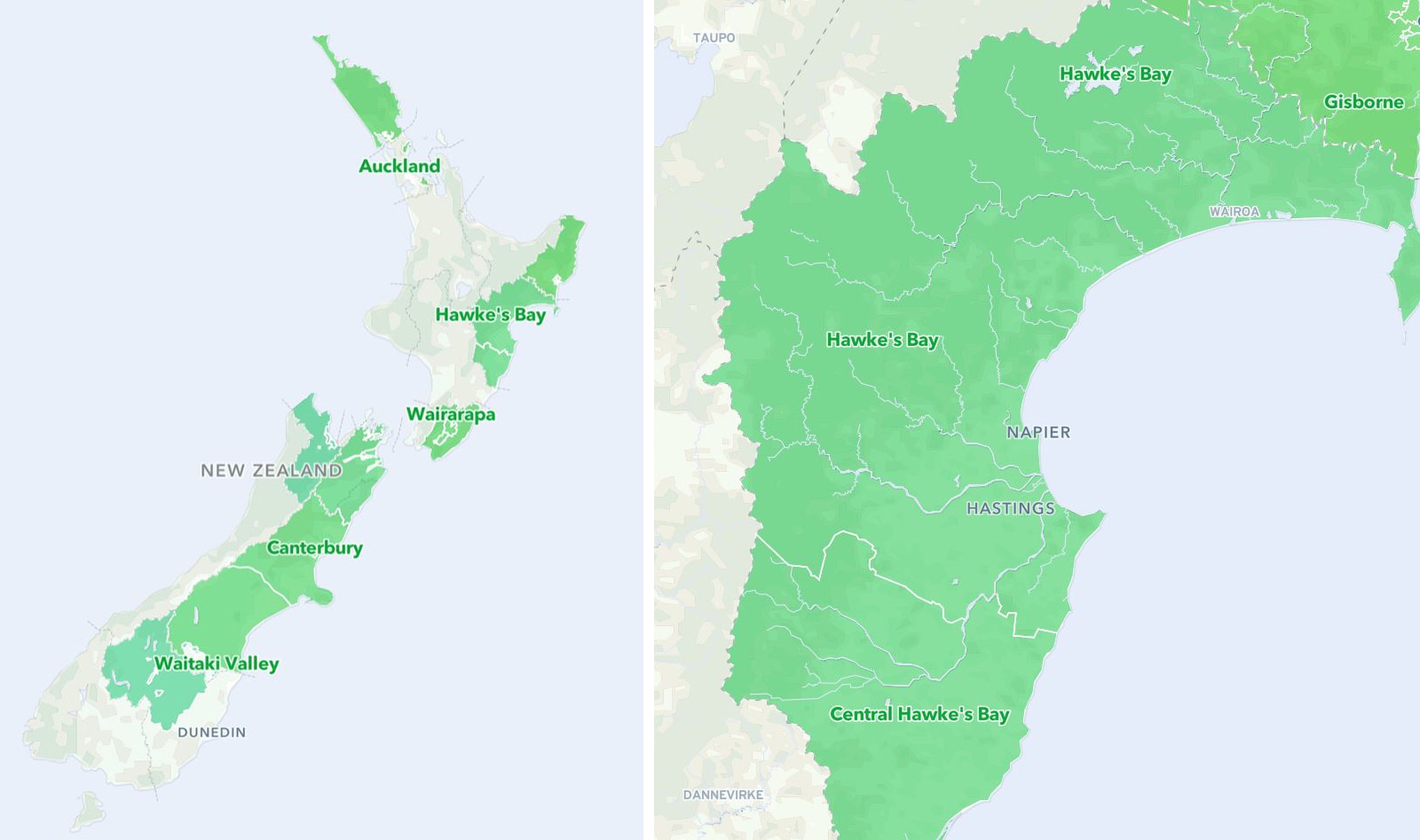 (Hawke's Bay covers a total area of 1.4 million hectares on 350km of Pacific Ocean coastline. Vineyards are concentrated around the cities of Hastings and Napier. Source: www.truewine.io/wine-region-map/).
Accordingly, Hawke's Bay is not associated with a single style in the way that Marlborough has been become synonymous with Sauvignon Blanc, and Central Otago with Pinot Noir. For that exact reason, Hawke's Bay is less well known internationally: it is easier to promote and market a region when there is a clear USP, as traditional European regions demonstrate.
The three most prominent styles from Hawke's Bay are red Bordeaux blends, varietal Syrah and varietal Chardonnay. That combination of varieties would be considered impossible to grow contiguously in their homeland of France (with the possible exception of the Languedoc, which is primarily known for inexpensive, high-volume wines).
Yet wines such as Te Mata's Coleraine, Trinity Hill's Homage and Sacred Hill's Rifleman all respectively demonstrate that those three styles can be made to world-class standards in Hawke's Bay. Not only that, but the region produces fantastic examples of Gamay, Viognier, Albariño, Tempranillo, Malbec and Gewurztraminer too.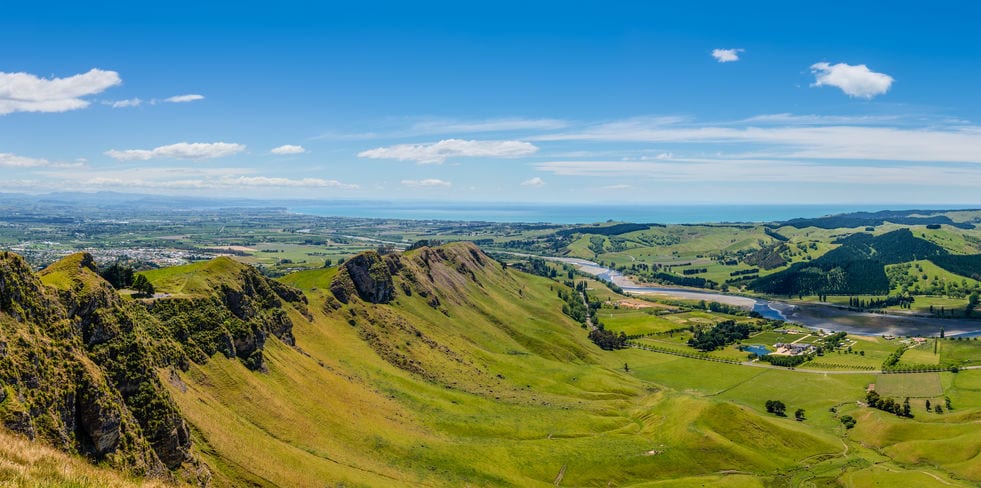 (The vineyards at Havelock North on the slopes of Te Mata Peak have been an important feature of Hawke's Bay since the 1890's. In picture: Te Mata Peaks on the left adn Tukituki River on the back).
Incidentally, Hawke's Bay is not unique in this regard – many other New World regions such as Australia's Yarra Valley and Canada's Okanagan Valley demonstrate the same aptitude for quality winemaking across a wide spectrum of varieties.
Such regions would seem to contradict the sacred notion that each grape variety needs a very particular terroir. So is the concept meaningless? Or does Hawke's Bay really have a terroir that is perfect for every variety?
Take the Gimblett Gravels for instance, an 800-hectare subregion of Hawke's Bay. Formed from a dried riverbed, this flat plain has a very particular soil type called Omahu gravel. Yet even within this limited area, producers are proving that dozens of different varieties can thrive here, from Merlot to Grenache to Riesling to Arneis.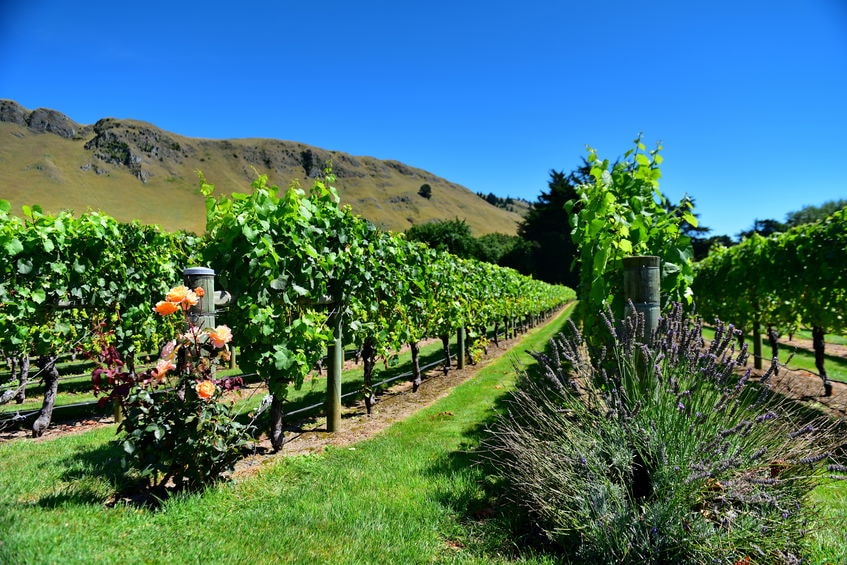 (For over thousands of years, the four major rivers in Hawke's Bay moved and formed valleys and terraces which resulted in the creation of over 25 different soil types).
There is no definitive answer to the question of terroir. European winemakers can cite hundreds of years of trial and error that have established precise criteria for quality, whereas Hawke's Bay has the freedom to experiment with everything – and the results speak for themselves.
Here are just three examples of how Hawke's Bay can create excellent examples of three very different wine styles.

Te Mata, Elston Chardonnay 2018 Hawke's Bay (US$22.99 Winedeals.com, AU$38.99 Corkscrew Cellars)
With subtle oak, restrained fruit and lots of savory complexity, this shows how well Hawke's Bay can imitate Burgundy. Te Mata are one of the region's oldest producers, and are still family owned. Most famous for Coleraine, their Bordeaux blend, Te Mata also produce excellent Syrah, Pinot Noir, Sauvignon Blanc – and of course this Chardonnay. True polymaths!
Craggy Range, Gimblett Gravels Te Kahu Merlot/Cabernet Sauvignon 2017 Hawke's Bay (US$17.59 Get WineOnline.com, AU$30 WineSquare.com)
Craggy Range are one of the largest and best-funded producers in Hawke's Bay. Quality shines through in this classic combination of two-thirds Merlot and Cabernet Sauvignon, albeit in a relatively lighter style. At the price, this is a great-value example of a right-bank style Bordeaux blend.
Trinity Hill, Gimblett Gravels Syrah 2015 Hawke's Bay (US$23.99 WineHouse.com, AU$34.99 LiquorSpecials.com.au)
If Syrah is the jewel in the crown of Hawke's Bay, then Trinity Hill make some of its most glittering examples. Their top cuvée, Homage, is rightly renowned as one of the world's best, but this entry level bottling gives you a taste of that excellence at a fraction of the price: spicy, elegant and soft with plush bramble fruit.