The Piedmontese twins of Barolo and Barbaresco are hot property across the vinous globe, shining the light of the mandatory grape of both wines, Nebbiolo. While Nebbiolo's origins can be traced back to the 14th century, it's a new grape to Australia.
Nebbiolo, Piedmont's hero variety


Nebbiolo doesn't readily migrant to new viticultural environs as (even on home soil) it's a capricious grape – finicky to grow and equally challenging to make. However, these obstacles haven't daunted Nebbiolo afficionados enthralled by its delicate garnet red color, its exotic perfumes of fading rose petals and sunbaked tar and gentle umami-laden flavors.
An unexpected crunch of tannin sets Nebbiolo apart from its French alter ego, Pinot Noir. Both varieties are highly sought after - be it from their respective European homelands or across the new world of wine. Indeed, some dedicated 'pinotphiles' have forsaken their beloved variety for exotic charms of Nebbiolo.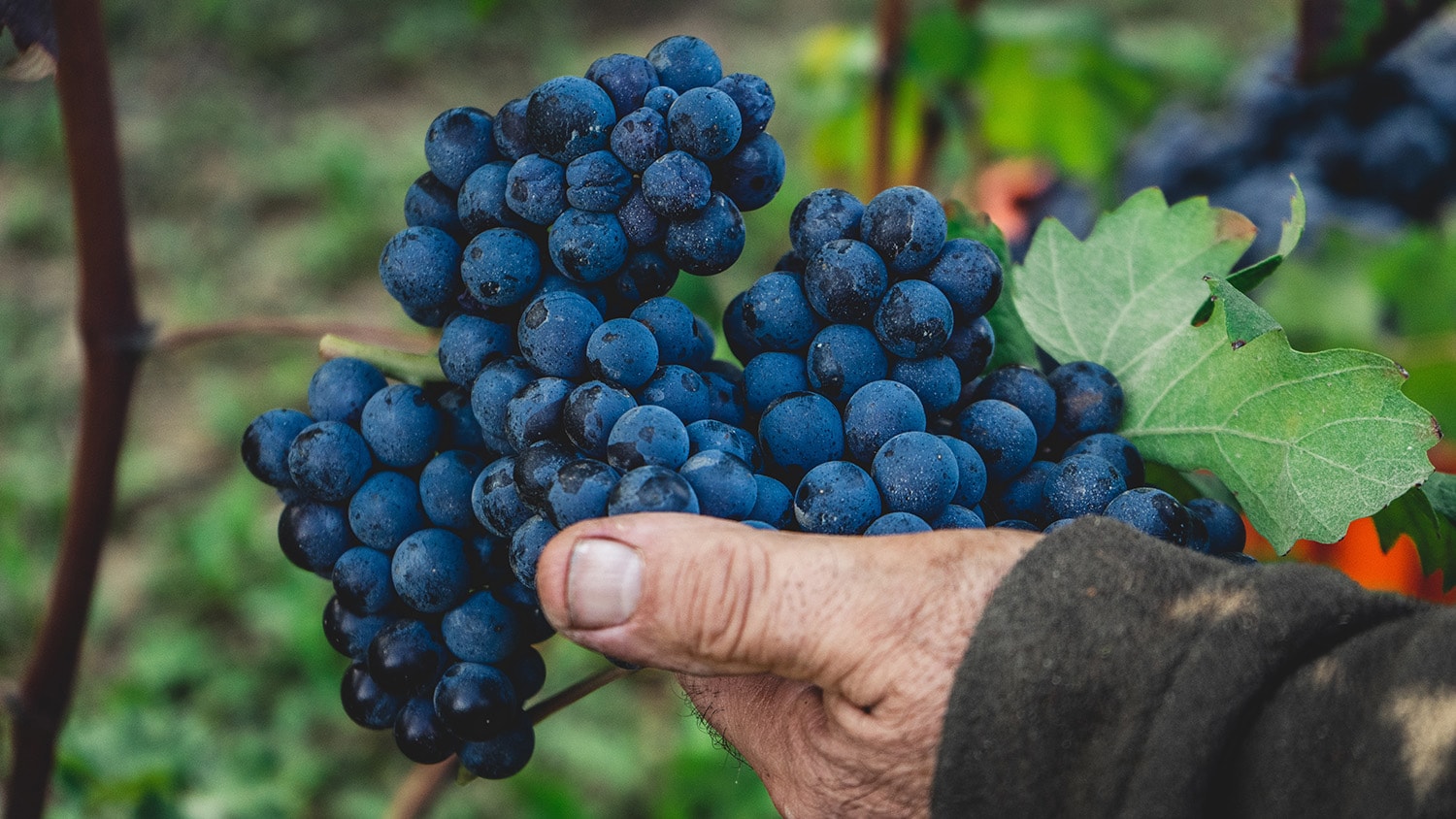 Nebbiolo is an old grape variety behind the top-quality red wines from Italy northwestern Piedmont, and in particular, powerful reds of Barolo and Barbaresco. First being referenced as far back as the 13th Century.
Nebbiolo migrates to Australia
Australia's first plantings of Nebbiolo only date back to the mid-1980's in Mudgee, the temperate wine region in the Central West of New South Wales. An Italian winemaker, Carlo Corino was making waves at the Montrose winery with his Italianate take on traditional (French) varieties like Shiraz and Cabernet Sauvignon.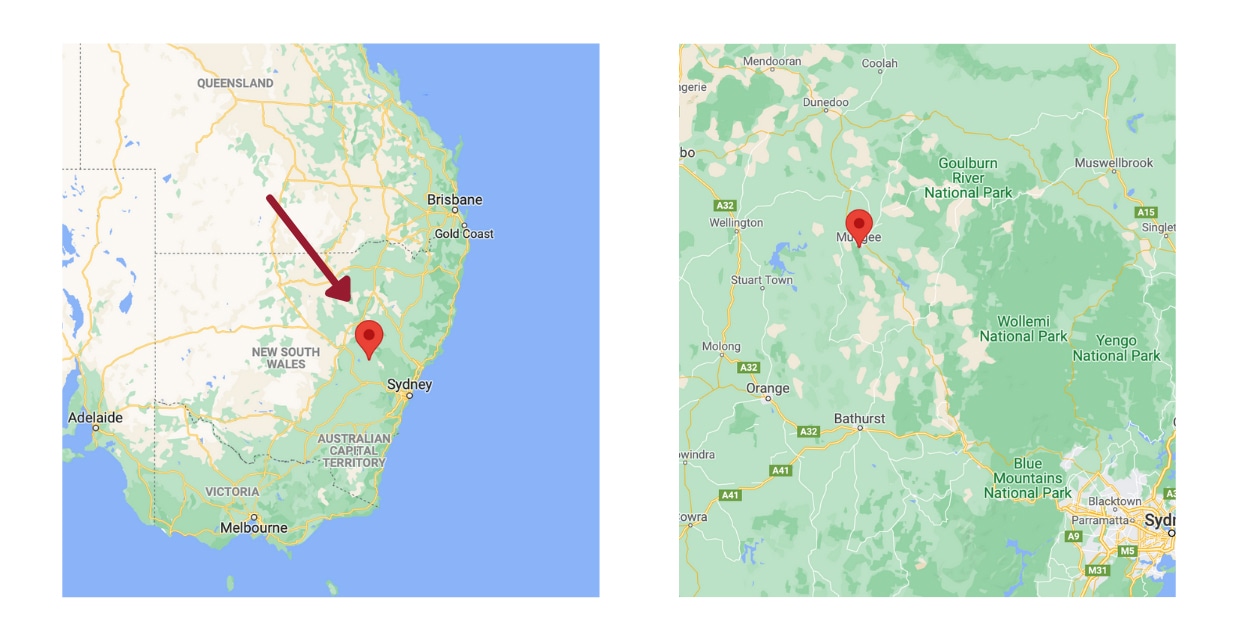 Mudgee is one of the country's great wine towns, west of Sydney in the New South Wales Central Tablelands. Map source: Google Maps
Corino returned from a sabbatical to Italy with a bunch of the new wave wines that were unending the notion that Italian wine was everyday, mass-produced vino. That's certainly not the case today with Italy's superfine wines rated among the best in the world. Included in Corino's collection were early Super-Tuscan wines like the Antinori Tignanello and the first cru Barbaresco's from a young-gun winegrower by the name of Angela Gaja.
If one man shone the light on Piedmont, it was Gaja, his lithe, bright Barbarescos setting alight the long-time rivalry between Barolo and Barbaresco. Inspired by these tantalizing wines, Corino planted Barbera, Sangiovese and Nebbiolo and unwittingly kick-started the fad for Italian grape varieties that has slowly spread across Australia.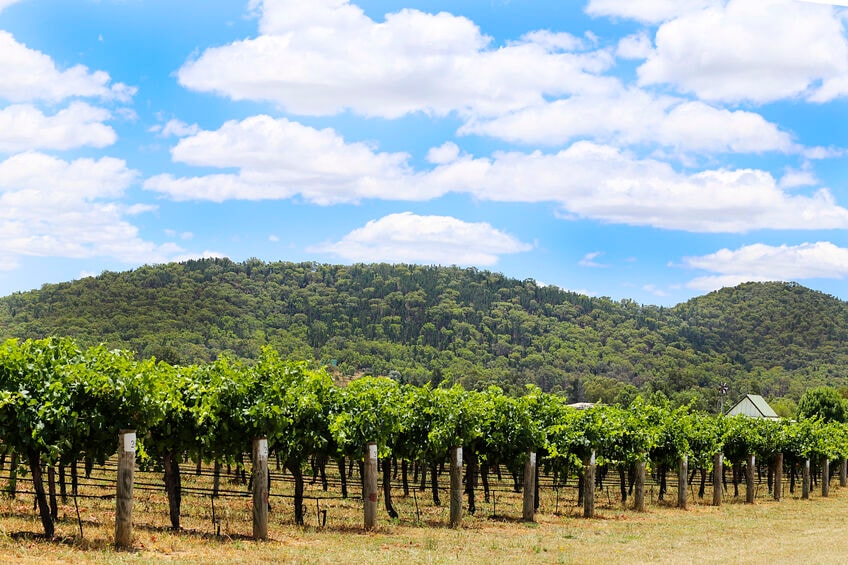 Montrose was a winery established in 1974 in Mudgee, Australia.
Carlo Corino, was a talented and popular winemaker, from Italy, who planted a range of Italian varieties, including Barbera, Sangiovese and Nebbiolo.
Nebbiolo seeks a cool home
Mudgee proved too warm for Nebbiolo, which prefers cool sites that mirror its Piedmont home, so Victoria soon picked up the Nebbiolo mantle. The King Valley winegrowers are of Italian heritage, so it's not surprisingly that famiglie like the Dal Zottos and Pizzinis soon embraced their native grape varieties including Nebbiolo.
After growing the variety for 30 years, Alfredo (Fred) Pizzini recounts "that it's a frustrating variety with as many clonal variations as Pinot Noir. Nebbiolo is a difficult grape to grow and equally challenging to make". Son, Joel Pizzini is now in charge of the winery with his latest trio of La Volpe Nebbiolo 2019, classic Nebbiolo 2016 and iconic Coronamento Nebbiolo 2015 offering a translucent take on the beguiling variety.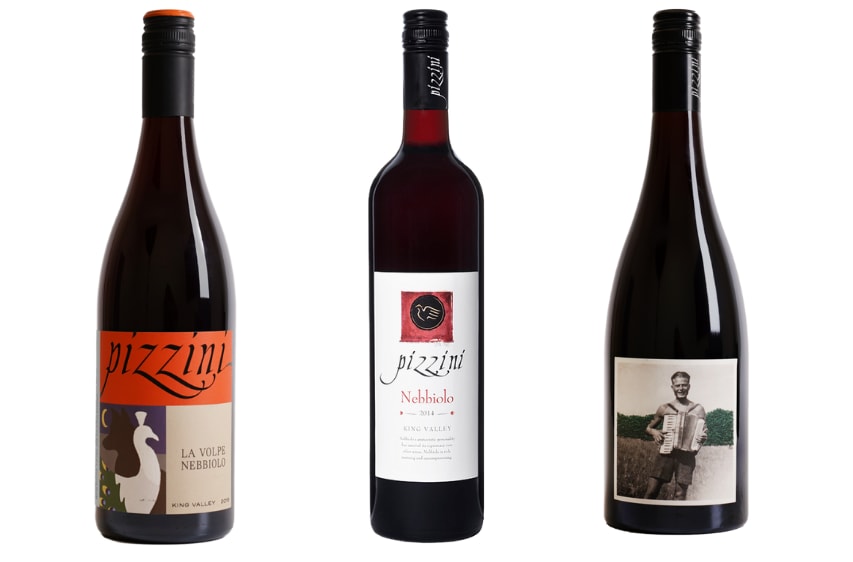 Joel Pizzini latest trio of La Volpe Nebbiolo 2019, classic Nebbiolo 2016 and iconic Coronamento Nebbiolo 2015. Read more at: Pizzini.com
Nearby in Beechworth, Nebbiolo is planted at over 500 metres, an elevation that's similar to the highest sites in Piedmont (the King Valley is a tad higher at 650 metres). Although both regions are warm during the day cool nights and cold winters provide the perfect conditions for the fussy Nebbiolo vines.
Producers like Giaconda (2017) and Domenica (2018) follow the Piedmontese regime of a long post-ferment maceration and ageing in large format oak, known at botte in Italy. The conundrum of Nebbiolo is its seemingly insipid color and light body are at odds with its depth and breadth of flavor and that hallmark kick of tannin energizing the finish.
________________________________________________________________________________________________
More interesting articles:
Australian winemakers inspired by Piedmont


Australian winegrowers are an inquisition mob, with many young winemakers working vintages in Piedmont in an effort to discover Nebbiolo's inner secrets. Steve Pannell is one who has cracked the Nebbiolo code having worked several vintages with Piedmontese superstar C.D.Vajra in the early part of this century. Steve even picked the double initial (and full stop) signature when he created his S.C.Pannell brand in 2004.
Although based in McLaren Vale, Pannell recognized that the region is too warm for Nebbiolo, so he's literally headed to the (Adelaide) Hills to source his Nebbiolo grapes. At 500 metres there is a parallel with the climate of Piedmont – again warm summer days, cool nights and crisp winters. Pannell describes the flavors of his S.C.Pannell Nebbiolo 2016 as "cherry, blackcurrant and some earthy, leathery tones" - an apt description along with acknowledging the energetic interplay between refreshing acidity and those hallmark tannins.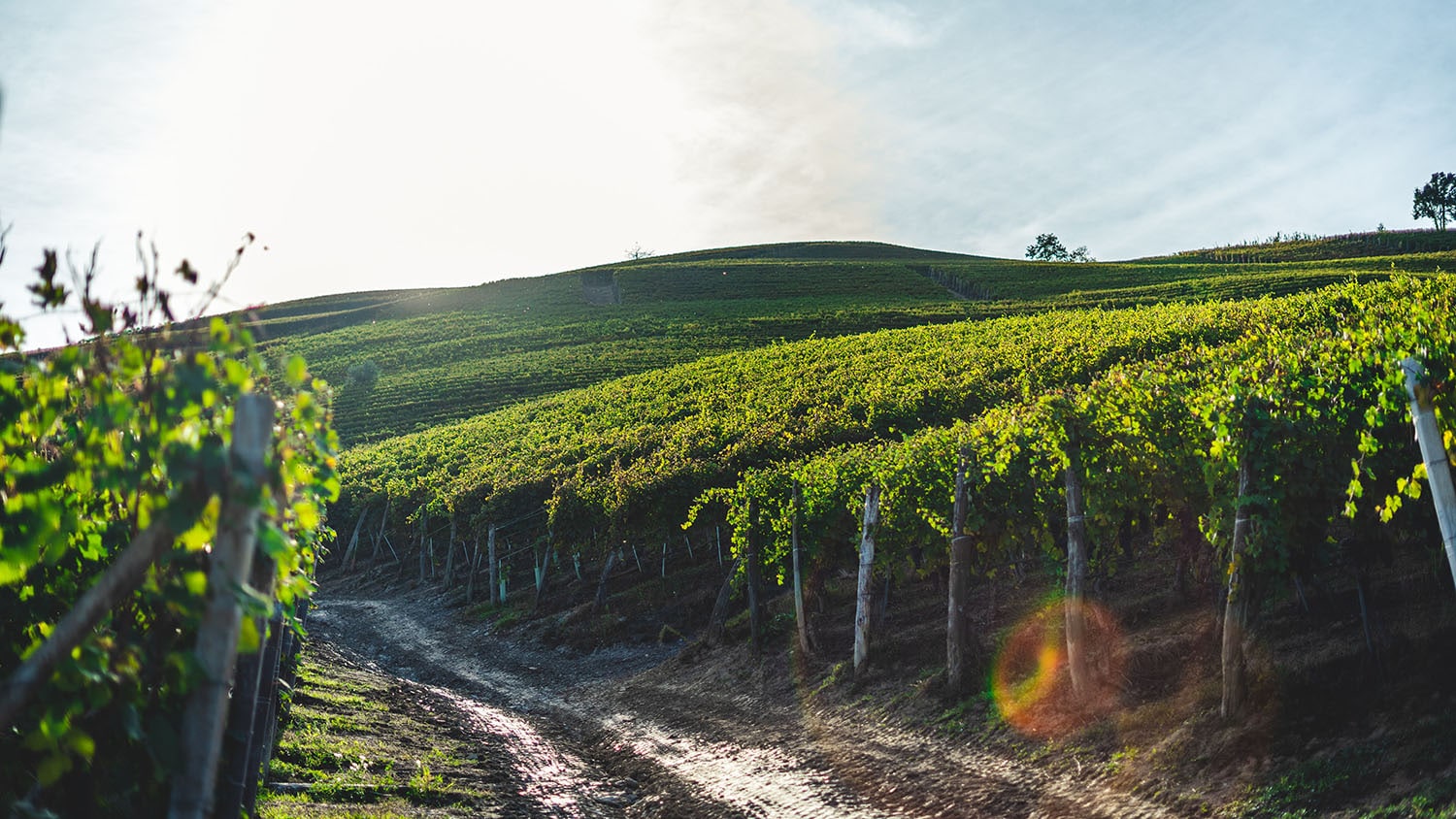 Australian winemakers got inspired by Piedmont, the beautiful region in Italy. Steve Pannell is one who has cracked the Nebbiolo code and discoverd its inner secrets.
Another restless winemaker is David Fletcher, who in 2006 worked vintage with the Ceretto family just outside Alba. Fletcher fell for Nebbiolo in a big way, bouncing between Australia and Piedmont for more several years before landing the prestigious job as Ceretto's leading winemaker. Ever innovative, Dave Fletcher has purchased the old Barbaresco railway station and fitted it as a winery, tasting room and cooking school for his eponymous brand.
He still keeps a foot in Australia with his svelte Fletcher The Minion Nebbiolo 2019 sourced from several vineyards across Victoria. Fletcher speaks of the 'Mudgee' clone of Nebbiolo – a nod to the pioneering vines planted by Carlo Corino. Fletcher's Piedmont portfolio is also available in Australia -
www.fletcherwines.com
The future is Nebbiolo
Plantings of Nebbiolo have slowly crept across Australia, mostly in cooler sites like Orange and the Canberra District in New South Wales and the Yarra Valley in Victoria. Even Tasmania is getting in on the Nebbiolo act with pioneering winegrower, Stefano Lubiana planting a small block in the Derwent Valley. It's been a slow burn for Nebbiolo however the combination of cool sites, meticulous viticulture and skilled winemaking is delivering some admirable wines. That said, the best Australian Nebbiolos are yet to come. Stay tuned.

Pizzini La Volpe Nebbiolo 2019
This wine opens with dried rose petal, violets and subtle star anise. The palate is full and generous with fresh raspberries, liquorice, red currents and the typical Nebbiolo tar notes we know and love. A great introduction to this alluring variety.
Pizzini Nebbiolo 2016
Classically pale in the glass, Nebbiolo is a deceptive and beautiful wine. The nose is alluring with aromas of rose petal, violet, red fruit and star anise. The palate is juicy and complex with cherry, plum and liquorice combined with sturdy tannins and a bright finish.
Pizzini Coronamento Nebbiolo 2016
This is a complex wine with great depth and power. Aromas of spice, red liquorice, earth and leather lead to a savoury and layered palate with subtle cherry, spice and chocolate characters.