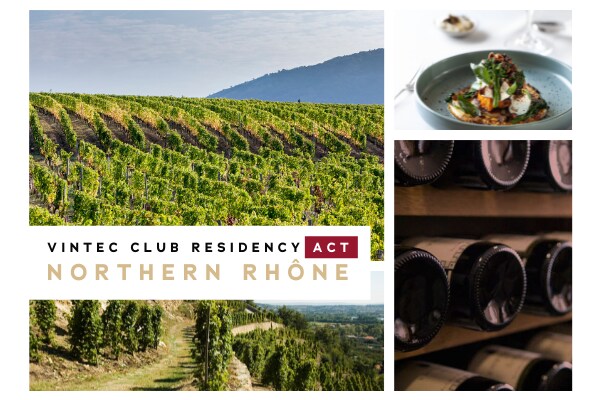 Vintec Club Residency ACT - Northern Rhône Dinner
Event Description
Dear Vintec Club Members,
We are thrilled to announce the opening of Vintec Club's Residency in Canberra at the acclaimed, The Boat House Restaurant.
For its opening night, we are inviting you to a special night around Northern Rhône wines. Join us to experience Sommelier Kate Hibberson's comprehensive selection that will visit all parts of the region: from Saint Joseph to Crozes-Hermitage, passing by Cornas.
Looking forward to welcoming you,
The Vintec Club Team
Wine List
On Arrival
Champagne Perrier-Jouët Grand Brut NV
1st Course
2018 Cave de Tain Marsanne
2019 Yves Cuilleron Lyseras Marsanne Roussanne
2nd Course
2020 Domaine Aurélien Chatagnier Syrah
2019 Yves Cuilleron Saint Joseph Rouge Pierres Syrah
3rd Course
2018 Cave de Tain Crozes Hermitage Rouge Rochegrande Syrah
2019 Domaine du Tunnel Syrah
4th Course
2001 Domaine Du Mas Blanc Banyuls Grenache Noir
The 7 Commandments
of Vintec Club Private Tastings
Exclusive to Vintec Club members
Focus on cellar-release wines, dream verticals and back vintages
Relaxed and family-like atmospheres, "à la bonne franquette"
Intimate and private dining experiences
Access to rare and back vintage wines at special price
Ticket prices subsidized by the Vintec Club